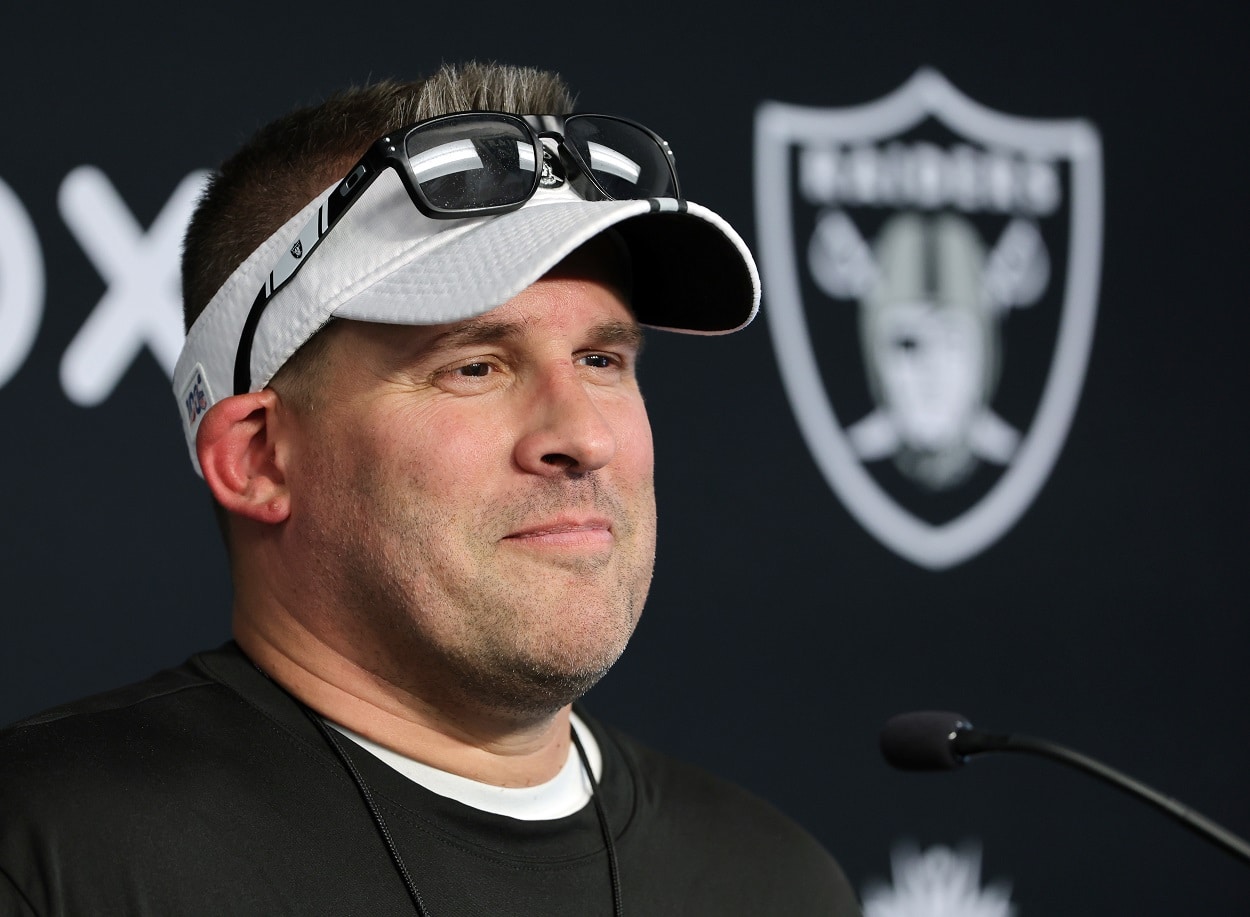 Raiders Head Coach Josh McDaniels and New GM Dave Ziegler Have a Pair of Expensive Decisions to Make in Training Camp
Las Vegas Raiders head coach Josh McDaniels has some decisions to make regarding two Pro Bowl players.
This isn't Josh McDaniels' first rodeo. More than a decade ago, the former New England Patriots offensive coordinator tried his hand at being an NFL head coach and failed miserably. Yet despite flopping in epic fashion with the Denver Broncos, the 46-year-old should be viewed as a strong candidate to succeed at his new gig with the Las Vegas Raiders. 
Unfortunately for McDaniels, he already has some issues that need to be addressed sooner or later. And depending on how he and first-year general manager Dave Ziegler want to allocate the franchise's financial resources, things could get quite expensive.
Josh McDaniels has two Raiders Pro Bowlers looking to get paid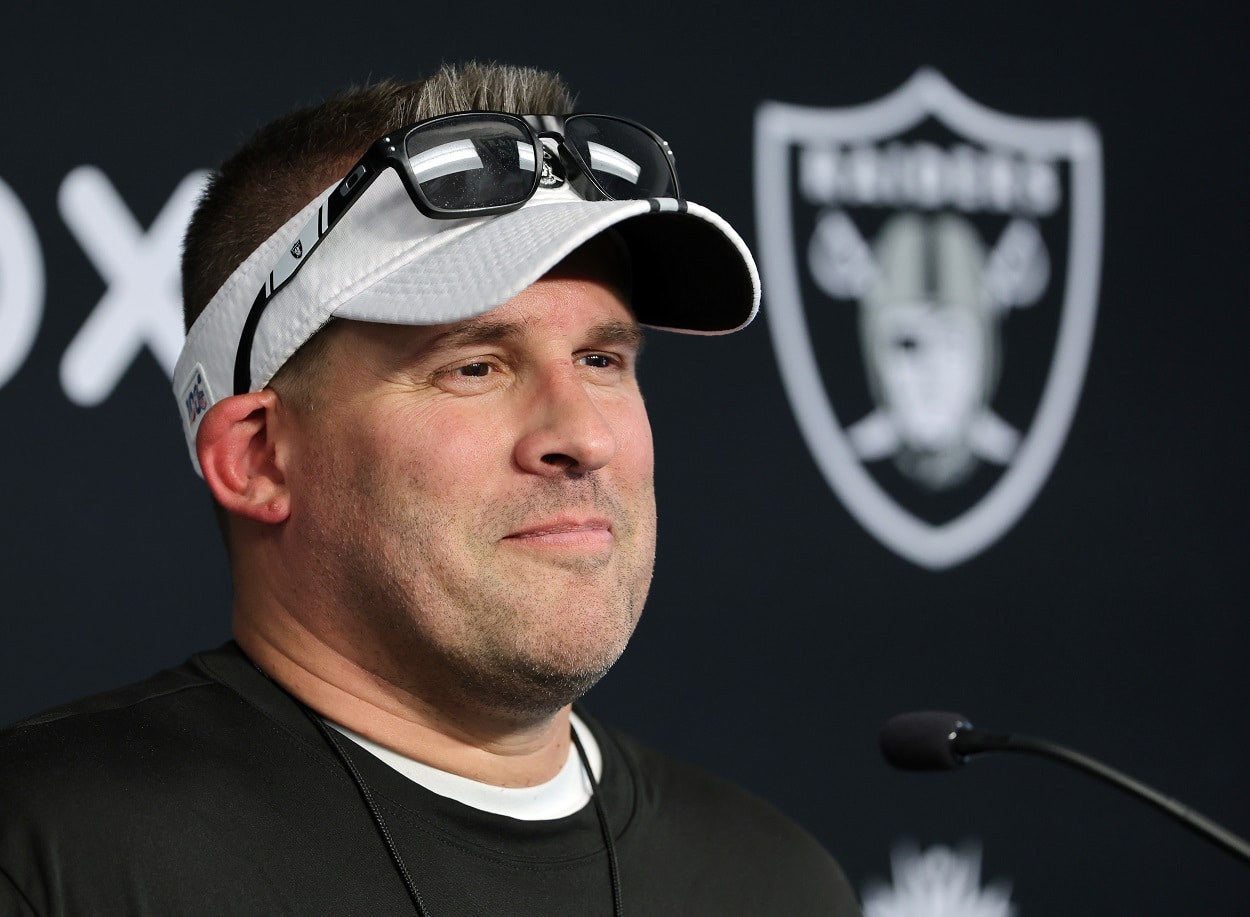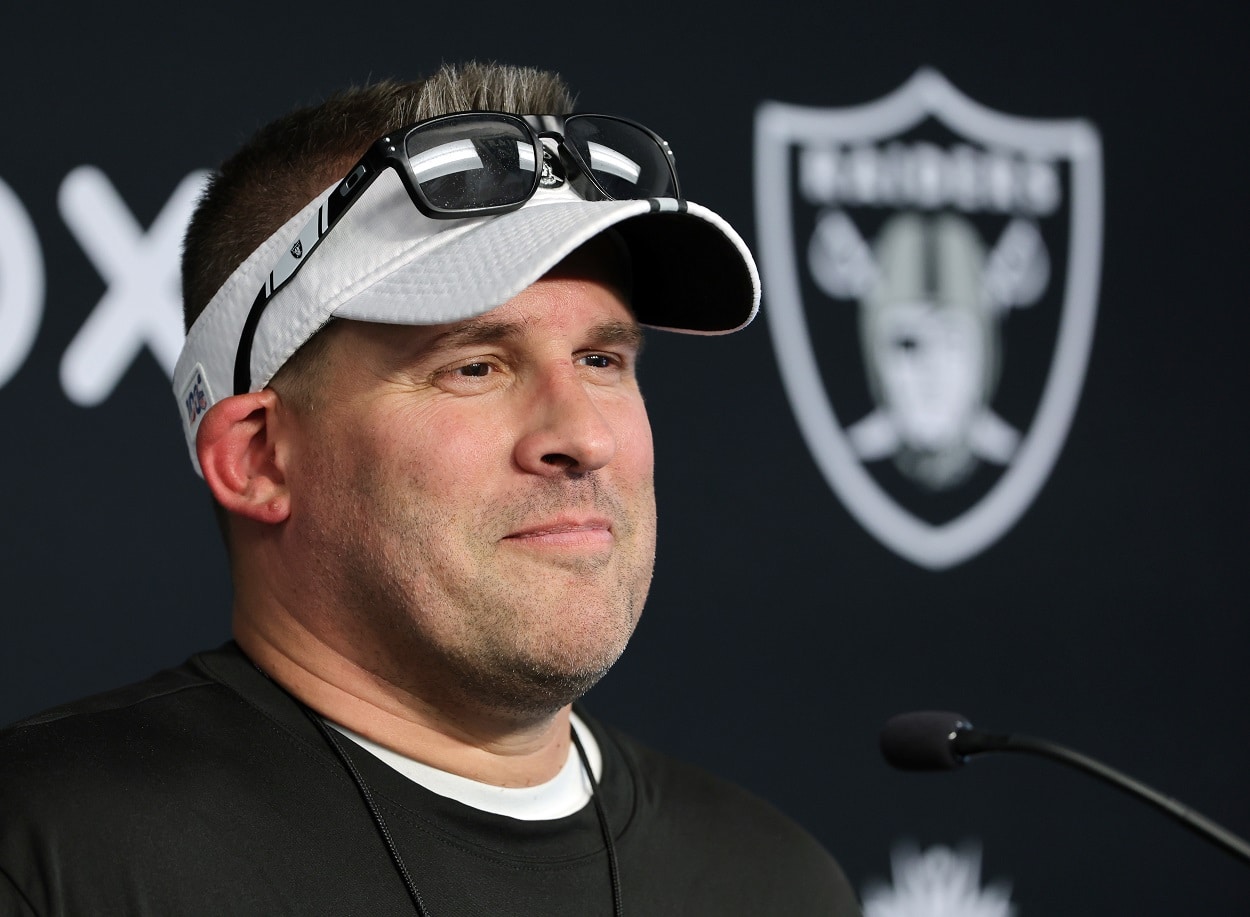 By taking his talents (along with several coaches and front office members) from New England to Las Vegas, Josh McDaniels has an opportunity to strengthen his already impressive NFL resume. Luckily for Bill Belichick's longtime right-hand man, he inherited a solid roster that already included a franchise quarterback (Derek Carr), a stud slot receiver (Hunter Renfrow), a do-it-all running back (Josh Jacobs), and one of the league's best young pass rushers (Maxx Crosby). 
Of course, that didn't preclude McDaniels and Ziegler from making splashy moves this spring. Not only did the duo pull off a trade for superstar wideout Davante Adams, but they also signed four-time Pro Bowler Chandler Jones to a three-year, $51 million contract. Plus, the Raiders gave Adams a five-year, $141.25 million extension and secured Crosby's services for another four years for the cool price of $98.98 million. 
With both new and old teammates receiving lucrative deals, could Darren Waller and Denzel Perryman be next? Between the uber-athletic tight end and the hard-hitting linebacker, Josh McDaniels has two Pro Bowlers with solid cases to ask for a raise. 
Waller's $6.25 million salary over the next two seasons represents a fraction of the price for a player of his caliber. With the league's top tight ends fetching $14 million or more annually, the soon-to-be 30-year-old certainly has a reason to be less-than-enthused about his current contract. 
Meanwhile, coming off his first Pro Bowl campaign, Perryman has leverage heading into the final year of his deal. After all, there's no doubt the Raiders are paying him well under market value based on his paltry $1.12 million salary. 
While both players look primed to participate in training camp, NFL Media's Ian Rapoport recently reported Waller and Perryman are seeking new contracts.
Should the Raiders give Darren Waller an extension?
Will McDaniels acquiesce and hand out more guaranteed money to more veteran players before the regular season begins? Or will the Raiders let things play out and risk upsetting a pair of Pro Bowlers? 
How the team's new head coach handles the situation will undoubtedly be interesting to watch. After all, as much respect as McDaniels earned in New England for his ability to put together championship-caliber offenses, he quickly fell out of favor in Denver based on his brash attitude and questionable personnel decisions. 
So, how should the Raiders handle Darren Waller? 
The former has done a fantastic job of rebuilding his image and becoming one of the most dangerous players at his position. After dealing with substance abuse issues during his days in Baltimore, Waller has developed into a matchup nightmare, forming a close bond and strong connection with Carr.
With two 1,100-yard seasons and 14 touchdown receptions since 2019, there's no doubt the 6-foot-6, 255-pound tight end possesses the skill set to dominate defensive backs and linebackers in the passing game.
Given Carr's penchant for checking the ball down and doing damage in the short to intermediate areas of the field, giving Waller an extension makes complete sense. Let's not forget that McDaniels built his offense around the strengths of Rob Gronkowski–another big-bodied, athletic tight end who could easily beat single coverage.
A late bloomer of sorts, Waller should continue to put up big numbers moving forward, especially with McDaniels running the show.
Denzel Perryman shouldn't get his hopes up about a new deal
On the other hand, whether the Raiders should lock up Denzel Perryman isn't such an easy question to answer. At 29 years old and with a lengthy injury history, he doesn't have nearly as strong a case as Waller. Perryman, a 2015 second-round pick by the then-San Diego Chargers, has never played an entire season. In fact, his 2021 campaign, which included a career-high 154 tackles, looks like an outlier compared to the rest of his career production. 
Ultimately, Las Vegas would be better suited to let the veteran play out the final year of his deal and address his future after the season. Inside linebacker is an easier position to replace, so it seems more logical to not tie up resources on a player who's been a part-time starter for the majority of his career.
Stats courtesy of Pro Football Reference, Contract info courtesy of Spotrac
Like Sportscasting on Facebook. Follow us on Twitter @sportscasting19 and subscribe to our YouTube channel.