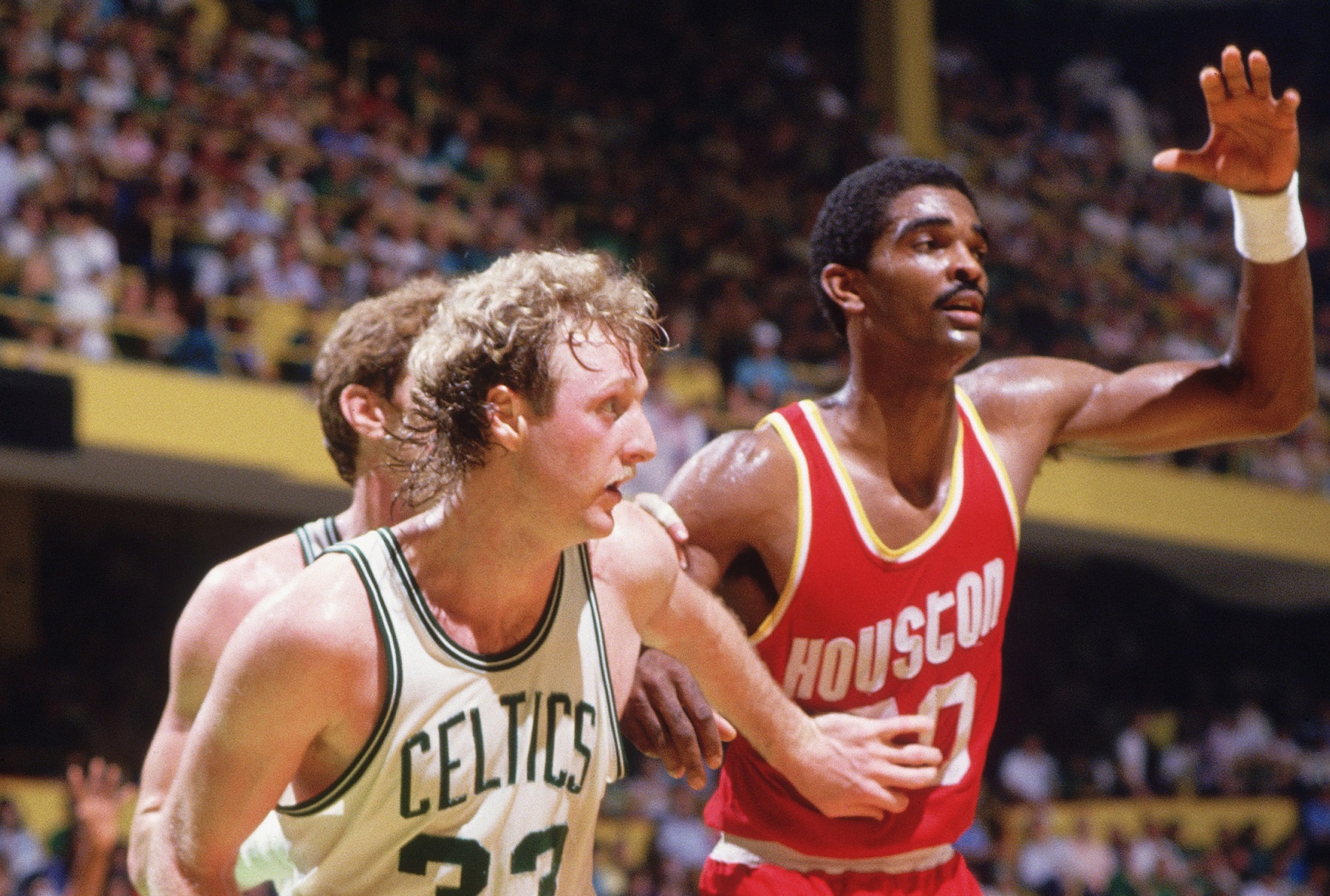 Ralph Sampson Turned Down a Suitcase Full of Boston Celtics Cash in College
The Boston Celtics tried to pair Larry Bird with Ralph Sampson in 1980 but instead came away with an even more dynamic combination of big men.
Robert Parish and Kevin McHale were so essential to the Boston Celtics in the 1980s that it's impossible to imagine Larry Bird winning three NBA championships without them. Celtics mastermind Red Auerbach had an entirely different plan four decades ago but was ultimately relieved that Ralph Sampson rejected it like one of the 752 shots he swatted away in a nine-year NBA career.
The Boston Celtics made a run at Ralph Sampson
Larry Bird carried Indiana State to the 1979 NCAA Championship game against Magic Johnson and Michigan State and then immediately embarked upon his brilliant professional career. Bird averaged 21.3 points and 10.4 rebounds as a rookie to help transform the team from 29-53 before his arrival to 61-21.
However, center Dave Cowens was about to retire. Rick Robey, acquired the previous season, wasn't built to handle the era's long and lean low-post players for 40 minutes a night. Boston Celtics president and GM Red Auerbach knew he needed a bold move, and the one he tried was audacious.
Coming out of high school in Harrisonburg, Virginia, in 1979, 7-foot-4 Ralph Sampson was the most coveted recruit in the country, and his freshman season at the University of Virginia only enhanced his value. Playing 30 minutes a game, he averaged 14.9 points, 11.2 rebounds, and 4.6 blocks for the Cavaliers.
That's when the Celtics came calling. Sampson told Colin Cowherd that Auerbach showed up at his parents' house — by the way, Sampson cited the wrong year in the video above — to implore the lanky center to surrender his remaining eligibility and turn pro. Auerbach's brand of persuasion was impressive.
"I wasn't quite physically ready to come play," Sampson said, 'Then I had Red Auerbach come to my parents' house (with) a million dollars in a briefcase and said, 'Come out and play for the mighty Boston Celtics.'"
Added Sampson:
 "I looked at my mom and dad and said, 'Are we OK? Are you guys OK?' They said, 'We worked all of our lives and we're OK. When you're ready to go, you'll tell us, so it's not the money thing, it's (whether you're) ready to play.'
Robert Parish and Kevin McHale completed the transformation
When Ralph Sampson turned down the Boston Celtics, Red Auerbach went to Plan B – and it was transformative. Despite their 61-21 record, Boston held the No. 1 pick in the 1980 draft following a September 1979 deal. They had signed Detroit Pistons free-agent guard M.L. Carr, requiring Boston to offer compensation. Auerbach dangled Bob McAdoo in front of the Pistons but insisted on taking their first-round pick to balance out the deal.
The Pistons were a mess – Dick Vitale was almost relieved to be fired as coach 12 games into his second season – and the draft pick turned out to be No. 1 overall. When Sampson turned down the $1 million, Auerbach traded the selection to Golden State for Robert Parish and the Warriors' pick, which was third overall. The Warriors desperately wanted 7-footer Joe Barry Carroll, the Utah Jazz took Darrell Griffith at No. 2, and Boston drafted Kevin McHale.
It was an all-around fleecing. Carr was a key addition to the Celtics because of his defense, McAdoo only lasted one full season in Detroit, and Golden State came to regret drafting a player who would come to be labeled "Joe Barely Cares" by detractors. In fairness, Carroll did average 17.7 points over 11 NBA seasons.
Missing out on Ralph Sampson was a godsend for the Boston Celtics
Robert Parish scored 18,245 points and grabbed 11,051 rebounds in 14 seasons with the Boston Celtics. Kevin McHale chipped in with 17,335 and 7,122, respectively, in 13 seasons. The two of them combined with Larry Bird for NBA championships in 1981, '84, and '86.
Ralph Sampson stayed at Virginia for three more seasons and averaged 16.9 points and 11.4 rebounds for his NCAA career. The Houston Rockets made him the first pick of a deep 1983 NBA draft. Whereas Byron Scott, Antoine Carr, Dale Ellis, Derek Harper, and Clyde Drexler all went on to lengthy NBA careers, Sampson would play just 456 games over nine pro seasons.
Sampson finished with career averages of 15.4 points and 8.8 rebounds. He was inducted into the Naismith Memorial Basketball Hall of Fame, but Sampson would never have been as valuable to the Celtics as Parish and McHale were.
All stats courtesy of Basketball Reference.