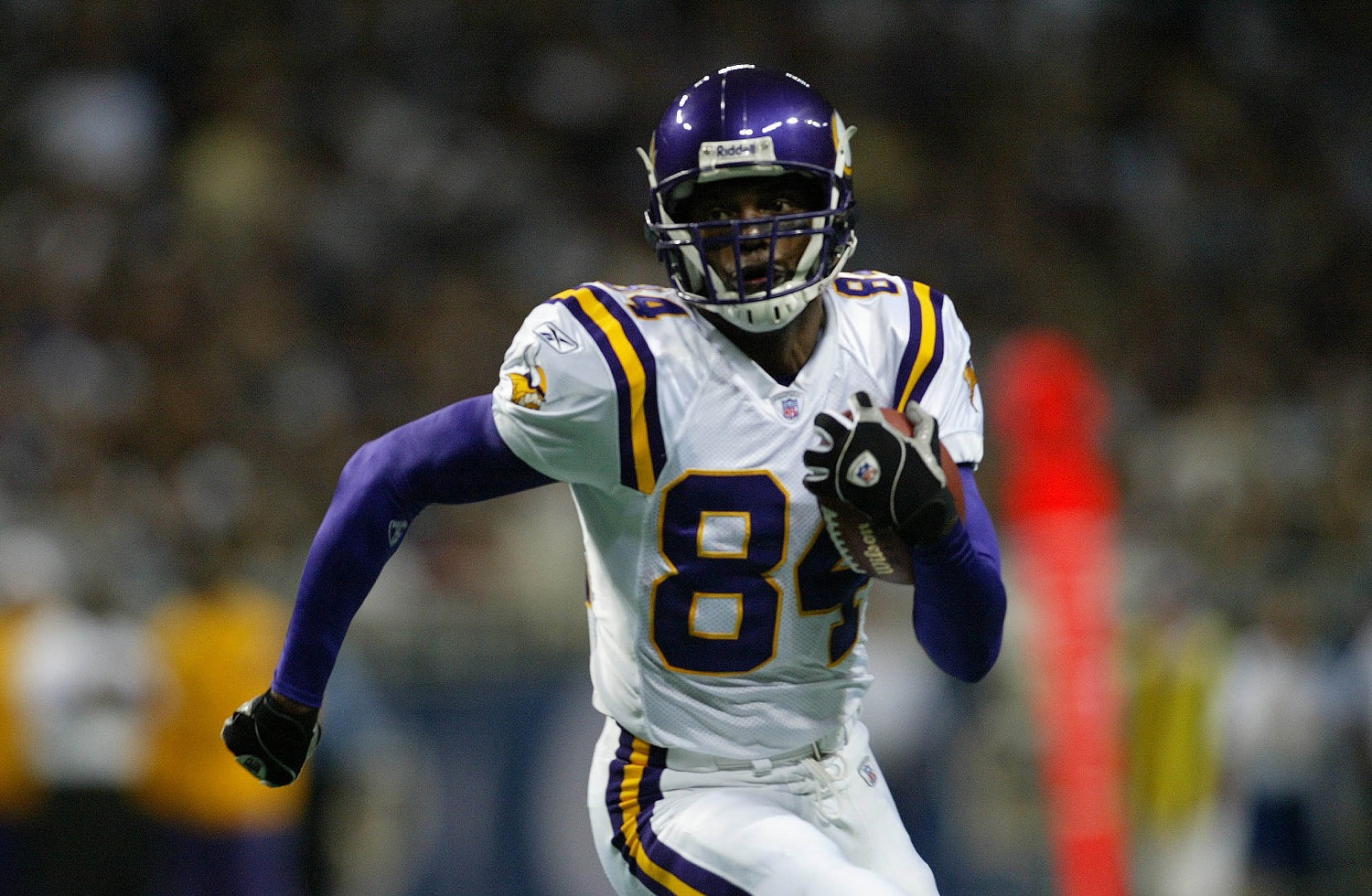 Randy Moss Posed a Peculiar Problem for His Minnesota Vikings Teammates
Randy Moss had a knack for making big plays as an NFL receiver, That sometimes created a problem for defenders on his own team.
The list of players with more career touchdown catches than Randy Moss is a short one,  as only Jerry Rice reached paydirt more frequently than the four-time first-team All-Pro receiver who started out with the Minnesota Vikings.
What further distinguished Moss from almost all others was his combination of size and speed. Defenders big enough to take him down often weren't fast enough to stay with Moss in the first place. That made for a career that culminated with induction into the Pro Football Hall of Fame.
Randy Moss put up huge numbers
Randy Moss was one of the most dangerous receivers in the NFL on Day 1 of his pro career, and he stayed that way for the entirety of his career. Moss declared for the NFL draft after two monster seasons – 174 catches and 54 touchdowns – at Marshall University and went to the Minnesota Vikings with the 21st pick of the first round.
Moss proceeded to set an NFL rookie record with 17 touchdowns catches in 1998, when he averaged a spectacular 19.0 yards per catch while finishing with 69 receptions. His numbers in seven seasons with the Vikings were the equal of just about anybody ever to play the position: 574 catches for 9,124 yards and 90 touchdowns in 109 games.
He played out the remaining seven seasons of his career with five teams (including a brief return to the Vikings) and finished with 982 receptions and 156 TD catches. Twenty-three of those scoring strikes came for the New England Patriots in 2007 to set the league record.
Only Jerry Rice (197) finished with more receiving touchdowns.
Randy Moss posed a peculiar problem for Minnesota Vikings teammates
The Minnesota Vikings regularly reached the NFL playoffs in the decade before Randy Moss arrived in 1998, but his rookie season with something special for the team. With Randall Cunningham at quarterback, 1,100-yard rusher Robert Smith at running back, and Cris Carter lined up opposite Moss, Minnesota possessed more weapons than opposing defenses were able to handle.
The Vikings went 15-1 that season with the NFL's top-scoring offense, but they saw their season end with a 30-27 loss to the Atlanta Falcons in overtime in the NFC championship game. Minnesota was a combined 21-11 in head coach Dennis Green's final two full seasons, and the Vikings also lost the 2008 conference final.
As was his trademark throughout his career, Moss scored repeatedly on long pass plays. In one stretch of his rookie season, eight straight Moss TD catches covered 44 yards or more. Twenty of his 44 TDs in the first three seasons covered at least 40 yards. In an odd sort of way, the long, quick scores didn't sit well with Vikings defenders.
"Watching him play. it was like watching a video game because you're on the sideline and all of a sudden … the next thing you know, it's like, 'Hey, man, Randy just scored,'" defensive tackle John Randle said on Morten Andersen's podcast for VegasInsider.com. "We're like, 'What? We just sat down.'
"We'd go back out there and be like, 'Hey, Randy, don't score too quick, man. Just kinda take your time. Give us a chance to rest.'"
As problems go, that's a nice one to have.
John Randle says the receiver was a good teammate
Hall of Fame defensive lineman John Randle's final three seasons with the Minnesota Vikings were the first three on the team for Moss, and Randle knew he was witnessing something special. That extended beyond the remarkable performances on the field.
"Most times, the quarterback comes on the defensive and says, 'Let's go guys,'" Randle said. "Randy was the guy who came down there and would tell us, 'Let's go, let's do this.'
"I think in our organization, we needed someone like the Randy Moss type of caliber, the guy who wasn't all about just scoring touchdowns. He was about getting the team fired up."
All stats courtesy of Pro Football Reference.