Justin Jefferson Reveals the Special Meaning Behind His Randy Moss T-Shirt: 'Definitely Want That Gold Jacket'
Don't look now, but Justin Jefferson is quickly rising up the NFL's wide receiver rankings. The Minnesota Vikings wideout put on an absolute show against the Green Bay Packers. Following in the footsteps of Hall of Famer Randy Moss, the second-year superstar is hungry to achieve similar success as one of his idols.
Justin Jefferson wore a Randy Moss t-shirt in pregame warmups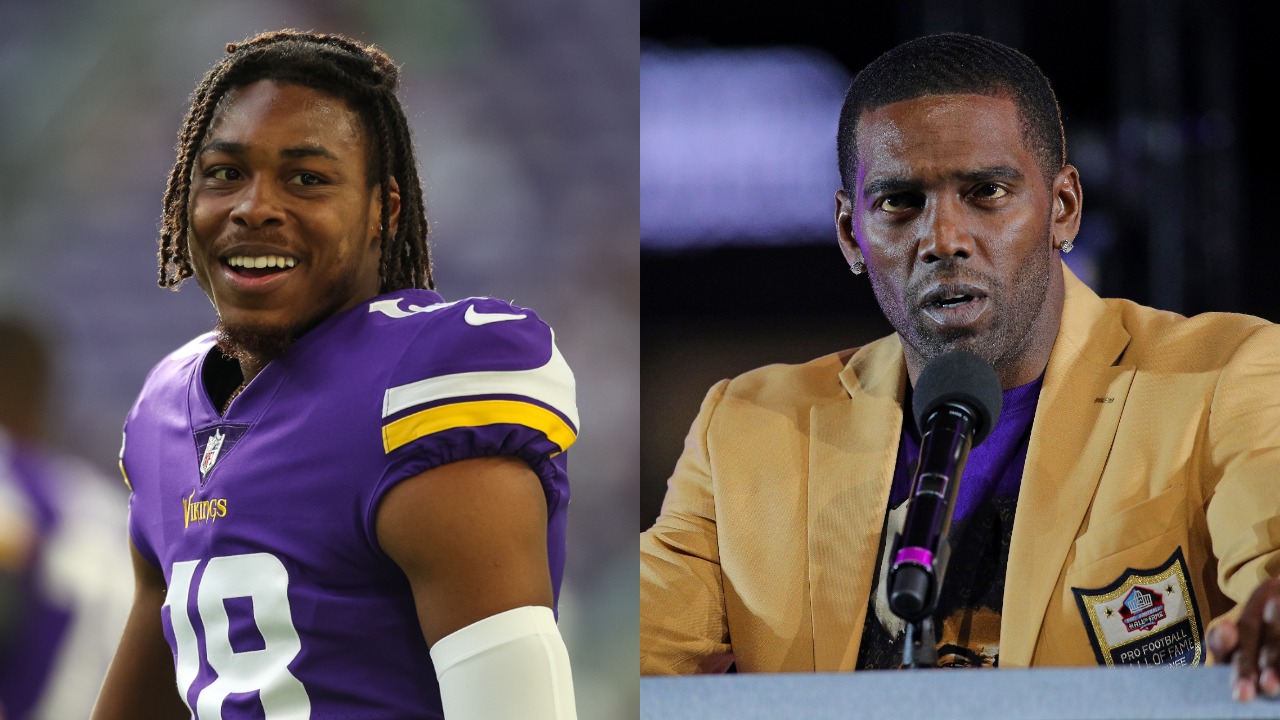 Justin Jefferson recently paid homage to Randy Moss, one of the most gifted wide receivers of all time.
The second-year wideout took the field for pregame warmups prior to the game against the Green Bay Packers. He was wearing a t-shirt with Moss' face on it.
The move drew some attention because of Moss' dominance for the Minnesota Vikings from 1998 to 2004. Jefferson is already having a similar impact in today's NFL.
After the game, Jefferson discussed the special meaning behind his decision to wear the shirt.
"I admire him so much," said Jefferson per Pro Football Talk. "Classified as one of the best if not the best receiver in history. Definitely trying to follow behind him. I definitely want that gold jacket."
Moss earned his gold jacket when he entered the illustrious Pro Football Hall of Fame in 2018. While Jefferson admits he wants to follow in the 6-time Pro Bowler's footsteps, he knows the importance of being himself.
"I try to be my own guy, but I like to put a couple of other players' moves like releases in my own game," he said. "I try to be like myself. Just try to act like myself, play like myself. I feel like I have that confidence."
The second-year Vikings WR torched the Packers
Justin Jefferson is making every team the passed up the opportunity to draft him pay. The LSU product put together another monster stat line against the Green Bay Packers in Week 11.
Joe Barry's Packers defense had been playing light out, but they ran into Jefferson, Adam Thielen, and Kirk Cousins. The Vikings' potent passing attack was firing on all cylinders against Green Bay.
Jefferson recorded eight receptions for 169 yards and two touchdowns on ten targets. The Packers' secondary didn't have an answer for him the entire game.
The 22-year-old wideout joined some elite company with his performance. Randy Moss and Stefon Diggs are the only receivers to post two 150-yard and two-touchdown efforts in a Minnesota uniform.
Before the matchup, Packers' star wide receiver Davante Adams praised Justin Jefferson for playing well ahead of his years. The Rose, Louisiana native lived up to the billing, and then some. Even from the other sideline, Adams must've been in awe of what he saw from his counterpart.
Jefferson is already making a solid case to be the best wide receiver in football right now.
Jefferson will end up in Canton at this pace
Justin Jefferson is only in his second NFL season. Still, there's no debating that he has "special" written all over him.
The second-year receiver entered the league with a massive chip on his shoulder. He played in a crowded wide receiver room at LSU, alongside Ja'Marr Chase (Bengals) and Terrace Marshall Jr. (Panthers).
Four wideouts went before Jefferson in the 2020 NFL Draft. If he had something to prove, he's already done so in such a short amount of time.
The Minnesota Vikings are reaping the rewards of their belief in Jefferson. He set the single-season rookie receiving yards record in 2020 (1,400). A year later, he's taken his game to new heights.
Jefferson is currently on pace for over 1,600 yards. He could blow the doors open if he and Kirk Cousins continue their undeniable chemistry.
If it's the gold jacket that Justin Jefferson is after, he's heading in the right direction. He has the swagger and the elite tools to match.
Randy Moss must be proud.
All stats courtesy of Pro Football Reference