Ranking Shane Bieber, Lance Lynn, Top 10 AL Central Starting Pitchers for 2022 MLB Season
Shane Bieber? Lance Lynn? Eduardo Rodriguez? Lucas Giolito? How do the best of the best stack up in these rankings of the top 10 AL Central starting pitchers.
Will Shane Bieber bounce back from his injury-shortened 2021 season to dominate for the newly renamed Cleveland Guardians during the 2022 MLB campaign? Which of the Chicago White Sox's twin aces is better, and can any of their young counterparts join them near the top of the pile? Which of the many young hurlers in the American League Central is ready to thrive under the brightest lights?
We'll have all those answers and more.
This countdown of the 10 best AL Central starting options hinges on a combination of past results and future projections, weighing everything from ongoing injury concerns to potential progression/regression in an attempt to predict the expected level of play for the entirety of the 2022 season.
That last part can't be emphasized enough.
Beginning with the five Cleveland-heavy honorable mentions you can see below, these rankings are not moment-in-time snapshots. Nor do they predict the final level reached when the 2022 postseason field is determined. They account for expected volume and production during the whole campaign, relying on both anecdotal observations and plenty of numbers, including the listed 2022 stats that come from Fangraphs' THE BAT projections.
Honorable Mentions: Aaron Civale, Cleveland Guardians; Triston McKenzie, Cleveland Guardians; Casey Mize, Detroit Tigers; Cal Quantrill, Cleveland Guardians; Brady Singer, Kansas City Royals
10. Tarik Skubal, Detroit Tigers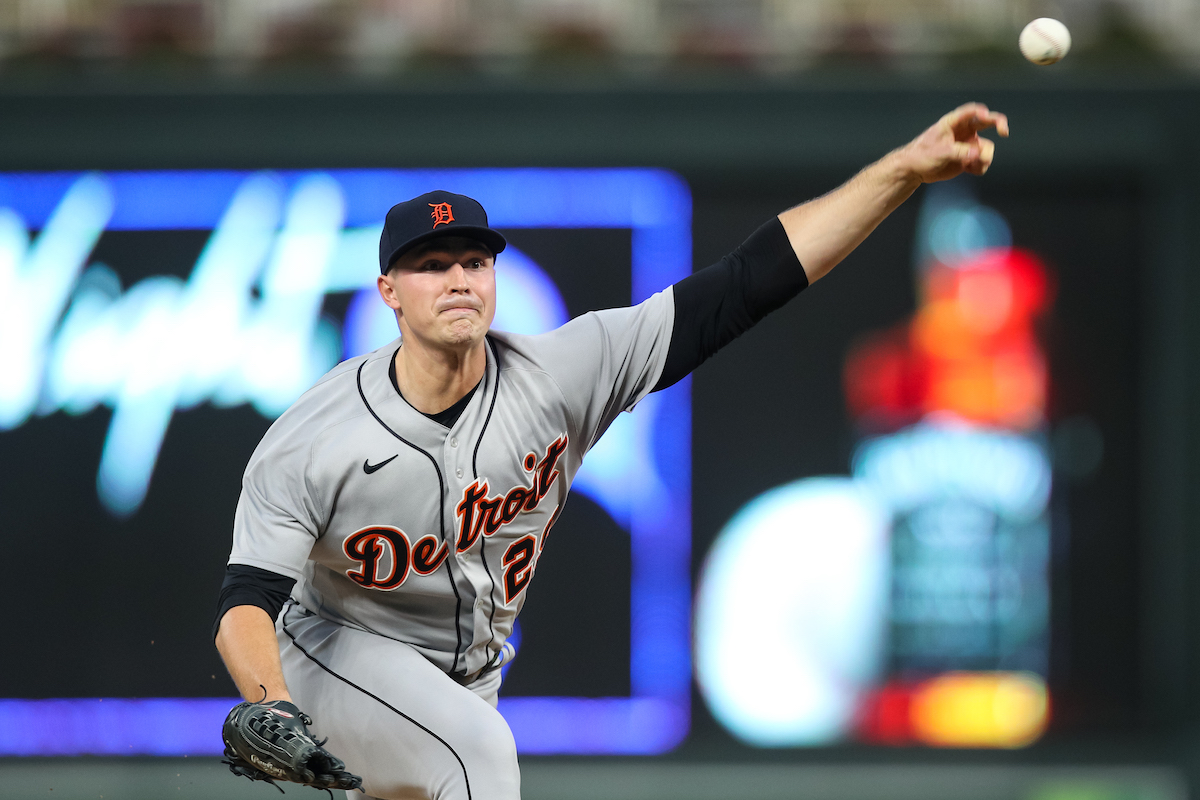 Age: 25
2021 Stats: 149.1 IP, 29 GS, 8-12, 164 K, 47 BB, 4.34 ERA, 1.26 WHIP, 0.7 WAR
2022 Projected Stats: 160.0 IP, 29 GS, 8-12, 168 K, 56 BB, 4.64 ERA, 1.31 WHIP, 1.9 WAR
Tarik Skubal certainly benefits from a lack of elite options in the AL Central since he's not yet had a breakthrough season and has struggled to limit homers. But it's not hard to see those strides coming in 2022 if he leans more on his secondary stuff and manages to improve a fastball that has been downright disastrous.
Skubal's fastball sits at 94.4 mph, but it produced -9.8 runs above average in 2021 even though he threw it with less frequency than in previous seasons. He does miss some bats because it features a good bit of horizontal movement, but hitters have easily squared it up and teed off. If he can reduce the amount of hard contact, the rest of his arsenal would also trend in the right direction.
With a strong slider-sinker combination, Skubal is tantalizingly close to bursting out. Monitor the home runs and how often hitters find the barrel against his heater, and you'll know if that's a pipedream or a legitimate possibility.
9. Bailey Ober, Minnesota Twins
Age: 26
2021 Stats: 92.1 IP, 20 GS, 3-3, 96 K, 19 BB, 4.19 ERA, 1.20 WHIP, 1.0 WAR
2022 Projected Stats: 135.0 IP, 26 GS, 10-9, 134 K, 34 BB, 4.17 ERA, 1.18 WHIP, 2.4 WAR
With a rock-solid four-seamer he elevates with aplomb to generate plenty of swinging strikes, enough command over his entire arsenal that he walked only 1.85 batters per nine innings in 2021, and a slider and curveball that can both play like elite secondary offerings every once in a while, Bailey Ober looks like a prime breakout candidate for the Minnesota Twins.
He just needs more consistency with the secondary stuff since he occasionally had to turn to his fastball on what felt like every pitch, which made him all the more hittable, And, of course, allowing fewer balls to clear the fences would go a long way after he gave up 1.95 homers per nine innings in his age-25 season.
Bailey's velocity (92.4 mph on his fastball) plays up because of his 6-foot-9 frame and extension before he lets fly, but using it more sparingly is the key since he elevates enough pitches that it's only natural the ones hitters can turn around on leave the park.
8. Joe Ryan, Minnesota Twins
Age: 25
2021 Stats: 26.2 IP, 5 GS, 2-1, 30 K, 5 BB, 4.05 ERA, 0.79 WHIP, 0.6 WAR
2022 Projected Stats: 133.0 IP, 25 GS, 9-9, 139 K, 38 BB, 4.20 ERA, 1.18 WHIP, 2.1 WAR
Joe Ryan has two strong pitches. He threw his fastball 66.0% of the time during his debut MLB season and turned to his slider for 16.0% of his pitches, and both yielded above-average results.
The former doesn't have much velocity (91.2 mph) or spin, but it still fooled batters enough that they struggled to make contact at all — and what contact they did make fell into the "soft" category. The latter was the truly elite pitch that yielded plenty of whiffs, and it's also the source of some of the discrepancy between Ryan's actual and expected stats. On his 66 sliders, opponents hit .200 with a .300 slugging percentage, but the expected numbers came in at .185 and .219, respectively.
That helps explain the 3.43 FIP, 3.73 xFIP, and 3.42 SIERA he produced over his cup of coffee, but it'll be hard for him to take further strides until he proves his curveball is scalable or his changeup isn't just an extra-base hit waiting to happen.
7. Sonny Gray, Minnesota Twins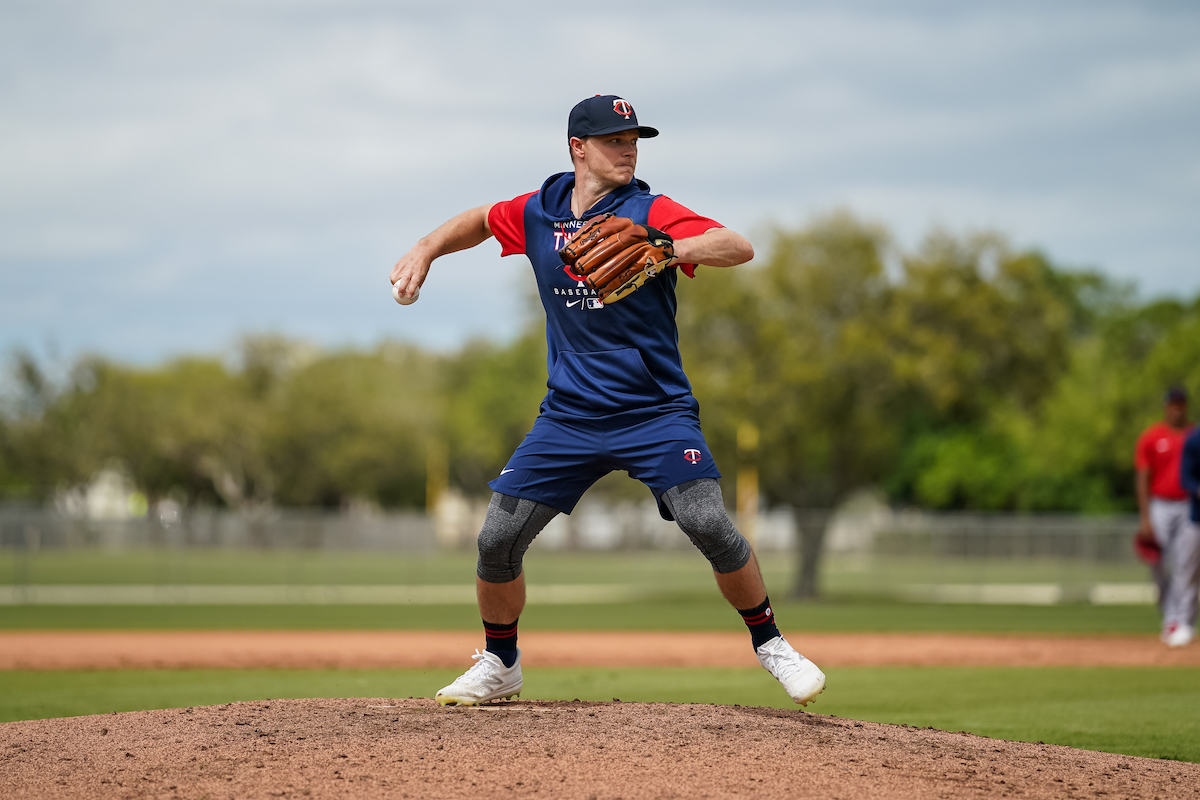 Age: 32
2021 Stats: 135.1 IP, 26 GS, 7-9, 155 K, 50 BB, 4.19 ERA, 1.22 WHIP, 1.7 WAR
2022 Projected Stats: 160.0 IP, 29 GS, 11-10, 158 K, 64 BB, 4.08 ERA, 1.31 WHIP, 2.7 WAR
Sonny Gray didn't come close to replicating his 2.87 ERA from the 2019 season, but he did perform better than the basic numbers might otherwise indicate.
With a double-digit strikeout rate (10.31 K/9) and his lowest walk rate since 2017 (3.33 BB/9), he posted a 4.19 ERA that was paired with a 3.25 xERA, 3.99 FIP, 3.66 xFIP, and 3.85 SIERA. Even though he allowed less hard contact than he did during the best year of his career, his HR/FB% spiked to 16.5%.
A 32-year-old Gray isn't suddenly going to become a Cy Young contender now that he's joined the Minnesota Twins, but he should settle into a happy medium, producing plenty of strikeouts and an ERA a bit below 4.00. Everything just hinges on whether his breaking pitches are working because his approach relies on getting called strikes that allow him to keep things low and make hitters ground out softly when they don't swing and miss.
6. Michael Kopech, Chicago White Sox
Age: 25
2021 Stats: 69.1 IP, 4 GS, 4-3, 103 K, 24 BB, 3.50 ERA, 1.13 WHIP, 1.7 WAR
2022 Projected Stats: 126.0 IP, 21 GS, 9-7, 153 K, 51 BB, 4.15 ERA, 1.27 WHIP, 2.3 WAR
How much do you trust Michael Kopech as the Chicago White Sox stretch him out into a starting role? He's been through Tommy John surgery, opted out of the 2020 season amid the height of the coronavirus pandemic, and spent much of 2021 operating out of the bullpen.
In his four 2021 starts, which were scattered throughout the calendar, he pitched a total of 14 innings, allowing seven hits, three walks, and three earned runs while striking out 23 en route to a 1.93 ERA and 0.71 WHIP. Against the Texas Rangers on April 25, he enjoyed his longest outing of the season and struck out 10 while allowing four hits, no walks, and one run — a solo shot from David Dahl in the second frame — over the course of five impressive innings.
Even if his fastball scorches radar guns and his slider leaves hitters flailing, we have to see him consistently use his other offerings and demonstrate sustained success (and availability) before we can lift him any higher in the rankings. This feels bold enough already.
5. Dylan Cease, Chicago White Sox
Age: 26
2021 Stats: 165.2 IP, 32 GS, 13-7, 226 K, 68 BB, 3.91 ERA, 1.25 WHIP, 4.4 WAR
2022 Projected Stats: 166.0 IP, 31 GS, 12-11, 201 K, 73 BB, 4.24 ERA, 1.30 WHIP, 2.8 WAR
This might be lower than you expected to see Dylan Cease, especially since his 3.91 ERA came as he was the unfortunate victim of some bad luck in 2021. A 3.41 FIP and 3.57 SIERA both speak to his underlying skills, and he undoubtedly suffered through some misfortune as a result of a higher-than-expected .309 BABIP.
But don't bet on him to take massive strides forward this year even if he can rack up plenty of strikeouts behind a strong fastball-curveball combination.
Cease simply doesn't have great command, and that goes beyond the fact he walked a career-low 3.69 batters per nine innings last season. He struggles to put away batters early in the count and is inconsistent enough with just about every pitch type that he registered 165.2 innings over the course of a full 32-start season — just over five innings per start. He might put up 12 Ks one outing and use 80 pitches to labor through 3.2 innings the next time around.
4. Eduardo Rodriguez, Detroit Tigers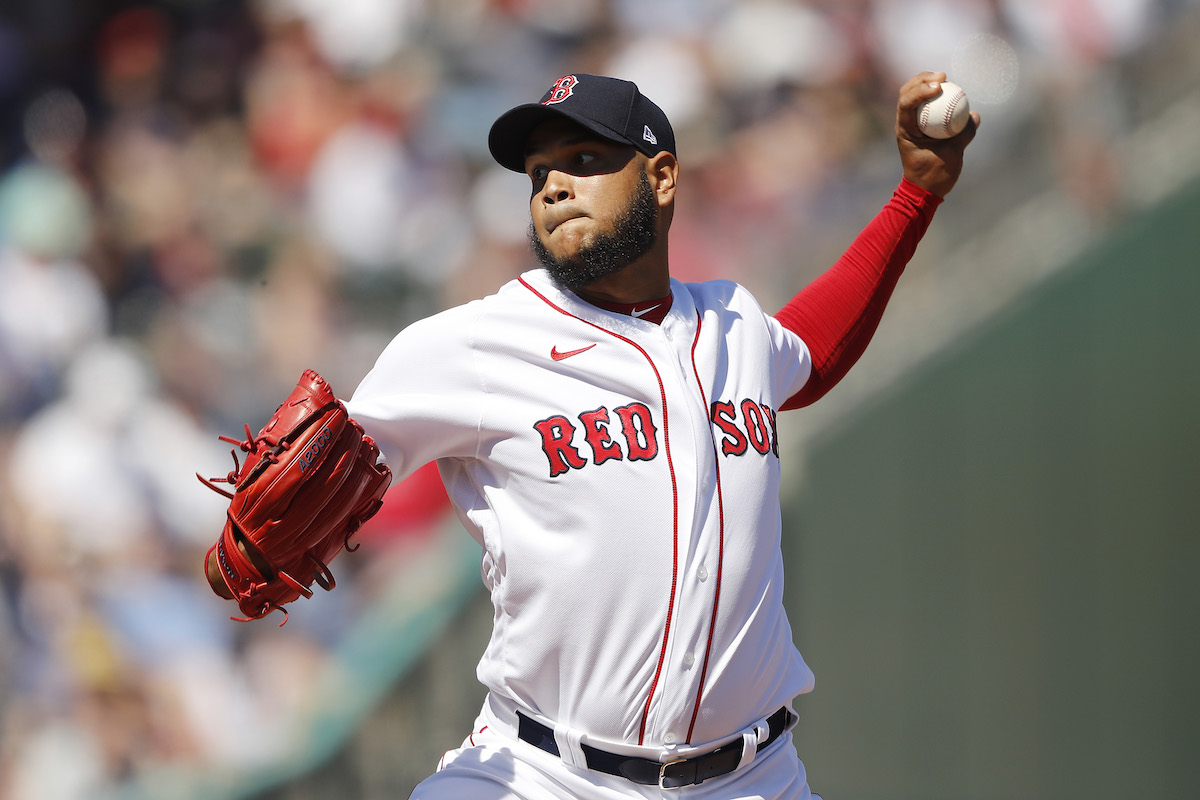 Age: 28
2021 Stats: 157.2 IP, 31 GS, 13-8, 185 K, 47 BB, 4.74 ERA, 1.39 WHIP, 3.8 WAR
2022 Projected Stats: 177.0 IP, 31 GS, 11-12, 178 K, 60 BB, 3.84 ERA, 1.26 WHIP, 3.7 WAR
Eduardo Rodriguez's arsenal isn't going to blow you away until he pairs his impressive fastball with at least one other top-tier offering, but he's also far better than last year's numbers might suggest. In short: Don't be spooked by that 4.74 ERA even if it's a far-from-ideal number.
This goes beyond Rodriguez's move from the pitcher-destroying AL East to an AL Central division brimming over with beatable lineups, too.
Pitchers' luck, or lack thereof, typically manifests in three areas: relievers allowing inherited runners to score, a disproportionate number of fly balls clearing fences, and hitters happening to find open grass on too many of the balls they put into play. Some of that is controllable by the man on the mound, but only to an extent.
Rodriguez was the recipient of a horrid bullpen performance that allowed 31.1% of his inherited runners to score. He's never been a particularly great pitcher at inducing weak content and lowering BABIPs, but his sky-high mark of .363 was well above his .311 career average. And finally, a 12.7 HR/FB% came in above his career rate of 11.8%.
No wonder his 4.74 ERA and 3.32 FIP were so far out of whack.
3. Lance Lynn, Chicago White Sox
Age: 34
2021 Stats: 157.0 IP, 28 GS, 11-6, 176 K, 45 BB, 2.69 ERA, 1.07 WHIP, 4.2 WAR
2022 Projected Stats: 178.0 IP, 30 GS, 13-10, 189 K, 60 BB, 4.08 ERA, 1.23 WHIP, 3.1 WAR
Now we take a massive leap up to the truly elite options who sit at least a few tiers above Eduardo Rodriguez in the overall pitcher pecking order. Lance Lynn might only be the No. 3 option within the AL Central, but he's still a 34-year-old who could reasonably draw Cy Young votes for the fourth consecutive season.
Lynn's slider isn't quite as effective as it was during his true peak, and he slowed down a smidge toward the end of the season, but he's still coming off a year in which his 2.69 ERA was supported by a 2.62 xERA, 3.32 FIP, 3.82 xFIP, and 3.72 SIERA.
Was he uber-elite? Nope, and he benefitted from some luck throughout the year, particularly when it came to inherited runners. But he still has one of the game's more effective fastballs, a strong slider as a secondary option, and, well, that's about it. Fortunately for the White Sox, that's usually enough.
2. Lucas Giolito, Chicago White Sox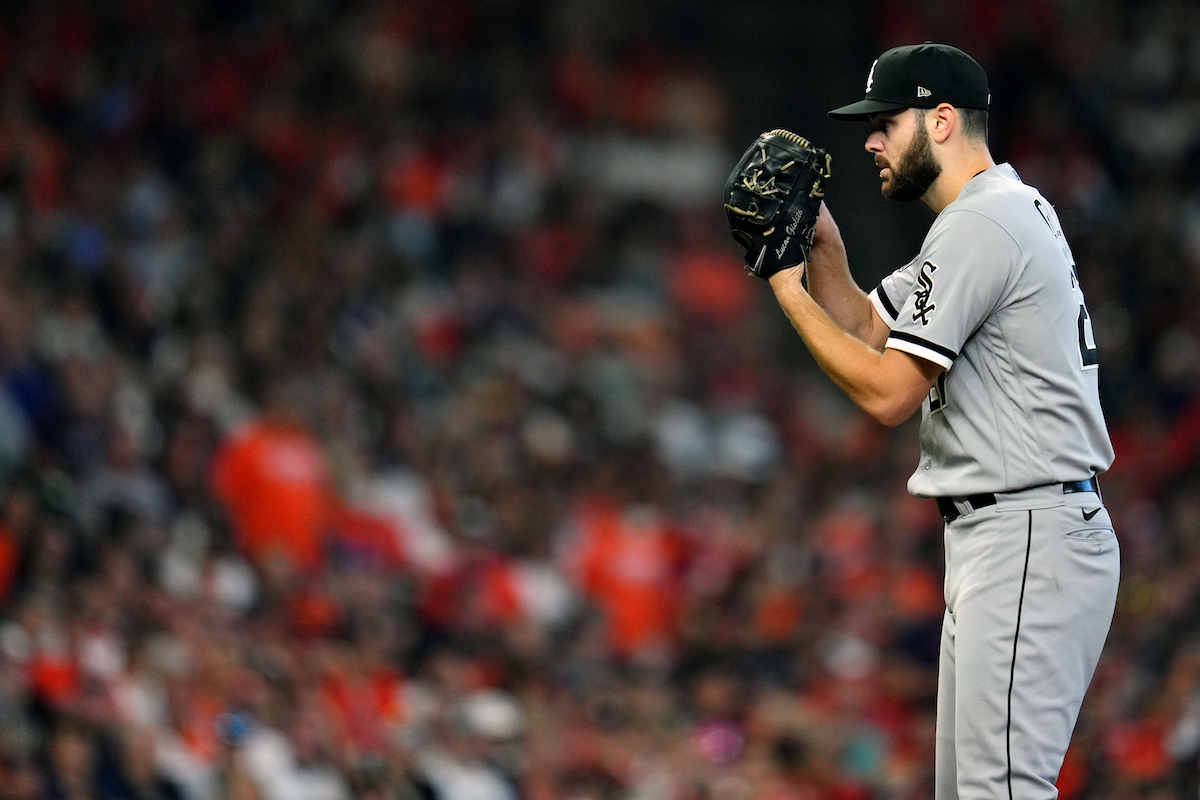 Age: 27
2021 Stats: 178.2 IP, 31 GS, 11-9, 201 K, 52 BB, 3.53 ERA, 1.10 WHIP, 4.0 WAR
2022 Projected Stats: 180.0 IP, 30 GS, 13-10, 203 K, 62 BB, 4.03 ERA, 1.20 WHIP, 3.3 WAR
Though Lucas Giolito struggled to reach his prior heights with his fastball and changeup, he did what all great pitchers do and adjusted. Instead of relying on those aforementioned offerings to the same extent he did in 2020 (84.3%), he cut their combined usage to 75.7% and instead leaned on an improved slider.
Realistically, you can view this one of two ways.
Maybe Gioltio, who has seen his underlying metrics (3.79 FIP in 2021) trend in the wrong direction each of the last two seasons, really isn't the ace he was made out to be when he burst onto the scene in 2019. Or maybe he's still evolving and getting ready to pair that newfound slider success with a fastball that can get back to its old standards. Considering it still dances around the plate and has a spin rate in line with its 2019 numbers, we'll lean strongly toward the latter.
1. Shane Bieber, Cleveland Guardians
Age: 26
2021 Stats: 96.2 IP, 16 GS, 7-4, 134 K, 33 BB, 3.17 ERA, 1.21 WHIP, 2.6 WAR
2022 Projected Stats: 174.0 IP, 28 GS, 13-10, 216 K, 56 BB, 3.55 ERA, 1.18 WHIP, 4.2 WAR
Shane Bieber's rotation cuff injury kept him out for a substantial portion of the 2021 season, and the starts around the injury weren't particularly impressive — by his lofty standards, at least. But so long as his velocity and command of his fastball return along with his health, the 26-year-old should again be one of the most dominant forces in MLB.
Disappointing as his last campaign may have been, he still posted a 3.17 ERA that was backed up by a 3.03 FIP, 2.91 xFIP, and 3.21 SIERA. And lest we forget, the year before that was a Cy Young-winning effort in which he logged a 1.63 ERA (2.07 FIP, 2.07 xFIP, 2.52 SIERA) over 77.1 innings while striking out 14.2 batters per nine innings.
Bieber struggled to harness his fastball quite like did during his 2020 and 2019 efforts, but he still unleashed a dominant slider and a full complement of tertiary pitches. He pitched like an ace even in a down year, and though a ridiculous left-on-base rate (91.1%) in 2020 likely means he's already reached his true peak, he should settle in somewhere between the two and post elite performance after elite performance for the Cleveland Guardians.
All stats, unless otherwise indicated, courtesy of Baseball Reference, Fangraphs, and Baseball Savant.