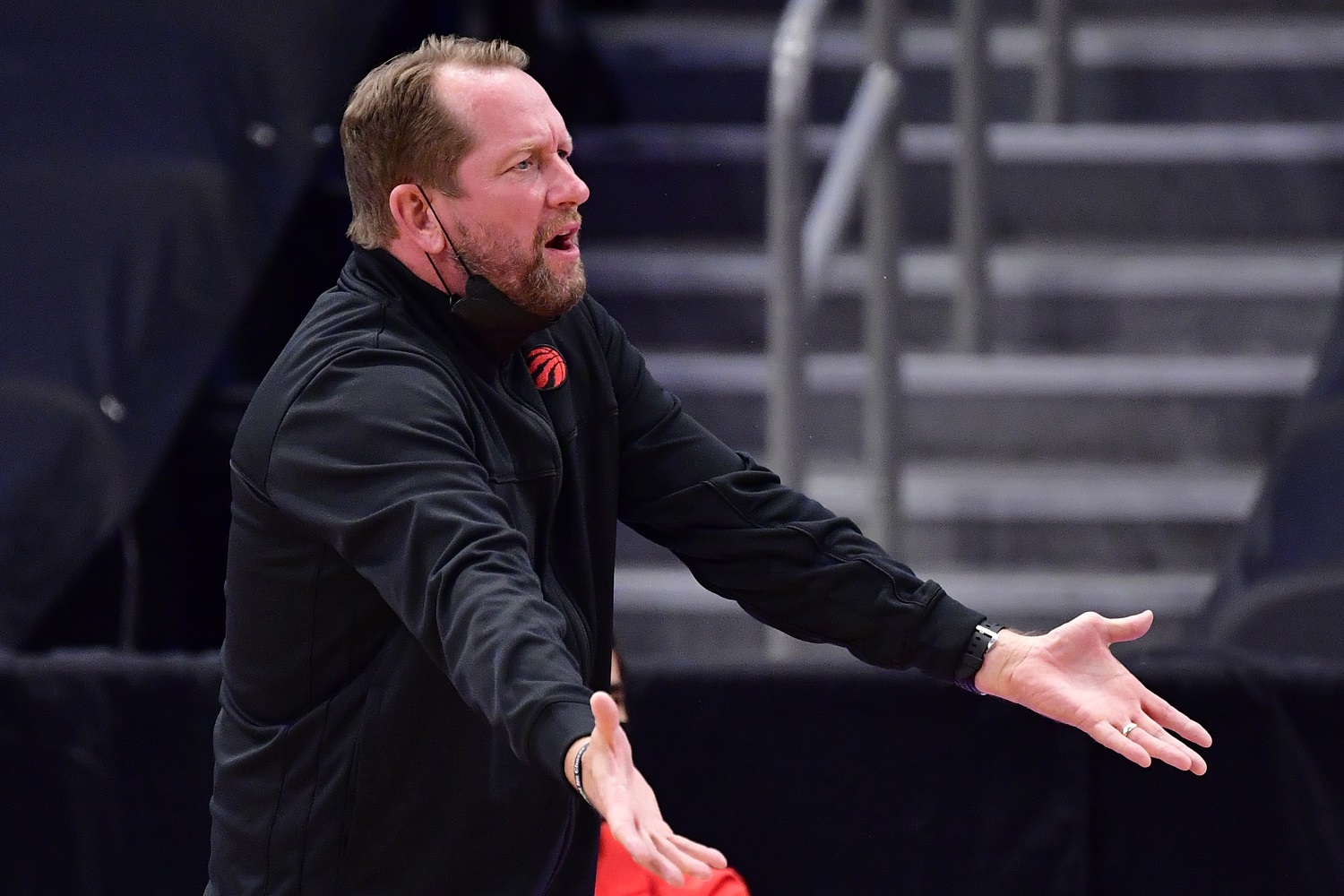 The Raptors' NBA Season in Tampa Went the Way of the Dinosaurs, but Coach Nick Nurse Learned Life-Saving Advice About Alligators
Being based in Florida for the 2020-21 NBA season taught Toronto Raptors coach Nick Nurse some unusual survival skills for playing golf or walking in the neighborhood.
The NBA is into its playoffs, so we get to hear for a month about how elimination games are a battle for survival. The Toronto Raptors didn't make it to the postseason, though they did survive an exile.
Forced to relocate to Tampa, Florida, while travel between the United States and Canada remained all but shut down by the COVID-19 pandemic this season, the Raptors never saw Toronto.
Coach Nick Nurse and most Raptors players are Americans, but living in Tampa still involved a little culture shock.
The Toronto Raptors were NBA also-rans
After seven straight years of 48 or more victories and a 2019 NBA championship, the Toronto Raptors just completed their worst season since 2012, dropping from 53-19 to 27-45 in a matter of months.
The Raptors lost eight of 10 outings to start their season and nine of 10 to end it. In between, they were a manageable 24-28.
The rotation wasn't drastically different from a year earlier, with the departure of free-agent centers Serge Ibaka (Clippers) and Marc Gasol (Lakers) to Los Angeles key exceptions. Pascal Siakam, Fred VanVleet, and Kyle Lowry remained in Toronto's top four in scoring, and the late-season trade sending guard Norman Powell to Portland netted them Gary Trent Jr. in return.
Lowry and Trent are free agents this summer, but Toronto possesses its lottery pick and a pair of second-rounders in the 2021 NBA draft, so the future doesn't look bad.
And the best part? In all likelihood, the Raptors will be able to return to the comforts of Toronto for the 2021-22 season.
A website conducted Raptors exit interviews
With the season winding down, Complex.com writer Vivek Jacob asked Raptors players and coaches to share their Tampa stories. With Toronto normally cold and snowy during basketball season, it's understandable that the Florida weather came up in the exit interviews.
As a rookie, guard Malachi Flynn didn't have much of a basis for comparing Tampa to Toronto. However, he was born in the Pacific Northwest and attended Washington State.
"Really haven't been able to do much with all restrictions, but I think just the weather stands out for me," Flynn said. "Being in the down south, really humid down there, haven't really been in a weather like that."
Lowry cited different conditions indoors, laughing about fans occasionally booing during home games. Still, he lavished praise on Tampa.
"It's been cool, man, the city's been awesome," he said.
Alligators, crocodiles are more than just a Florida urban legend
Multiple Raptors players mentioned seeing alligators or crocodiles in the vicinity of the apartments where they stayed, but Nurse discussed the subject in detail. In the process of recalling what he saw with Siakam, Toronto's fifth-year forward, Nurse delivered some clutch advice about alligators and crocodiles.
"You always wonder if they're around where you, are and I was taking the boys for a walk in the wagon, and I was like, 'Holy smokes, that pond is across the street!' So, it isn't a million miles away from where we are," the third-year head coach explained. "And I did find this out, actually this morning, that if an alligator's chasing you, you're supposed to run zig-zag and they give up chasing you really quickly.
"For some reason, they can't figure that out, but they can really run fast straight ahead. But if you go zig-zag, they'll quit chasing you. So, that's a useful tip. A unique and useful tip."
Said Siakam: "That's Florida for you."
Like Sportscasting on Facebook. Follow us on Twitter @sportscasting19.