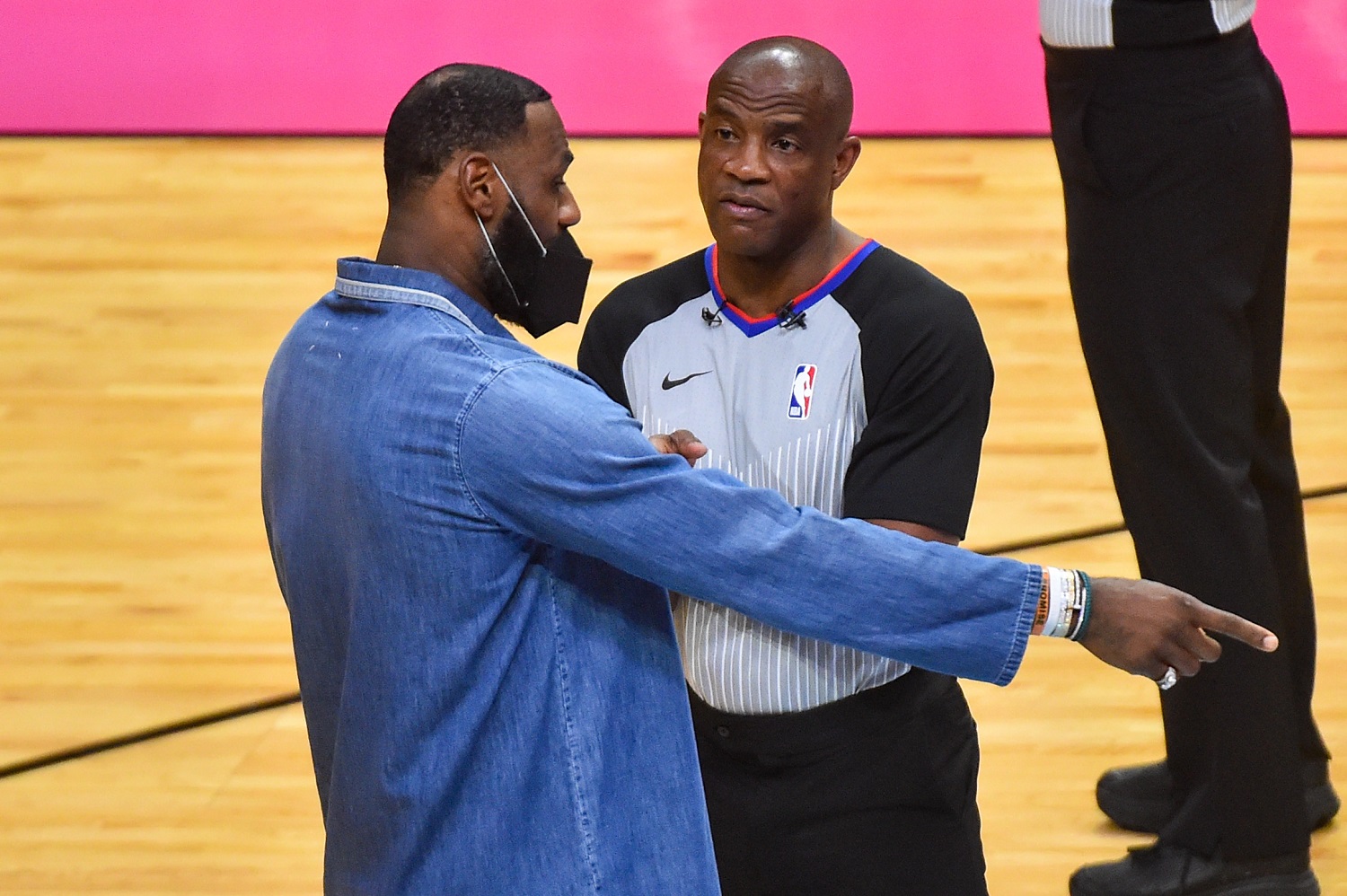 Referee Tony Brown Has Gone From the NBA Finals to Fighting For His Life
Veteran NBA referee Tony Brown has written a first-person account following his diagnosis with stage 4 pancreatic cancer.
One of the recurring complaints down the stretch of the regular season and the NBA playoffs revolved around the number of games missed because of injuries. Players groused, with LeBron James going public about the toll that a short offseason and then 72 games took.
In the grand scheme of things, sprained knees and rolled ankles are no match for what another figure on the court is enduring.
Veteran referee Tony Brown has stage 4 pancreatic cancer, which has spread to his liver.
Referee Tony Brown hasn't worked since the spring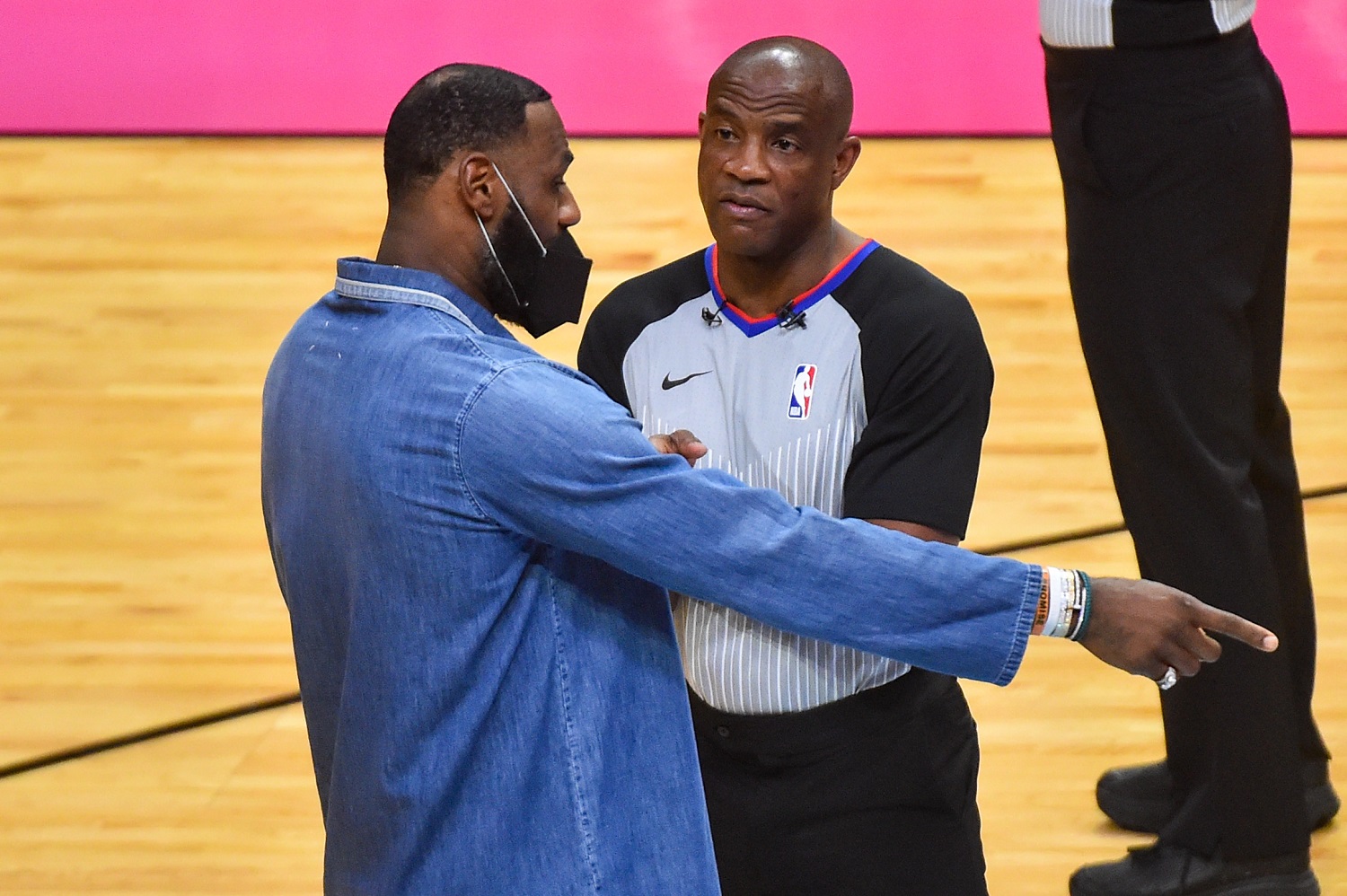 The NBA announced in mid-May that Tony Brown was cutting short his 19th season of officiating games to concentrate on treatment after learning he has pancreatic cancer.
Brown has worked 1,109 regular-season games and 35 in the playoffs. He started landing one or two postseason assignments a year beginning in 2011 and worked his way up to a career-high 10 contests – including a game in the finals – last year in the bubble at Disney World.
"Tony is a beloved member of the NBA family, and in particular, our officiating family," league vice president Monty McCutchen said in the announcement. "In addition to exemplifying what it means to be a world class referee on the court, Tony also touches so many lives off the court."
A chain of events and a shocking diagnosis
Brown has gone public about his illness, and his account on The Undefeated website details how something seemingly innocuous turned into a life-changing diagnosis in a matter of days.
It started with stomach pain that doctors attributed to likely food poisoning after he worked an April 8 game in Miami. When the discomfort didn't subside after a week, he made an appointment with a doctor in Atlanta. One bit of data from a blood test came back out of kilter, but the doctor didn't express any concern before sending Brown off for an ultrasound and an MRI.
The scans led to the first sign of trouble, but even that didn't trigger panic: An abnormality spotted on his liver would require a biopsy and an appointment with a cancer specialist to review the results.
"'No problem,' was my response," Brown wrote. "'I'm in great shape; whatever's showing up has to be benign.'"
Brown went for a CT scan early on April 30, then drove to the Atlanta Hawks' training facility for a COVID-19 test. He was scheduled to fly later in the day to Chicago, where the Bulls were playing the Milwaukee Bucks. As he pulled into the Hawks' facility, Brown received an urgent phone call telling him to get to Emory University Hospital; the CT scan showed blood clots in Brown's lungs.
"'Had you gotten on that plane to Chicago,' a doctor told me, 'there's a chance the blood clots would have killed you.'"
Doctors started blood thinners and admitted him to a room on the oncology floor.
"My wife and I are confused about being taken to a cancer floor, and when a call doctor stopped by to check on me, we asked what was going on," Brown recalled. "The doctor, startled by our unawareness of my situation, delivered a sledgehammer.
"'You have stage 4 pancreatic cancer. It has spread to your liver.'"
The most difficult hurdle: telling his children
Brown remained hospitalized overnight, long enough to begin the blood thinners and undergo an electrocardiogram.
"I walked into the hospital on Friday morning looking forward to the completion of a thorough medical exam, eager to get back to work," he wrote. "I walked out of that hospital on Saturday morning with the diagnosis of advanced pancreatic cancer, with how much time I had to live uncertain. "
Brown said that telling his three children, ages 17 to 24, was his most difficult challenge. The Florida native and his wife summoned their children (one had to fly in from Los Angeles) to a Sunday gathering that included a few close friends that already knew Brown's diagnosis.
Long after dark, Brown, his wife, and the kids excused themselves and went to the upstairs bedroom.
"As I walked into the room my son, Basile, actually quipped, 'You're not going to tell us you have cancer or something crazy, are you?'" Brown wrote. "Knowing that he was joking stung harder than a thousand bees, as I shared the devastating news.
"Once the words, 'I have cancer,' came from my lips, the kids simultaneously broke down and, seeing them in so much pain, I was right behind them. … It pained me to see them hurt so badly in a moment where I was unable to offer them any sanctuary."
Brown gave them the "champion's speech," assuring the kids that he was focused on living. The strength that they showed bolstered him.
Six months earlier, he had reached the peak of the profession by working Game 4 between the Lakers and the Heat, a pair of heavyweights who had outlasted 28 others.
"When this season began, my goal was to experience that exhilarating moment again," Brown wrote.
Instead, he's up against a powerful opponent of his own.
Like Sportscasting on Facebook. Follow us on Twitter @sportscasting19.