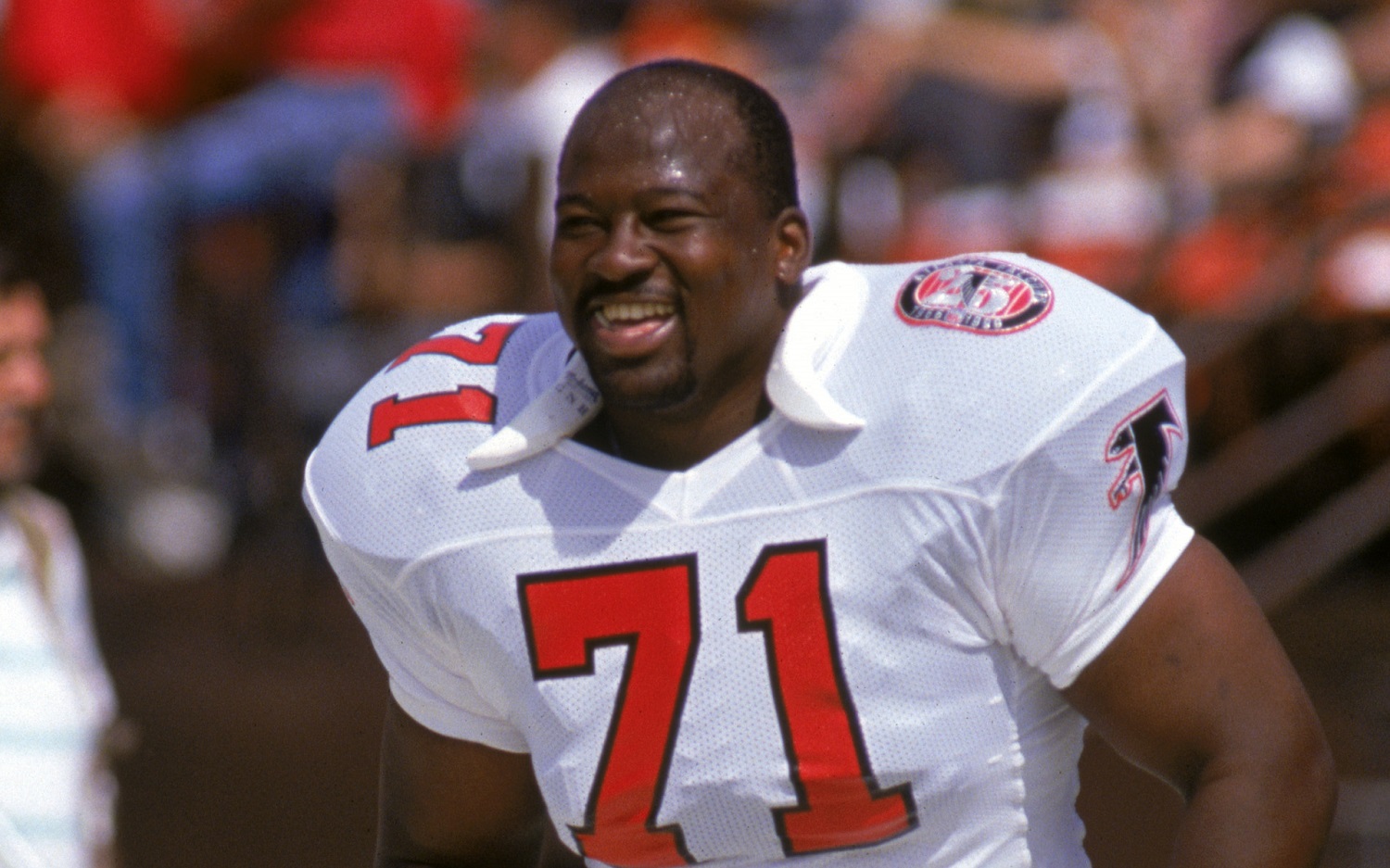 Retired All-Pro Chris Hinton Wants a Voice in Deciding If NCAA Football Gets Played
Retired All-Pro lineman Chris Hinton has organized a parents group working for a safe start to the college football season during the pandemic.
Chris Hinton spent 13 seasons protecting NFL quarterbacks. The former Indianapolis Colts and Atlanta Falcons star's new passion is protecting college athletes. Hinton has become a prominent voice during the COVID-19 pandemic, and what he says in the coming weeks could sway the fate of college football in 2020.
Chris Hinton was among the best NFL linemen
Few NFL linemen were as good at their job as Chris Hinton was for three National Football league teams from 1983-95. A first-team All-American lineman in 1982 as a senior at Northwestern, Hinton went on to play for the NFL's Indianapolis Colts, Atlanta Falcons, and Minnesota Vikings.
Hinton was selected to the Pro Bowl seven times, including as a rookie, and had the distinction of being chosen first-team All-Pro as a tackle and a guard six seasons apart. He retired from the league after the 1995 season at the age of 34.
As good as he was on the field, Hinton was also a historical footnote off it. He was selected fourth overall in the 1983 NFL draft by the Denver Broncos but became one of the rare first-rounders never to play for the team selecting him. That's because Denver sent him to the Colts, then located in Baltimore, in a package to acquire John Elway, the top overall pick. The deal came about after Elway made it clear he would not sign with the Colts.
A family of talented athletes
Though Chris Hinton is understandably the best-known athlete in the family, he is not the only one. His wife, Mya, who has a law degree from Notre Dame, played basketball for Northwestern, averaging 8.5 points a game as a 6-foot-3 senior center.
The Hintons have two sons playing major-college football on scholarship.
Myles Hinton is a redshirt freshman offensive lineman at Stanford. He was a consensus top-five player in his state as a senior in Georgia and was offered by multiple powerhouses, including Alabama, Michigan, Ohio State, and Oklahoma.
Chris Hinton Jr., is a sophomore defensive lineman for Jim Harbaugh at Michigan. He started against Alabama in the Citrus Bowl and appeared in 11 other contests for the Wolverines, making a season-best six tackles against Ohio State.
The boys' participation in football has kept their parents interested in sports, and that interest has increased substantially this year because of the COVID-19 pandemic.
To that end, Chris and Mya Hinton created College Football Parents 24/7, an advocacy group that the Chicago Tribune reports has grown to nearly 2,000 parents of athletes with a goal to keep pressure on the NCAA to adhere to smart and consistent guidelines for starting up the college football season.
"Mya and I are huge football fans," Chris Hinton told the paper. "We want to see a season. But we want it done safely and only if it makes sense."
Chris Hinton wants a voice in deciding if NCAA football gets played
An organization with fewer than 2,000 members seemingly wouldn't have clout in a sport with more than 400 NCAA schools playing below the Division I level, let alone in the FBS and FCS. But 2,000 spread across the country gives Chris Hinton and College Football Parents 24/7 insight into a variety of divisions, conferences, and schools.
They've assembled enough information to know that the college football season is at risk because uniform practices and procedures in dealing with pandemic-related safety are lacking. Already, the Pac-12 and the Big Ten have canceled non-conference games so that they can be sure everyone that steps on the field together takes similar precautions.
Other conferences aren't as far as along. "What we're seeing from school to school, everyone is doing it differently," Mya Hinton said.
College Football Parents 24/7 wrote to NCAA president Mark Emmert in June to request universal standards in testing and safety protocols. Emmert issued a stern public warning about the risk to the sport, but the NCAA has stopped short of announcing requirements even though at least 70 schools have reported positive test results since players started returning to campus.
"There's nothing to it. It's frustrating because the NCAA, if there's an issue with whether athletes are getting an extra lunch or extra meal, they can whip up something and mandate something on rules about meals. But not about COVID-19 protocol."

Chris Hinton
The Hintons said the NCAA turned down a request to institute a parent advocacy group, saying that there is already an athlete advisory council. But athletes may be reluctant to speak out, whereas parents won't be.
"We aren't going away," Mya Hinton said.