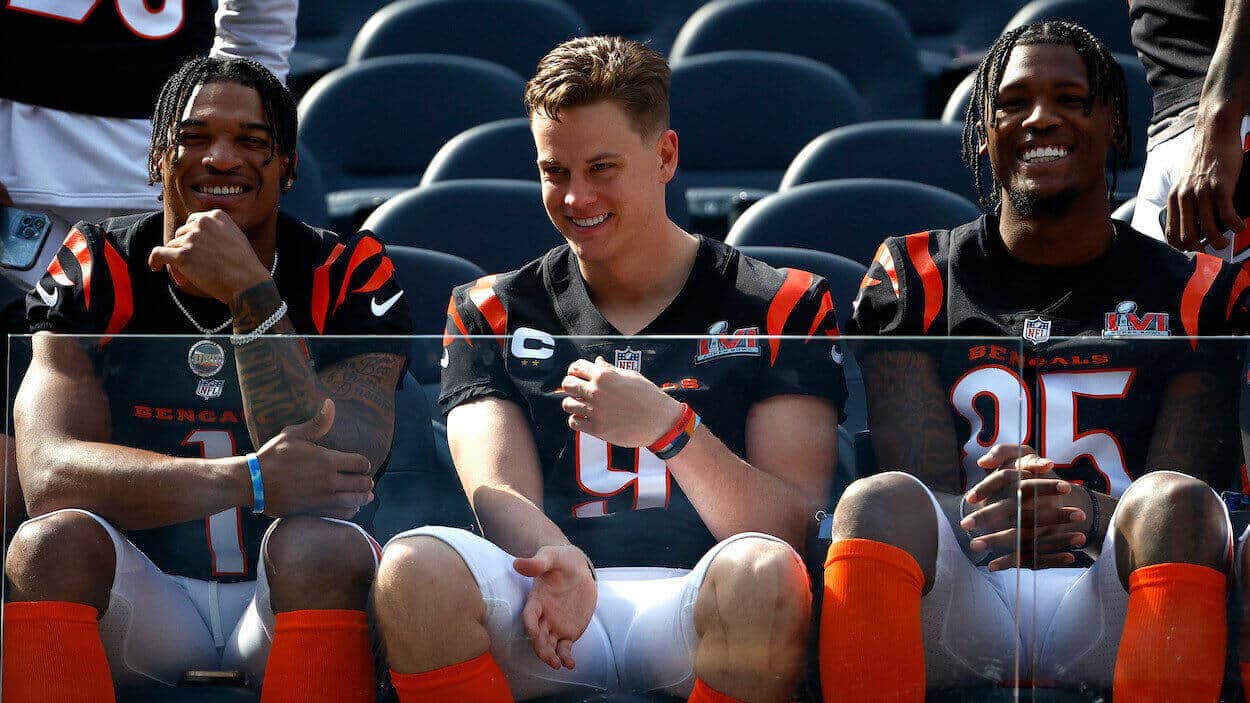 RGIII Says Joe Burrow is Only the 4th-Best QB in NFL Because of His WRs
RGIII has Bengals QB Joe Burrow ranked No. 4 on his list of best NFL quarterbacks in 2023, and Cincy fans aren't happy about his explanation.
Robert Griffin III is no stranger to defending his hot takes. After his career as an NFL quarterback ended, he joined ESPN and delivered strong opinions on all things pro-football-related. The latest RGIII take is that Joe Burrow isn't a top-three QB because he has great wide receivers. And that is now drawing heat, especially from Cincinnati Bengals fans.
RGIII says Joe Burrow is a product of his elite wideouts
On the ESPN morning show Get Up, RGIII ranked the top five NFL QBs in the 2023 offseason.
The former quarterback ranked the Kansas City Chiefs Patrick Mahomes No. 1, the Buffalo Bills Josh Allen No. 2, the Baltimore Ravens Lamar Jackson No. 3, the Cincinnati Bengals' Joe Burrow No. 4, and the Green Bay Packers Aaron Rodgers No. 5.
Griffin said Mahomes is the no-doubt No. 1 and Allen is "Superman," which is why he is No. 2. The third QB was a bit of a surprise, but RGIII believes Jackson "is the only quarterback in the league who can do what he does."
As for Burrow, Griffin was complimentary, saying he is a "special" QB, but he "couldn't put him any higher on this list."
After the video went viral, RGIII followed up on Twitter, responding that "Joe Burrow is an amazing Quarterback. He also has the best receiving targets of anyone on this list. Mahomes, Allen, Lamar and Rodgers would all have greater success with Jamar Chase, Tee Higgins and Tyler Boyd to throw to."
That didn't sit well with a lot of Bengals fans.
The Bengals chose weapons over protection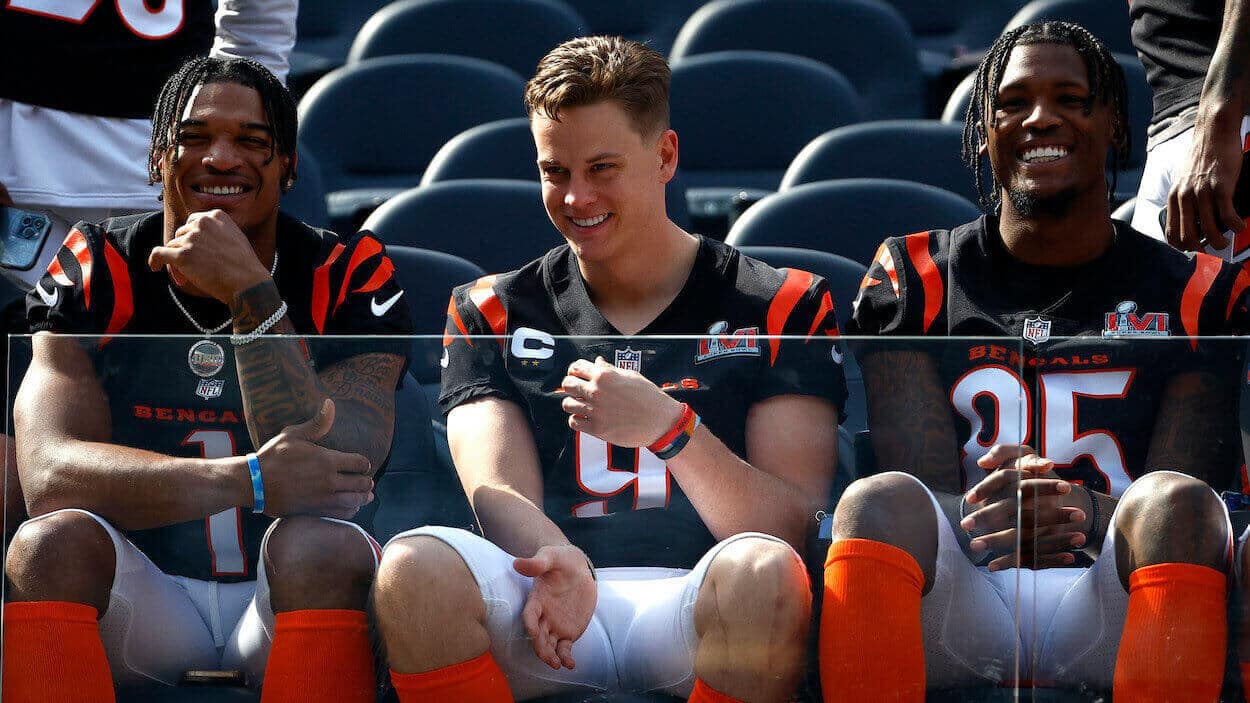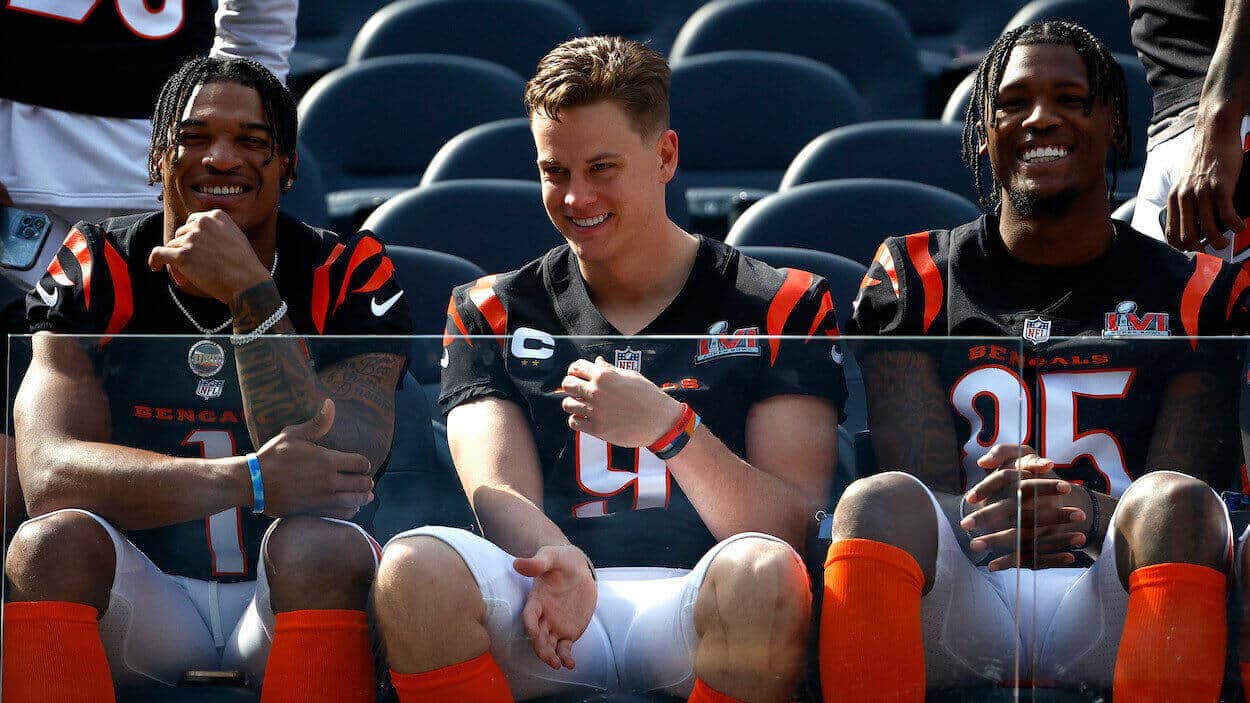 Ranking Joe Burrow third on the NFL QB's list got under the skin of plenty of Bengals fans.
The arguments against RGIII generally fell into one of two categories. Some fans said that Ja'Marr Chase and Tee Higgins aren't demonstrably better than players like the Chiefs' Tyreek Hill and Travis Kelce or the Bills' Stefon Diggs.
Others said that while Burrow has great wideouts, his offensive line is weaker than most top-flight quarterbacks' lines year after year. However, Griffin had a response to this argument.
"Bengals decided to go all in on weapons when they drafted Ja'Marr Chase instead of an offensive lineman," Griffin tweeted. "They decided to go for more weapons and less protection. It worked. They went to the Super Bowl and the AFC Champ game twice. Their QB just gets hit a lot. Consequences."
The concept of "best NFL quarterback" is subjective when it comes to the best players in the game. Individual performances and team success both play into the judgment.
From a numbers perspective, when it comes to running and passing, you can make a case that Allen and even Jackson have been better throughout their careers. That said, when you add in team success — which is incredibly QB-driven in the modern NFL — it's hard to say anyone, but Mahomes has been better than Burrow in the last two years.
The truth is, Burrow is probably no worse than No. 2 or 3 on the list of best NFL QBs in the 2023 offseason, but a ranked list that everyone mostly agrees on doesn't make for great TV, and Robert Griffin III knows that as well of better than he knows quarterbacks.