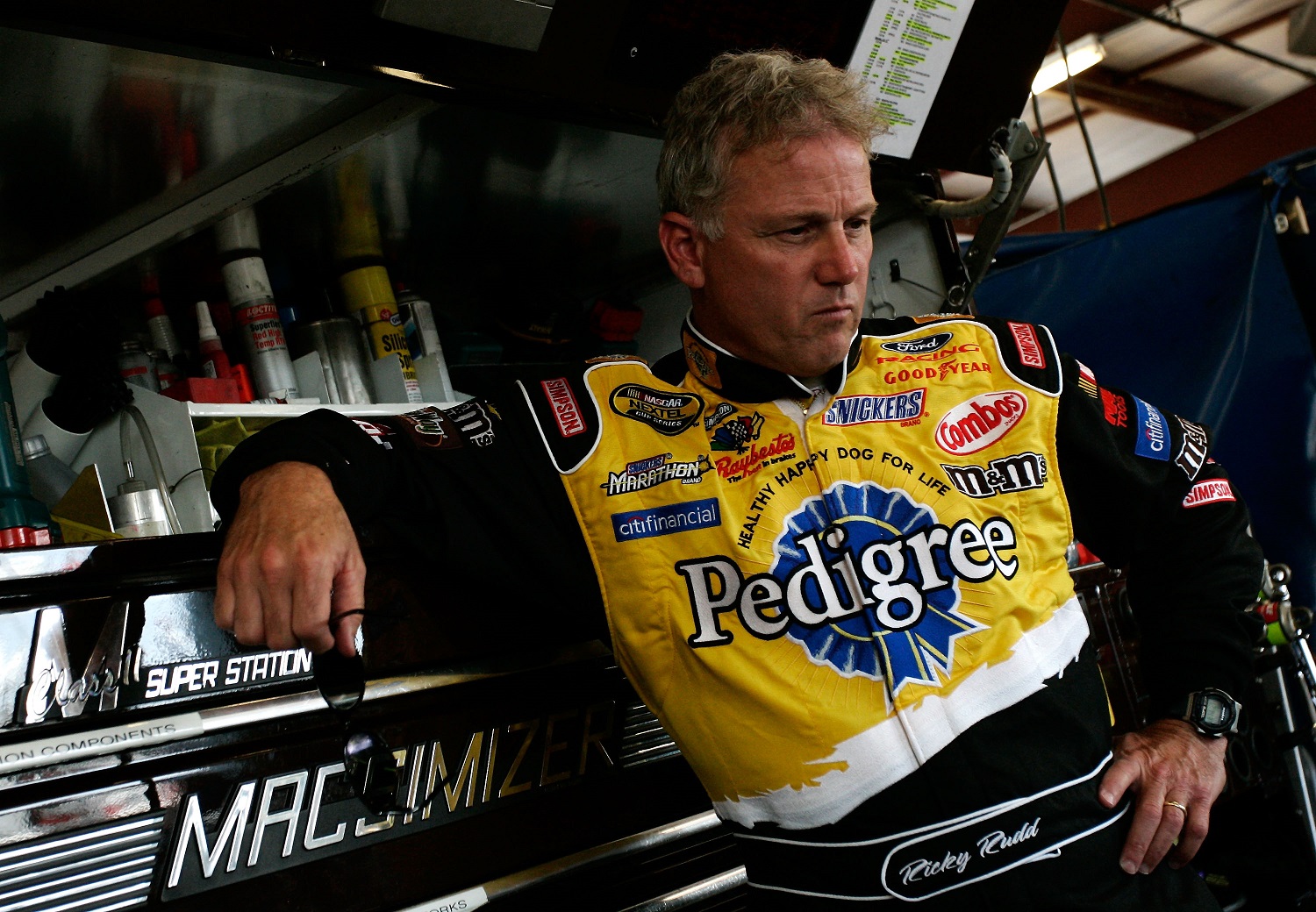 Ricky Rudd Won at Martinsville After His Crew Scalded Him With Hot Water While Trying to Cool Him Down
Ricky Rudd won at Martinsville in 1998 to extend his streak to 16 NASCAR Cup Series seasons with a victory, but it came at a price.
One of the most common complaints from NASCAR Cup Series drivers testing the Next Gen car thus far has been about oppressive heat even when the air temperature has been within reason.
Engineers at Ford, Chevy, and Toyota, as well as on the individual race teams, have been tweaking designs to move the exhaust forward and add vents ahead of the scheduled competitive rollout on Feb. 6, 2022, in The Clash at the Los Angeles Coliseum.
Ricky Rudd could have used those engineers in 1998, when a hot day at Martinsville turned into a total scorcher because of a bad move by his pit crew.
Martinsville will decide the NASCAR Cup Series Championship 4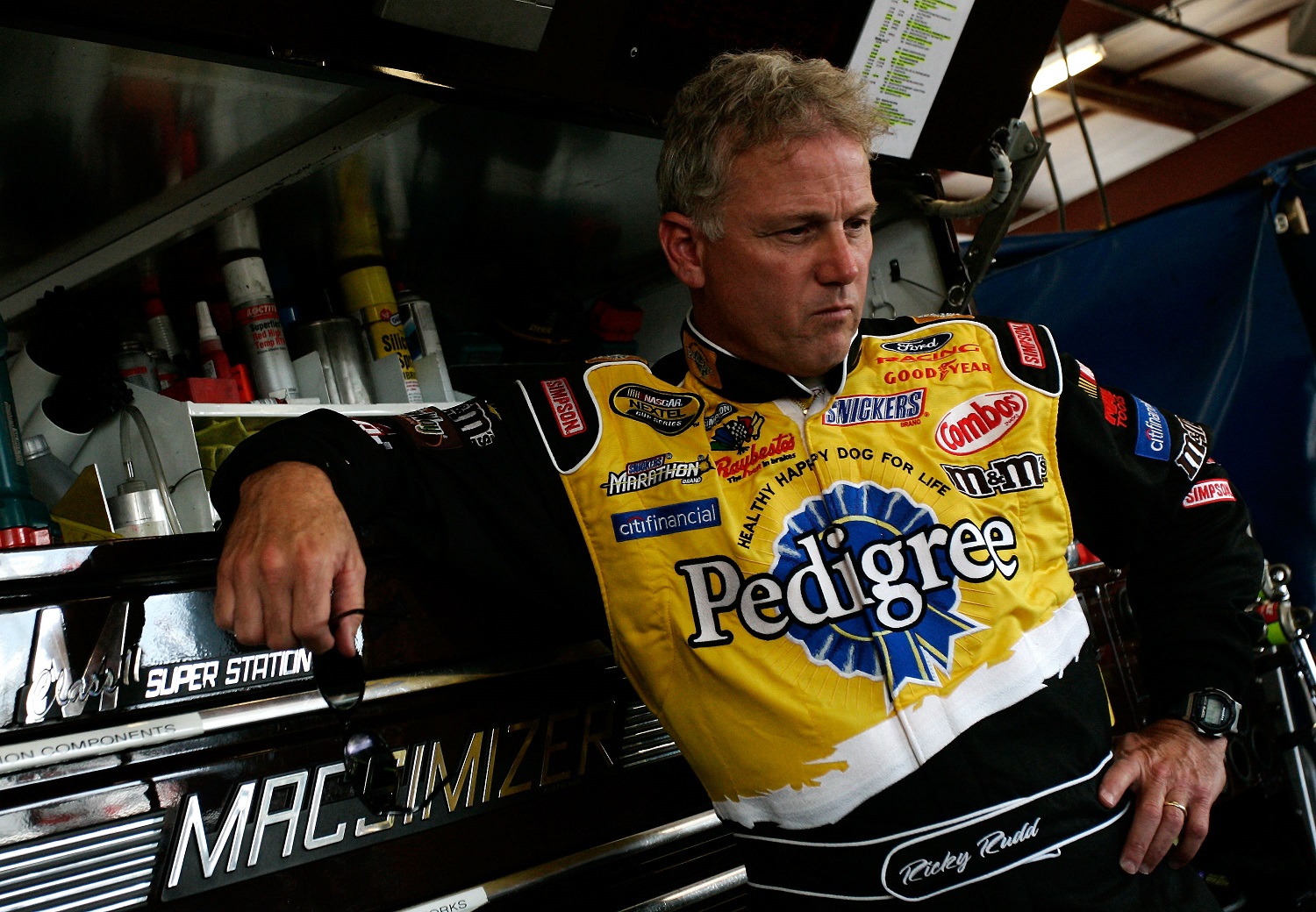 All NASCAR eyes will be on Martinsville Speedway this weekend as the Cup Series returns to Ridgeway, Virginia, for the final elimination race that will whittle the playoff field from eight drivers to the four who will compete for in the Championship 4 on Nov. 7 in Phoenix.
Kyle Larson is already in, and Denny Hamlin and defending champion Chase Elliott need only to stay out of serious trouble to wrap up their spots. Elliott can take comfort in the fact that Martinsville has long been a stronghold for Hendrick Motorsports, though fellow playoff contender Martin Truex Jr. has won three of the last four races there.
Nothing is a sure thing at Martinsville, a half-mile track at which an average speed of 80 mph qualifies as blazing fast. By the way, blazing was often the operative word with respect to the temperature, which is why the second of the two annual races there now takes place in late October. That wasn't the case in 1998, and NASCAR veteran Ricky Rudd nearly paid dearly because of it.
Ricky Rudd's crew scalded him with hot water while trying to cool him down
Scorching temperatures in the Mid-Atlantic states in early autumn are not uncommon, and it happened on Sept. 27, 1998. The air temperature of 93 degrees translated to better than 140 degrees inside the NASCAR Cup Series cars at Martinsville Speedway.
Drivers Ted Musgrave and Kenny Irwin Jr. summoned relief drivers during the race, and Bill Elliott required treatment for heat exhaustion afterward. According to the Orlando Sentinel, Ricky Rudd clicked off 25 laps when he warned his crew to prepare Hut Stricklin to take over.
Rudd faced more adversity than the other drivers because the hose pumping cooled air into his helmet broke off early in the NAPA AutoCare 500. Had he not been trying to extend his streak to at least one victory in 16 straight years, the longest active streak, Rudd would probably have called it a day early.
"Mentally, it was really hard to block the pain out, but I could taste victory lane today," Rudd said after holding off Jeff Gordon and Mark Martin for the win. "I've probably got second-degree burns on my butt and lower back right now, but the car was too darn good for me to stop driving."
The burns occurred after Rudd's team handed him a glass of water during a pit stop.
"I said, 'Man, I need more than a glass of water. I need a garden hose,"' Rudd said. "They used the cool-down machine, which is basically ice water. But I guess they weren't paying attention, and the hose was laying in the hot sun. So, it was about 150 degrees, and it just about cooked me."
The newspaper account described Rudd as "nearly lifeless after the race, asking for help getting out of the car before collapsing on the ground needing oxygen."
Ricky Rudd finished with 23 victories
During his career, Ricky Rudd drove for some of the biggest names in the Cup Series, including Richard Childress Racing, Hendrick Motorsports, Wood Brothers Racing, and Joe Gibbs Racing.
Rudd's victory at Martinsville in 1998 did extend his streak to 16 straight seasons with at least one trip to victory lane, but there would not be a 17th. Rudd, who joined the NASCAR Cup Series in 1975, did not win in 1999 or 2000. He did win twice in 2001 and once more the following season for the final victory of his career.
When Rudd retired after the 2007 season, his totals were 23 victories and 374 top-10 finishes in 906 starts.
All stats courtesy of Racing Reference.