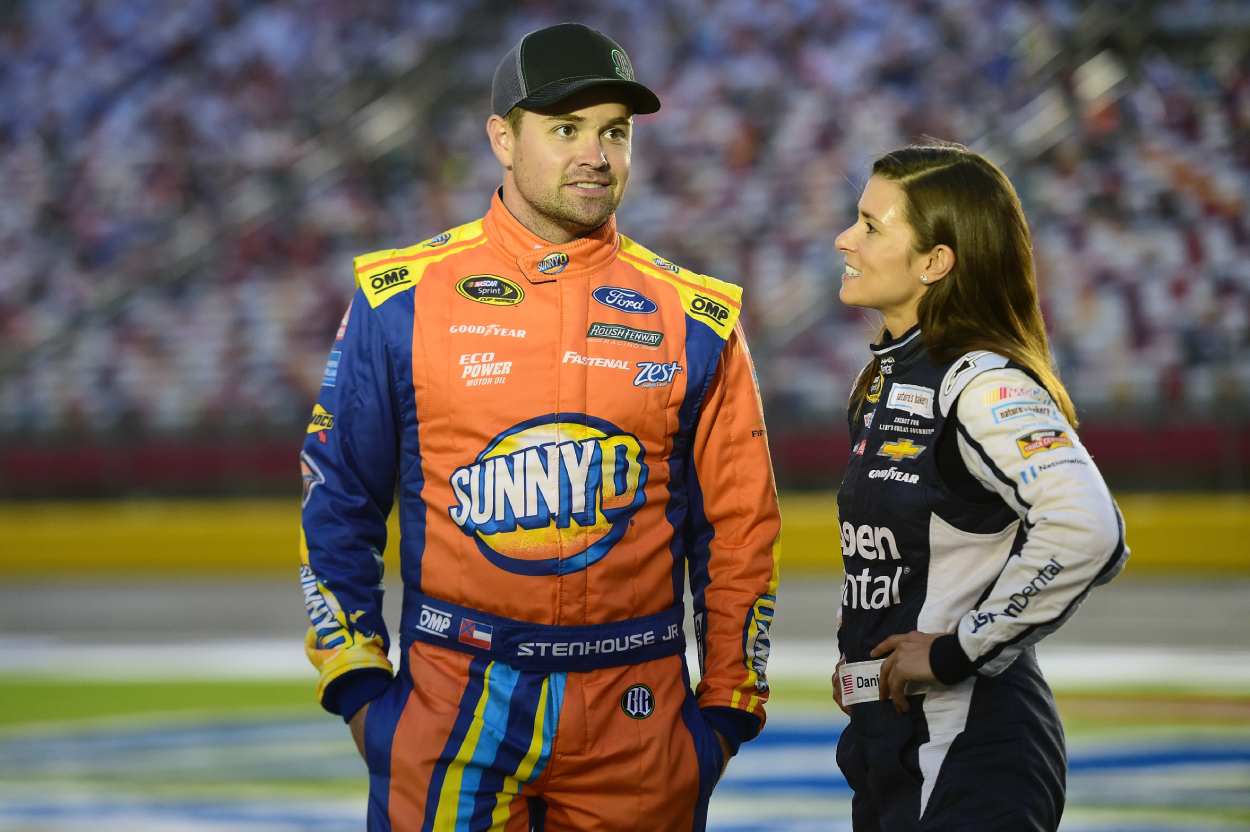 Ricky Stenhouse Once Played Role in Fake Engagement to Danica Patrick
NASCAR's Ricky Stenhouse once played a role in a fake engagement to his then-girlfriend Danica Patrick in 2017.
Things got off to a great start for Ricky Stenhouse ahead of last year's Daytona 500. Stenhouse won the pole, but things didn't work out too well in the end as he finished in 20th place. Stenhouse is well known in the world of motorsports and he's also known for his previous relationship with Danica Patrick. Stenhouse once played a role in an engagement prank to Patrick and it nearly backfired.
Ricky Stenhouse's racing career
Ricky Stenhouse was the NASCAR Nationwide Series Cup champion in 2011 and 2012. In 2013, Stenhouse was the NASCAR Sprint Cup Series Rookie of the Year. He's participated in 292 races in his Cup Series career and he's had two victories.
During that time, Stenhouse has finished in the top 10 39 times. He got his first Cup Series victory in 2017 when he captured the GEICO 500 at Talladega. At the GEICO 500, Stenhouse claimed his second Cup Series pole. He passed Kyle Busch on the final lap of the race to earn his first Cup Series victory.
In 2020, Stenhouse got off to a fast start, winning the pole for the Daytona 500. He wound up finishing 20th overall. Stenhouse finished the season with three top-five finishes and was in the top-10 four times.
Stenhouse dated Danica Patrick for five years
Following the 2017 NASCAR Monster Energy Cup Series, Ricky Stenhouse and Danica Patrick called it quits on their relationship. The racing couple had been together for five years. Patrick moved on and began dating Green Bay Packers quarterback Aaron Rodgers. The breakup with Stenhouse happened a couple of months before the 2018 Daytona 500, a race both were running. Stenhouse said he wouldn't approach the race any differently than he had before.
"I try to respect everyone around me, especially at the speedway races," Stenhouse said to Motorsport.com in 2018. "I don't really want to put anybody in a bad spot, because then you put the whole field in a bad spot. I think I'll go out and race just like I race everybody else and see how it plays out.
"Heck, when we first started racing together, we got in crashes anyway. It is what it is. I'll just go out and race as hard as I can. I plan on putting myself in a position to win the race. If it helps me, I'll help just like the way I do everybody else out there. If I can help and it's going to benefit myself, then I will. I try not to help people if it's only going to benefit them on the race track."
Stenhouse was once in on a fake engagement to Patrick
During his relationship with Danica Patrick in 2017, Ricky Stenhouse was involved in a fake engagement that was announced as an April Fool's joke on Twitter. The only problem was that Stenhouse had forgotten about the plan.
"I was out in the woods working after Martinsville practice, and she says, 'Hey, it's April Fools' — I want to send something out,'" Stenhouse told reporters in 2017, according to NASCAR.com. "She said, 'I've got this idea. Are you in?' And I said, 'Yeah, I guess so. Let's do it.'
"Then I was on the phone talking to somebody for 30 or 40 minutes, and my phone kept going off, and I wasn't sure why it kept going off, and I forgot she had sent that out. Then I realized real quick what it was all about."