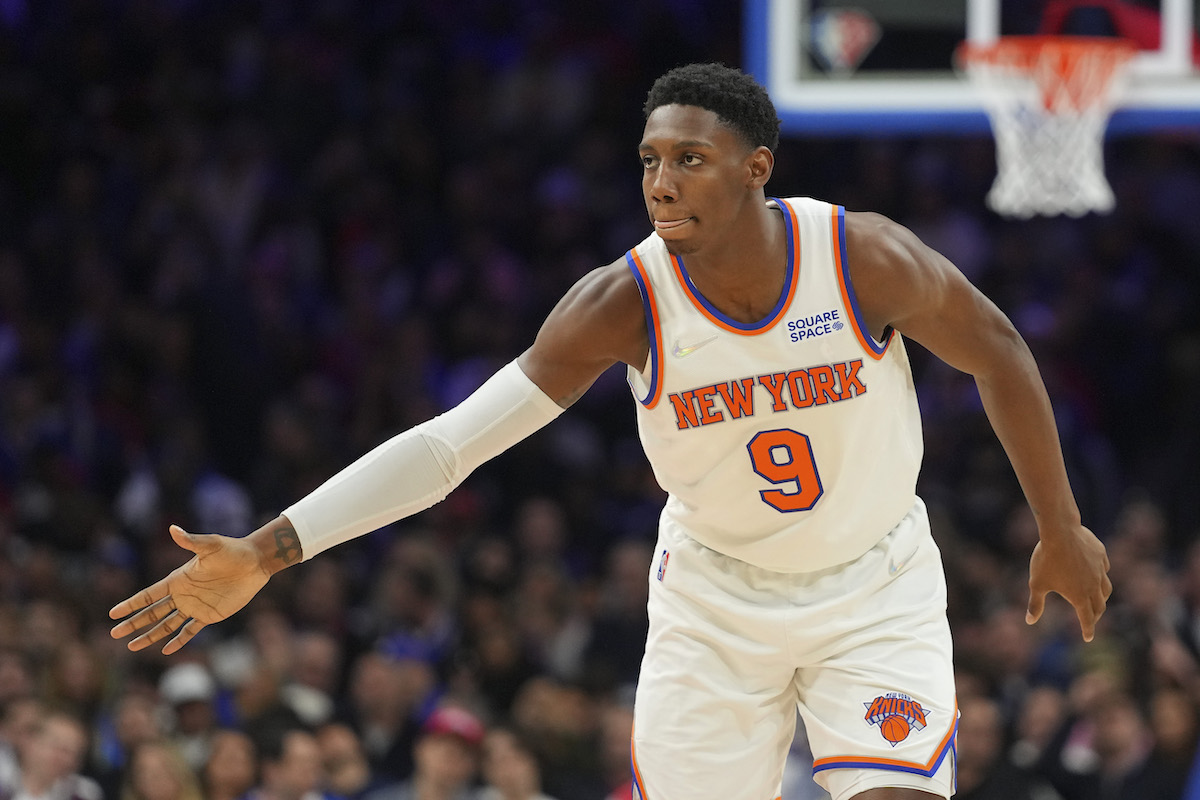 RJ Barrett Giving New York Knicks the Good News They Desperately Need
The New York Knicks have fallen from their 2020-21 highs throughout the current season, but RJ Barrett is still providing them with a bright spot — and a significant one, at that.
At least the New York Knicks have RJ Barrett.
Seriously. It's that straightforward during a dismal 2021-22 campaign that has seen the 'Bockers plummet from an out-of-nowhere 41-31 season that landed them the No. 4 spot in the Eastern Conference back into the Sisyphean pit of misery that has held them captive for most of the current millennium.
During a year in which just about everything has gone wrong aside from flashes of brilliance from young contributors such as Immanuel Quickley and Quentin Grimes, Barrett has consistently provided the shining burst of light needed to keep hope alive. (For Knicks fans too young to remember the Patrick Ewing era, "hope" is defined as a feeling that something might actually work out well down the road.)
Murphy's Law has applied to the New York Knicks in 2021-22
As fun as last season may have been for the Knicks faithful, it's now abundantly clear the team flew too close to the sun and is now experiencing that classic Icarian fall from grace. At 28-38 heading into a March 11 road contest with the Memphis Grizzlies, it's fallen to 12th place in the Eastern Conference and sits 3.5 games behind the 10th-seeded Atlanta Hawks for a spot in the play-in tournament.
The offense? Scoring just 109.4 points per 100 possessions, it's sandwiched between the Sacramento Kings and Los Angeles Lakers at No. 24. The defense? Even though that's the speciality of notoriously stubborn head coach Tom Thibodeau, the 13th-ranked unit is allowing 110.5 points per 100 possessions.
Julius Randle has gone from winning Most Improved Player and earning an All-NBA spot to falling out of favor with what feels like the entire fanbase during a season in which his three-point shot has dried up, he's no longer hitting the difficult fallaway looks along the baseline, his passing has regressed, and his defense has verged on nonexistent.
Kemba Walker was jerked in and out of the lineup before a balky knee shut him down for the season. Derrick Rose, arguably the team's best player when available this year, has only suited up in 26 contests and continues to rehab his right ankle. Mitchell Robinson has regressed and can't stop fouling. Evan Fournier has underwhelmed in spite of the occasional hot streak. Alec Burks has had to play significant minutes at the 1 out of necessity.
If it can go wrong, it has gone wrong — except with regards to RJ Barrett.
RJ Barrett keeps getting better and allows hope to persist
Though RJ Barrett is in his third professional season, he won't celebrate his 22th birthday until June 14. He has plenty of time to keep honing his skills, allowing him to take further strides on both ends of the floor and develop into a true two-way standout.
Though the multitude of disappointing developments during the 2021-22 campaign may serve as an oversized caution sign, the growth he's already shown should provide some semblance of confidence that he can continue down the right path.
| | | | |
| --- | --- | --- | --- |
| Season | PPG | RPG | APG |
| 2019-20 (age-19 | 14.3 | 5.0 | 2.6 |
| 2020-21 (age-20) | 17.6 | 5.8 | 3.0 |
| 2021-22 (age-21) | 19.2 | 5.8 | 2.9 |
Barrett's numbers this year have also come while he spends 1.2 fewer minutes per game on the floor. And while they've been paired with a bit less efficiency due to some regression from beyond the arc, the Duke product is making in-season improvements that have allowed him to ascend to that proverbial next level after the All-Star break.
He looks increasingly comfortable with the ball in his hands, creating off the bounce against a wide variety of defensive matchups. He's displayed better endurance by assuming tough responsibilities on the preventing end and outscoring his matchup on the other. Perhaps most importantly, he's shown a willingness to attack the hoop and finish plays with physicality.
Since the midseason break, Barrett has averaged 27.3 points, 7.0 rebounds, and 4.9 assists while shooting 43.2% from the field, and 35.0% from the field. But he's also connecting at a 74.2% clip from the free-throw line while earning 9.4 freebies per game, which has buffered his overall efficiency numbers enough that he's posted a 53.9 true shooting percentage.
That final number still needs to rise, but it would be the highest single-season mark of his career, topping the 53.5% he posted in 2020-21, and is at least closer to the league average of 56.2%. Considering the woeful Knicks offense around him and the inordinate amount of attention he draws as a result, he's doing what he can.
"Obviously I'm better at using my strength now. I'm watching a lot of film to be more effective with certain drives and certain situations," Barrett said after scoring 24 points in a March 6 road victory over the Los Angeles Clippers, per Peter Botte of the New York Post. "I got stronger, and [I'm] learning the game more."
Barrett's shot selection could still improve, as could his accuracy from beyond the rainbow. But the growth is more important than the results right now, and he's already doing what he can to show what happens when everything clicks. The Miami Heat, for example, found that out the hard way when he dropped 46 points on 22 field-goal attempts in a Feb. 25 contest.
Fear not, Knicks fans: RJ Barrett isn't going anywhere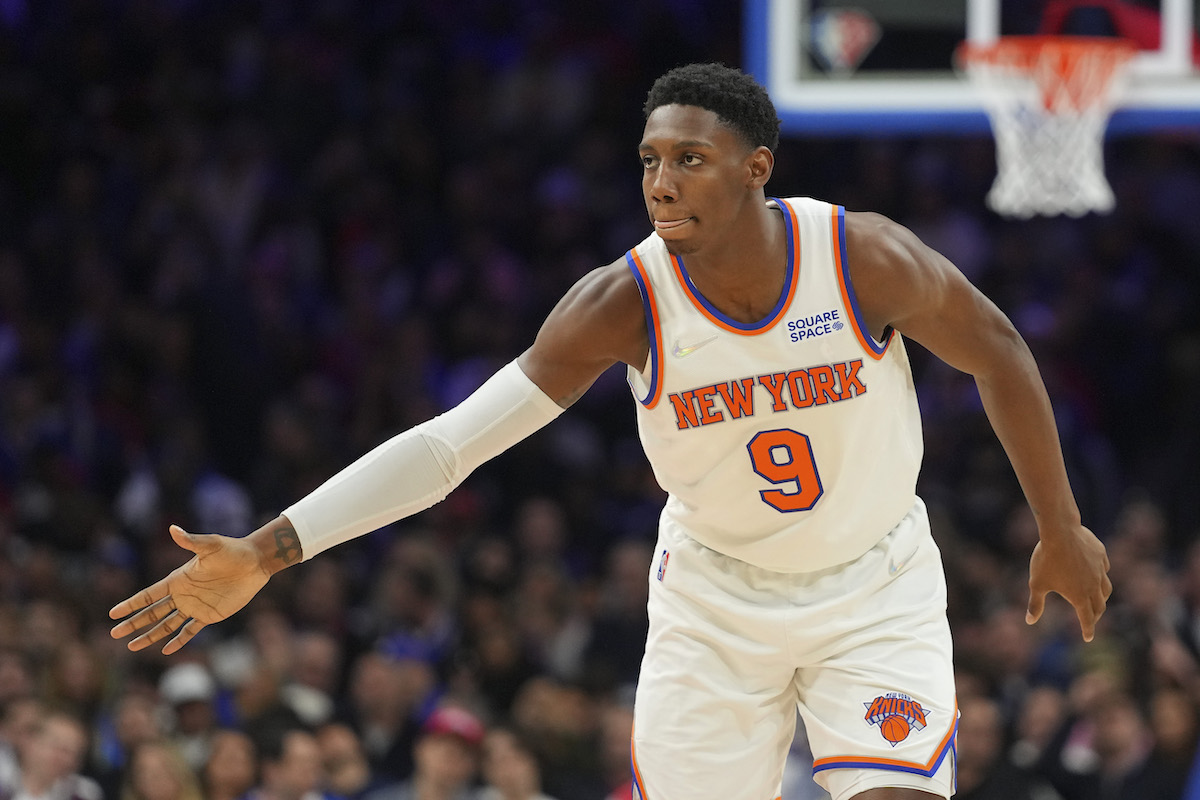 Immanuel Quickley's shot-creation abilities should give the Knicks some confidence in the future, as should the three-and-D acumen put on display by Quentin Grimes during his rookie season. Miles McBride may gain entry into the club of up-and-comers if Tom Thibodeau was willing to show more (any?) rotational flexibility and give him more than 8.2 minutes per game.
But the Knicks' fortunes will rise and fall with Barrett for quite some time. Though he's only under contract for one more season before hitting free agency, he has a great chance of inking a new deal.
"The Knicks have not re-signed a player that they drafted to a second contract coming off their rookie deal since Charlie Ward. That's how long it has been," Stefan Bondy of the New York Daily News told Michael Scotto on the HoopsHype Podcast, referring to the Heisman Trophy-winning No. 26 pick of the 1994 NBA Draft. "[Barrett is] up for an extension after the season coming off his rookie deal. I think the Knicks view him as a future cornerstone piece."
Technically, they haven't signed a first-round pick to a multiyear extension (a necessary caveat since David Lee re-upped with a one-year deal) in that timeframe. But Barrett is set to break the trend.
The Knicks already picked up his fourth-year option, guaranteeing him $10.9 million next year. Now, he's eligible for an extension that could rise as high as five years and $181 million. If he doesn't put pen to paper by the October deadline, he'd become a restricted free agent in the summer of 2024.
Given his promising trajectory, especially in recent weeks, a contract — maybe not a max extension, but a contract nonetheless — should be sitting on his table between mid-summer and the beginning of fall.
All stats, unless otherwise indicated, courtesy of Basketball Reference and accurate heading into games on March 10.