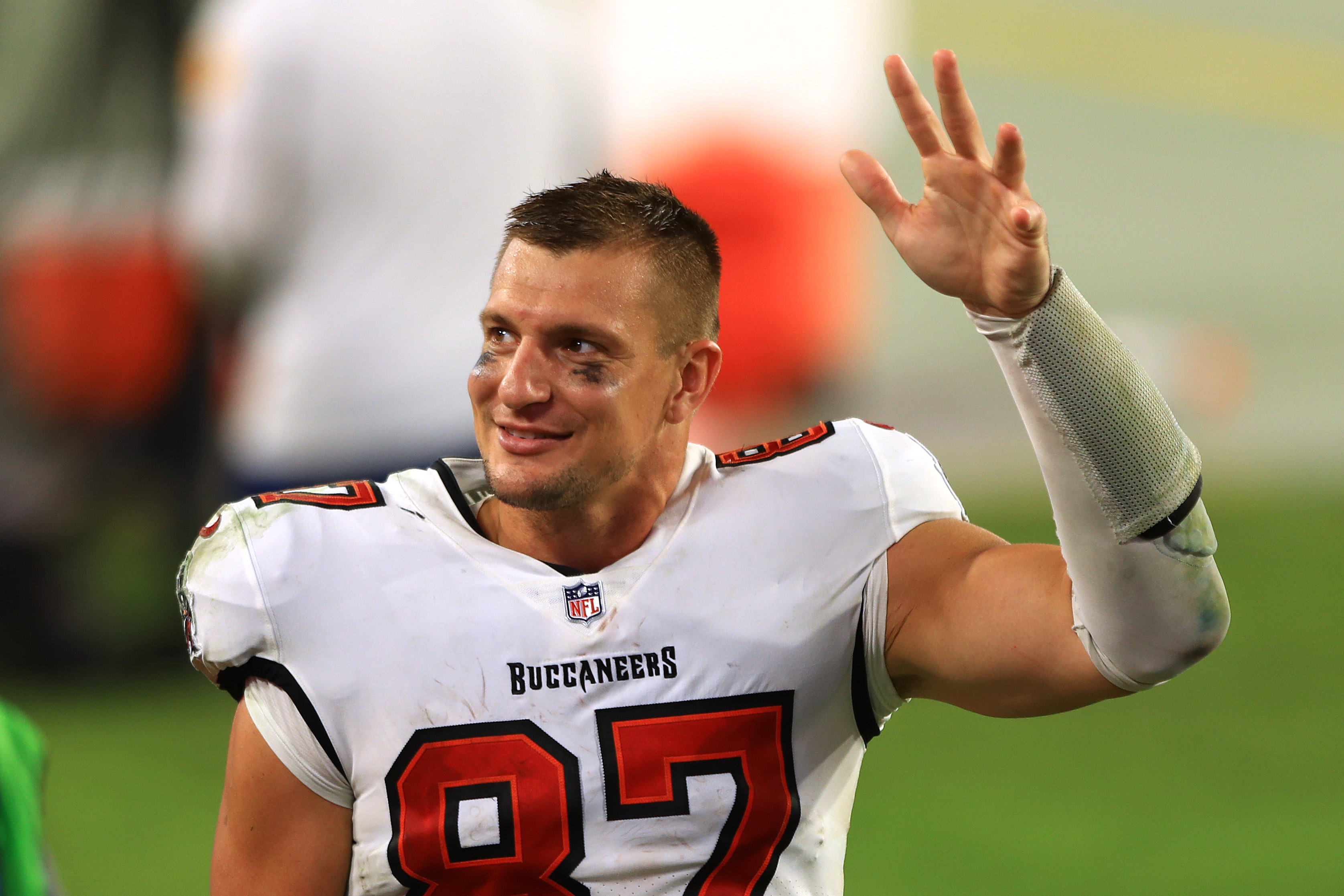 Rob Gronkowski Offers Bizarre Analogy on Catching Fade Passes from Tom Brady
Tampa Bay Buccaneers tight end Rob Gronkowski offers a very bizarre analogy on catching fade passes from Tom Brady.
You just never know what you're going to get from Rob Gronkowski. The fun-loving tight end of the Tampa Bay Buccaneers was asked about his patented fade route with quarterback Tom Brady. The duo perfected the over-the-shoulder fade pass during their time together with the New England Patriots and they're making it work in Tampa. Gronk was recently asked about the timing of the throw and his explanation was quite bizarre.
Is Rob Gronkowski the best tight end ever?
Rob Gronkowski is in his 10th season in the NFL. He's been a Pro Bowler in five of those seasons. Gronk is both an outstanding blocker and pass catcher, but his health has always been a concern. He missed 13 games during his last three years with the New England Patriots for various health reasons. In 2013, he missed nine games.
Despite the missed time, Gronk has been extremely productive. In his career, Gronkowski has 93 touchdowns, including the playoffs. During his second year in the season, the 6-foot-6, 268-pound tight end led the league in touchdowns with 17. In five of his first six seasons, Gronkowski collected double-digit touchdown receptions. He trails Antonio Gates and Tony Gonzalez for career touchdowns among tight ends.
Gronkowski retired in 2019 after nine seasons with the Patriots. After sitting out all last year, Gronkowski joined quarterback Tom Brady, who left the Patriots for the Tampa Bay Buccaneers. Gronk was traded to the Bucs and got off to a slow start. He has heated up in recent weeks, hauling in touchdown passes in each of the last two games.
Gronkowski and Tom Brady have quite the connection
When Rob Gronkowski hauled in a touchdown pass from Tom Brady on Sunday against the Las Vegas Raiders, it was the 92nd time the two have hooked up for a touchdown connection. The two have been teammates since Gronkowski was drafted by the New England Patriots in 2010.
When Brady hit Gronk this weekend, it marked the 92nd time the two have hooked up for a touchdown. That touchdown tied them for second place all-time for combination touchdowns. They tied San Francisco's Steve Young and Jerry Rice, according to NBC Sports. Peyton Manning-to-Marvin Harrison is tops at 114.
After going the first five weeks without a touchdown this season, Gronk has heated up. In each of the last two weeks, Brady has hit Gronk five times. They have hooked up for touchdowns in the last two games. Brady has been looking for Gronkowski much more lately, targeting him eight times in each of the last two games.
Gronk bizarrely explains catching fade passes from Brady
Tom Brady connected with Rob Gronkowski on a patented fade route for their 92nd touchdown together last week against the Las Vegas Raiders. It was the second straight week the two have hooked up in a similar fashion. Gronk was asked about that familiar fade pattern and he offered a very strange analogy.
"It's like a saying my mom used to say: It must be maple syrup because butter don't drizzle like that," Gronkowski said, according to NBC Sports. Huh?
Gronkowski then tried to clear things up. "You don't got much time to react, and syrup drizzles; you've got to make that play," he said. "And a stick of butter, it's a block. You've got to put it in the microwave to melt it, that just takes too long." It's Gronkowski's world and we're just living in it.