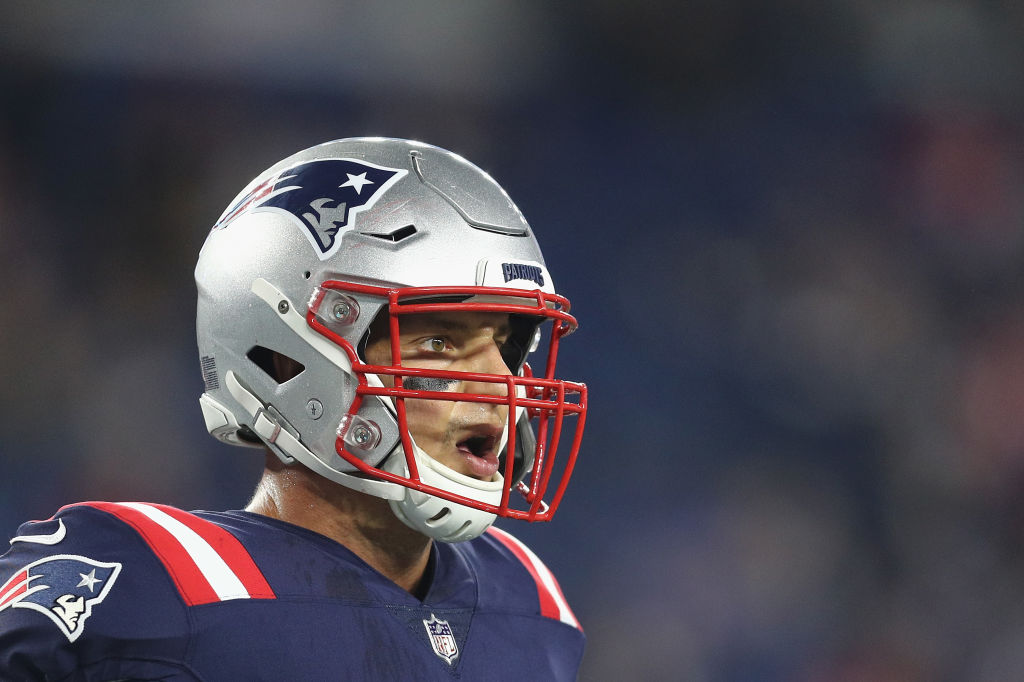 Rob Gronkowski's Move to Tampa Bay Will Save Him $500,000
By joining the Tampa Bay Buccaneers, Rob Gronkowski will be able to keep an additional $500,000 of his $10 million paycheck.
After a year away from football, Rob Gronkowski is coming back to the NFL. The New England Patriots have reportedly traded the tight end, who has one year left on his contract, to the Tampa Bay Buccaneers. While the move has plenty of on-field implications—mainly reuniting with Tom Brady—the trade will also carry a nice financial bonus.
On paper, Gronk is set to make $10 million during the 2020 NFL season. Moving from Massachusetts to Florida, however, will help the tight end keep an extra $500,000 of that cash in his pocket.
Rob Gronkowski's return to the NFL
During his time with the New England Patriots, Rob Gronkowski established himself as a dominant tight end, capable of catching passes and blocking with equal ease. The only thing that could slow him down was injuries; he called it a career in March 2019, explaining that the grind of football was no longer fun.
Despite that reality, Gronk never seemed to completely leave football behind. He joined Fox as a TV analyst; once the Patriots offense started to struggle, the tight end kept teasing that he could return in the right circumstances. While he didn't return to the field, it seems like those circumstances have since fallen into place.
On Tuesday afternoon, news broke that the tight end wanted to come back to football and rejoin Tom Brady in Tampa Bay. Due to financial constraints—New England is up against the salary cap even without Gronkowski's contract back on the books—the Patriots granted his wish and traded his contract.
Saving $500,000 on state income tax
While he might seem like a dumb jock from afar, Rob Gronkowski actually seems to have a good amount of financial sense. Coming out of retirement will obviously bring a nice payday, but playing in Florida will make things even sweeter.
Under his existing contract, Gronk is set to make $10 million during the 2020 NFL season. While that won't change, the tight end will be keeping a bit more of his cash. In 2019, Massachusetts had a state income tax of 5.05%; Florida, on the other hand, has no state income tax, which saves Gronk roughly $500,000.
Although there are some complicating factors, like playing road games in locations with "jock taxes," it's hard for Gronkowski to complain about the move. Not only does he get to head to Florida, reunite with Tom Brady, and escape Bill Belichick's strict system, but he gets to keep a bit of extra cash.
Rob Gronkowski makes the Tampa Bay Buccaneers a true threat
While Florida's state income tax rate might be an added bonus for Rob Gronkowski, he's still a professional football player looking to win games. From that perspective, it's hard to complain about his landing spot.
Last year in New England, Tom Brady struggled to make the Patriots offense click. His only reliable weapon was Julian Edelman; before long, opposing defenses started double-teaming the receiver and daring Brady to throw elsewhere. When he did, the results weren't pretty.
In Tampa Bay, however, he won't have that problem. The Buccaneers already had Mike Evans and Chris Godwin on the roster; adding Rob Gronkowski to the mix hardly seems fair. That offense, combined with the addition of a third Wild Card spot, is more than enough to make a run at the postseason. Once you're in the playoffs, anything can happen.
If you're Rob Gronkowski, you have to be pretty happy with how things shook out. Even if things don't click on the field, you're moving to Florida and earning some extra money; it's hard to complain about that.