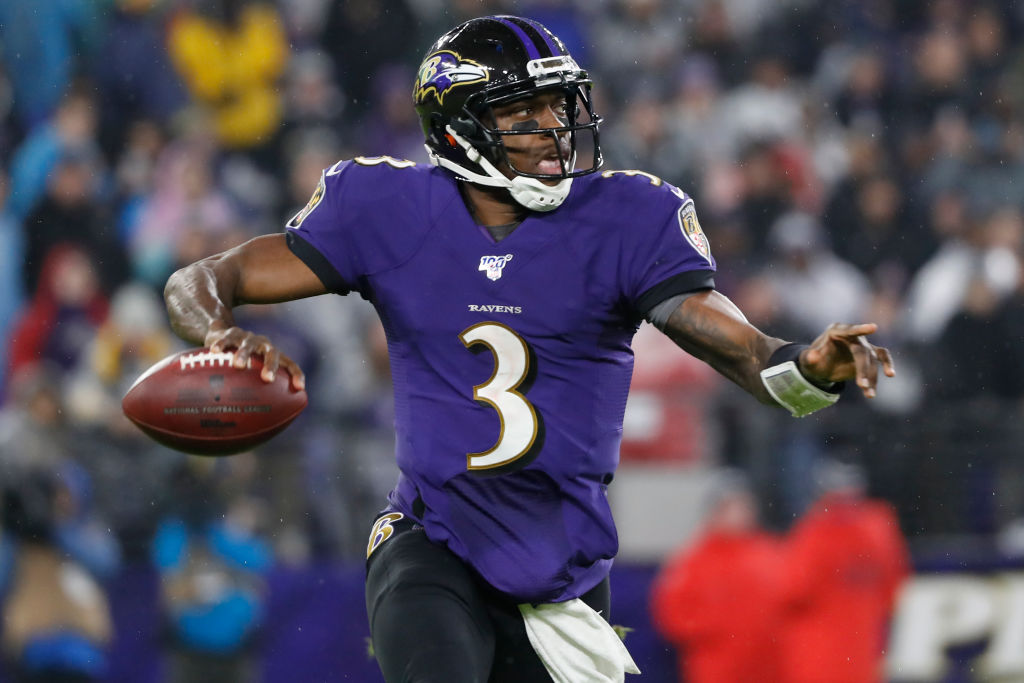 Robert Griffin III Is Worth $13 Million, but He's Still Chasing His NFL 'Dreams and Goals'
Robert Griffin III might be worth $13 million, but all the money in the world can't replace his desire to be a starting quarterback and chase his dreams.
From a fan's perspective, playing quarterback in the NFL seems like a pretty sweet gig. In addition to making plenty of money, you're also one of the most important players on the field; if your team wins, you generally get a decent amount of the credit. While that might be true, lining up under center isn't always easy. Just ask Robert Griffin III about that.
While the Baltimore Ravens quarterback has spent six seasons in the league and built up an estimated net worth of $13 million, RG3 is still looking for more. He's heading into the 2020 NFL campaign prepared to chase "all the dreams and goals [he] set for [himself]."
Robert Griffin III's roller-coaster NFL career
As any sports fan can tell you, injuries can affect even the most dynamic player. Unfortunately, Robert Griffin III experienced that reality firsthand.
After posting a dominant junior season at Baylor and winning the 2011 Heisman Trophy, RG3 seemed like the NFL's next dynamic dual-threat quarterback. The Washington Redskins apparently shared that belief, trading up to select the quarterback with the second-overall pick 2012 draft. He immediately lived up to the hype, passing for 3,200 yards and 20 touchdowns while rushing for 815 more yards and seven additional scores, en route to Offensive Rookie of the Year honors.
That season, however, was marred by a knee injury, and RG3 went under the knife to repair his LCL and ACL. While he returned to the field for the start of the 2013 campaign, Griffin simply wasn't the same; he was even benched at the end of the season as a precautionary measure.
Griffin missed time with an ankle injury in 2014 and ended up sitting out the entire 2015 campaign after suffering a concussion in the preseason. He then spent a year with the Cleveland Browns—RG3 only played five games due to a shoulder issue—before landing in Baltimore. He's since found a home with the Ravens, albeit as a backup.
RG3 is worth millions, but he's still chasing his dreams
While injuries have blighted Robert Griffin III's career, that hasn't stopped the quarterback from making a nice chunk of change playing football.
According to Spotrac's financial data, RG3 has made just over $31 million in salary during his professional career. As you would assume, most of that money—approximately $21 million of it—came from Washington Redskins thanks to Griffin's status as the second-overall pick. CelebrityNetWorth also pegs his fortune at approximately $13 million.
Money, however, doesn't always buy happiness. While Robert Griffin III has earned millions playing football and is still getting about $2 million per season as a backup in Baltimore, he didn't go pro to cash checks while sitting on the bench.
"I want to be a starter again. I'm 30 years old, and quarterbacks are playing into their 40s now," Griffin said on "The Matt Mosley Show" on 1660 ESPN Central Texas, according to CBSSports.com. "There's a lot of time left to still go achieve all the dreams and goals I set for myself."
Can Robert Griffin III achieve that dream and become a starter again?
When Robert Griffin III first entered the NFL, it seemed naive to think of him as anything other than a talented starting quarterback. Time and injuries, however, have changed that perception. At this point, it's unclear if he'll ever reclaim the top spot on an NFL depth chart.
While Griffin is right about having plenty of time left in the league, that can't change his past. For all his potential, the quarterback has been hamstrung by injuries; unfortunately, his stats have also declined. There's admittedly a bit of a 'the chicken or the egg' situation at play—RG3 won't post better stats or get a great deal of playing time as a backup, but he won't get a bigger role without a string of good performances—but things aren't looking too promising right now.
The quarterback, however, has proven that he's willing and capable of being a backup quarterback. While it's not a glamorous role, it's probably the first step on the road back to starting; now, he'll just need to bide his time in case of an injury or other unforeseen opportunity.
At this point, it's not going to be easy for Robert Griffin III to reclaim a starting job and achieve his professional goals. That's not going to stop him from trying, though.
Stats courtesy of Pro-Football-Reference