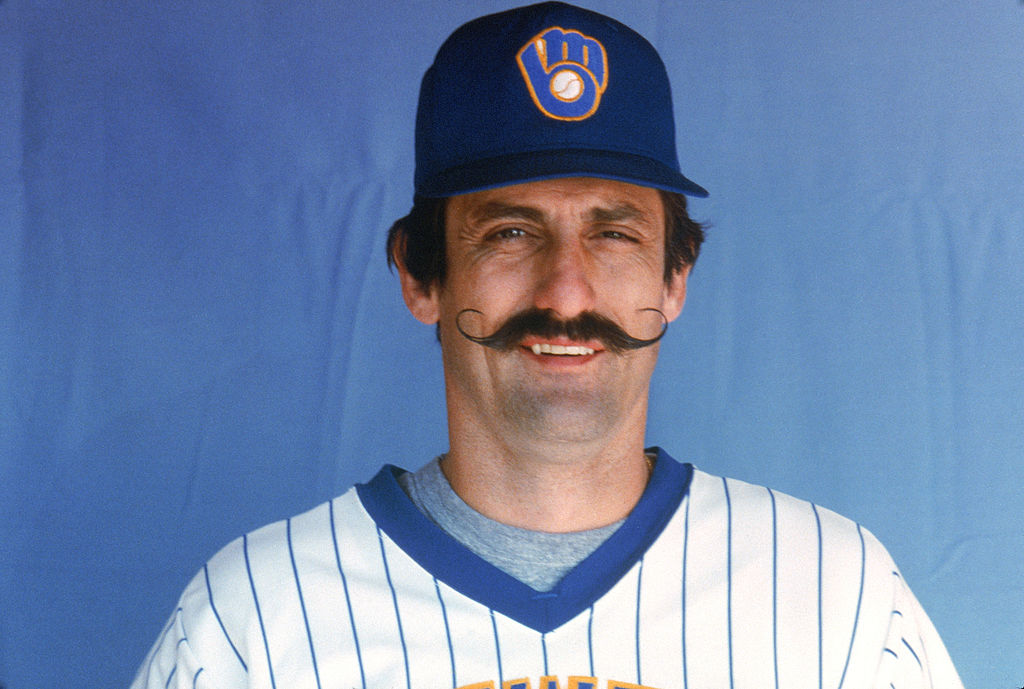 Rollie Fingers' Mustache Began as a Joke, Then He Chose It Over Baseball
MLB Hall of Fame pitcher Rollie Fingers grew his mustache as a joke, but he wound up choosing his facial hair over baseball.
Rollie Fingers had one of the best and most famous mustaches in Major League Baseball history. His handlebar mustache played a part in most of Fingers' 17-years as a Major League Baseball pitcher. He grew his facial hair as a gag in 1972 as a member of the Oakland Athletics and he retired from the game in 1986 because of it.
The birth of the mustache
In 1972 when Rollie Fingers was in the early stages of his Major League Baseball career with the Oakland Athletics, the mustache took form. Fingers' teammate Reggie Jackson showed up to spring training with a mustache and a beard and Fingers and his teammates wanted to have some fun with it. He, Jim 'Catfish' Hunter and others grew mustaches, too. "We thought (manager) Dick Williams would insist everyone would have to shave off their mustache, including Reggie," Fingers told Sports Collectors Digest back in 2016. That was the only reason we did it," Fingers said.
When Oakland Athletics owner Charlie Finley saw a bunch of his players sporting mustaches, he saw dollar signs. He thought it might be a good way to attract fans to the ballpark. "He told us that if you make the ball club (out of spring training) and have a mustache on Opening Day, he'd give you $300," Fingers said. "Yep, the only reason I grew this (mustache) was for $300."
The Athletics were winning with the mustaches and superstition kicked in.
"Then we started winning, and since baseball players are the most superstitious animals in the world, we didn't want to shave them," Fingers recalled.
Finley even had a gimmick 'Mustache Day' where everyone with a mustache got into the park for free. The A's won the World Series that season, the first of three straight championships.
Rollie Fingers' Hall-of-Fame career
Rollie Fingers was a starting pitcher throughout his minor league career and the early part of his time in the big leagues. In 1970, Fingers made 19 starts for the Oakland Athletics before manager Dick Williams converted him to a reliever in 1971.
Fingers spent 17 years in Major League Baseball, the first nine with the Oakland Athletics. With the A's, Fingers was a member of three straight World Series championship teams (1972-74) and in 1974 he was voted the MVP of the World Series. He was an all-star in each of his last four seasons in Oakland.
In 1977, Fingers signed with the San Diego Padres as a free agent and led the National League in saves in each of the first two seasons. He spent four years in San Diego before he was traded to the Milwaukee Brewers in 1981. In his first year with the brewers, Fingers went 6-3 with 28 saves and a 1.04 ERA. He won both the Cy Young Award and the National League MVP that season. During his career, Fingers was a seven-time all-star. He finished his career with 341 saves. He was inducted into the Hall of Fame in 1992.
Rollie Fingers chooses his facial hair over the Cincinnati Reds
At the end of his Hall-of-Fame career, Fingers had drawn interest from the Cincinnati Reds. The Reds, owned by Marge Schott at the time, had a policy that no players were allowed to have facial hair. Schott, known for her dog 'Schottzie' who was the team's mascot, detested facial hair and forbade it on any player or employee. The close, comfortable shave, she feels, is her lasting contribution to the game, even though it was a long-standing club policy that Cincinnati players not grow facial hair when she bought the team.
Fingers said Pete Rose tried to recruit him to Cincinnati and Fingers said he had heard about the no-facial-hair policy so he got on the phone with Reds GM Bill Bergesch. "Fingers started off by asking me if what he had heard and read was true, that is, would we require as a condition for trying out with the Reds, his removal of his handlebar mustache? I told him it was Cincinnati policy and would have to be uniformly applied."
"The mustache is my trademark, and it has been for 15 years," Fingers said. "I am not about to shave it off just to play baseball." Fingers then added, "I would do it only if (owner) Marge Schott had her dog shaved."