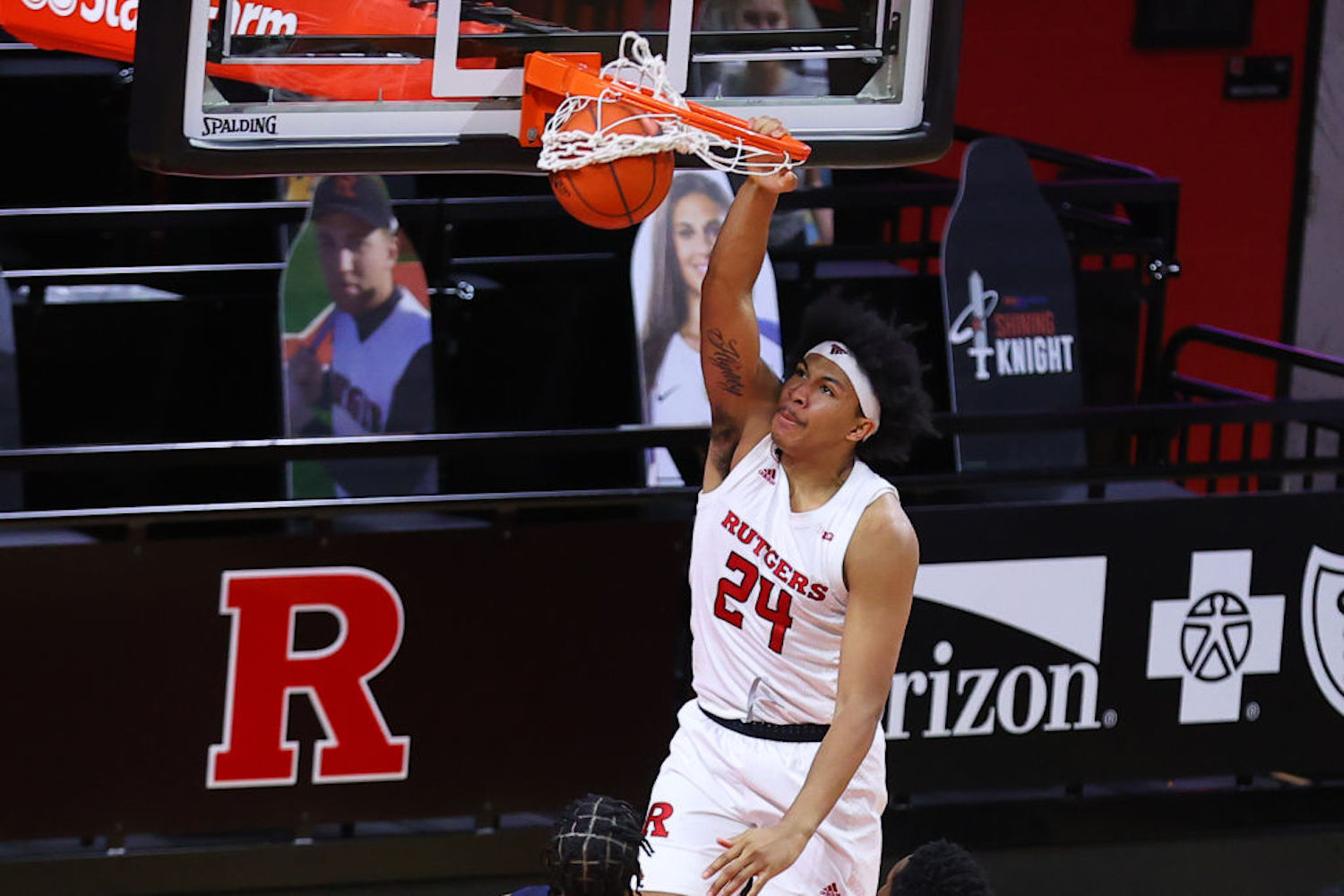 Ron Harper Jr. Is Making a Name for Himself at Rutgers, Generating NBA Draft Buzz
Ron Harper won five championships during his NBA career, and now his son is looking to follow in his footsteps.
Ron Harper was a key part of the Chicago Bulls' dynasty throughout the 1990s. The feisty guard won three NBA titles with the Bulls and five championship rings over the course of his career, and now his son is looking to follow in his footsteps.
Ron Harper Jr. is becoming a dominant star at Rutgers, and he'll hear his name called next year during the 2021 NBA draft.
Ron Harper had a long and prosperous NBA career
Most casual fans remember Ron Harper as the all-important role player on the Bulls for their three-peat from 1996-98, but Harper was quietly a lethal scorer in the NBA before he even joined Michael Jordan in Chicago.
Harper was selected by the Cleveland Cavaliers with the eighth overall pick in the 1986 NBA draft, and he wasted no time proving he was worth the investment. The crafty guard averaged 22.9 points and 2.5 steals per game as a rookie, which ended up being the highest marks of his career.
Harper spent three full seasons with the Cavaliers. He turned them from a lottery team to a playoff team in his short career there, but Cleveland traded him away to the Clippers in the middle of his fourth season. Harper played four more seasons in LA and scored 18-20 points per game in each one.
In 1994, Harper teamed up with Jordan and Scottie Pippen in Chicago. He was forced into a more passive role with the high-octane roster, but he was rewarded with three straight NBA titles.
Harper won two more championships as a role player for the Los Angeles Lakers in 2000 and 2001.
Ron Harper Jr. is making a name for himself at Rutgers
Harper retired after winning his fifth NBA title in 2001, but his son, Ron Jr., looks ready to continue his father's legacy. Ron Jr. is having a breakout year in his third season at Rutgers.
Through six games in 2020, Ron Jr. leads the Scarlet Knights in scoring at 24.0 points per game. He's also chipping in 7.8 rebounds and 2.5 assists per game. Ron Jr. currently ranks fifth in the country in scoring and 16th in 3-point percentage (52.5%).
Ron Jr. was exceptional in Rutgers' 91-88 upset win against Illinois on Sunday. The junior guard scored a team-high 28 points on 9-15 from the floor and 5-8 from three to lead the Scarlet Knights to a 6-0 record to start the year.
Ron Harper Jr. is boosting his draft stock immensely
Coming into the 2020 season, Ron Harper Jr. was seen as a possible second-round pick in next year's NBA draft, but the talented guard has already boosted his draft stock exponentially through six games.
Ron Jr. may have already solidified himself as a first-round pick in the 2021 draft, but he isn't satisfied. The junior has proven he's one of the top scorers in the country. If he continues to dominate this season and earns All-American honors at the end of the year, he'll make a case to NBA teams that he deserves to be a lottery pick.
His family ties to the NBA don't hurt either.
All stats courtesy of Sports Reference