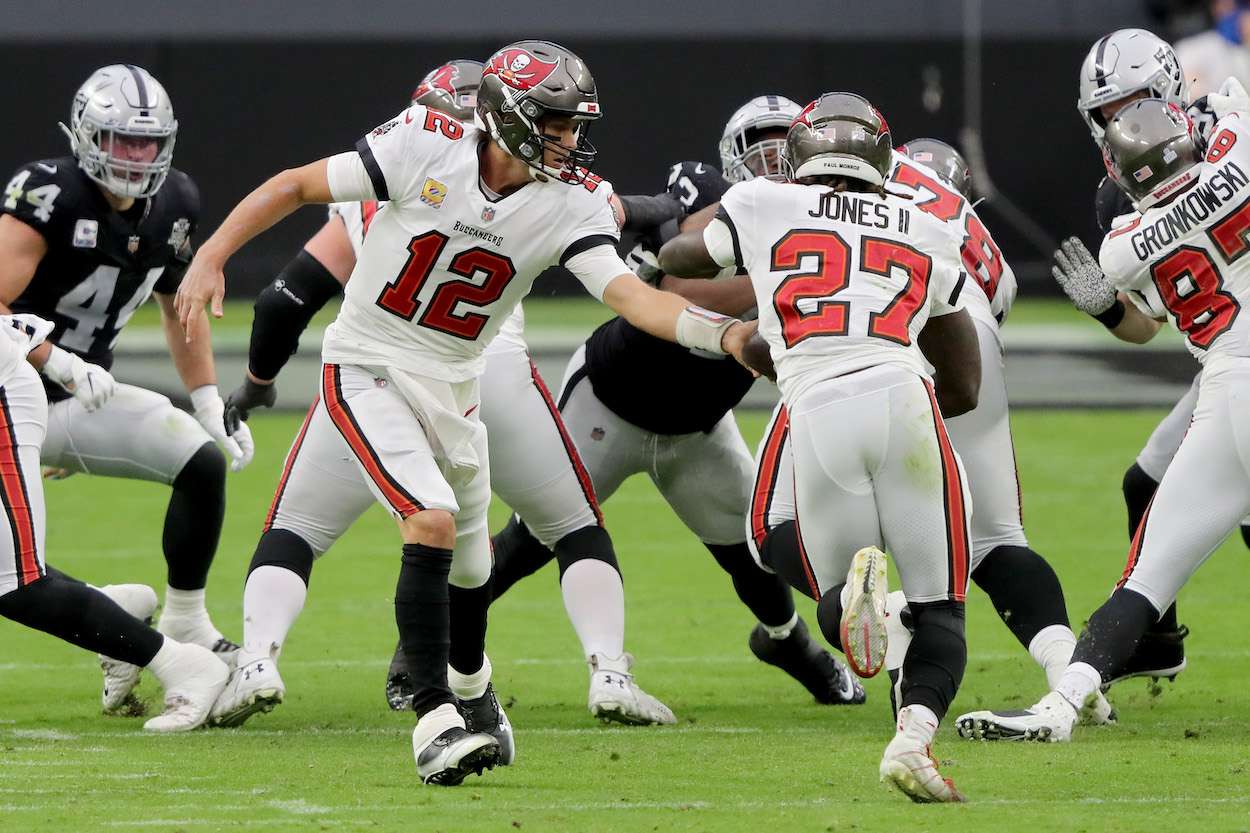 Ronald Jones II Found Inspiration After Father's Tragic Death a Few Years Ago and Took His Game to the Next Level
Tampa Bay Buccaneers running back Ronald Jones II runs inspired each time he touches the ball in honor of his late father, Ronald Jones, Sr., who tragically died just a few years ago at age 46.
Ronald Jones II will complete his third NFL season with the Tampa Bay Buccaneers in Super Bowl 55 on Sunday. In that small amount of time in the league, he's made a big impression, including his NFL-best 98-yard touchdown run this season, which tied for the second-longest in NFL history and the longest-ever play in Bucs history.
Amazingly, just a few years ago, no one saw a future in the NFL for Jones. That all changed during his sophomore year in high school when his dad tragically died. The death of his father, Ronald Jones, Sr., forever changed the trajectory of Jones and his football career and now he's on the cusp of a winning a Super Bowl title.
Ronald Jones II is Tampa Bay's top back
The Tampa Bay Buccaneers selected Ronald Jones II in the second round of the 2018 NFL draft. Jones came in and saw limited action his rookie season, playing in just nine games with only 23 carries and a touchdown. In his second season, his number of touches went up, and so did his production.
Jones started in nine of the 16 games in 2019. He finished the season with 724 yards on 124 carries for a solid 4.2 yards per carry average. He scored six touchdowns. 
This season his workload dramatically increased. Ronald Jones started in 13 games in 2020 and finished with 978 yards on 192 carries for an impressive 5.1 yards per carry average, which included seven touchdowns.
A large chunk of his yardage and one touchdown came in Tampa Bay's Week 10 matchup against the Carolina Panthers when Jones took the handoff and ran up the middle for a 98-yard touchdown, tying for the second-longest run in NFL history with Ahman Green, who did it in 1993. It was the longest play in Tampa Bay history. 
Ronald Jones II before the NFL 
Before Ronald Jones II was busting off NFL-record runs, he impressed as a running back at USC. During his freshman season with the Trojans, Jones never started but carried the ball 153 times for 987 yards for a whopping 6.5 yards average. He also tallied eight touchdowns on the ground and another through the air.
Jones started six games during his sophomore season. He finished with 1,082 yards, 12 rushing touchdowns, and one receiving score. 
During his junior season in 2017, Ronald Jones was one of the best backs in the nation as he led the Trojans with 1,550 yards. He was the go-to guy in the red zone and finished the year with an impressive 19 rushing touchdowns. He was named to the All-Pac-12 first team.
Father's tragic death inspired and transformed his game overnight
While Ronald Jones II had a good career at USC and has had a promising start to his NFL career, less than a decade ago, football was just a sport you played. It wasn't a way to make a living. Then, during his sophomore season in high school in McKinney, Texas, located just north of Dallas, tragedy struck. 
Ronald Jones, Sr., a 27-year Army veteran, had a failing heart and was on a transplant waiting list when he tragically died of a heart attack at 46. The younger Jones, who shared the love of football with his father, attended the funeral in Georgia. He stayed for three weeks with family. He didn't want to return to school. That all changed when his football coach called and informed him that the team desperately needed his services because one of the team's running backs had broken his collar bone. 
Jones returned to Texas, and with inspiration from his father, was a completely different player.
"I think he had six touchdowns, and like 240 yards on something crazy like nine carries, or something like that," McKinney North head coach Mike Fecci told the Dallas ABC affiliate WFAA. "That was the moment for me, where I saw a whole different guy, at a whole different level, and a whole different speed and gear than everyone else on the field."
That whole different level earned him a scholarship to USC and selection by the Tampa Bay Buccaneers in the NFL draft. He revealed that next-level talent during his 98-yard run in November against Carolina. Whether or not he gets to fully display that talent during Super Bowl 55 is uncertain. However, one thing that is certain is whenever Ronald Jones II touches the ball, he will run inspired for the man whose name is printed on the back of his jersey.