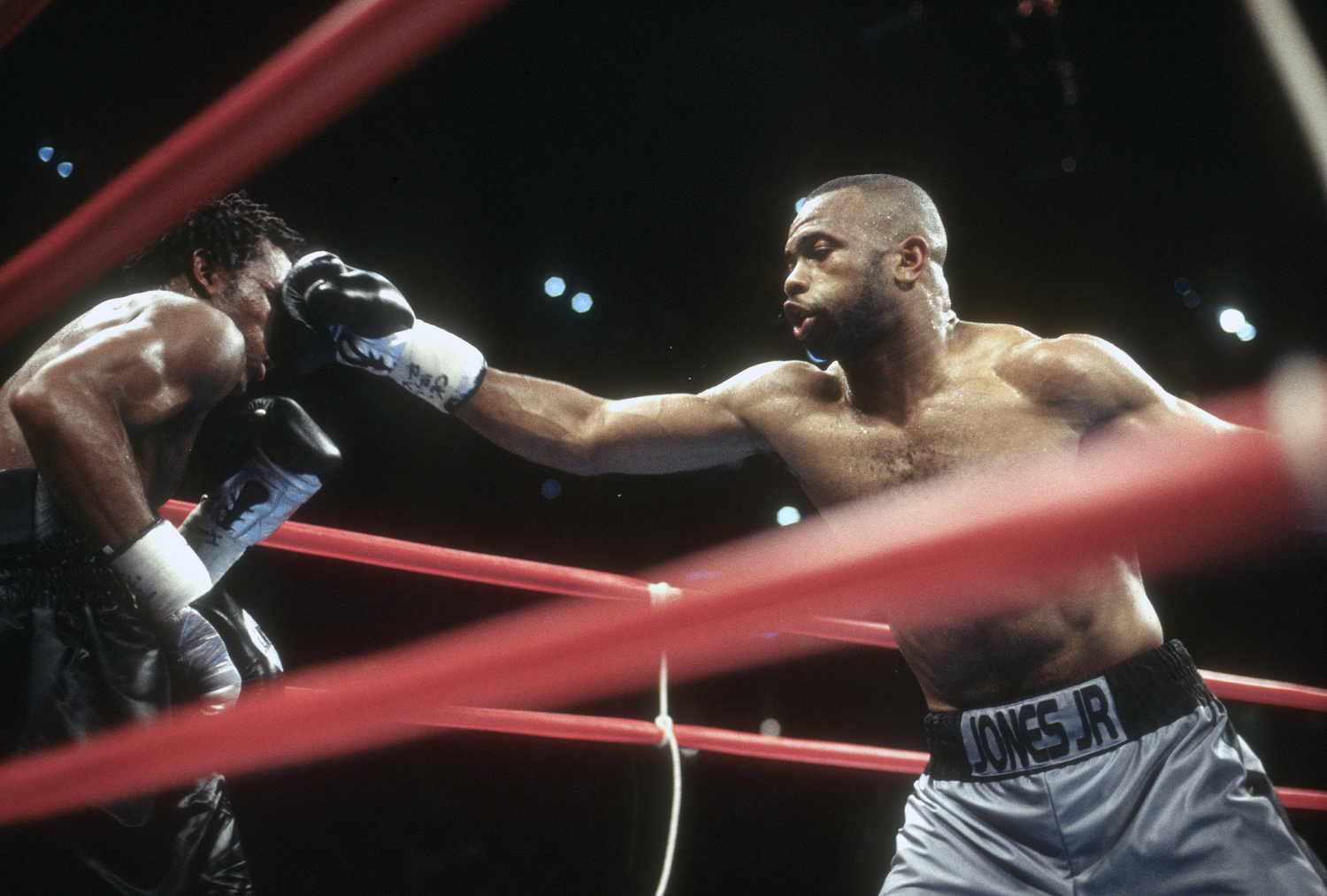 Roy Jones Jr. Says There's 'Nothing Exhibitionish' About Fighting Mike Tyson
Roy Jones Jr. said there is 'nothing exhibitionish' when it comes to fighting Mike Tyson. The two go at it Nov. 28.
It's less than five weeks from when former heavyweight champion Mike Tyson steps into the boxing ring against another former champion in Roy Jones Jr. The hype is certainly there as the 54-year-old Tyson makes his comeback against the 51-year-old Jones Jr. Much of that hype revolves around Tyson. What will he do? Will he follow the rules of an exhibition? Jones Jr. isn't expecting him to.
Tyson vs. Jones Jr. on Nov. 28
All summer, there was hype about Mike Tyson returning to the ring. It was finally announced that the former heavyweight champion would be back in the ring in September against Roy Jones Jr. Videos of an intense Tyson working out made their rounds about social media and boxing fans were eagerly awaiting mid-September for his return to the ring.
Then came an announcement that the match would not be taking place in September. The bout was pushed back to Thanksgiving weekend on Nov. 28. The rescheduled date didn't sit too well with Jones Jr. He believed the switch was to Tyson's advantage because it gave him more time to get in shape.
"Having it September 12 was to my advantage," Jones Jr. said recently in an interview with Fight Hub TV. "He's a bigger guy. It's going to take him longer to get in shape and it's going to take him longer to get his mind right. He hasn't been active since, like 2009 or something. I fought in 2018. He wasn't going to have time to get back in gear. Now, you're allowing him to go get in real shape."
The bout is scheduled as an exhibition
California State Athletic Commission executive director Andy Foster met with both Mike Tyson and Roy Jones Jr. to outline the rules of the fight. It will be listed as an eight-round exhibition. The rounds will be three minutes long and boxers will use 12-ounce boxing gloves. There will be no headgear and no judges to score the fight. Due to the pandemic, no fans are expected in the stands.
Foster met with the fighters to make sure they understand they aren't fighting to kill each other. Neither fighter should be trying for a knockout. "It's an exhibition," Foster told Boxing Scene back in July. "They can exhibit their boxing skills, but I don't want them using their best efforts to hurt each other. They're going to spar hard, but they shouldn't be going for a knockout. This isn't a record-book type of fight. This is not world-championship boxing right now. It's not what this is. People shouldn't be getting knocked out."
 Foster said he will be making sure the rules will be followed. "We wanted to make sure that they both understood that it was a sanctioned exhibition fight. They can move around and make some money," said Foster. "We're glad to have it. All of our rules are going to be followed. It's going to look like a boxing match."
Roy Jones Jr. isn't expecting Tyson to follow the rules
Mike Tyson is very unpredictable. Roy Jones Jr. is very aware of that. Although both Tyson and Jones Jr. have been told not to head into the ring looking for a knockout, Jones Jr. isn't expecting Tyson to abide by the rules. Jones Jr. made that clear during an interview with Joe Rogan.
"You don't know what Mike Tyson might come in there and do," Jones Jr. told Rogan. "You gotta protect your ears, your chin, your jaw. And you don't know what he might do. So what you better do is get in shape and be prepared for whichever Mike shows up."
Rogan then said he laughed when he heard it was going to be an exhibition and the fighters weren't supposed to try and knock each other out. Jones Jr. jumped in. "Think about it, it's an exhibition but we got 12-ounce gloves," he said. "It's an exhibition but no headgear. It's an exhibition, judges. Yeah, it's an exhibition with Mike Tyson, who knocked Corey Sanders down in the first round of an exhibition back in 2004. What is your definition of an exhibition? Going in a ring with Mike Tyson has nothing exhibitionish about it."