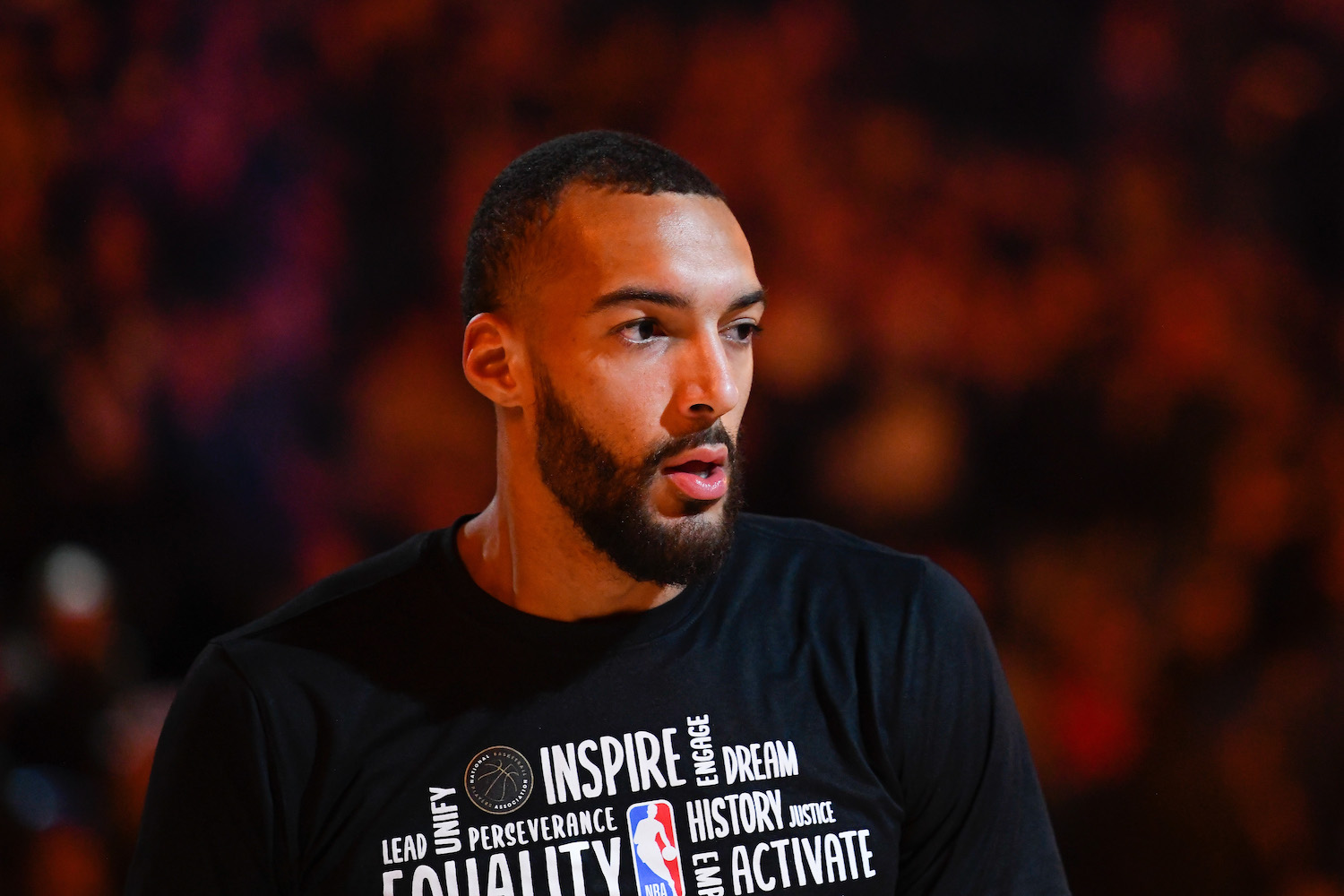 Rudy Gobert Has Been Through Hell and Is More Than Ready for Basketball's Return
Rudy Gobert, who has become known as the sports world's patient zero, is ready for NBA's return so he can move past the nightmare that has been the last few months.
Five months into the 2019-20 NBA season and Utah Jazz center Rudy Gobert was having the best season of his seven-year career, including his first All-Star Game appearance. On March 11, Gobert's season and life changed forever. Since that date, he's become known as a lot of things — pariah, persona non-grata, patient zero in sports — just to name a few. 
With the NBA's return, Gobert is hoping his life can return to some sense of normalcy four-plus months after he was effectively the first of many dominoes to tumble that resulted in the unprecedented shutdown of the sports world that has never been seen before.
Rudy Gobert's fateful decision
In early March, there was still much unknown about the coronavirus with fewer than 1,000 total cases reported in the U.S. Social distancing was still very much a foreign concept. Despite the disease's infancy, medical experts warned of its dangers and offered suggestions on how to prevent its spread.
On March 9, Utah Jazz center Rudy Gobert, who is known for being a jokester, thought he was playing a joke on the media after he wrapped up his portion of the press conference and proceeded to touch all the reporters' microphones and recorders lying on the press room table. However, the joke was on him as his behavior was roundly condemned for being immature, callous, and reckless. 
Two days later, Gobert's behavior was viewed as downright dangerous when he became the first athlete to test positive for the disease. His positive test precipitated the shutdown of the NBA, which was followed by every other professional sports league in the U.S. and abroad doing the same. 
Gobert faces death threats and struggles mentally
In the days that immediately followed, Rudy Gobert was being attacked on multiple fronts. Externally, he was the subject of criticism from teammates, including Donovan Mitchell, who tested positive just days later, as well as other NBA players, and fans, from whom he received numerous death threats, according to Eric Walden of The Salt Lake Tribune. 
"Rudy: 'I was getting death threats' after the news came out he had coronavirus," Walden wrote on Twitter.
While Gobert was bothered by the threats and attacks from outsiders, he was more concerned about the attacks from within as the virus invaded his body. After initially suffering from symptoms similar to the common cold, he lost his sense of taste and smell, and, more frighteningly, his toes started tingling. 
The fear of the unknown was overwhelming, and the thought of enduring it all alone made it that much worse. Normally, in that type of a situation, he would lean on his mother, Corrine, for help and support. Unfortunately, she remained in France with international travel inadvisable and next to impossible.
"The toughest part was that I was away from my mom. I didn't want her to come over, because I didn't know if I was still contagious or not. I still haven't seen my mom since everything happened," he told the Washington Post. He said it's the longest the two have ever been apart in his life. 
Rudy Gobert ready for NBA return
More than four months after his initial diagnosis and the NBA shutdown, if anyone is ready to return to the court, it's Rudy Gobert. Despite all the chaos and anguish he endured, he said the whole experience provided a valuable lesson.
"People were seeing this as something that could destroy the group. I see it as something that could make the group even stronger. If you're able to come back from that, we won't be worried about a team beating us or a bad defensive quarter. It gives perspective," Gobert said.
As fate would have it, the Utah Jazz and Rudy Gobert will take on the New Orleans Jazz in the first game of the NBA's restart. With his new perspective, Gobert told the Salt Lake Tribune, that only seemed fitting.
"Well, I was part of the closing, so it's meant to be that I've got to be part of the reopening," he said.
With Gobert's sense of humor still intact, it will be interesting to see how he performs the rest of the regular season and into the playoffs, and whether or not he can regain his All-Star form. One thing, however, is certain. Rest assured Rudy Gobert will remain a safe social distance from any microphones in the post-game press conference.