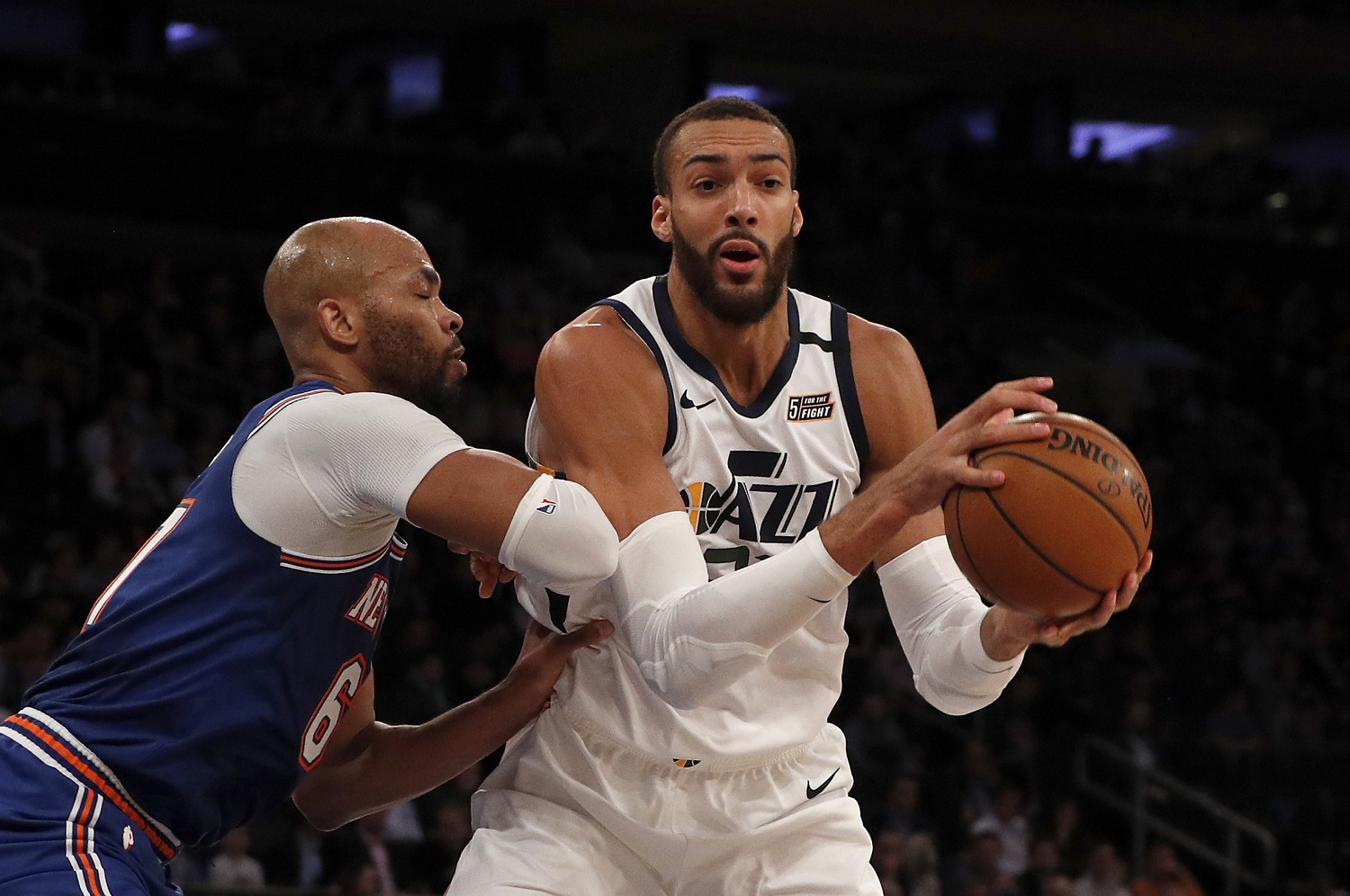 Utah Jazz Star Rudy Gobert Still Has Problems … and So Does His Team
Utah Jazz center Rudy Gobert says he's still feeling the effects of COVID-19 more than three months after being diagnosed.
Major League Baseball players have started opting out of the 2020 season over concerns about COVID-19. It's fair to wonder whether the latest update on Utah Jazz star Rudy Gobert causes the number of top-level athletes in all sports arriving at the same decision to increase.
In a country in which citizens are clamoring to return to something close to normal daily life, the sports world may not be ready to lead the way.
MLB players are starting to make their decisions
NBA player Rudy Gobert is due back at work soon, and he's not alone. MLB players are having to make the decision whether they will show up at training camps next week to participate in the abbreviated season. Pitchers Joe Ross of the Washington Nationals and Mike Leake of the Arizona Diamondbacks have decided to sit out the season.
The biggest name among players making that decision is Nationals first baseman Ryan Zimmerman, a 15-year veteran of the club. Zimmerman has three young children, including a 3-week-old baby. In addition, his mother has multiple sclerosis.
At age 35 and coming after a season in which he batted .257 in just 171 at-bats, this was supposed to be a victory lap for him after earning his first World Series ring in 2019. He isn't calling it a retirement, but it is realistic to think Zimmerman won't be back in 2021.
At least Zimmerman presumably has money in the bank after drawing salaries of $18 million a year the past several seasons. On the other hand, every team has a handful of players who banked a lot less cash and could find themselves easily replaced. They'll have to decide whether to play while the case of Rudy Gobert swirls around in the back of the mind.
Rudy Gobert isn't fully recovered yet
Rudy Gobert was the first NBA player to test positive for COVID-19 in early March. Approaching four months since the diagnosis, Gobert told the French newspaper L'Equipe that he hasn't recovered his sense of smell. It's a frequent complaint among patients diagnosed with the virus.
Gobert, a center in his seventh season with the Utah Jazz, said doctors have told him it could be a year before he's back to normal. Still, the 28-year-old French native plans to return next week when the NBA opens training camps in anticipation of resuming the season in Orlando, Florida, by the end of July.
Rudy Gobert may be paying the price for reckless behavior
Rudy Gobert is regarded by many as "Patient Zero" among NBA players. As the first to test positive, he could have been spreading COVID-19 to teammates and others close to the Utah Jazz organization. The fact that he was reckless and immature – he made it a point to touch every microphone during a press conference two days before testing positive – makes him an easy target.
In fact, teammate Donovan Mitchell tested positive and blamed Gobert. Realistically, Mitchell or someone else in contact with players could have been the first carrier in the small circle. Gobert later issued public apologies and donated $500,000 to COVID-19 relief efforts, and Mitchell caught blowback from fans who think he was too quick to assume Gobert might have infected him.
Even if all is well between Mitchell and Gobert – and that's not a sure thing – the Jazz must address contract issues. Both players will soon be candidates for contract extensions.
Gobert's extension could translate into more than $247 million over five years. That's a lot of money for career averages of 11.7 points and 11.0 rebounds a game, though the numbers have improved steadily over the years. He does a lot on defense, but close to $50 million a year is a scary number.
With just three seasons under his belt, Mitchell's contract number will be easier to digest. But replacing 22.7 points a game from a 6-1 guard might be easier than finding another competent 7-foot-1 center if locker-room dynamics or other considerations force Utah into an either/or trade scenario.