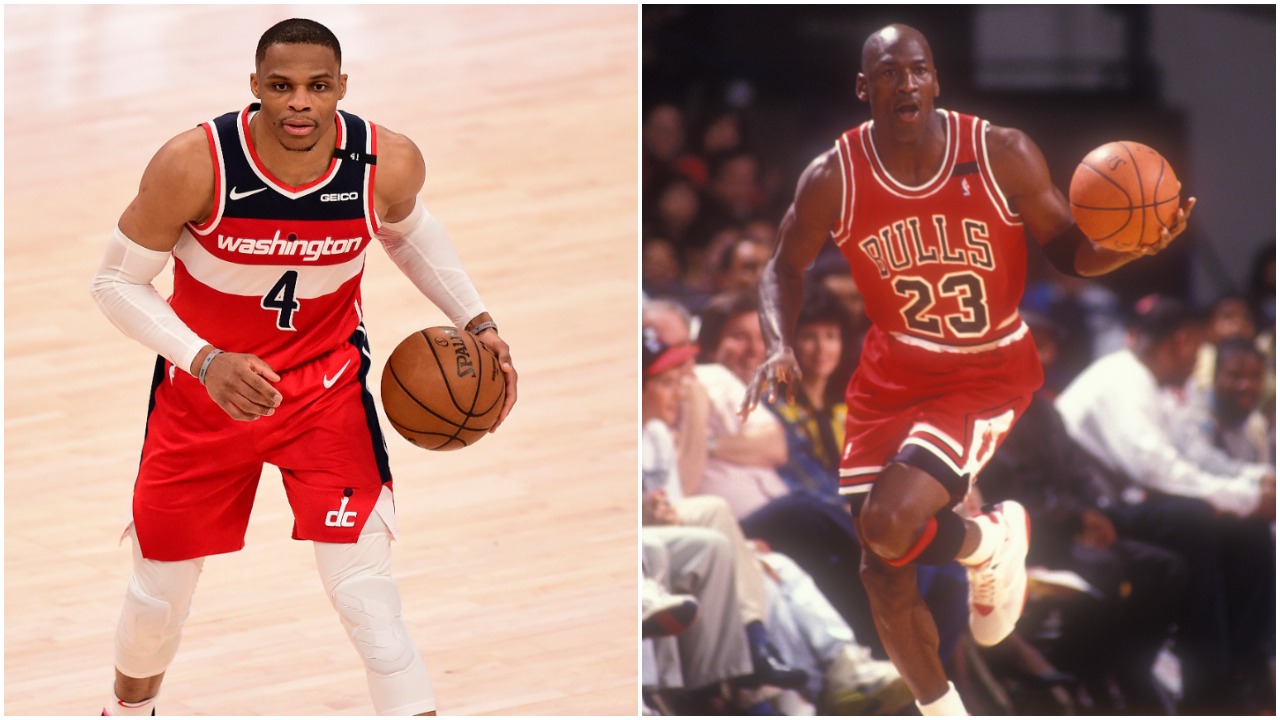 Russell Westbrook Has Nearly as Many Triple-Doubles in His Career as Michael Jordan Had Double-Doubles
Russell Westbrook has almost as many triple-doubles in his NBA career than Michael Jordan had double-doubles in his.
Let's just go ahead and get this out of the way here at the start. This is NOT a piece trying to compare Russell Westbrook to Michael Jordan as I'm simply not a fan of trying to compare players from different eras, which is one of the reasons why the Jordan vs. LeBron debate has always bothered me.
No, this is simply to put into historical perspective just how impressive Westbrook's triple-double history has been. While still two short of Oscar Robertson's regular-season record, Westbrook, who is already guaranteed to finish the season averaging double digits in points, rebounds, and assists, tied the "Big O" for overall career triple-doubles (regular season and postseason) on Wednesday night.
So how does any of this pertain to Jordan?
Well, as we plainly told you in the headline, Westbrook has nearly as many triple-doubles in his career than Jordan had double-doubles in his, which is simply remarkable.
Russell Westbrook has tied Oscar Robertson for the NBA career triple-double record combining the regular season and playoffs
Coming into Wednesday night's Wizards matchup with the Milwaukee Bucks, Westbrook had recorded 178 career triple-doubles in the regular season and an additional 10 in the postseason, one shy of the career total of Robertson, who had 181 in the regular season and eight in the playoffs.
Westbrook came into the game against the Bucks having recorded triple-doubles in four of his last five games (he was one assist shy in the other) and made it five of six by putting up 29 points, 17 assists, and 12 rebounds in Washington's 135-134 loss, tying the "Big O" at 189. He'll take his first shot at breaking the overall record on Thursday night against the Raptors.
This will be his fourth season averaging a triple-double
As mentioned, Westbrook could score zero points, dish out zero assists, and pull down zero rebounds for the Wizards over their final six games of the season and still average a triple-double, making this the fourth time he'll achieve the feat, the most in NBA history. Following Wednesday night's performance, Westbrook is averaging 21.9 points, 11.3 rebounds, and a league-leading 11.3 assists.
Robertson is the only other player in history to even accomplish it once and did so in his first two seasons in the NBA in 1961-1962 and 1962-1963.
Westbrook first averaged a triple-double in 2016-2017, the year he was named NBA MVP with the Oklahoma City Thunder. He won his second scoring title that season as well by averaging a career-high 31.6 points per game and added 10.7 rebounds and 10.4 assists. He led the league in assists the following two seasons and averaged a triple-double in both. Westbrook fell short in 2019-2020, only averaging 27.2 points, 7.9 rebounds, and seven assists in his lone season with the Houston Rockets.
Westbrook has nearly as many triple-doubles as Michael Jordan had double-doubles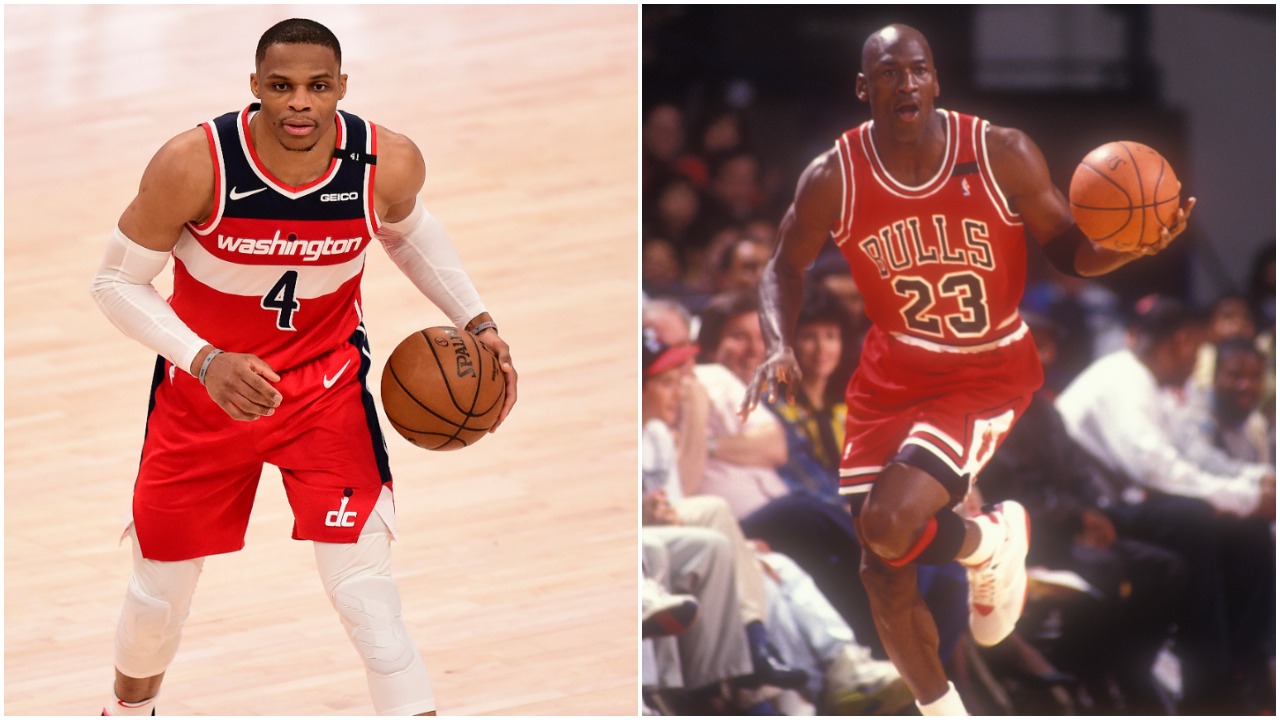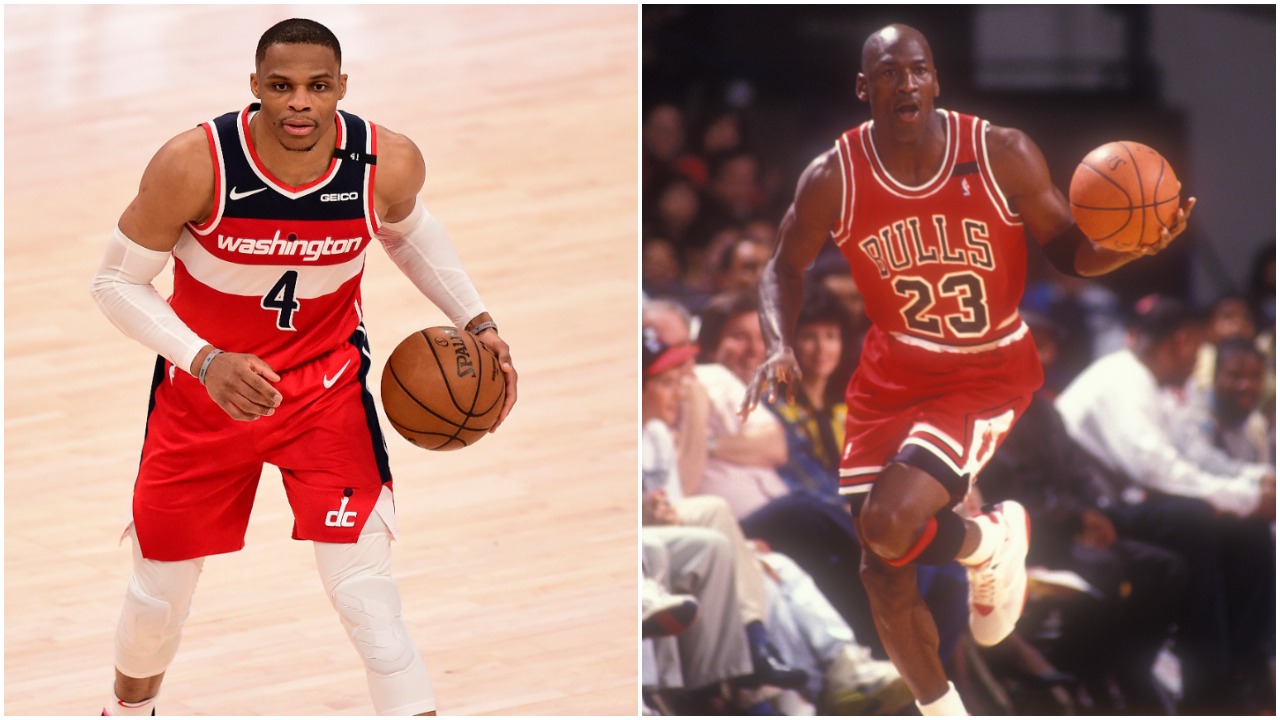 Again, nobody is trying to compare the two here but the fact that Westbrook has nearly as many triple-doubles in his career as Jordan had double-doubles in his is just mind-blowing.
Going off the regular-season numbers, Westbrook has 179 career triple-doubles compared to 200 double-doubles from Jordan during his 15-year career with the Bulls and Wizards. The gap gets a little bigger when bringing the postseason into it as the totals go to 189 and 239, respectively, but there's certainly no question that Westbrook will reach that number before his career is over, perhaps even as early as next season.
And if you're wondering how many double-doubles Westbrook has recorded over the course of his career, that would be 444 in the regular season and an additional 44 in the postseason.
As for MJ, he recorded 28 regular-season triple-doubles and an additional two in the postseason. He's also one of just four players to record a triple-double in the NBA All-Star Game and was the first to do so with 14 points, 11 rebounds, and 11 assists in 1997. LeBron James (2011), Dwyane Wade (2012), and Kevin Durant (2017) have since joined the club, one that oddly enough doesn't include Westbrook.
Stats courtesy of Basketball Reference