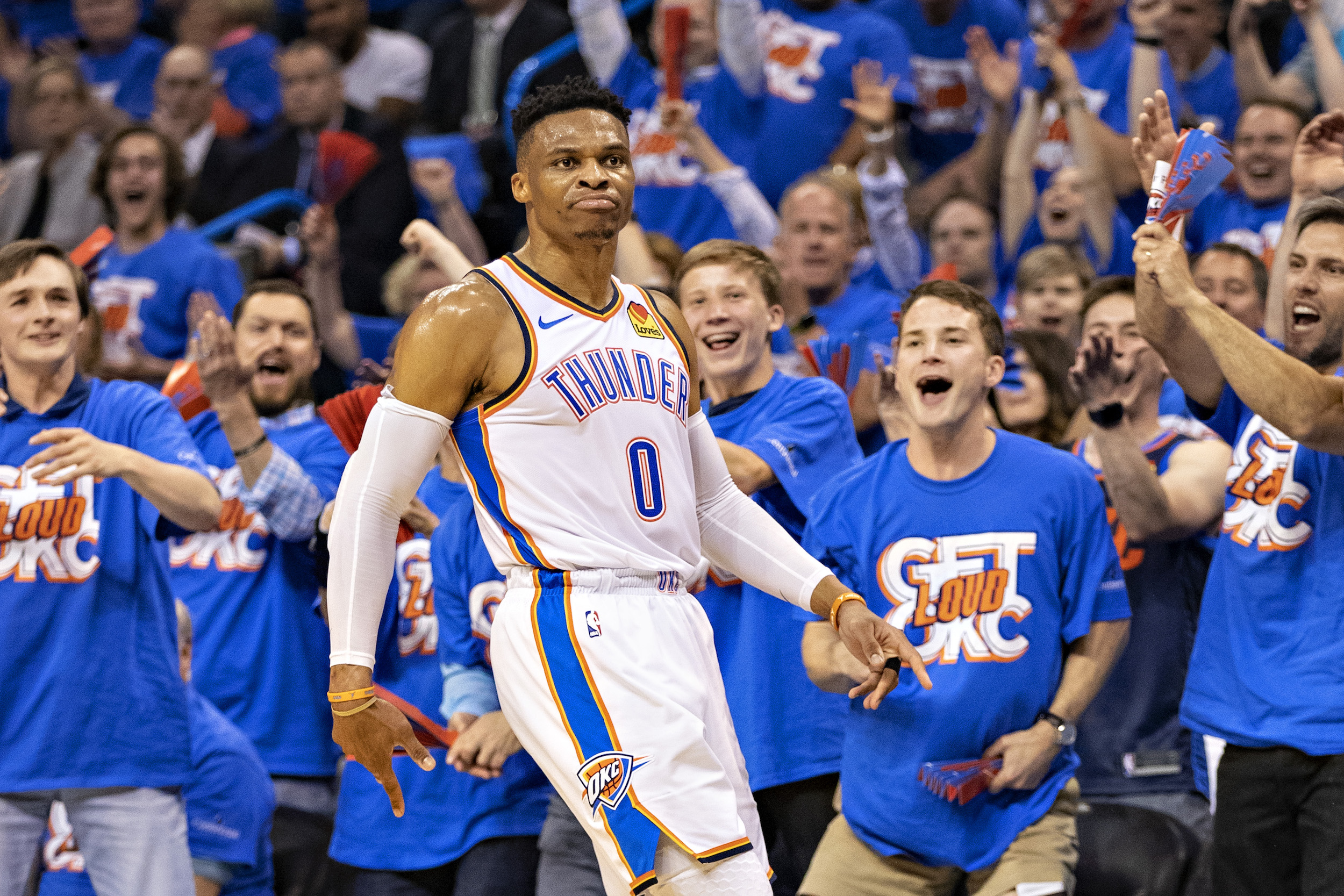 Russell Westbrook Won the Oklahoma City Thunder Over With a Pre-Draft Nap
Russell Westbrook took a nap before a pre-draft workout. That helped convince the Oklahoma City Thunder decide that he was their man.
Whether you love or hate his outfits, it's tough to argue with Russell Westbrook's on-court abilities. The explosive guard burst onto the scene with the Oklahoma City Thunder; while he and James Harden are now chasing a championship in Houston, Westbrook is still one of the most dynamic players in the association. His professional career, however, could have gone much differently.
In 2008, the Oklahoma City Thunder selected Westbrook with the fourth-overall pick of the draft. If not for a pre-workout nap, though, the guard might have worn a different uniform.
Russell Westbrook's slow-burn toward stardom
These days, it's impossible to think of Russell Westbrook as anything other than an NBA star. During high school, however, the guard wasn't receiving much attention from anyone.
As recounted by Ric Bucher in an ESPN feature, Westbrook didn't look like much when he began high school; his coach remembered that the guard was small and slow, but had a big heart. While he improved year-by-year and eventually earned a starting spot on the varsity squad, his upside seemed limited to mid-major colleges. As a senior, however, everything changed.
Before his final high school campaign, Westbrook had a growth spurt; when he returned to school, he became an offensive powerhouse. He showed enough to earn a scholarship from UCLA. Although he started his college career as a bench player, the guard's star would still continue to rise.
As a sophomore, Westbrook seized a place in the starting job and took his game to the next level. The guard averaged 12.7 points, 3.9 rebounds, and 4.3 assists as the Bruins made their second-straight run to the Final Four; after the season concluded, he entered into the 2008 NBA draft.
A pre-workout nap helped win the Thunder over
Heading into the 2008 NBA draft, no one was quite sure what to make of Russell Westbrook. While he was projected to be a comfortable first-round pick, his skillset seemed to defy categorization; while he could score, push the pace, and defend with equal, he didn't exactly fit the mold a traditional point guard. He looked like a high-risk, high-reward pick more than anything else.
The Seattle SuperSonics—they would officially become the Oklahoma City Thunder days after the draft—weren't concerned, though. They tapped Westbrook as the perfect partner for Kevin Durant and made him the fourth-overall pick of the draft. If not for one simple observation, though, things could have gone differently.
Before the draft, Troy Weaver, who served as the Thunder's vice president and assistant general manager, attended a workout. While he was hoping to see some strong on-court performances, Westbrook impressed him in another way.
"He [Weaver] told me he was going to a workout, and Russ was there two hours early, sleeping in his car," Kevin Durant told Erik Horne of The Athletic. "He was like, 'Yeah, this is the guy."
Russell Westbrook has lived up to the hype in the NBA
While it might seem a bit strange to make a potentially franchise-altering decision on the back of a player arriving early to a workout, everything worked out for the Oklahoma City Thunder. Although Russell Westbrook has left for greener pastures, the guard developed into a legitimate NBA star.
Westbrook didn't start every game as a rookie, but he still made an impact; he averaged 15.3 points, 4.9 rebounds, and 5.3 assists during his first professional campaign. He improved with each passing season, growing into an all-star and a legitimate NBA talent. In 2016-17 he recorded a triple-double season, averaging 31.6 points, 10.7 rebounds, and 10.4 assists per game, claiming league MVP honors.
Although things have changed a bit since then—Westbrook joined the Houston Rockets via trade and has re-formed his formidable partnership with James Harden—the point guard is still one of the league's most dynamic players. He's always had the talent, and, as Troy Weaver noticed in 2008, he's willing to do the little things behind the scenes to succeed. That's simply a tough combination to beat.
Stats courtesy of Sports-Reference and Basketball-Reference