How Long Are the Broncos Stuck With the Russell Wilson Contract?
After a brutal 5-12 season for the Broncos, the question heading into 2023 is how long is the team stuck with the Russell Wilson contract?
When the Denver Broncos traded for Super Bowl-winning signal-caller Russell Wilson in the 2022 NFL offseason, nearly everyone thought that move made the AFC West team instant contenders. Instead, after signing a massive new Russell Wilson contract extension, the quarterback played horribly in 2022, and the team finished 5-12. Now, despite bringing in offensive guru Sean Payton as the new head coach, many Broncos fans are asking, how long is the team stuck with the Russell Wilson contract?
The Russell Wilson contract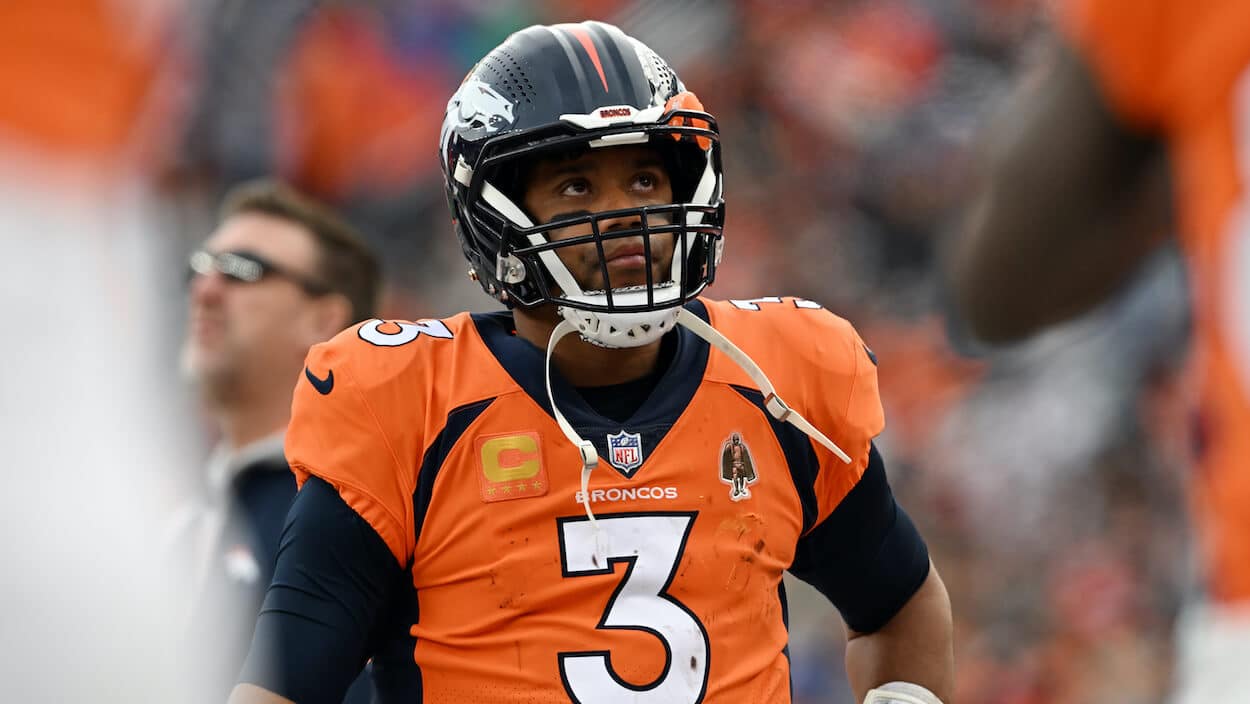 When the Seahawks traded their longtime QB to the Broncos, the signal-caller was two years into a Russell Wilson contract for four years, $140 million.
As a part of the trade, Wilson signed a new extension with his new team, and it was a big one.
The current Russell Wilson contract is a five-year, $242,588,236 pact that included a $50,000,000 signing bonus and $161,000,000 guaranteed. The annual average annual value (AAV) of the deal is $48,517,647 per season.
In 2023, Wilson will have a base salary of $8,000,000 with a $22,000,000 cap hit and a $107,000,000 dead cap number. This means that the Broncos can't move off Wilson this offseason. It would cost them an untenable $85 million in salary cap space.
Next season, jettisoning the Russell Wilson contract isn't really possible, either. In 2024, Wilson will have a cap hit of $35,400,000 and an $85,000,000 dead cap number. After that, the cap hit and dead cap are $55,400,000 and $49,600,000 in 2025.
Releasing Wilson ahead of 2025 would actually save Denver $5.8 million. That said, it would also mean the Broncos would take the biggest single dead cap hit of all time. Currently, that honor belongs to the Atlanta Falcons, who took a $40.53 million dead cap hit on the Matt Ryan contract in 2022.
The most realistic time to get out of the Russell Wilson contract is 2026. Before that season, Wilson's cap hit is $58,400,000, and his dead cap is $31,200,000, so cutting him would save $27.2 million.
Can Sean Payton save his new Broncos QB? 
The Broncos gave up a lot to pry Russell Wilson away from the Seattle Seahawks. Denver sent 2022 and 2023 first- and second-round picks, a 2022 fifth-rounder, quarterback Drew Lock, tight end Noah Fant, and defensive lineman Shelby Harris to Seattle for the nine-time Pro Bowler and a 2022 fourth-round pick.
And what did they get in return (other than the massive Russell Wilson contract)?
The Broncos got 3,524 passing yards, a career-low 60.5% completion rate, just 16 touchdowns, and 11 interceptions. Oh yeah, and a dismal 5-12 record, plus drama in the locker room as many of his teammates seemed to dislike him.
So, the question is, can the Super Bowl-winning offensive genius Sean Payton save him?
That will depend on two factors.
First, can Payton thrive in the modern NFL?
For 15 years with the New Orleans Saints and Drew Brees, Payton was one of (if not) the smartest offensive minds in the NFL. However, he didn't coach last season, and the last few years before that, it was fair to ask whether the Saints' (mostly regular season) success was more due to Payton or Brees' veteran savvy.
The current NFL is about RPOs, analytics, passing on 1st-down, and going for it on 4th-down. Is that how Payton rolls these days? We'll see in 2023.
Now, let's say Payton still has it and is the offensive guru many believe him to be. Then, the next questions are, can Russell Wilson still handle carrying out a winning game plan? And is he willing to if it doesn't "let Russ cook?"
After last year's disaster, Wilson has to fully turn the offense over to Payton. That was something he didn't do last season under Nathaniel Hackett, as many reports had him changing plays often in the huddle.
Also, Wilson simply could be washed. He'll turn 35 in November, which in pre-Tom Brady days was considered old in professional football.
Either way, if the QB hoped to justify the Russell Wilson contract, he needs to fully follow his new coach's lead in 2023.