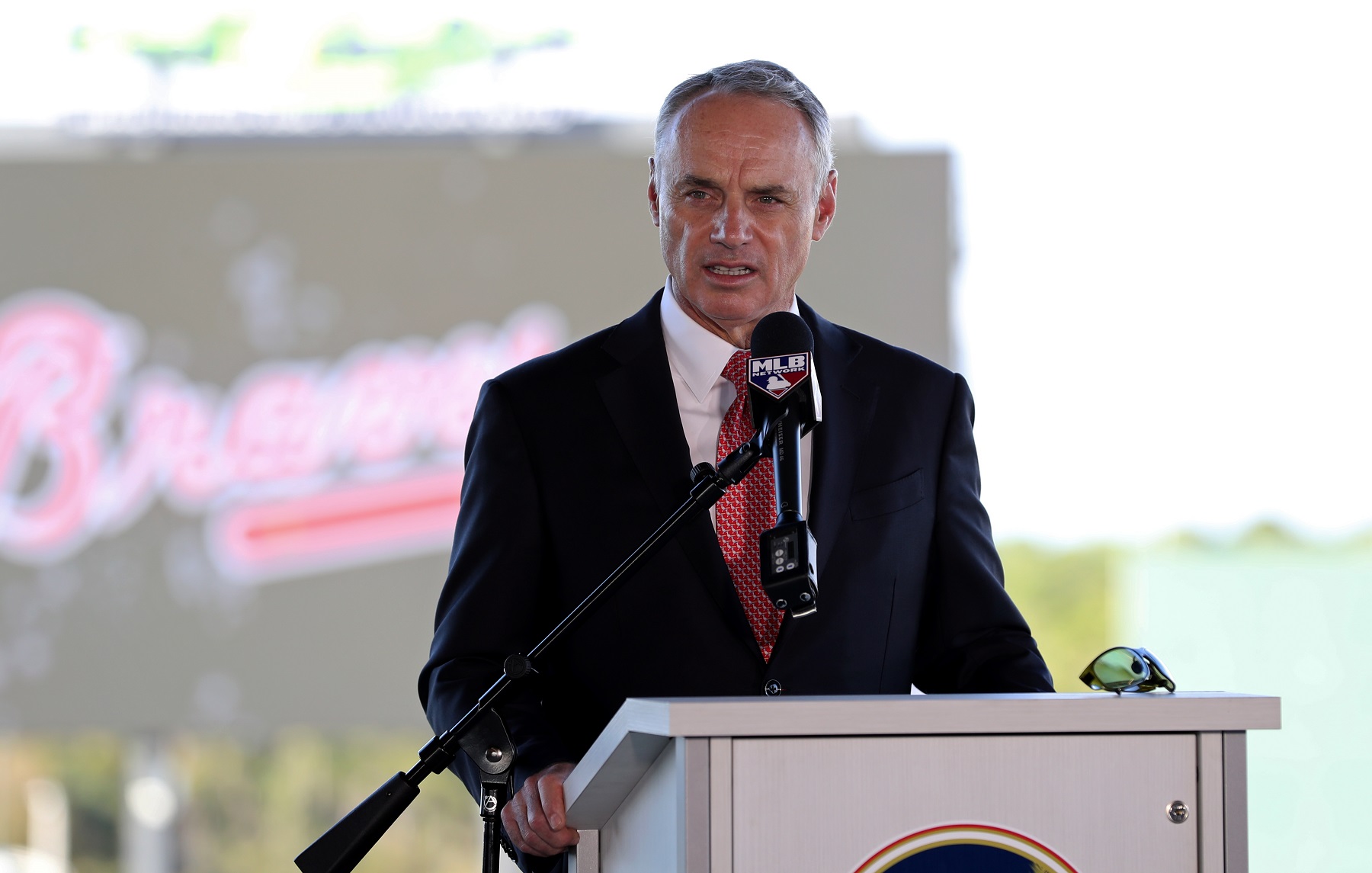 Scott Boras Doesn't Think Much of MLB Commissioner Rob Manfred
Well-known agent Scott Boras says the commissioner's job is too big for Rob Manfred to handle by himself.
The next time Scott Boras and Rob Manfred have seats near each other at a New York Yankees or Washington Nationals game ought to be fun. The best-known agent in baseball, who represents stars like Gerrit Cole and Stephen Strasburg, thinks the MLB commissioner is a liar.
At least Boras softened the blow by also subtly suggesting Manfred isn't much of a businessman rather than stating it outright.
Scott Boras is always the BMOC one day each December
One of the oldest offseason traditions in baseball is the winter meetings, where top executives gather to discuss business. While owners are off in one room with commissioner Rob Manfred for updates on TV contracts and negotiations with the players' union, general managers are off in the corners of bars and restaurants discussing potential trades.
And somewhere in between are agents like Scott Boras, playing those general managers off against each other while negotiating contracts for free-agent clients. When the dealing is done and everyone else is on a plane headed for home, Boras loves holding court with reporters to share his thoughts on the state of the game and to continue promoting his players.
The COVID-19 pandemic kept the winter meetings from happening face-to-face in Dallas last week. Instead, owners met via video conference. That didn't stop Boras from holding a video conference of his own to keep his annual tradition with reporters intact.
Why does one agent even matter?
One of the helpful hints that reporters hear in their first month in journalism school is to "follow the money." Whether it is covering the local school board or a billion-dollar sports franchise, people love reading about money. And no one generates more money for American athletes than Scott Boras.
A year ago, Boras had the greatest month in the history of sports agents when he negotiated more than $1 billion in player contracts in three weeks.
Cincinnati Reds third baseman Mike Moustakas signed for $64 million over four years, and pitchers Dallas Keuchel (Chicago White Sox, three years) and Hyun-jin Ryu (Toronto Blue Jays, four years) signed for $55.5 million and $80 million, respectively. But those were merely the appetizers.
Boras also got Washington National free-agent pitcher Stephen Strasburg $245 million over seven years, moved former Strasburg teammate Anthony Rendon to the Los Angeles Angels for the same numbers, and negotiated the nine-year, $324 million package delivering Gerrit Cole from the Houston Astros to the New York Yankees.
Assuming that Boras gets the standard 5% commission, that's $50 million flowing into his pocket over the course of the decade.
Scott Boras takes two shots at Rob Manfred
Agent Scott Boras met with reporters for 90 minutes on Dec. 15 via video conference and hit many topics, beginning with pumping up outfielder Jackie Bradley Jr., now a free agent. Boras landed the career .239 hitter $11 million on a one-year deal with the Boston Red Sox last offseason and is looking for more.
"JBJ is the PBJ of the major leagues," Boras said. "He's sweet, smooth and spreads it all over."
Boras also railed at owners for discussing settling for 140 or fewer games in 2021, saying the sport should return to its traditional 162 games. He also said that the disruptions caused by the pandemic this past season should mean that pitchers' workloads should increase by no more than 60 innings in 2021.
Boras finished by lobbing two bombs at MLB commissioner Rob Manfred. First, Boras  doubled down on what he told the Los Angeles Times recently: Although Manfred says MLB lost $3 billion last season, Boras said every team made money. In effect, the agent was saying that the commissioner has been lying on behalf of the owners who pay his salary.
Secondly, Boras implored owners to hire a CEO to run the business side of the commissioner's office, leaving Manfred to focus on governing the sport.
"It's very hard to have a focused dialogue about entrepreneurial aspects of going forward," Boras said, according to the Los Angeles Times, "when the real focus of that entity has the monstrous job of legislating the game."
You don't hear prominent agents telling Adam Silver to give up half his NBA duties or Roger Goodell to split his NFL responsibilities. Without coming out and saying it directly, Boras doesn't think Manfred is a smart enough businessman to be running Major League Baseball.
That should make future meetings between the two interesting.
Like Sportscasting on Facebook. Follow us on Twitter @sportscasting19.