Scottie Pippen Takes a Break From Bashing Michael Jordan to Blame Charles Barkley and Hakeem Olajuwon for Their Failed Stint With the 'Superteam' Rockets
No one is safe from the epic bridge-burning spree Scottie Pippen is on right now. The Chicago Bulls legend has been attacking old friends such as Michael Jordan and Phil Jackson recently as he promotes his new memoir, and now he's taking aim at his former Houston Rockets teammates.
In a recent interview, Pippen candidly blamed Charles Barkley and Hakeem Olajuwon for the 1998-99 "superteam" Rockets failing to live up to expectations. Yeah, he's not going to have any more friends after all this.
The "superteam" Rockets failed to make it out of the first round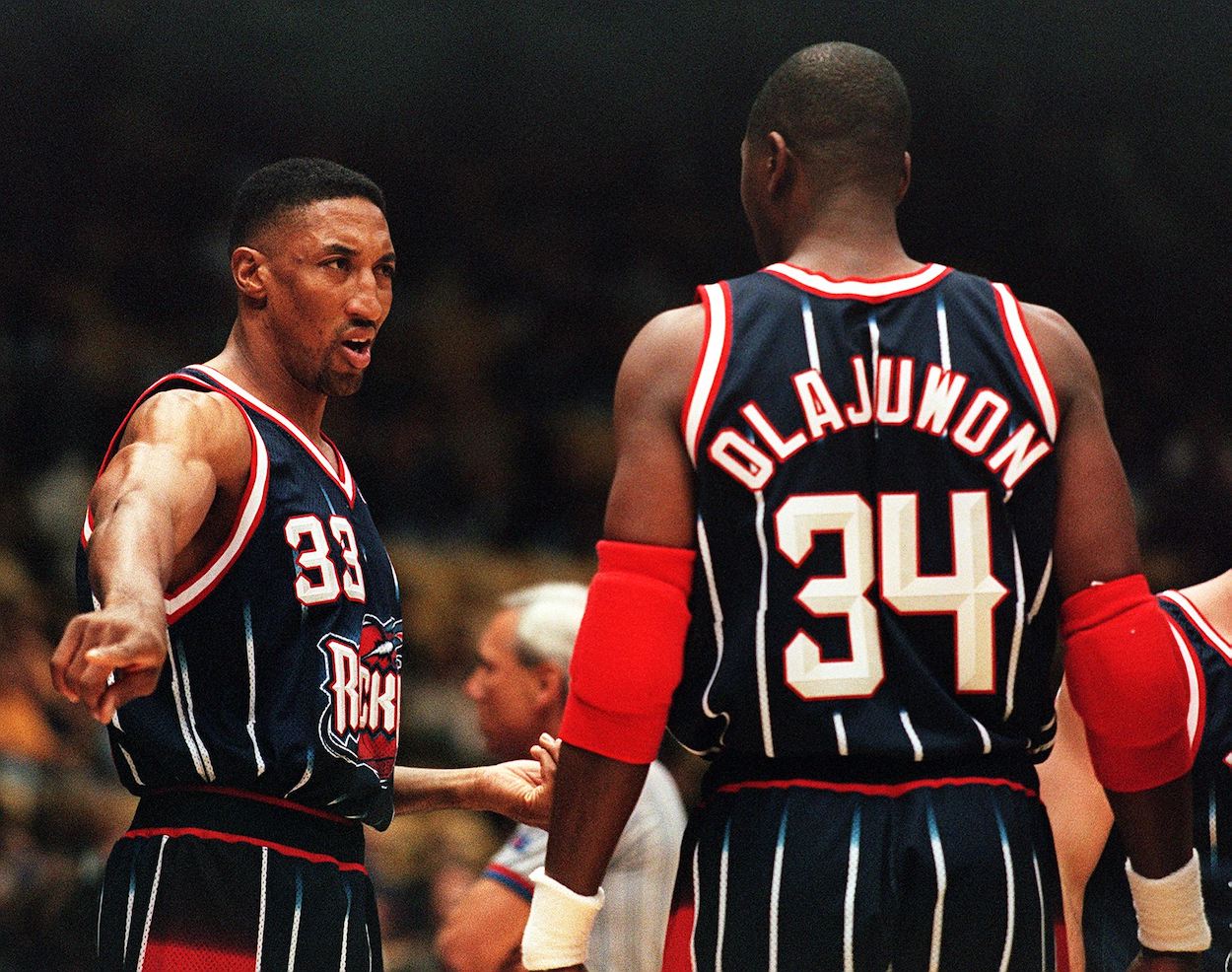 After the Bulls won the NBA title in 1998 to complete their second three-peat, the stars on the team all went their separate ways. Michael Jordan retired from the NBA to become a part-owner of the Washington Wizards, Phil Jackson walked away from coaching for a year, and Dennis Rodman left to join the Los Angeles Lakers.
Pippen had no interest in sticking around by himself, so he worked with the Bulls on a trade to send him to Houston. The Rockets had just recently reached the Western Conference Finals in 1997, and they had a championship-caliber core already in place with Barkley and Olajuwon leading the way.
Pippen was supposed to be the missing piece.
But after going 31-19 in the lockout-shortened regular season, the Rockets fell to the Lakers in the first round of the 1999 Western Conference playoffs. After one failed season in Houston, Pippen asked for and was granted a trade to the Portland Trail Blazers.
And now we know why.
Scottie Pippen blames Charles Barkley and Hakeem Olajuwon for failed stint with Rockets
It seems as if every other day Pippen is appearing on a different show to bash one of his former teammates. He's mostly been taking aim at Jordan in an effort to promote his new book, "Unguarded," but he recently called out both Barkley and Olajuwon.
During an interview with Frank Isola on Sirius XM NBA Radio, Pippen blamed the two Hall of Famers for the Rockets' early exit in the 1999 playoffs.
I thought I was joining a superteam to some degree, but it just didn't work out. We just didn't have the right chemistry, and we were aging a little bit. I felt that it wasn't a good fit for me, obviously coming off a second back surgery. I needed a little more youth around me. I didn't realize how much Hakeem had diminished in the game. I'm gonna be honest, and I didn't realize Charles wasn't as dedicated as I thought he would be.

Scottie Pippen
So was it also their fault Pippen went 6-of-23 in the clinching Game 4 against the Lakers to send them home? We'll hang up and listen.
Pippen asked for a trade to the Blazers because of Barkley's work ethic
Pippen thought going to the Rockets would help Barkley win the title he wanted so badly throughout his career, but it didn't work out the way he had hoped. So, he bailed on him after one season by asking for a trade to Portland.
"I went to Houston to try to help Charles Barkley win a championship, and I felt that his dedication wasn't there once I got there," Pippen told Isola. "And me, myself, I had six [championships], so it wasn't really about me trying to go out of my way to win a championship, and that's why I asked for the trade. I ended up in Portland with a younger team, a hungrier team, and players that I could kind of stand behind and not have to stand up front anymore."
But Pippen couldn't find another championship in Portland, either. I wonder whose fault that was, because it surely wasn't his.
Like Sportscasting on Facebook. Follow us on Twitter @sportscasting19.