Scottie Pippen Regretted Not Heeding Michael Jordan's Advice Before Teaming Up With Charles Barkley: 'I Probably Should've Listened to Michael'
Scottie Pippen's latest public takedowns of Michael Jordan make it appear as though he resented the idea of MJ as a counselor. However, that sentiment conflicts with Pippen's history.
The all-world defender admitted in 1999 that he should have heeded Jordan's words concerning Charles Barkley's work ethic before deciding to sign with the Houston Rockets after the breakup of the Bulls dynasty.
Scottie Pippen headed to Houston in a sign-and-trade with the Rockets after Michael Jordan retired and the Bulls dynasty ended
Michael Jordan, Scottie Pippen, and the Chicago Bulls won their sixth championship in 1998, but the sun soon set on the dynasty.
Head coach Phil Jackson retired at the end of the season. That essentially led to MJ deciding to call it a career, as he previously stated he would not play for another head coach. Meanwhile, Pippen had an opportunity to chart a new course for a different organization after demanding a trade from the Bulls early in the 1997-98 season. The sudden crumbling of the mighty Bulls shocked the NBA, including the likes of John Stockton.
Pippen signed a five-year, $67.5 million deal in what ended up being a sign-and-trade with the Houston Rockets. He found himself in something of a "Big Three" with Charles Barkley and Hakeem Olajuwon.
While all three players were on the decline in terms of career trajectory, the sheer star power on Houston's roster gave the Rockets a strong chance of contending. But things fell apart, primarily because of the eroding relationship between Pippen and Barkley.
Pippen said he regretted not listening to Jordan as he publicly blasted Chrles Barkley for a perceived lack of work ethic
Scottie Pippen and Charles Barkley had plenty in common before sharing the floor in Houston.
Both men played in the 1992 and 1996 Olympic Games as members of Team USA. They previously shared a sense of respect as opponents in the 1993 NBA Finals. Pippen might have felt he could develop a working relationship with the Round Mound of Rebound, though it ran contrary to Michael Jordan's thinking.
Jordan and Barkley had a close friendship during their playing days. Despite the off-court dynamic, however, MJ always wanted the chance to compete against Chuck. He also questioned Barkley's drive, something Pippen also did in short order.
The Rockets went 31-19 during the lockout-shortened 1998-99 season, but lost to the Los Angeles Lakers in the first round of the playoffs. There never seemed to be much cohesiveness or alignment between Pippen and head coach Rudy Tomjanovich. He asked to be traded, setting off a war of words between himself and Chuck.
Barkley expressed disappointment at Pippen's desire to leave Houston after just one season, per ESPN, also suggesting he took less money for Scottie to sign with the Rockets in the first place. Pippen responded by calling Chuck "fat" and "selfish." He said he lamented ignoring Jordan's advice about Barkley's apparent lack of dedication.
"I probably should've listened to Michael (Jordan) a year ago when he said that Charles will never win a championship because he doesn't show any dedication."

–Scottie Pippen (1999), via ESPN
The admonishing continued. Pippen questioned Barkley's drive and leadership, insinuating that Chuck only cared about his numbers rather than winning. Pip deemed it foolish to waste the last good years of his career on an aging team with no sense of direction.
Ultimately, Scottie got his wish. The Rockets traded him to the Portland Trail Blazers, and that Blazers team nearly defeated the Lakers in the Western Conference Finals.
Still, Pippen had essentially wasted a year of his career. He could have avoided doing so, if only he had listened to the man he's recently been so eager to criticize.
Why is Pippen keen on criticizing Jordan when he needed MJ's guidance?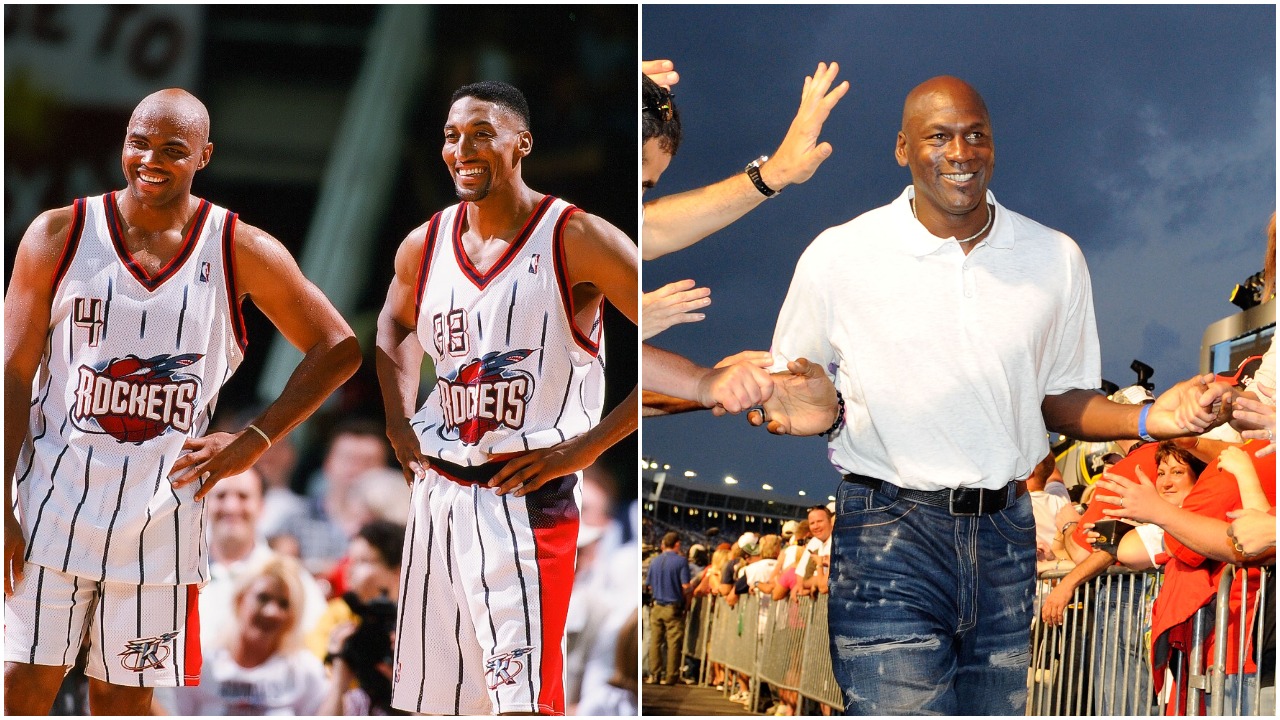 Scottie Pippen can feel comfortable criticizing Michael Jordan for his purported self-glorification and minimizing of the Bulls in The Last Dance, at least in 2021. But his condemnations are downright confusing.
A young Pippen welcomed the opportunity to play with His Airness before the 1987 NBA Draft. Mike helped Scottie to realize his star potential in his first several seasons in the NBA. During The Last Dance, Pippen said he needed MJ to be the "bad guy" to help bring him and the rest of his teammates along. Finally, as his history with Barkley and the Rockets shows, Pip considered MJ's opinions regarding career advice.
Pip owes a good bit of his success to Jordan and, despite denying the existence of a friendship between them, obviously sought Jordan's advice in numerous capacities.