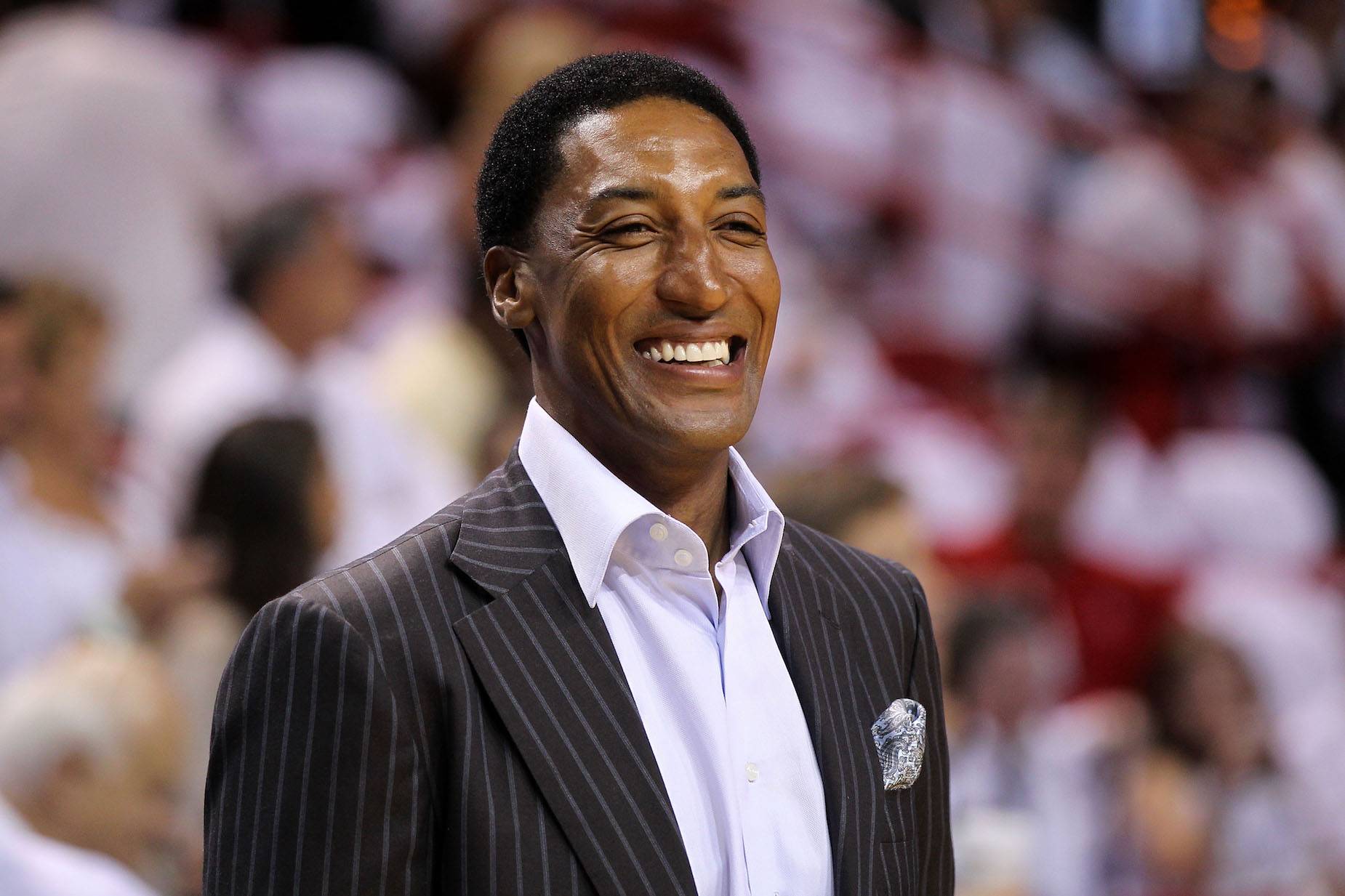 Scottie Pippen Has a Surprisingly Simple Piece of Personal Advice for NBA Rookies
Scottie Pippen recently shared a simple—and personal—piece of advice for rookies looking to break into the NBA.
Whether you think that he rode on Michael Jordan's coattails or believe that he was a legitimate star in his own right, no one can argue with Scottie Pippen's basketball success. In addition to his six NBA titles, the forward also claimed plenty of individual hardware and earned a spot in the Basketball Hall of Fame. Now, the former Chicago Bull is sharing his wisdom with the next generation.
On a recent episode of ESPN's The Jump, Pippen was asked what advice he would give to rookies trying to break into the NBA. In response, the veteran shared a surprisingly simple piece of advice.
Scottie Pippen's impressive basketball career
When you think about the 1990s Chicago Bulls, it's easy to assume that Scottie Pippen was little more than Michael Jordan's sidekick. While His Airness did run the show, the forward was also a legitimate contributor in his own right.
Despite playing his college ball at the University of Central Arkansas, Pippen still caught the eye of NBA scouts. When the 1987 NBA draft rolled around, he had done enough to become the fifth-overall pick. The Seattle SuperSonics, however, had no intention of keeping the forward and promptly flipped him to the Chicago Bulls.
In the Windy City, though, Pippen didn't immediately become a star; in fact, he didn't start a single game as a rookie and averaged under eight points per outing. Michael Jordan, however, saw the forward's potential and whipped him into shape.
 "One of the smartest things Doug Collins did was match them up," Jerry Krause explained, according to Harvey Araton of the New York Times. "And I mean Michael just killed Scottie, beat the hell out of him. But it was the best thing that could have happened to Scottie, winding up with Michael in Chicago. He had to get stronger. He had to learn to compete."
It's safe to say that Pippen learned his lesson. He went on to become a lockdown defender and legitimate secondary scorer, winning six NBA titles alongside MJ.
Simple advice for NBA success
These days, Scottie Pippen has found a home in the media, appearing on ESPN's The Jump. It was in that context that he offered some advice about finding NBA success.
Ahead of the 2020 NBA draft, the program will be hosting some presumptive lottery picks. Those conversations kicked off with James Wiseman, who asked Richard and Scottie Pippen how they approached their rookie season and what advice they'd offer to NBA rookies.
While Jefferson hit the standard talking points about being humble and working hard, Pippen kept things even simpler.
"I would tell all young players to do what you did to get you where you are today," the former Chicago Bull explained. "And that's by working hard and dedicating yourself to the game of basketball. … This is the time when you really pull in and give it your all."
That advice is personal for Scottie Pippen
Obviously, Scottie Pippen isn't the first person to advise a young player to work hard. That lesson, however, is a bit more personal for him than it is for others.
Growing up, Pippen wasn't much of a basketball player; in fact, he initially joined the Central Arkansas basketball team as an equipment manager rather than a player. Thanks to a combination of hard work and good fortune, he became a star.
As Mik Awake wrote in GQ, Pippen lived a version of the American Dream. He started "playing on a dirt court at his grandmother's house to escape the psychic weight of his family's hardships" and became a member of some of basketball's most famous teams. While things were never perfect—Pip was underpaid and under-appreciated—he still found fame and fortune on the hardwood.
It goes without saying that hard work and the American Dream are somewhat loaded concepts; no amount of practice, for example, will let an average Joe make it to the NBA, let alone become the next Michael Jordan.
With that being said, though, Scottie Pippen's advice still rings true. When in doubt, you can do far worse than trusting your process and getting to work.