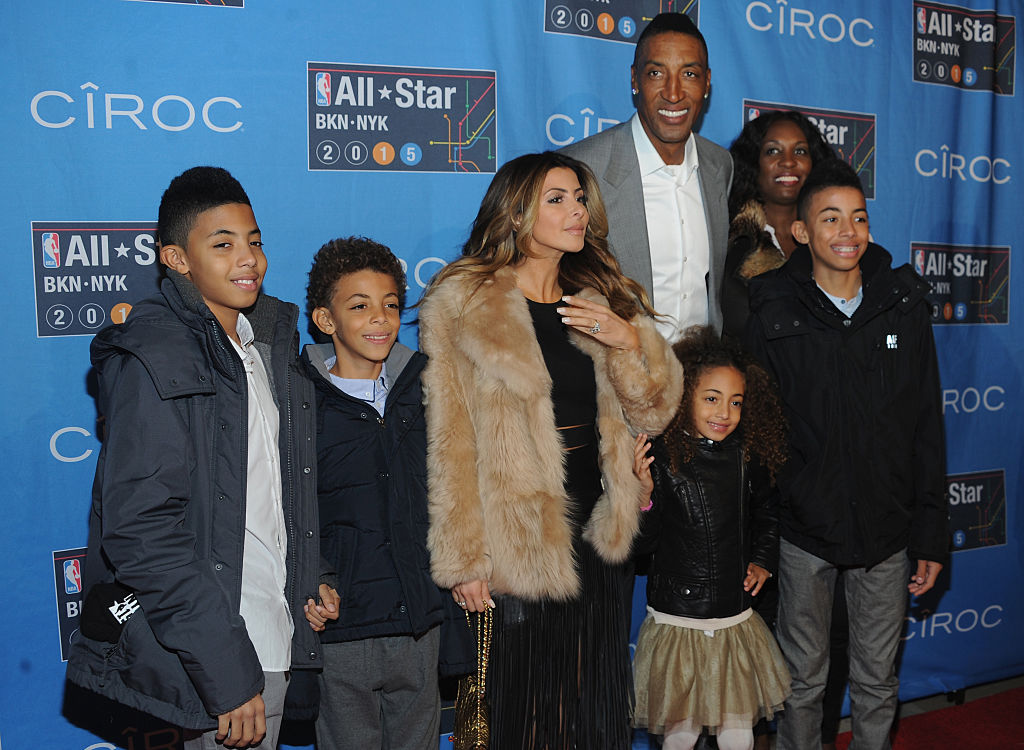 Scottie Pippen Has Enough Children To Fill Out His Own Basketball Team
While Scottie Pippen made a name for himself with the Chicago Bulls, he now has more than enough children to fill out a basketball team of his own.
Thanks in large part to The Last Dance, Scottie Pippen has been thrust back into the public eye. Although the series didn't portray him in the best light, the forward was a key part of the Chicago Bulls' success; every Batman, after all, needs his respective Robin to succeed. Pippen's life, of course, wasn't limited to the basketball court, though.
In his personal life, Scottie Pippen also had quite a few children. While there were some notable issues along the way, the NBA veteran now has enough kids to fill out a starting five, plus have a few substitutes on the bench.
Scottie Pippen's basketball career
While Michael Jordan may have gotten most of the headlines, Scottie Pippen still had plenty of skill on the hardwood. His basketball career, however, almost stalled before it truly began.
Despite a solid high school career, Pippen didn't receive any attention from big-name colleges. Faced with that reality, he headed to the University of Central Arkansas and joined the basketball team as an equipment manager. Despite that lowly beginning, he eventually earned a scholarship; he also had a growth spurt and developed into a star.
While he played at a tiny NAIA school, Pippen started catching the eye of NBA scouts. When the 1987 NBA draft rolled around, the Seattle SuperSonics selected him 5th overall; they immediately traded the forward to Chicago, setting the stage for one of the NBA's greatest dynasties.
Pippen didn't immediately light the NBA on fire, but he proved to be the perfect complement to Michael Jordan. Serving as the Bulls' number two scorer and premier defender, the forward spent 12 seasons in Chicago, winning six titles alongside His Airness. He also suited up for the Trail Blazers and Rockets, taking home nice paychecks, before returning to the Windy City to finish out his career.
Fathering seven children with several different women
While Scottie Pippen made his name on the hardwood, he obviously lived a life outside of the United Center. That included, for better or worse, having seven children with several different women.
As laid out by Showbiz CheetSheet, Pippen had his first child, Anton, in 1987 with his first wife, Karen McCollum. The next two Pippens, Taylor and Tyler, arrived in 1994, but their birth to Sonya Roby wasn't a happy affair. As noted by the Chicago Tribune, Tyler died nine days into his life, and Pippen initially denied fathering the twins.
In 1995, Pippen and Yvette De Leon gave birth to Sierra Pippen; once again, Scottie denied paternity but was eventually proven to be the girl's father. After that, though, things seemed to settle down a bit, at least from a legal perspective. Pippen tied the knot with Larsa Younan, and they had four children—Scotty, Preston, Sophia, and Justin—before splitting up.
Unsurprisingly, athletic talent runs in Scottie Pippen's family
Based on pure numbers, Scottie Pippen and his children could fill out most of a basketball roster. Some of the NBA veterans, kids, however, also have athletic talents of their own.
Antron played college ball at Texas A&M but never made it to the pros. Taylor didn't follow her father's footsteps on the hardwood, but she did display a knack for volleyball.
Scotty Jr., however, does seem to be a promising basketball talent. During the 2019-20 campaign, he played his first season of NCAA basketball at Vanderbilt; he started 31 games and earned a spot on the SEC All-Freshman Team. Preston and Justin have reportedly followed Scotty's footsteps to Sierra Canyon High School, but neither of them is listed on the school's varsity roster with the likes of Bronny James and Zaire Wade.