Scottie Pippen Motivated His Blazers Teammates by Flashing His Championship Rings Ahead of a Must-Win Game in the 2000 NBA Playoffs: 'He Blinded Me With Those Diamonds'
By 2000, Scottie Pippen no longer proved capable of being a top star on a championship contender. However, he possessed valuable championship pedigree for a Portland Trail Blazers team on the cusp of a breakthrough.
Pippen's frustration with Charles Barkley and the ensuing feud between the former Houston Rockets teammates prompted the former Chicago Bulls great to demand a trade. He ended up in Portland, surrounded by emerging stars such as Rasheed Wallace and Damon Stoudamire and fellow veterans like Steve Smith, Arvydas Sabonis, and Detlef Schrempf. That blend of youth and veteran leadership resulted in plenty of success.
The Blazers won 59 games during the regular season and made it to the Western Conference Finals. However, they needed inspiration after falling behind 3-1 to the Los Angeles Lakers. Pippen provided it in a flashy manner, though the aftermath was truly spectacular.
Scottie Pippen showed his Blazers teammates his championship rings before a must-win Game 5 in the 2000 Western Conference Finals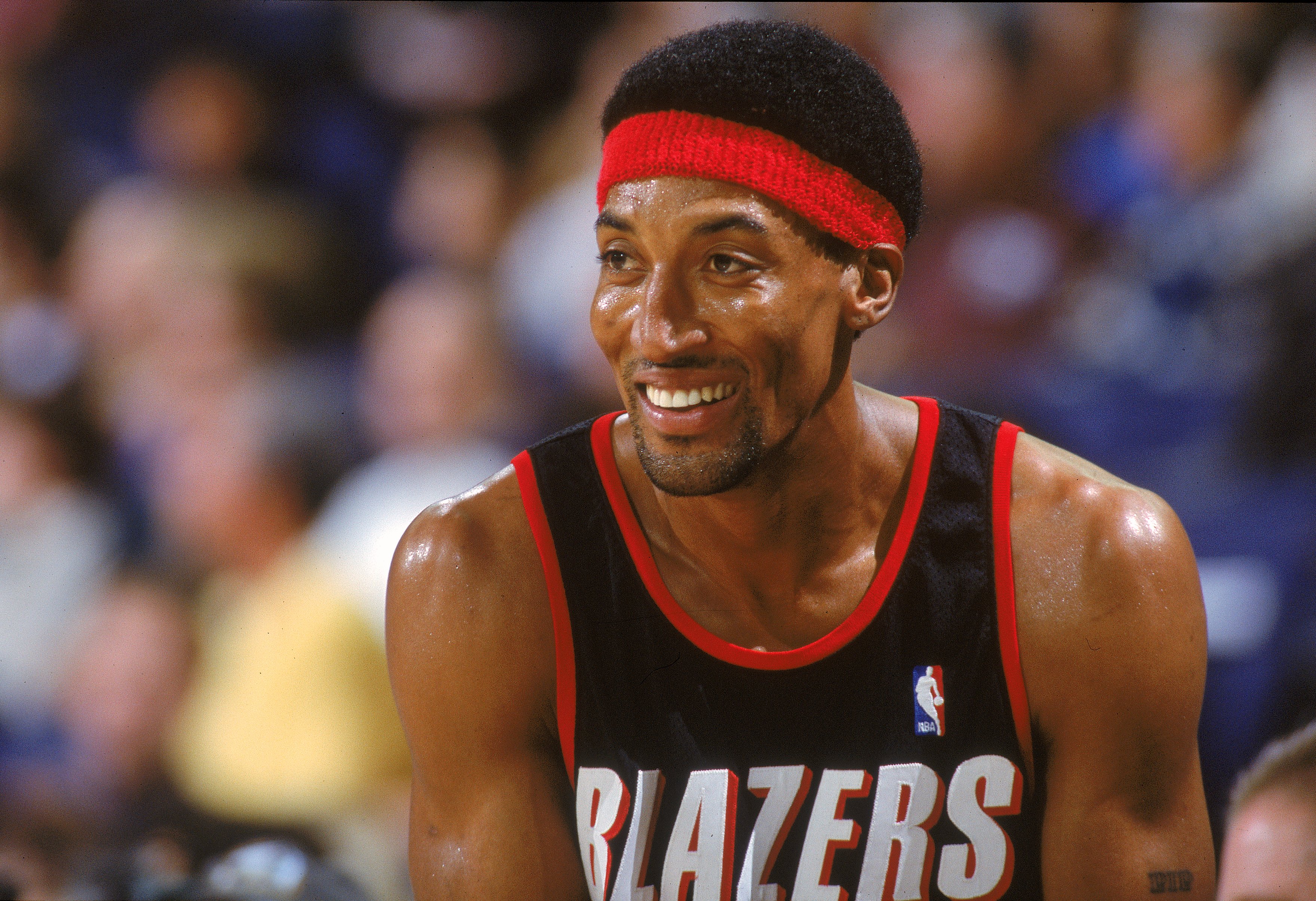 Portland looked lifeless through the first several games of the 2000 Western Conference Finals. After a 29-point win in Game 2 helped the Blazers even the series, they dropped each of the next two games and found themselves facing elimination.
Scottie Pippen knew he had to do something. He called on his championship experience to send a simple yet effective message to his teammates.
Pippen showed off the six championship rings he won with the Bulls as a reminder of what Portland strived to achieve. Former Blazers swingman Bonzi Wells offered (h/t ESPN) a more apt description.
"He blinded me with those diamonds."

–Bonzi Wells (2000) on Scottie Pippen showing Blazers teammates his championship rings, via ESPN
In a way, Pip implied he wasn't satisfied with having just six rings. Simultaneously, however, he had already accomplished the ultimate goal of winning a championship, even if he is currently upset with Michael Jordan's portrayal of the Bulls dynasty. Most of Scottie's Blazers teammates lacked any rings, and he likely realized such a gesture could inspire more than any pep talk.
With their backs against the wall, the Blazers responded admirably. Pippen led by example in Game 5 and gave life to a massive turnaround.
Pippen anchored the Blazers in Game 5 and helped Portland push the Lakers to the brink of elimination
Pippen sent a pregame message to his teammates. He had another statement in store for the Lakers.
The Hall of Fame forward came through with one of his best games of the season. Pippen scored 22 points on 8-of-12 shooting, adding six rebounds and three assists. He flew all over the floor on the defensive end, racking up six steals and stuffing four Laker shot attempts.
Portland built off Pippen's energy, particularly on the defensive end. Shaquille O'Neal dominated inside, but the Blazers controlled the perimeter and harassed LA's guards and wings. Kobe Bryant scored just 17 points on 4-of-13 shooting and committed six turnovers before fouling out. The Lakers shot 38% from the floor despite an efficient scoring night from Shaq.
Suddenly, the Blazers had a chance to tie the series at home in Game 6. They did just that as Wells scored 20 points in only 18-plus minutes off the bench to give Portland a lift.
The Blazers looked destined to complete the epic comeback in Game 7. They led by 13 entering the final period and had LA on the ropes. However, Portland fell apart.
The Lakers outscored the Blazers 31-13 in the final period to advance to the NBA Finals, capping the comeback with an iconic lob from Kobe to Shaq. At one point, Portland missed 13 consecutive field-goal attempts and did not score for over seven minutes.
After scratching and clawing to get back into the series, the Blazers folded with an epic collapse. Portland never recovered, and Pippen missed his last great chance at another ring.
The Blazers began to crumble almost as quickly as they rose to the top of the West
Pippen's ring-flashing nearly catalyzed a storybook run to the Finals. But in hindsight, it means something entirely different.
The Blazers seemed primed to challenge the Lakers in the years to come, even after the heartbreaking playoff defeat in 2000. However, general manager Bob Whitsitt made a perplexing decision to shake things up before the 2000-01 season. He traded Brian Grant for an aging and out-of-shape Shawn Kemp. Whitsitt also sent a young Jermaine O'Neal to the Indiana Pacers in exchange for Dale Davis.
Those moves played a role in diminishing team chemistry after Kemp and Davis complained about playing time. Things grew more uncertain when Whitsitt signed Rod Strickland despite having a budding star at the point guard spot in Stoudamire. Some players, including Pippen, blamed Mike Dunleavy for his inability to hold things together.
In any event, the Blazers lost 11 of their final 17 games. Kemp entered a rehab facility as addiction ultimately ended his career, and Bonzi Wells tore his ACL. Portland finished as the No. 7 seed and got swept by the Lakers in the first round. Everything really fell apart from there, with Portland eventually earning the nickname "Jail Blazers" and experiencing all kinds of turmoil.
For his part, Pippen languished with the Blazers until getting a brief sendoff with the Bulls during the 2003-04 season.
What could have amounted to a triumphant moment for Pip and Portland fans has instead taken on a sad meaning as the last great chance both for a Hall of Famer and a fairly woe-begotten franchise to win an NBA championship.
Stats courtesy of Basketball Reference.