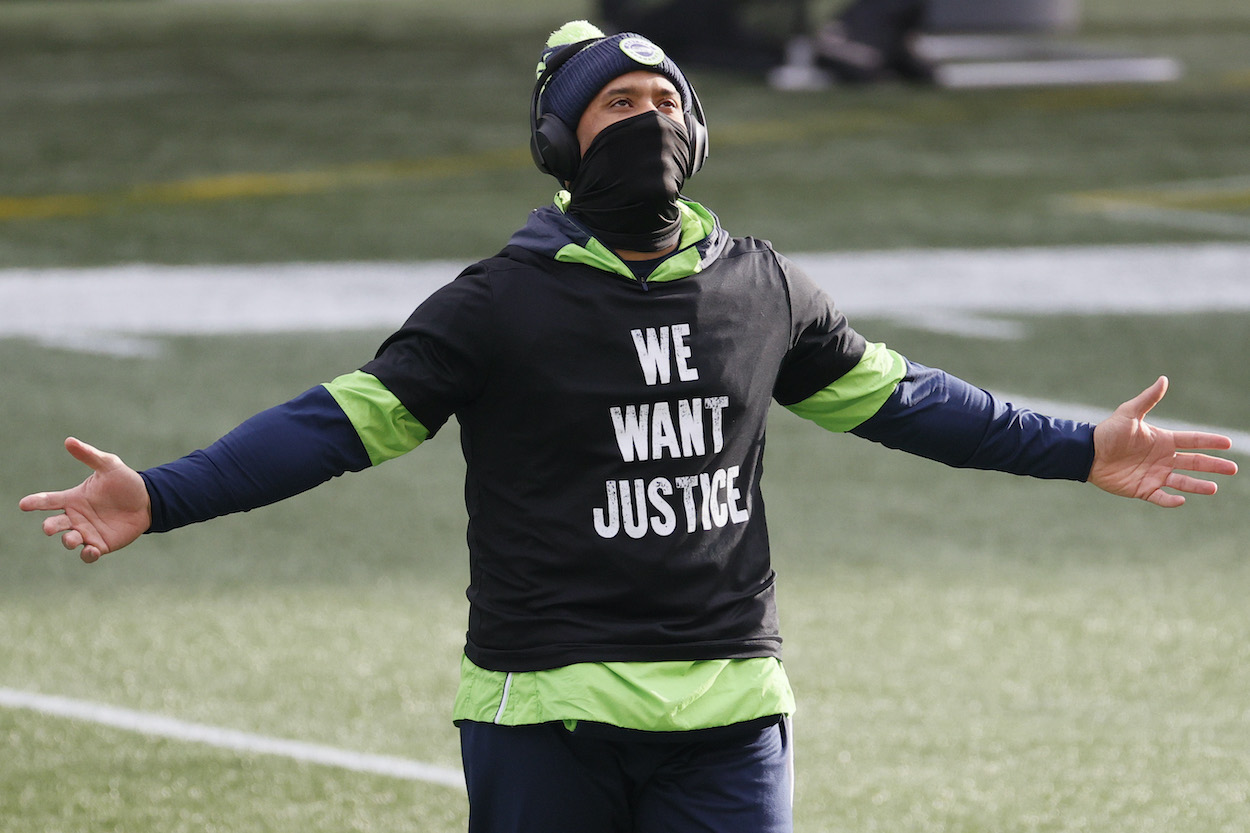 The Seattle Seahawks Sabotaged Their Future by Finally Gifting Russell Wilson a Much-Needed Protection Plan
The Seattle Seahawks have finally awarded Russell Wilson with a solid offensive guard, but they sabotaged their future to do it.
Well, it finally happened. The Seattle Seahawks finally added a veteran offensive lineman, Gabe Jackson, who can serve as a much-needed protection plan for Russell Wilson. With Wilson expressing some interest in moving on from the Seahawks if they don't fix their offensive line issues, this move will go a long way in winning Wilson back.
But Jackson isn't a star by any stretch, and Seattle continued to sabotage its future to get him.
Russell Wilson has been begging the Seahawks for a protection plan
After nine seasons with the Seahawks, Russell Wilson is fed up with how the franchise has been incapable of protecting him in the pocket. Over the course of his career, Wilson has been sacked 394 times. That averages out to 43.8 sacks per year, which is the highest number for a QB since the 1970 merger.
Wilson will become the most-sacked player in NFL history within the next three or four seasons if that pace continues.
The Seahawks have only had two offensive linemen named to the Pro Bowl since Wilson's rookie season in 2012. This offseason, he's finally speaking out about his frustrations.
"Like any player, you never want to get hit," Wilson told reporters during a press conference in February. "That's the reality of playing this position; ask any quarterback who wants to play this game. But at the same time, it's part of the job and everything else. I think that the reality is that I've definitely been hit. I've been sacked almost 400 times, so we've got to get better. I've got to find ways to get better too.
"I'm frustrated [about] getting hit too much. I'm frustrated with that part of it. At the end of the day, you want to win."
The Seahawks finally gift Russell Wilson a capable offensive lineman
The Seahawks have clearly been listening to the cries from their All-Pro quarterback.
On Wednesday night, Adam Schefter of ESPN reported Seattle is trading a 2021 fifth-round draft pick to the Las Vegas Raiders for veteran guard Gabe Jackson.
Jackson is a versatile weapon who can play on both sides of the offensive line. He also only missed 13 starts in seven seasons with the Raiders, so the Seahawks can trust him to be on the field week in and week out.
Even if Jackson doesn't turn out to be a Pro Bowl lineman for Seattle, the trade will go a long way to show Wilson the Seahawks are committed to protecting him moving forward.
The only problem? They mortgaged their future even further to do so.
Seahawks continue to sabotage their own future
The Seahawks might have given Russell Wilson a crucial peace offering with their latest trade, but they continue to dig themselves in a deeper hole for the future. By trading away a fifth-round pick for Jackson this week, Seattle is now down to just three draft picks in 2021. The Seahawks only have a second-, a fourth-, and a seventh-round pick in this year's draft. That's not encouraging for a team that still needs to add more young talent to help protect Wilson.
Seattle has now traded away six 2021 draft picks, and two of which went for players who are no longer on the team. The Seahawks can't afford to be careless with their future assets, especially considering their weak offensive line unit.
They better hope Jackson turns out to be stud protecting Wilson this season.
All stats courtesy of Pro Football Reference