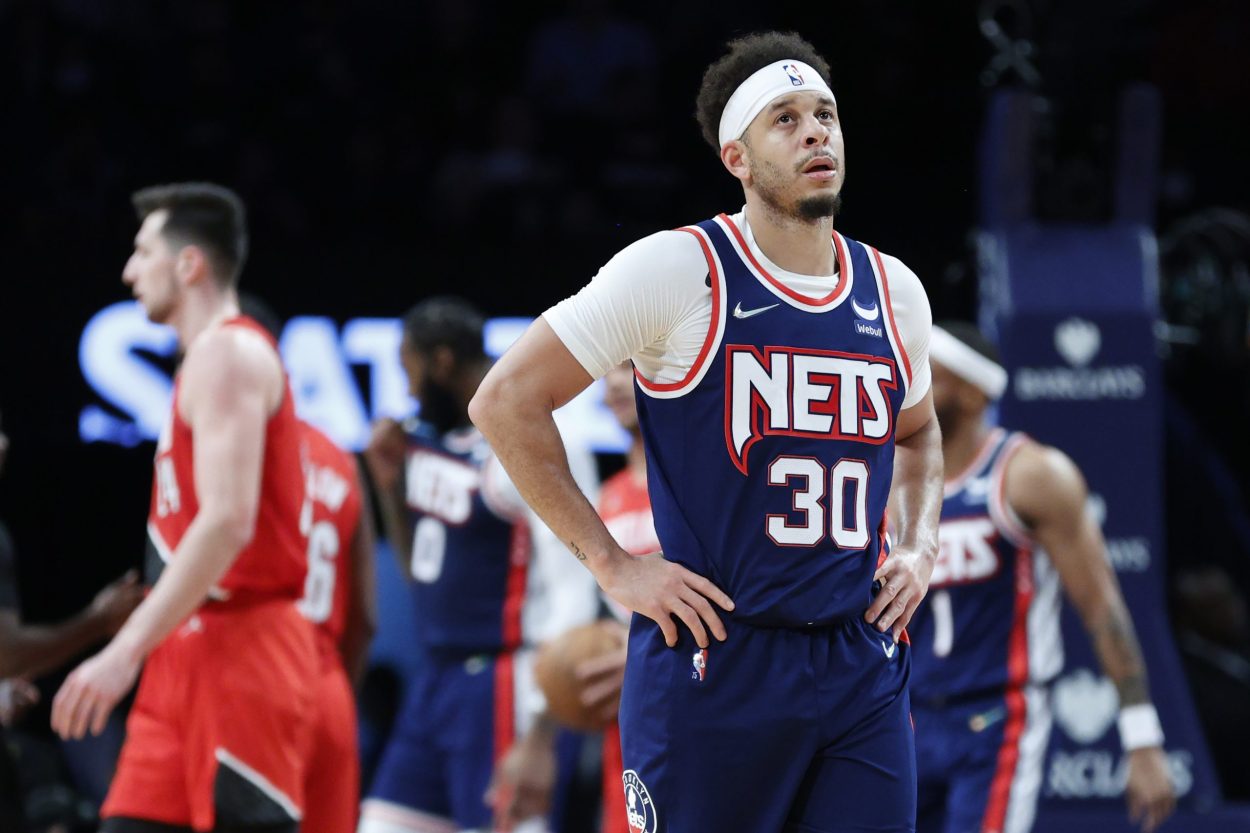 Seth Curry's Availability Is a Far Greater Concern for the Nets Than Ben Simmons' Return
The Brooklyn Nets can ill afford to lose Seth Curry, whether Ben Simmons returns to the rotation or not.
The status of Ben Simmons' return is one of the dominant Brooklyn Nets and NBA storylines right now. That's all well and good, considering how much attention Simmons has attracted this season despite not playing a single game. But Nets fans should feel far more concerned about Seth Curry's future availability.
Curry's brilliance since coming to Brooklyn somehow remained under the radar in light of Simmons working his way back from injury and Kyrie Irving still serving the Nets in a part-time capacity. He holds critical importance as a ball-handler and is all the more vital as a shooter who can space the floor in Joe Harris' absence.
However, Curry has been nursing an ankle injury that leaves him feeling less than 100%. Another recent setback has to leave Nets fans feeling worried.
Seth Curry has put up winning stats in Brooklyn
When he arrived in Brooklyn as part of the Ben Simmons-James Harden trade, it was presumed Curry would play more of a filler role and give the Nets some depth. He's done that, and then some.
In his first 13 games with the Nets, Curry is averaging 15.5 points, 2.9 rebounds, and 2.8 assists. He's shooting over 49% from the field, including an astonishing 47.1% from beyond the arc on 6.5 attempts per game.
No, those per-game numbers don't necessarily jump off the page. But there's more to it.
Curry very clearly adds another dimension to Brooklyn's offense with his shooting, off-ball movement, and ability to create. The Nets score a whopping 119.5 points per 100 possessions with him on the floor. That offense is so bounteous that it negates opponents tallying 114.2 points per 100 possessions when Curry is in the game.
The 31-year-old has adjusted well to playing alongside Kevin Durant, with the two combining for 65 points in a March 18 win over the Portland Trail Blazers. Indeed, he gives KD a necessary outlet when opposing defenses send help. Curry also complements Goran Dragic's slashing ability.
However, the ankle issue is becoming a legitimate concern for Curry and the Nets.
The ankle problems prove incredibly worrisome
No sooner did Seth Curry return from a three-game absence due to a left ankle injury than he went right back to the bench.
Curry scored 27 points in his return during Brooklyn's win over the Blazers. But he played just over 12 minutes during Monday's tilt with the Utah Jazz before once again leaving the contest because of his ankle.
Nets fans have to wonder about Curry's health going forward.
Ankle injuries aren't anything to play with. There's a reason it's becoming a recurring problem for Curry. At the same time, Brooklyn desperately needs the former Duke standout in the lineup to provide guard depth and take some of the onus off Kevin Durant.
Some Nets followers might reason that Ben Simmons' return could help in this manner. Realistically, though, Brooklyn needs Curry every bit as much as it needs Simmons.
Why Curry's availability is as important as Ben Simmons' return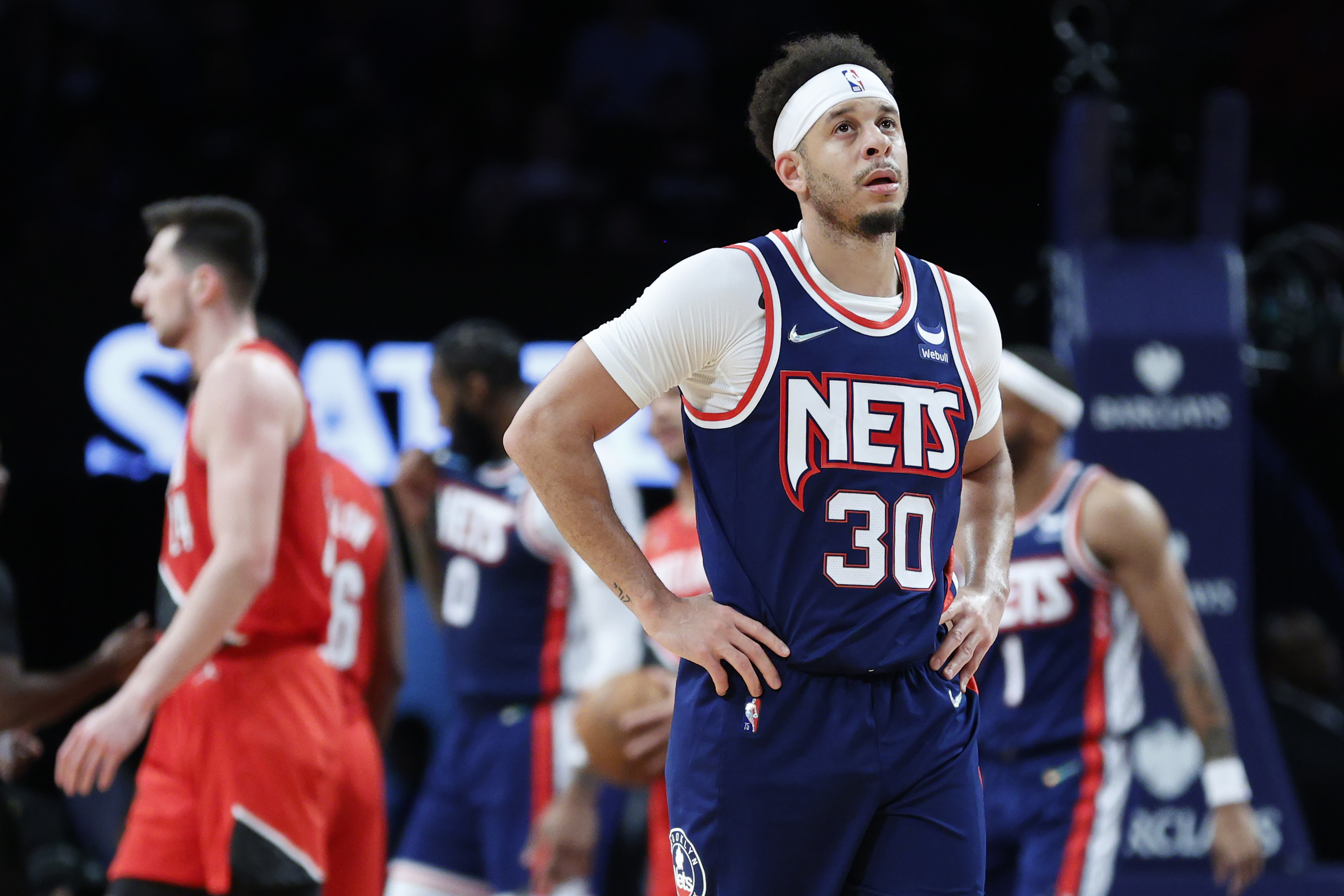 Simmons, should he return healthy and in form, can supply the Nets with playmaking and one of the best perimeter defenders in the NBA. But back pain could mitigate his effectiveness, not to mention the fact he hasn't played all season.
Brooklyn could certainly use Simmons' defensive abilities. However, it needs more of the things Curry provides on a consistent basis.
Without Joe Harris in the lineup, the Nets lacked viable floor-spacing for much of the season. Curry has stepped right in to fill the Harris role as a guy who can play off the ball and read the space. According to NBA.com, he and Kyrie Irving have a 13.9 net rating in 94 minutes together, while he and Durant have a 7.6 net rating in 155 shared minutes. Curry is also incredibly effective working off ball screens as a mid-range shooter and can make plays when it's required of him.
Brooklyn faces a lot of uncertainty. One of the known elements is that Curry can shoot the lights out, and he's a positive player alongside KD and Irving. Even if Simmons can come back, the Nets need shooters and additional ball-handlers come playoff time, particularly considering they have no idea whether Irving will be allowed to participate on a full-time basis.
Among all the narratives that exist in the Brooklyn borough, Curry's health and future availability are among the most important for the Nets.
Stats courtesy of Basketball Reference unless otherwise noted.