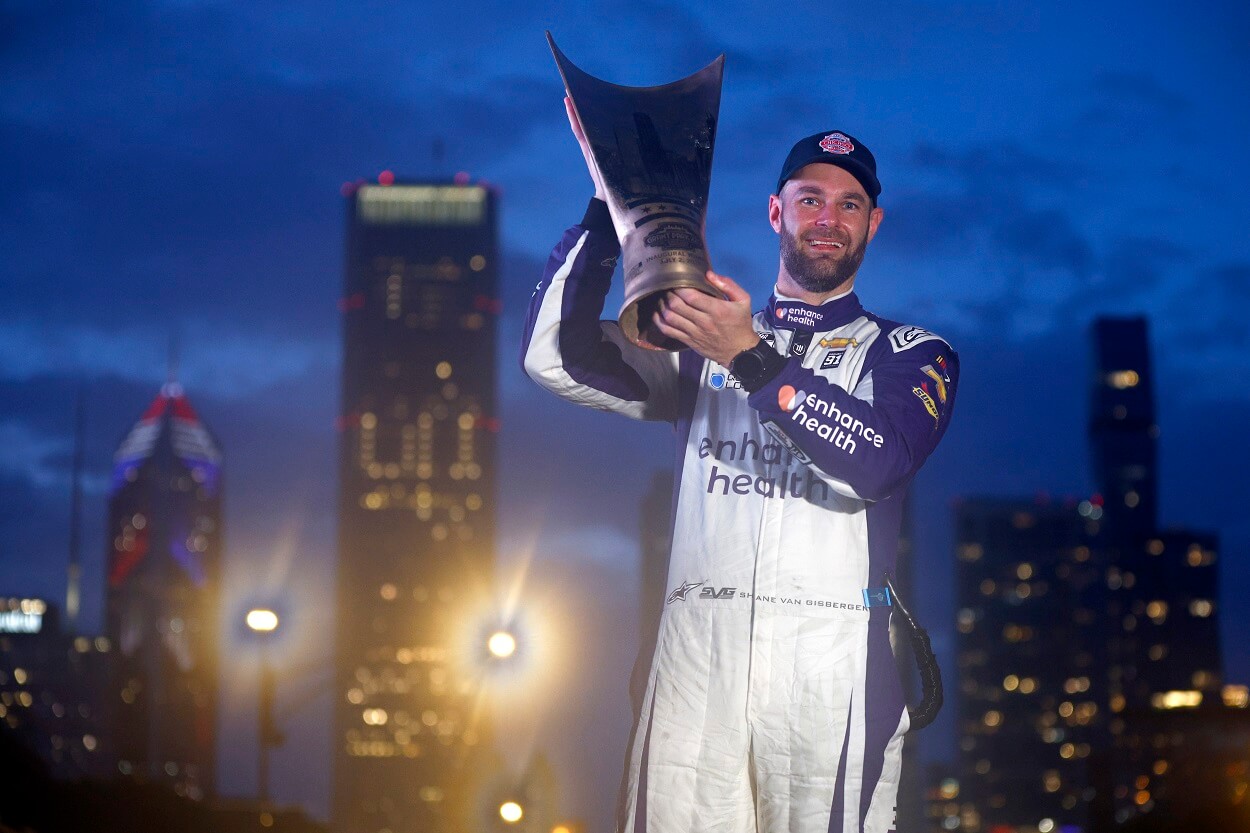 Shane van Gisbergen's Win in Chicago May Be NASCAR's Biggest Non-Fluke Victory in Decades
The overall uniqueness of Shane van Gisbergen's victory in the inaugural NASCAR Cup Series Chicago Street Race is incredible.
Shane van Gisbergen had a historical victory Sunday at the Chicago Street Race in many regards.
Truth be told, it actually may have been the most surprising NASCAR Cup Series win in any Cup Series non-superspeedway race without extenuating circumstances in more than two decades.
NASCAR has had many surprise winners, but none like Shane van Gisbergen
NASCAR has had plenty of upset victories across its 75-year history, obviously including the one from Shane van Gisbergen.
But most of those previous types of upset wins in the modern era have come in superspeedway-style races where the effects of the draft allow the entire field to race in one large pack. That scenario often produces a winner for a team that would not typically have a legitimate chance to win on a non-superspeedway track because it is underfunded compared to the top teams in the sport.
Ricky Stenhouse Jr. provided the most recent example of how superspeedways allow a wider range of teams to compete for wins when he triumphed in this year's season-opening Daytona 500. He went to Victory Lane for only the third time in his 11 full-time seasons in the Cup Series, and it was just JTG Daugherty Racing's second Cup Series win across its 15 years in the sport.
Other surprise victories have happened because weather conditions caused a race to end prematurely. Chris Buescher won the second race in the history of Front Row Motorsports in 2016 when dense fog forced NASCAR to end the August race at Pocono Raceway 22 laps prior to the scheduled distance. That victory still stands as the organization's only non-superspeedway win.
Other examples include Trevor Bayne's only career Cup Series win in the 2011 Daytona 500 for Wood Brothers Racing, Paul Menard's fuel-mileage win in the 2011 Brickyard 400 for his only win at the sport's top level, and David Reutimann's first career win in the 2009 Coca-Cola 600, which was shortened by rain.
Van Gisbergen had to overcome numerous challenges for his historic win in the Chicago Street Race
Sure, officials had to shorten Sunday's race at Chicago by 25 laps because of impending darkness, but that decision did not automatically grant van Gisbergen the victory. If anything, it made it more difficult.
Van Gisbergen was running inside the top five on Lap 41 when a caution came out for a wreck in Turn 11 during a cycle of green-flag pit stops. He hadn't yet pitted his No. 91 car for Trackhouse Racing before the caution, so he, along with other leaders such as Christopher Bell and Tyler Reddick, had to restart in the middle of the pack on the restart because much of the field stayed out once NASCAR officials notified teams during the caution period that it would end the race at Lap 75 rather than the advertised 100-lap distance.
Van Gisbergen restarted in 18th place with 23 laps to go after the caution. He then marched his way through the field on a narrow track that had few passing zones and was in the process of passing Justin Haley for the lead with seven laps remaining when another caution came out.
He quickly passed Haley on the first lap after the next restart and held on through an overtime restart to become the first driver to win his Cup Series debut since Johnny Rutherford in 1963, although Rutherford's win was a superspeedway race at Daytona International Speedway. Van Gisbergen was also the first road-course ringer to win in the Cup Series since Mark Donohue won in 1973 at Riverside International Raceway.
The most recent victory similar to van Gisbergen's Chicago win might be when Jamie McMurray won the October 2002 race at Charlotte Motor Speedway in just his second career Cup Series start. He took the No. 40 car for Chip Ganassi Racing to Victory Lane as a replacement driver for Sterling Marlin.
Even then, the No. 40 team was a top operation in the Cup Series that season. Marlin had led the points standings for much of the season until he suffered a neck injury in a crash at Kansas Speedway. The No. 91 team for Trackhouse had only previously run two races in its history, and van Gisbergen had never driven in NASCAR before. McMurray at least had nearly three full years of combined experience in the Truck Series and Xfinity Series before he jumped in the seat of the No. 40 car.
Halfway through a season during which NASCAR has celebrated its 75th anniversary, Shane van Gisbergen gave the sport one of the most incredible victories in its storied history and one that might be a once-in-a-lifetime experience for anybody who follows the sport.