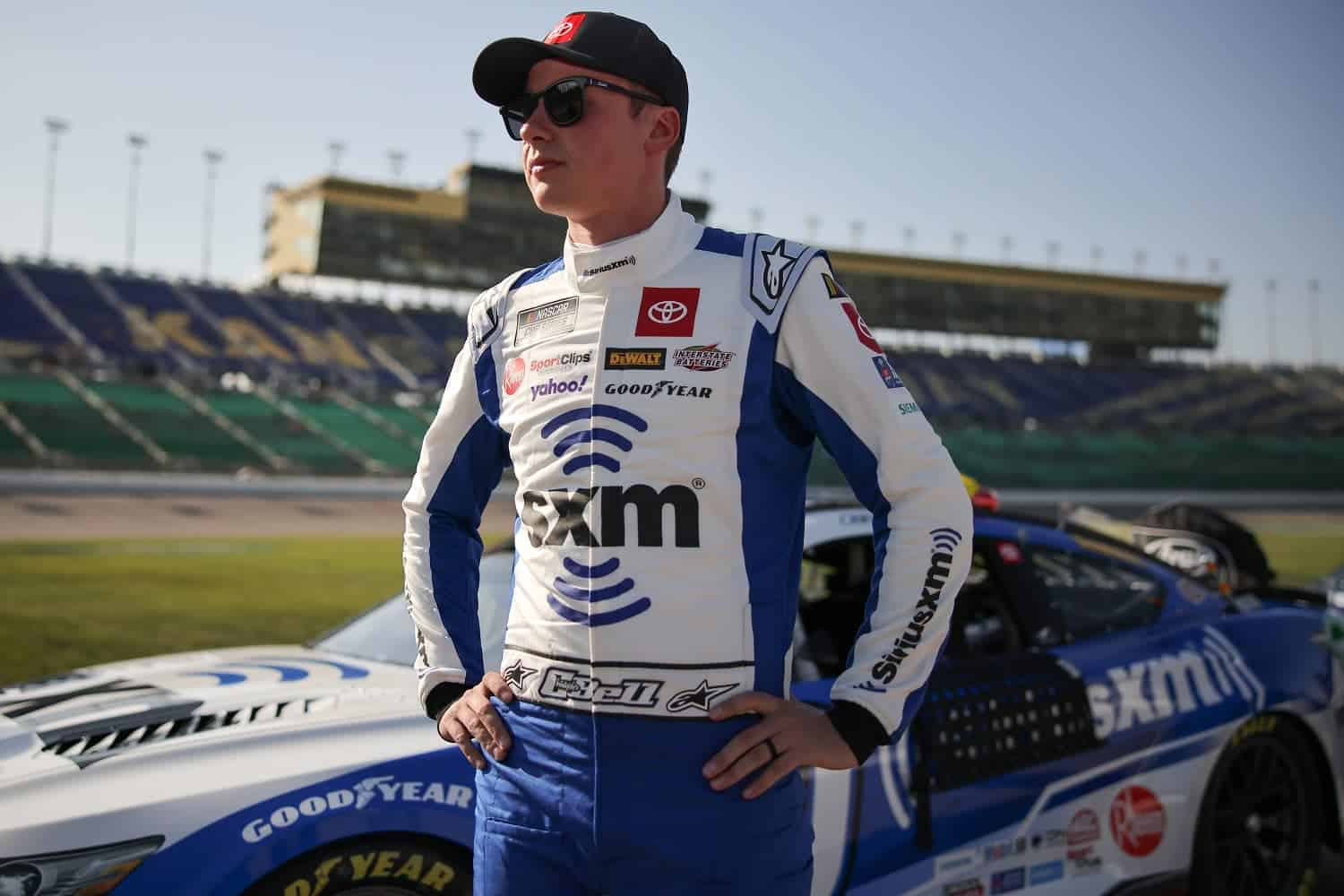 NASCAR's Too-Late Decision Understandably Has Christopher Bell's Team Steamed
Christopher Bell won the first two stages in Chicago before getting hung out to dry by a late change of plans from NASCAR.
Oh, the irony. Critics of NASCAR policies love to complain the organization puts no thought into its decisions. On Sunday, the sport's top officials actually put too much thought into a tough call, and it probably changed the outcome of the race for Christopher Bell and others.
It got glossed over in the excitement of a spectacular performance by Shane van Gisbergen, but a ruling announced just before the conclusion of Stage 2 threw multiple team strategies out the window.
The Chicago street race got off to a rough start
NASCAR scheduled the Cup Series street race on Chicago's 2.2-mile course for a 5:43 p.m. ET start. But with rain playing havoc with its logistics all weekend, officials made the decision to move it up to 5:05 p.m. Unfortunately, the weather didn't cooperate during the afternoon, and the green flag never dropped until 6:38 p.m.
Everyone must have known by that point that getting the planned 100 laps in would be impossible. There wasn't enough daylight left, and regular street lighting is inadequate for high-speed action, especially on a track completely new to the drivers.
NASCAR officials understandably wanted to see how quickly the opening stage would play out in order to project when they would end the race. If the original thought was to trim it to 85 or 90 laps, the early action would have dissuaded them of that.
Aric Almirola spun coming out of Turn 5 on the opening lap, and Brad Keselowski, Noah Gragson, and Erik Jones hit the tire barrier in Turn 6 moments later. Denny Hamlin slid into a barrier one lap later, and the first caution came out on Lap 3 as
Kyle Busch buried his Chevy deep into the Turn 6 tires. Assorted other drivers experienced minor mishaps, then the yellow came out again on Lap 12 because Gragson found new trouble in Turn 6.
By the time Christopher Bell won the opening stage, surely someone in the control tower had to know something closer to the 75 laps they ultimately settled on would be the right length.
NASCAR made a late announcement on a change of plans
It wasn't until the closing laps of Stage 2 – again won by Christopher Bell – that NASCAR announced it was shortening the third stage from 50 laps to 25 to adjust for the late start and the amount of time the race had already consumed.
The obvious issue was that teams that pitted after cautions came out on laps 31 or 42 were racing on an entirely different cycle than those staying out to try to collect those Stage 2 points. Eleven cars came in for the latter, and they were going to be OK on fuel the rest of the way.
Bell was among those who waited until the conclusion of the stage. He restarted 12th, got caught up in some subsequent chaos, and never made it back into contention before finishing 18th, his worst result in a month.
Crew chief Adam Stevens summed it up on the team radio after NASCAR announced it was cutting the race to 75 laps: "Well, there it is. They f***** us."
NASCAR defended its decision after the Chicago street race
It's only fair to note eventual winner Shane van Gisbergen, making his NASCAR debut, was one of the drivers in the same predicament as Christopher Bell when NASCAR issued its advisory.
The New Zealander navigated from 18th to first in the final stage, but every driver's situation was different. Justin Haley and Chase Elliott, who made early pit stops, benefitted greatly and finished second and third, respectively.
Steve O'Donnell, Chief Operating Officer of NASCAR, was unapologetic for the timing of the call.
"I would say there was a lot of thought put into that decision," he said. "At the time we made it, we waited as long as possible to see if we could get all 100 laps in. When we knew that wasn't possible, we waited, we closed pit road. We wanted to make sure everybody knew what the race distance was going to be."
O'Donnell rationalized that everyone had time to stop, which took fuel-mileage concerns out of it. Unfortunately, that didn't tell the whole story. Had they known NASCAR's decision 10 laps sooner, Bell and other contenders could have abandoned their push for stage points and instead given themselves additional laps to make up the 10 to 15 positions they were going to lose by stopping.
Bell crew chief Adam Stevens said afterward he wouldn't bother complaining to officials this week.
"They know that it was stupid," he said. "So, there's nothing I'm going to tell them that's going to make them change their mind on that."
Got a question or observation about racing? Sportscasting's John Moriello does a mailbag column each Friday. Write to him at [email protected].