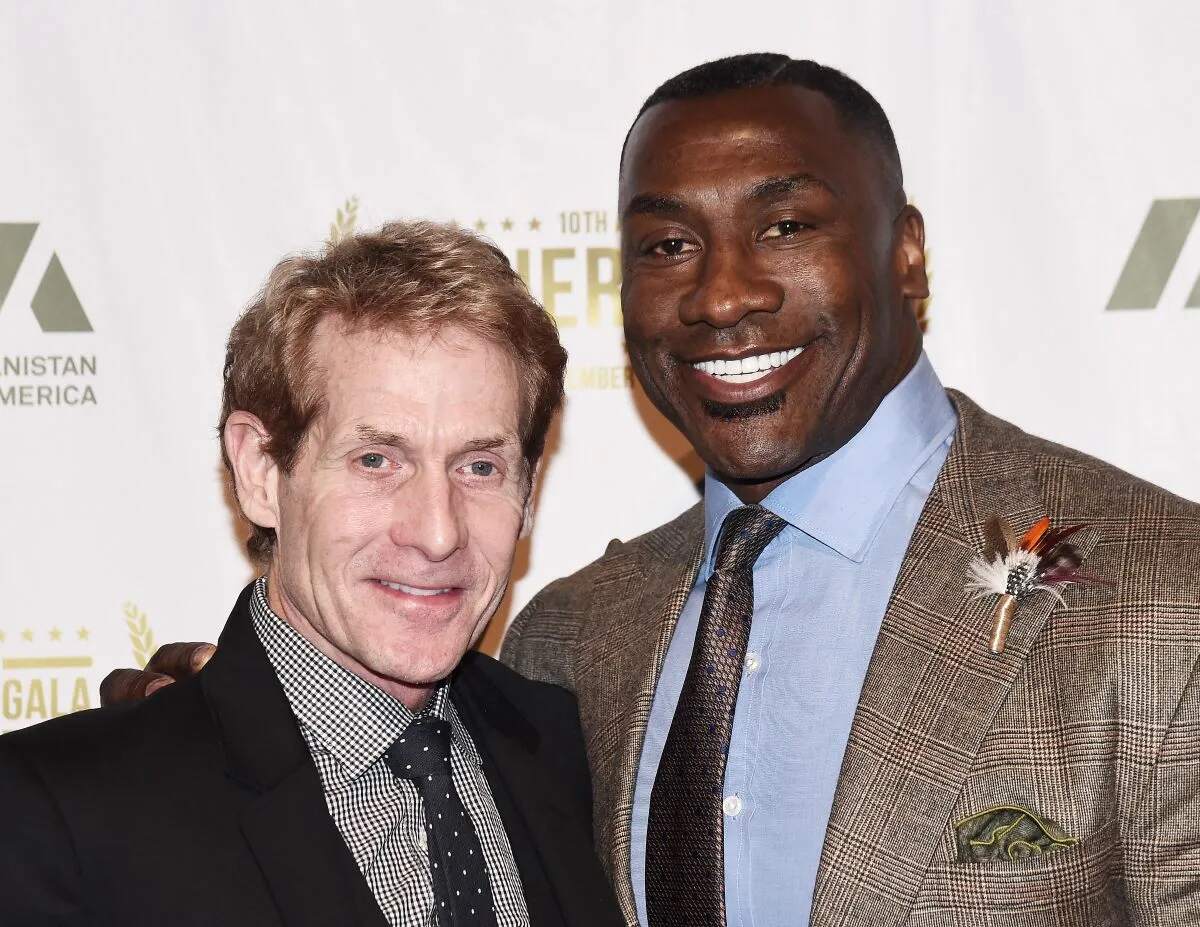 Shannon Sharpe Once Wanted to Throw Skip Bayless Out of the FS1 Building, and It Wasn't Because of a LeBron James Take
Shannon Sharpe and Skip Bayless are one of the most entertaining duos in sports media. The two go head-to-head on 'Undisputed.'
NFL Hall of Famer Shannon Sharpe and Skip Bayless are one of the most entertaining duos in sports media. The two go head-to-head on FS1's Skip and Shannon: Undisputed and rarely agree on anything. The sports show is fascinating since Sharpe is a huge LeBron James fan, while Bayless is a Michael Jordan supporter.
The LeBron-MJ GOAT debate is a hot topic of discussion between Sharpe and Bayless every week. Things get heated when Sharpe defends James, and Bayless praises Jordan for what he did during the '90s with the Chicago Bulls.
However, one segment involving Manu Ginobili and Hakeem Olajuwon from 2019 made Sharpe jump out of his seat at Bayless.
Shannon Sharpe and Skip Bayless started 'Undisputed' in 2016
Undisputed's first episode was on September 6, 2016. Bayless, who used to do First Take on ESPN with Stephen A. Smith, left ESPN for Fox Sports in April of 2016. Meanwhile, Sharpe joined Fox Sports after working for CBS Sports.
No sports topic is off limits on Undisputed. As he did on First Take, Bayless never shies away from being controversial. He's one of the most polarizing sports media members ever and enjoys playing the villain's role.
When Bayless and Sharpe talk about LeBron James, the Pro Football Hall of Famer often wears a goat mask with a crown on top of his head to troll Skip. LeBron's nickname is "The King," so Sharpe has found a unique way to have fun with it on Undisputed.
Shannon Sharpe and Skip Bayless compete with Stephen A. Smith for viewership. Both shows are tremendous, but First Take draws more viewers than Undisputed, as Front Office Sports reports.
Cowboys legend Troy Aikman wasn't happy Fox Sports signed Skip Bayless
Dallas Cowboys legend Troy Aikman worked for Fox Sports for nearly two decades. Although he's now with ESPN, the former star quarterback didn't hold back when Skip Bayless joined Fox Sports in 2016, as Aikman told Sports Illustrated:
"To say I'm disappointed in the hiring of Skip Bayless would be an enormous understatement. Clearly, [Fox Sports President of National Networks] Jamie Horowitz and I have a difference of opinion when it comes to building a successful organization. I believe success is achieved by acquiring and developing talented, respected and credible individuals, none of which applies to Skip Bayless."
Bayless used to cover Aikman and the Cowboys as a journalist. In his book, Hell-Bent: The Crazy Truth About the Win or Else Dallas Cowboys, Bayless discussed how Aikman may be gay. During an interview with TheStartingFive.com in 2009, Bayless said,  "My only regret about the book is that it does not say that Aikman is gay. I had no idea and nor do I care to this day."
Bayless will always speak his mind and isn't afraid of anyone in the sports world, not even Sharpe. The duo constantly has spirited debates on Undisputed, and one nearly ended in Sharpe throwing Bayless out of the FS1 building.
Skip Bayless said Manu Ginobili was better than Hakeem Olajuwon
During a discussion about the best foreign athlete to ever play in the NBA, Shannon Sharpe said Houston Rockets legend Hakeem Olajuwon is the clear answer. In contrast, Skip Bayless said San Antonio Spurs icon Manu Ginobili was better than The Dream.
Sharpe had a hilarious reaction to Bayless' line, saying he'll throw Skip out of the building for his outlandish take. The NFL legend was clearly joking, but it was a funny moment at the time.