Stephen A. Smith Expresses Interest in 1 Final Debate With Skip Bayless
For five glorious years, sports fans woke up to Stephen A. Smith and Skip Bayless hollering back and forth about the Dallas Cowboys, Michael Jordan versus LeBron James, and just about everything in between on ESPN's First Take. The TV debate kings have since gone their separate ways, but there's still a mutual respect between the two former co-workers.
Although we'll likely never see Smith and Bayless co-star on the same show again, there's a possibility the two could reunite for one final debate. In a recent interview, Stephen A. expressed interest in one last showdown to settle who's the greatest debater of our time.
Stephen A. Smith misses Skip Bayless but doesn't see them teaming up again
Smith and Bayless headlined First Take for five years from 2012-16, and they quickly turned the program into the No. 1-rated sports debate show on television. In 2016, Bayless left ESPN for his own show on Fox Sports. He currently co-hosts Skip and Shannon: Undisputed on FS1 with NFL Hall of Famer Shannon Sharpe.
Smith, who still serves as the star of First Take, recently appeared on Barstool Sports' Pardon My Take podcast and admitted he still misses going at it with Bayless.
"I will always miss Skip. Skip is my guy, I love 'em," Smith told PMT. "I don't always agree with him. I didn't agree with him when he was on the set with me. I don't agree with him sometimes when he's off the set with me and doing his own show. I'll never root against him. I'll always be grateful to him for what he has done for my career, because there is no Stephen A. with First Take if it were not for Skip Bayless."
In 2012, when Bayless had already been on First Take for six years, Skip went directly to ESPN executives and fought for Smith to become his next co-host. Stephen A. will never forget how that kick-started his television career, but he's also confident the two will never reunite as co-hosts.
"I owe him an incredible debt of gratitude, and I will never forget that," Smith said, "but at this stage and point in my life, I'm happier without him."
Smith explained that answer has nothing to do with their current relationship. The ESPN personality just has bigger aspirations at this point in his career, and he doesn't want to be a sports talk show host forever.
Stephen A. Smith is open to one final debate with Skip Bayless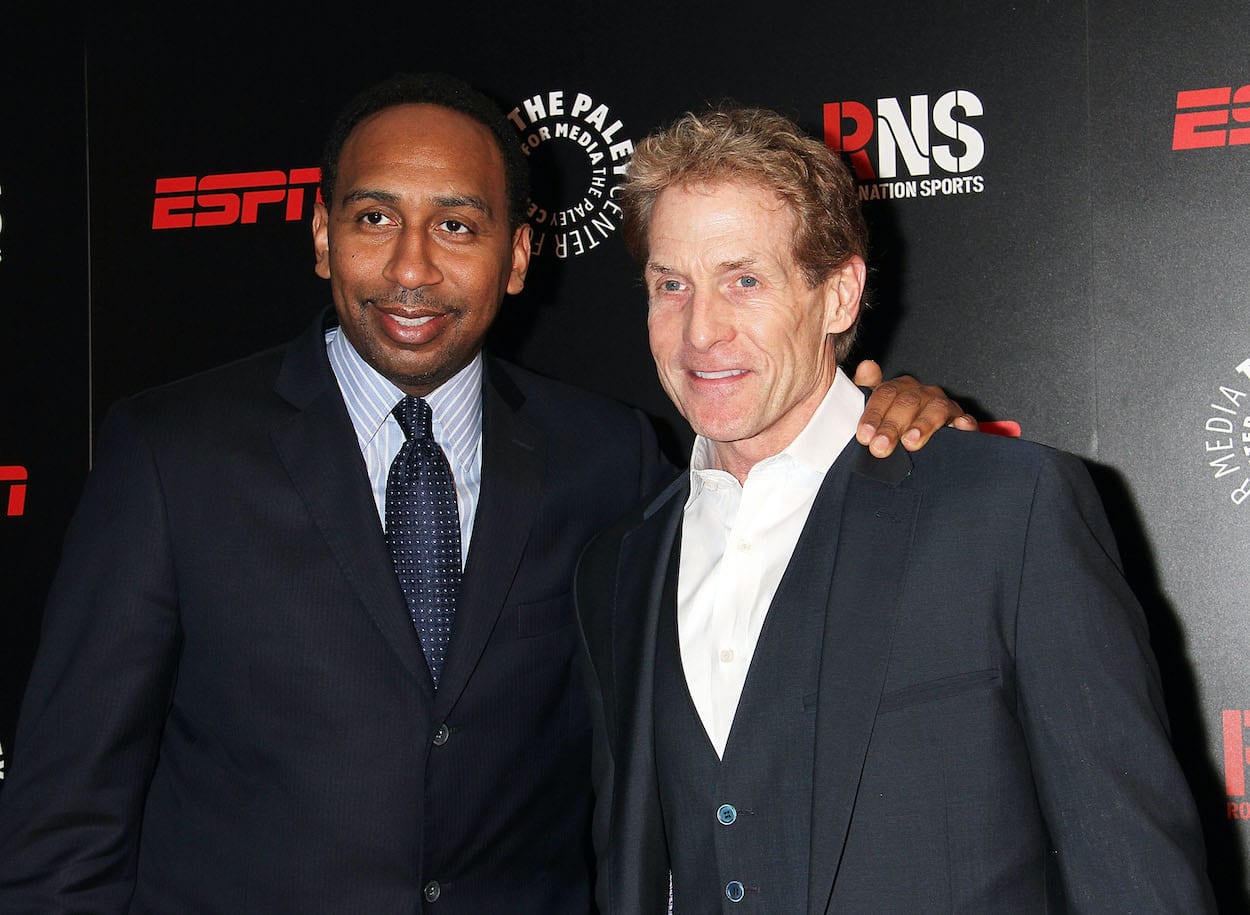 Although Smith doesn't plan on teaming up with Bayless a second time, he won't rule out one final debate for all the marbles. In fact, he would love to get back in the ring with his old pal.
"If you're talking about one final day with Skip Bayless, I'd welcome that any day of the week just to pay homage to what he's done for me… and to beat him again," Smith said." He ain't never beat me in a debate.
"It would be fun. One final day, one final show, but that's all."
When LeBron James eventually retires from the NBA, let's hope the two most fearless sports debaters of our time get together for one last GOAT debate.