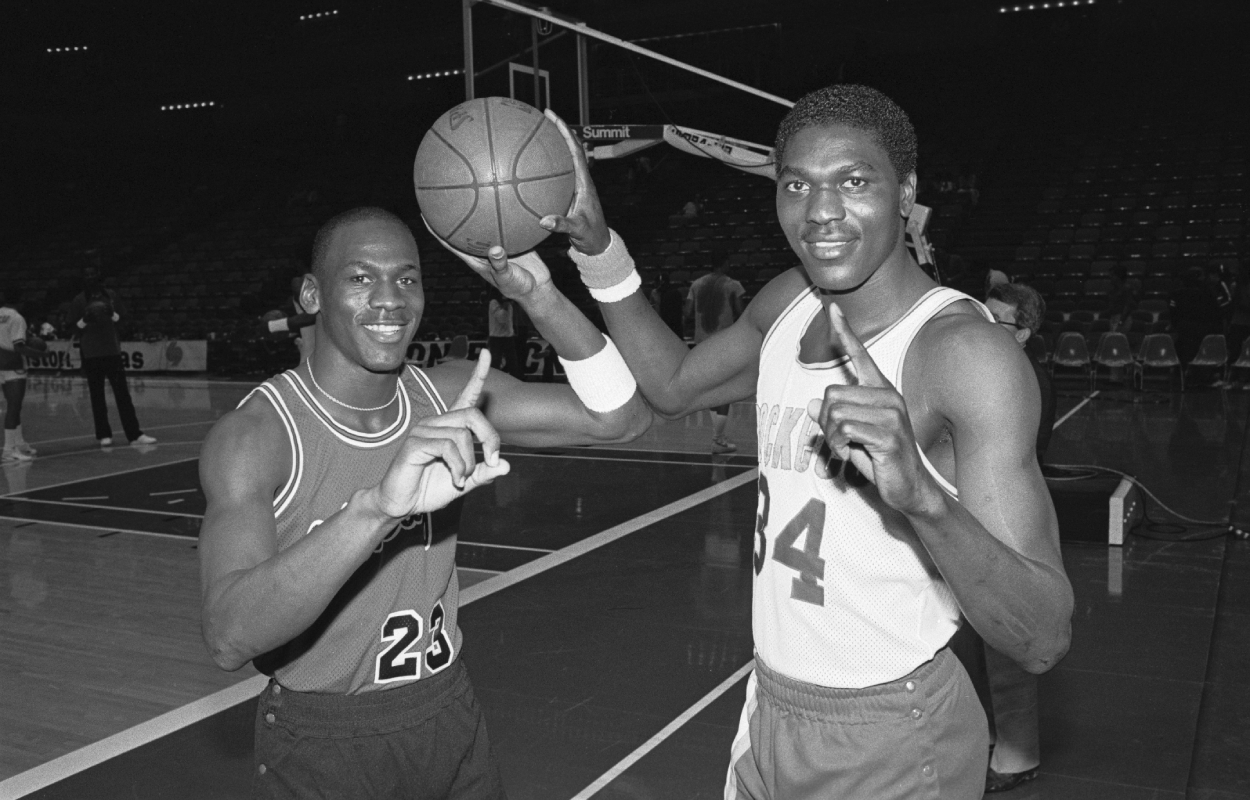 Michael Jordan Offered a Strange Take on Hakeem Olajuwon During Their Playing Days
Michael Jordan had an odd take on Hakeem Olajuwon.
Michael Jordan and Hakeem Olajuwon have always been linked. They were two of the top three picks in the 1984 NBA Draft and both went on to have Hall-of-Fame NBA careers. Jordan is widely considered the best ever to play the game. Olajuwon is known for being one of the most dominant centers ever – unless you ask Jordan.
Hakeem Olajuwon has said Michael Jordan is a far superior player to LeBron James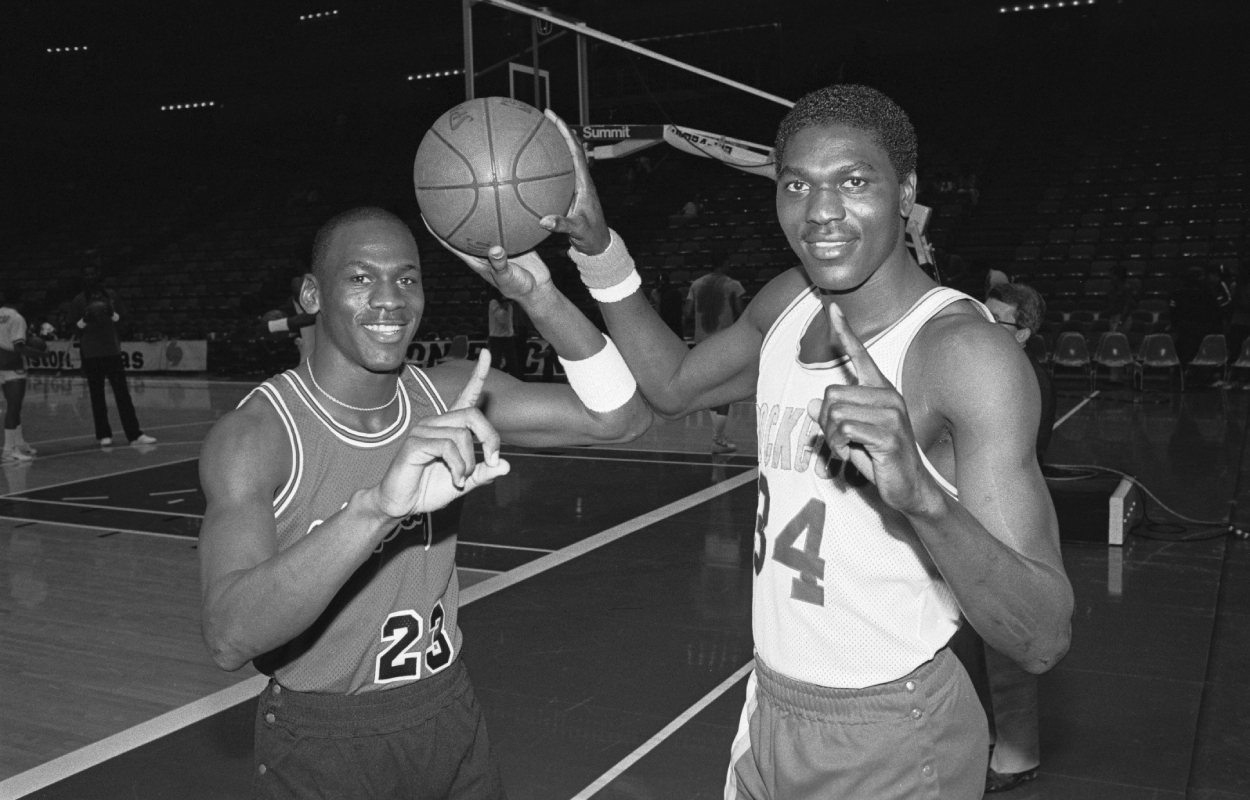 The respect between Jordan and Olajuwon has always been there. Olajuwon was the top player selected in 1984, while Jordan went third, taken behind center Sam Bowie, who was selected by the Portland Trail Blazers. While injuries played a key role in Bowie fizzling out of the league, Jordan proved he was the class of that draft, and Olajuwon even took it a step further.
The center from Houston weighed in on the NBA GOAT debate a few years ago. While he gave praise to James, he said the two weren't even comparable.
"That's not a fair comparison," Olajuwon said in the video put out by CNBC. "Jordan was a far more superior player in a very tough league, and he was very creative. That's not taking away anything from LeBron because he is a great player, but it is not a fair comparison because Jordan is a far superior player."
Michael Jordan apparently wouldn't have Hakeem Olajuwon on his list of top centers
Olajuwon is clearly an all-time great center. Ranking the top centers in the history of the league, Olajuwon would have to be ranked top-five, maybe top six, of all time. Kareem Abdul-Jabbar, Wilt Chamberlain, Bill Russell, Shaquille O'Neal would likely be the top four. After that, Olajuwon is right there with Moses Malone, Patrick Ewing, and David Robinson.
Jordan didn't see it that way. When the Bulls were on their way to a 72-win season, he saw that the game was changing. No longer were 7-footers playing with their backs to the basket. They were more versatile and more athletic. Jordan made reference to it as he and teammates Scottie Pippen and Toni Kukoc were versatile enough to play point guard or cover the big man.
When making his point, Jordan took Olajuwon completely out of the center mix.
"Just a bunch of small, versatile guys playing different positions," Jordan said to Sports Illustrated while describing his
team during their record-setting run. "That's the way the game is going. The dominant center is starting to be eliminated. You haven't had a dominant center win a championship in eight years, and don't talk about Olajuwon. He's a small forward playing center."
Olajuwon and the Rockets won two titles between Jordan's three-peats
Olajuwon has heard it often. Numerous times it's been said the Rockets won their two NBA titles because Jordan left to play baseball. That's something Olajuwon disputes.
"You know, a lot of people they say that and it's amazing because they act like (a Bulls-Rockets Finals) couldn't have happened. Orlando beat them," Olajuwon said according to The Athletic. "He was playing (in 1995). He missed a year. They say he missed two years, but he lost in the semifinals of the Eastern Conference. Against a tough Orlando team. You have Penny Hardaway, (Nick) Anderson, and Shaq. That's a monster. They beat them!"
Olajuwon has a point. Jordan returned in March of 1995. He helped get a struggling Bulls team back on track and into the playoffs, but Chicago was beaten by Orlando in six games.
There's always been mutual respect between Jordan and Olajuwon. Jordan calling Olajuwon a small forward is odd, but it's high praise for his athleticism trapped in a big man's body.