Shaquille O'Neal Learned a 'Very Valuable' Lesson After Fouling Michael Jordan as a Rookie
These days, it's tough to view Shaquille O'Neal as anything other than an established NBA veteran. During his time in the association, Shaq proved to be one of the greatest big men ever to hit the hardwood; now, in retirement, he's moved into the media, giving him license to comment on the current state of …
These days, it's tough to view Shaquille O'Neal as anything other than an established NBA veteran. During his time in the association, Shaq proved to be one of the greatest big men ever to hit the hardwood; now, in retirement, he's moved into the media, giving him license to comment on the current state of the game. The Big Aristotle, however, still had to learn a thing or two from Michael Jordan.
As a rookie, Shaquille O'Neal made the bold decision to sit His Airness down with a hard foul. The NBA legend, however, wasn't mad. Instead, Michael Jordan left Shaq with a valuable piece of advice.
Shaquille O'Neal arrived in the NBA as a promising young player
During the 1990s, Michael Jordan was undeniably the NBA's top dog. Shaquille O'Neal, however, still arrived in the NBA with quite the reputation.
Shaq played his college ball at LSU, where he proved to be a dominant big man. While basketball fans may remember O'Neal as a lumbering giant, he was a much different player in college; the center displayed fantastic footwork and athleticism while making an impact at both ends of the floor. If nothing else, his Tigers totals—he averaged 21.6 points, 13.5 rebounds, and 4.6 blocks per game for his college career—speak for themselves.
On the back of that collegiate success, O'Neal entered the 1992 NBA draft and joined the Orlando Magic as the first overall pick. Unsurprisingly, he made an instant impact.
Even as a rookie, Shaquille O'Neal was a massive talent. He was still afraid, however, when it came time to face Michael Jordan.
Learning an important lesson after fouling Michael Jordan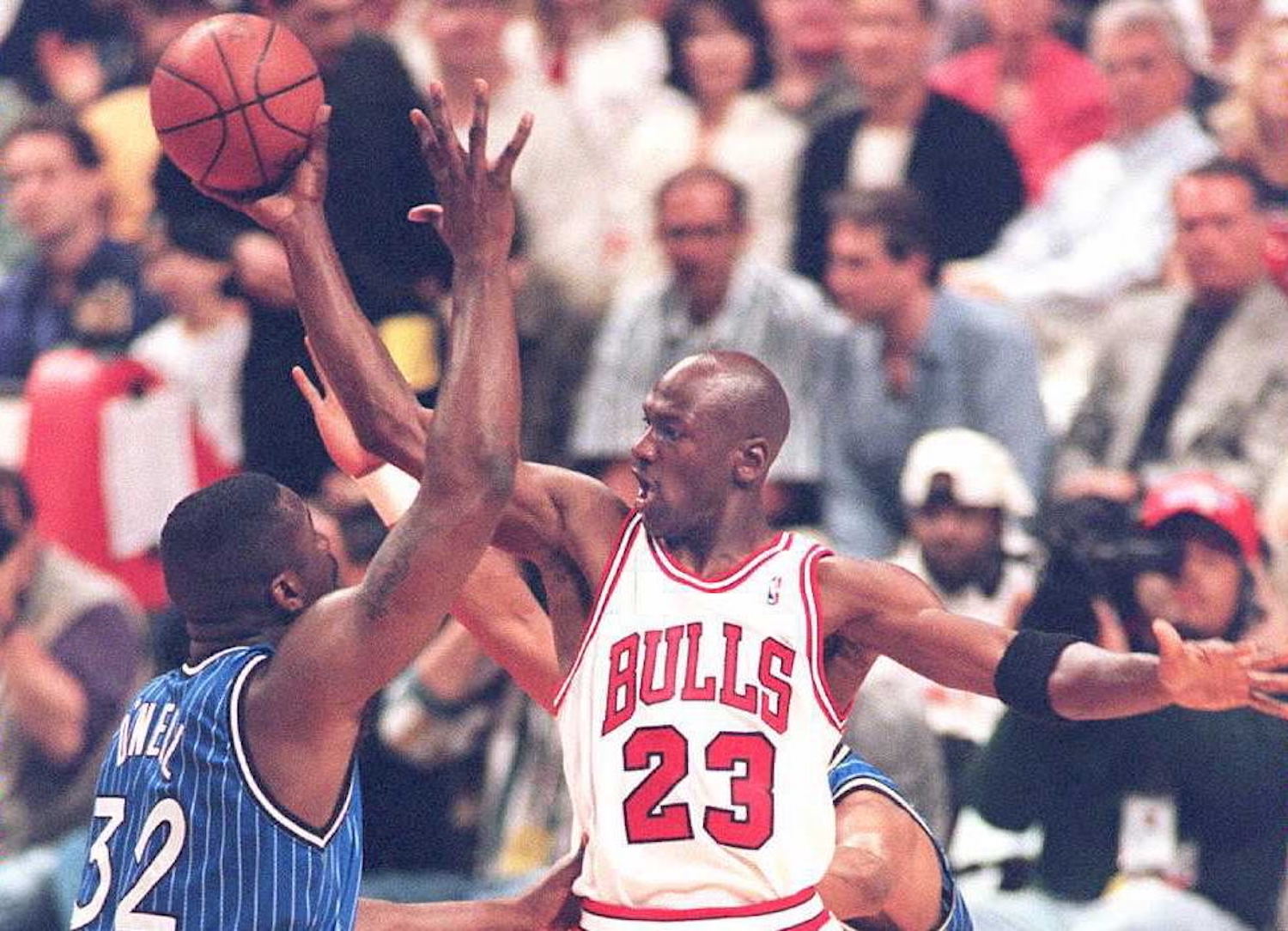 For just about any basketball fan, meeting Michael Jordan would be an intimidating experience. The same was true for Shaquille O'Neal.
"Before the game [against the Bulls], I was terrified," O'Neal once admitted during an NBA TV interview preserved on Youtube. The big man also explained that he didn't want His Airness to posterize him; that would have meant embarrassment on the national stage.
While Shaq didn't have to guard MJ one-on-one, the two men did meet in the paint on one occasion. O'Neal, not wanting to get dunked on, floored the driving Jordan with a hard foul; the famously competitive star, however, wasn't mad. Instead, he had a piece of advice for the rookie.
"But Mike also taught me something very valuable," O'Neal explained. "So when I go to help him up, he said, 'Don't ever help nobody up. Great foul. Don't do that. I don't need your help, but I'm coming back. Don't you worry."
Michael Jordan also gave Shaquille O'Neal a few more words of wisdom
In hindsight, basketball fans can view Michael Jordan as a mean guy; while he was undeniably talented, punching teammates and cheating at board games isn't the greatest look. His Airness, however, stepped up to give Shaquille O'Neal some advice on another occasion.
During the 1995 NBA playoffs, O'Neal and his Orlando Magic beat Jordan's Bulls en route to the NBA Finals. The following year, however, His Airness got his revenge; the Magic and Bulls met in the Eastern Conference Finals, with Chicago sweeping the series.
On the way off the court, though, MJ provided Shaq with some words of wisdom.
"Mike is the guy who taught me how to go to the next level," O'Neal explained. "Walking off the court, Mike grabs me and says, 'Before you succeed, you must first learn to fail.' That helped me out."
By the time he retired, Shaquille O'Neal had won four NBA championships and built up a legendary NBA resume. Even if he wouldn't admit it publicly, even Michael Jordan would have to be pretty impressed by his career.
Stats courtesy of Sports-Reference