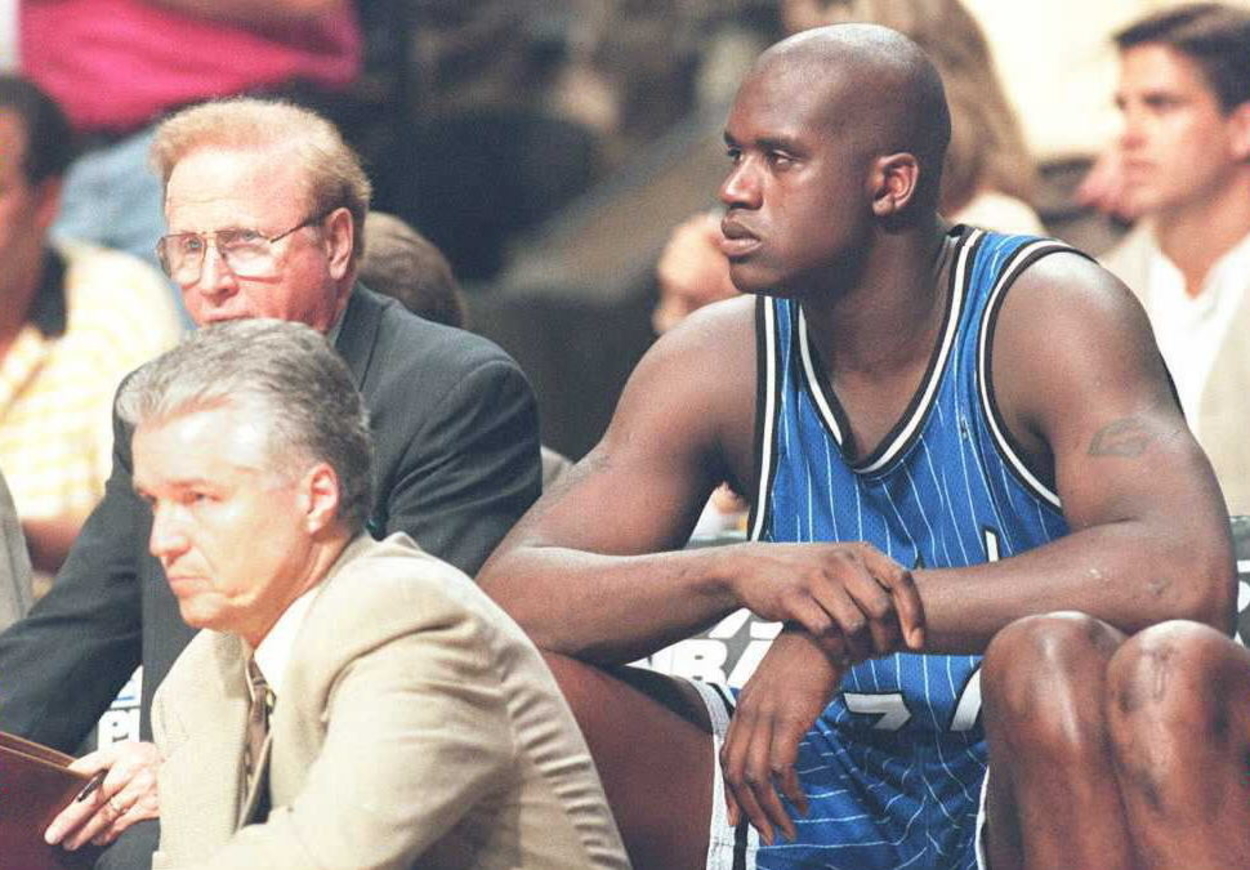 Shaquille O'Neal Left the Orlando Magic in Part Because of a Newspaper Poll Question: 'I Don't Like Being Underappreciated'
Shaquille O'Neal left the Orlando Magic for a few reasons. But one big one was a newspaper poll asking fans if the superstar center was worth the money.
Before Shaquille O'Neal became a four-time champion and a top-10 player in NBA history, he was a young, dominant center on the Orlando Magic. O'Neal, the first overall pick in the 1992 NBA Draft, averaged 27.2 points, 12.5 rebounds, and 2.8 blocks per game over four seasons in Orlando. However, he left the Magic in 1996 to sign a seven-year, $120 million deal with the Los Angeles Lakers, and the rest is history.
There are a number of reasons Shaq left Florida for Southern California. The money the Lakers offered was nothing to sneeze at, plus LA allowed the big man more opportunities to grow his budding acting career. But a significant reason stems from a newspaper poll in Orlando that disrespected O'Neal and made his decision to leave much easier.
The Orlando Magic lowballed Shaquille O'Neal with their original offer
When Shaq was drafted first overall, the Magic had just completed their third season in franchise history. As is the case with many franchises just starting out, wins were hard to come by. In three seasons, Orlando finished 18-64, 31-51, and 21-61.
However, O'Neal was about to change that in a hurry.
Once the former LSU Tiger joined the team, the Magic finished 41-41. They then won 50 or more games in each of the next three seasons as Shaq and fellow All-Star Penny Hardaway led them to an NBA Finals appearance in 1994-95 and the Eastern Conference Finals the following year. In 1996, with Penny already locked up on a nine-year, $72 million deal, it was time to re-sign the four-time All-Star and former scoring champion: O'Neal.
O'Neal, who finished his four-year, $17.4 million rookie deal, was offered $54 million dollars over four years. It was an embarrassing offer, and one that looked even worse when you consider both the Miami Heat's Alonzo Mourning and Washington Bullets' Juwan Howard earned seven-year, $105 million contracts that same offseason.
"The ownership was so naive, it was painful," said Orlando Sentinel writer Brian Schmitz in the book Three Ring Circus: Kobe, Shaq, Phil, and the Crazy Years of the Lakers Dynasty. "They couldn't wrap their heads around giving $100 million to a 24-year-old kid."
A newspaper poll sunk any chance the Magic had to keep Shaq
The official NBA free-agency period opened up on July 9, 1996. Right off the bat, Lakers general manager Jerry West offered O'Neal a seven-year, $95.5 million contract. Concerned about losing their homegrown player to a big market, the Magic responded with a $100 million offer. Soon after, team owner Rich DeVos upped the ante, offering O'Neal a seven-year, $115 million contract to stay in Florida.
On July 16, one week after the start of free agency, the Orlando Sentinel put out a poll question on the front page of the newspaper: "Is Shaquille O'Neal worth $115 million over seven seasons?" Word of DeVos' offer got to the paper, which they in turn transformed into a question where readers would call one number to vote yes, one number to vote no.
In the end, 5,111 readers made a call to place their votes. And 91.3 percent said no, O'Neal was not worth $115 million over the next seven years.
The results infuriated readers who wanted Shaq to stay with the Magic. It infuriated Orlando's front office, as well as its players. Worst of all, it disappointed O'Neal (h/t: Three Ring Circus).
"It stung a lot," [O'Neal] said years later. "A lot. I wouldn't say it hurt me, but I don't like being underappreciated."

Jeff Pearlman
O'Neal was the unquestioned face of a franchise that was only a year removed from an NBA Finals berth. Now, he was overwhelmingly told by his own fans he was not worth the money. Money which, for a 24-year-old superstar, was more than palatable for nearly any other team in the league.
The Magic lost O'Neal to the Los Angeles Lakers
Once the newspaper poll came out, many players around the league came to the defense of O'Neal. One such player was Charles Barkley, who at the time was Shaq's Olympic teammate for the 1996 Summer Games in Atlanta, Georgia.
"They're going to be sorry this time tomorrow, because they're going to be idiots," said Barkley to the Los Angeles Times. "They are going to miss him."
Dennis Scott was another player who voiced his opinion. Scott, a teammate of O'Neal's for all four years in Orlando, called Magic general manager John Gabriel to give him a piece of his mind.
"I screamed, 'What the hell are you doing? What the hell are you people doing?' It was crazy," said Scott. "But as poorly as the Magic handled it, that poll was the straw that broke the camel's back. Shaq can deal with a lot. He can. But when the whole city is saying he's not worth it … nope. He was gone. And I didn't blame him."
Scott was right. By the time Gabriel told O'Neal's agent, Leonard Armato, that Orlando would pay the $115 million, it was too late. Shaq agreed to a deal with the Lakers, who, after clearing more cap space, offered $120 million over seven years.
Shaq teamed up with a young Kobe Bryant, and together the duo led LA to three consecutive championships. Meanwhile, it took Orlando 12 years and a new franchise center (Dwight Howard) before making it out of the first round of the playoffs.
The lesson learned? If you're a front office, give your superstar a little more respect. And if you're a newspaper, don't ask the readers for their contract opinions.
All statistics courtesy of Basketball Reference and contract figures courtesy of Spotrac.