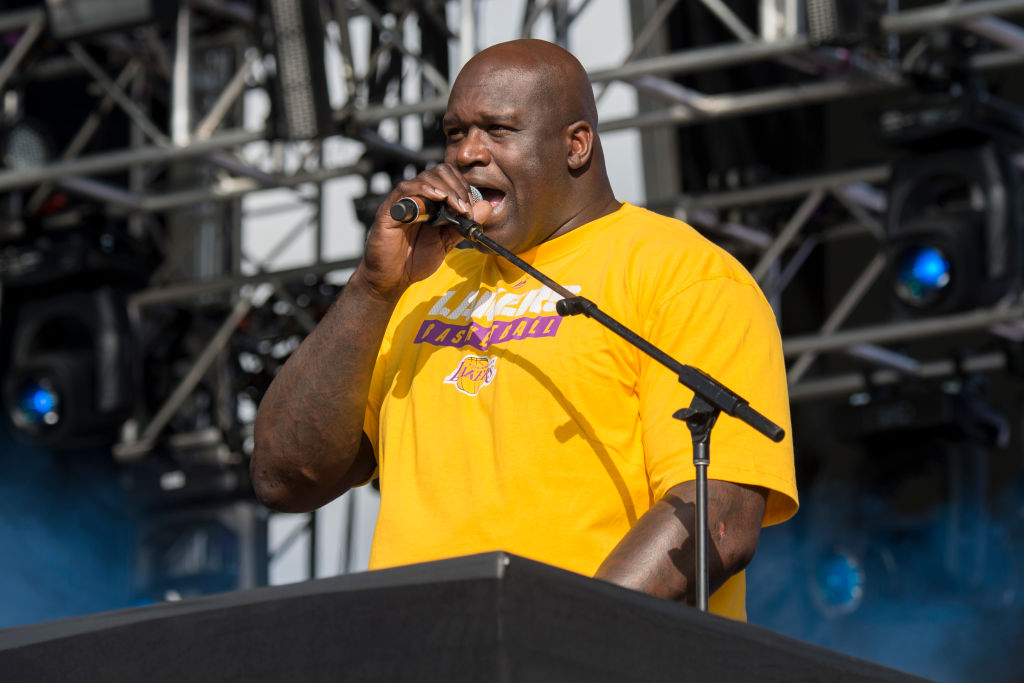 Shaquille O'Neal Takes Over TNT Programming Tonight Including 'Shaq Life' Docuseries Debut
Shaquille O'Neal is a man of many talents. The NBA Hall of Famer takes over TNT programming tonight and debuts his docuseries Shaq Life.
Since Shaquille O'Neal retired from basketball in 2011, he hasn't exactly been looking for things to do. The four-time NBA champ and Hall of Famer has worked as a basketball analyst, actor, music producer, and businessman in a variety of ventures.
Tonight the big man of many talents takes over TNT for a few hours with his friends and viewers to watch and comment on one of his favorite films and play games. The movie and games are build-up to the debut of his new docuseries, Shaq Life, which provides a never-before-seen glimpse into the life of the former NBA superstar.
Shaquille O'Neal finds success in business
Shaquille O'Neal understood early on basketball and the revenue from it wouldn't last forever. That's why he began building a diverse business portfolio back in the early 1990s not long after he signed his first contract with the Orlando Magic in 1992. 
One of O'Neal's early investments was in Google, and he said it happened "by accident." In a recent interview with Business Insider, O'Neal said he knew the Google investment would be a hit, and looking back, he only has one regret about the investment in that "I wish I would have bought more." 
He didn't stop his tech-investing spree there. Since that time O'Neal invested in Apple and Ring, as well as other businesses like Five Guys, 24 Hour Fitness, and Papa John's, which he is the national spokesperson.
O'Neal enjoys entertaining off the court
Shaquille O'Neal has always been passionate about music since his days in college at LSU. In the early 1990s, around the same time he began branching off into business, he began creating rap music. His debut album, Shaq Diesel, received platinum certification. 
In recent years O'Neal has pursued life as a DJ, producing electronic music and touring the world under the stage name, Diesel. He also created an annual music festival-circus-carnival held in Miami called Shaq's Fun House. 
Like his diverse business interests, O'Neal has expanded his interests in the world of entertainment through the years to include acting. He's appeared in multiple movies including Blue Chips and Kazaam, and appeared as himself in television shows such as Curb Your Enthusiasm, My Wife and Kids, and The Parkers.
Since 2011, most of O'Neal's work in front of the camera has been as an analyst for TNT's NBA coverage. His business acumen, personality, and almost decade-long relationship with TNT have set the stage for his new docuseries. 
New series shows O'Neal's life like you've never seen it before
The TNT docuseries called Shaq Life focuses on Shaquille O'Neal's post-basketball life. The series, which is narrated by Samuel L. Jackson, debuts this evening as part of the network's first Thursday ShaqNight.
The trailer offers a brief look into some of the topics featured in the show. Among them, O'Neal's travels as DJ Diesel, his recreational life including time out on the water, sparring with an MMA trainer, and a softer side of the big man rarely seen as he hangs out with the family.
"I can't wait for viewers to join me on Thursday nights. I hope ShaqNight will deliver laughs, fun, and entertainment into people's homes at a time when we need it most."

Shaquille O'Neal
The show is just a part of the special ShaqNight programming scheduled for every Thursday and will include O'Neal with a revolving cast of his famous friends, from their homes, joining viewers to watch some of the basketball great's favorite films. O'Neal and his guests will provide commentary, compete against each other in "boredom buster" games, and dance along to a DJ session by Shaq.
Start times for ShaqNight vary from week-to-week depending on the length of the Shaq-selected movie. The first episode of Shaq Life starts tonight at 9 pm ET/PT. 
To kick-off the inaugural ShaqNight, a donation will be made to the Boys and Girls Club of America. Each following Thursday, the network will donate to a charitable organization chosen by O'Neal's guest.