Skip Bayless Embarrasses Himself on Air by Desperately Trashing LeBron James' Clutch Game-Winner Against the Warriors
LeBron James buried a miraculously clutch, game-winning 3-pointer during Wednesday night's Western Conference play-in game between the Los Angeles Lakers and the Golden State Warriors. That's simply an indisputable fact.
Well, not according to noted LeBron hater Skip Bayless.
The outspoken Fox Sports personality put on his finest clown suit Thursday morning and did his best to diminish James' incredible game-winner. You're not fooling anybody, Skip. Stay hating.
LeBron James sends the Lakers to the playoffs with clutch game-winner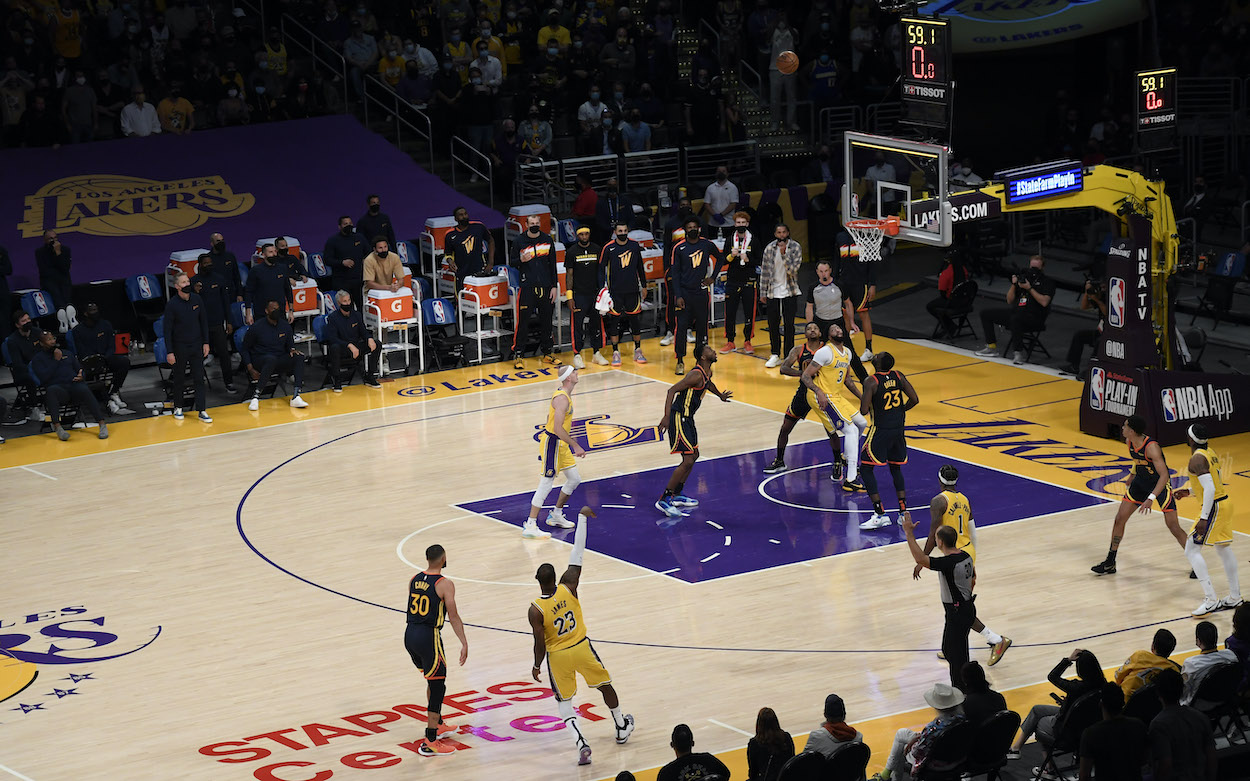 NBA Commissioner Adam Silver couldn't have asked for a better finish to the first round of the inaugural play-in tournament. LeBron. Stephen Curry. Two championship-caliber teams dueling it out for the No. 7 seed in the Western Conference. And the game didn't disappoint.
After the Warriors stormed out to a 13-point lead at the half, the Lakers battled back to make it a game by the middle of the fourth quarter. With a minute remaining on the clock, LA and Golden State were knotted up at 100. That's when James received a desperation pass 35 feet from the basket with the shot clock approaching zero and heaved up a prayer.
Splash.
James' clutch jumper propelled the Lakers to victory, and they'll now meet the Phoenix Suns in the first round of the playoffs. The internet exploded in praise of LeBron, but one cynical sports media member wasn't so impressed.
Skip Bayless immediately trashed James on Twitter
Bayless has made a living off bashing LeBron for no other reason than to be a contrarian. The Fox Sports personality was at his old tricks Wednesday night after James' heroics.
"Lucky desperate three by LeBron with the pressure off at the end of the shot clock. He's at his best when there's no drive-or-launch decision. He can just heave and hope. If he misses, no expectation, no fault. It's an 'impossible' shot. Besides, he 'was seeing three rims,'" Bayless tweeted after the game.
But he didn't stop there.
Bayless embarrasses himself on air with LeBron take
Bayless isn't just a LeBron hater online. He makes a living off crucifying the Lakers superstar on FS1's Skip and Shannon: Undisputed every morning. Bayless pulled out all the stops on Thursday, embarrassing himself in the process.
"There was zero pressure on that shot because it was at the end of the clock, Bayless said. "There was a minute left on the clock, so it wasn't nearly late enough time for a Michael Jordan-esque shot because Jordan would've waited until the bitter end to take and make the big shot. There's a minute left on the clock. Nobody's going to hold him accountable for a miss here."
Bayless also mocked James' postgame comments when he thanked God.
"For the first time ever after a game, LeBron James actually thanked the man upstairs. I've never considered LeBron much of a religious man," he said. "All of a sudden, maybe he had a conversion because he threw up a prayer and it went in and he said, 'I've seen the light. I am yours, Lord. What do you want? I am your servant now.'"
Bayless said on a clutch scale of one to 10, he gives James' shot a measly one.
It'll be interesting to see what Bayless drums up if James leads the Lakers to back-to-back NBA titles. He always has something new in the chamber.