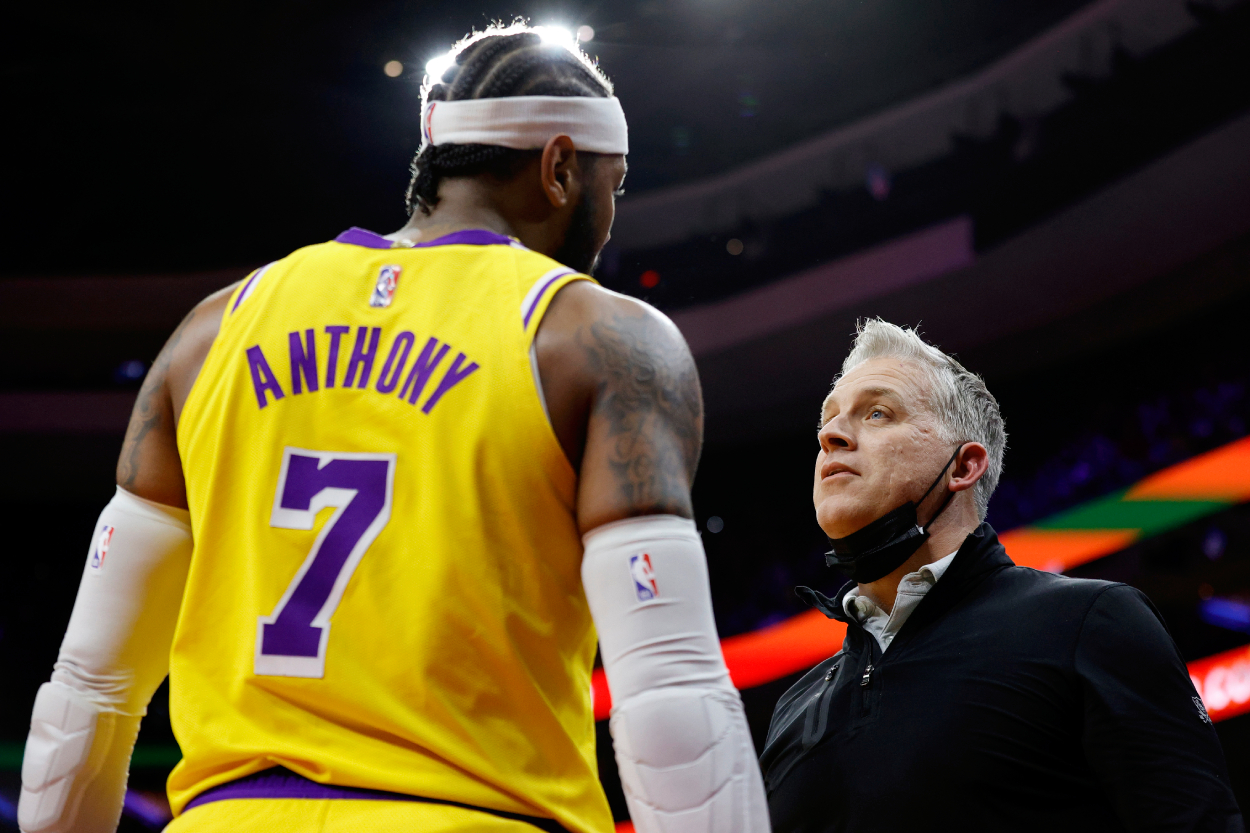 'Soft' Carmelo Anthony Rightly Ripped by Shaquille O'Neal and Charles Barkley After Altercation With Fans
Charles Barkley said you can't be thin-skinned in sports after Carmelo Anthony confronted fans during Thursday's game.
Ten-time NBA All-Star Carmelo Anthony has been labeled "soft" by one of the fans who heckled the Los Angeles Lakers reserve forward during Thursday night's game against the Philadelphia 76ers. Anthony said he was called "boy" by a Sixers fan numerous times before confronting him during the game and eventually having him kicked out. Shaquille O'Neal and Charles Barkley seemed to side with the fan on the "soft" part
During the Inside the NBA postgame show, O'Neal and Barkley found it tough to believe Anthony would confront a fan over being called a "boy." When co-host Kenny Smith defended Anthony for heading over to the fan and taking action before it escalated, O'Neal jumped in and said, "That's something someone soft would say."
Carmelo Anthony confronted fans on two separate incidents during Thursday's loss to the 76ers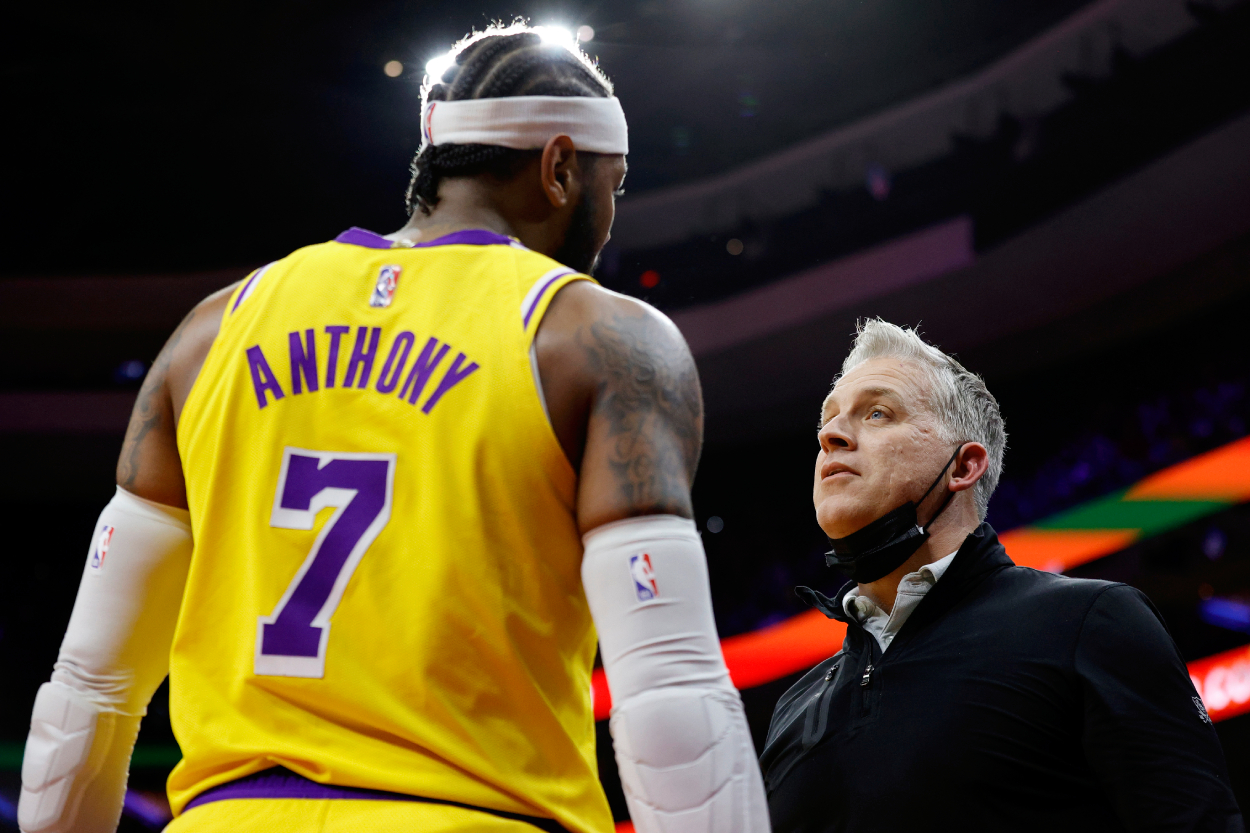 Anthony, signed by the Lakers in the offseason, must've been having a bad day. With 7:01 remaining in the game, he trotted over toward the crowd to confront a man standing right behind the courtside seats near mid-court. While things were being sorted out, another fan jumped in and heckled Anthony, according to ESPN. The Lakers' forward said later he was called "boy" in the first exchange. The Philadelphia Inquirer said the second fan made comments about Anthony's ex-wife.
"Some things were said," Anthony said afterward, per ESPN. "Unacceptable. I'm cool with fans heckling, fans talking trash, cheering for their team, booing the other team, I'm all for that. But when you cross certain lines, as a man, you just, that's what you're going to see. That's what you're going to get, as you saw there."
According to The Philadelphia Inquirer, Mike Murphy was banned indefinitely from Sixers games and all events at the Wells Fargo Center after the exchange with Anthony. Some have said Murphy's "boy" comment can be labeled racist. Murphy denied any racial intent when he called the Angelo Cataldi and the Morning Team Show on 94 WIP Friday.
"(Anthony) comes down the court," Murphy said, per The Inquirer. "We're blowing (them) out in the game. I say to him, 'You're a little boy. Let him shoot. Let him shoot.' He looked at me. He smiles. I think he goes down to the other end of the court. He comes back down … and I say, 'Let him shoot. He's a little boy.' And he lost his cool out of nowhere."
Security escorted Murphy from the arena. Murphy also said he told Anthony he was soft like butter.
Shaquille O'Neal and Charles Barkley believe Carmelo Anthony overreacted
Anthony's interaction with the fans in Philadelphia was discussed on the Inside the NBA postgame show. Barkley spoke first on the matter.
"I ain't gonna get upset if someone calls me boy," Barkley said. "Come on, man. Stop trippin'. That, to me, is no big deal, someone calling me a boy."
Smith jumped in and argued that just because someone purchases a ticket doesn't mean they have the right to harass players. He said Anthony prevented the situation from getting out of hand.
"That's where stuff escalates," he said. "There's two people out of 19,000 that got thrown out. Get them out of the arena. They don't need to be there."
As Smith was talking, O'Neal interrupted.
"That's what somebody soft would say," O'Neal said of Smith's coments. "No offense to Kenny, but when you're warriors like me and Chuck, that don't bother you anyway. That ain't going to stop me. Let me tell you something, brother, playing in Texas, playing in the SEC, I heard it all. That ain't going to stop me."
"You can't be thin-skinned in sports," Barkley added.
Barkley and O'Neal are right in their assessment of how Anthony handled the situation
Barkley and O'Neal know what it's like to be heckled while on the basketball court. In fact, one of the biggest turning points in Barkley's life came when he spat in the direction of a heckler, and it landed on a young girl. He used that incident as a wake-up call to not let his emotions get the best of him.
Anthony didn't spit on anyone. He didn't threaten anyone. What he did was let two fans get in his head. Going over to the fans himself wasn't smart. Getting upset over being called "boy" shows how sensitive and thin-skinned Anthony is.
The Inquirer reported a league source said Anthony was told, "Shoot the ball, boy." After Anthony asked him what he said, the fan repeated, "Shoot the ball, boy." If that's what triggered Anthony heading over to confront the fan, then Anthony is, indeed, thin-skinned.
There could certainly be more to the story since this isn't Murphy's first run-in with a player. The Inquirer reported he had been ejected and forbidden from purchasing tickets directly from the team on various occasions in the past.
Anthony had a right to be upset for the derogatory remarks, but he should've remained level-headed and let security handle it.