Another Sour Start Doesn't Bode Well for Brad Keselowski and RFK Racing
Brad Keselowski, Chris Buescher, and RFK Racing have forced me to reconsider everything I've believed about exhibitions for the past half-century. I'm now thinking the organization's clunker of a performance in the NASCAR Busch Light Clash two seasons in a row has to be considered meaningful.
Should we give weight to exhibition races like the Busch Light Clash?
We old New York Giants fans remember 1973 only too well. Coming off an 8-6 season and having snapped up Brad Van Pelt, a tough-as-nails Big 10 linebacker, as their top pick in the draft, the Giants got us excited by posting a 6-0 record in the preseason.
And then the team went 2-11-1 in the regular season to begin a string of eight straight sub-.500 years. The lesson? Exhibitions don't mean squat.
I was willing to stick by that a year ago in my favorite sport as Brad Keselowski and Chris Buescher bombed out of the Busch Light Clash by failing to advance from the heats and the last-chance qualifier into the main event.
But no more. We saw afterward that the performance meant something in 2022. Now, what transpired on Sunday at the Los Angeles Coliseum has the feel of a precursor to RFK Racing's 2023 season.
Brad Keselowski and Chris Buescher flopped in the Busch Light Clash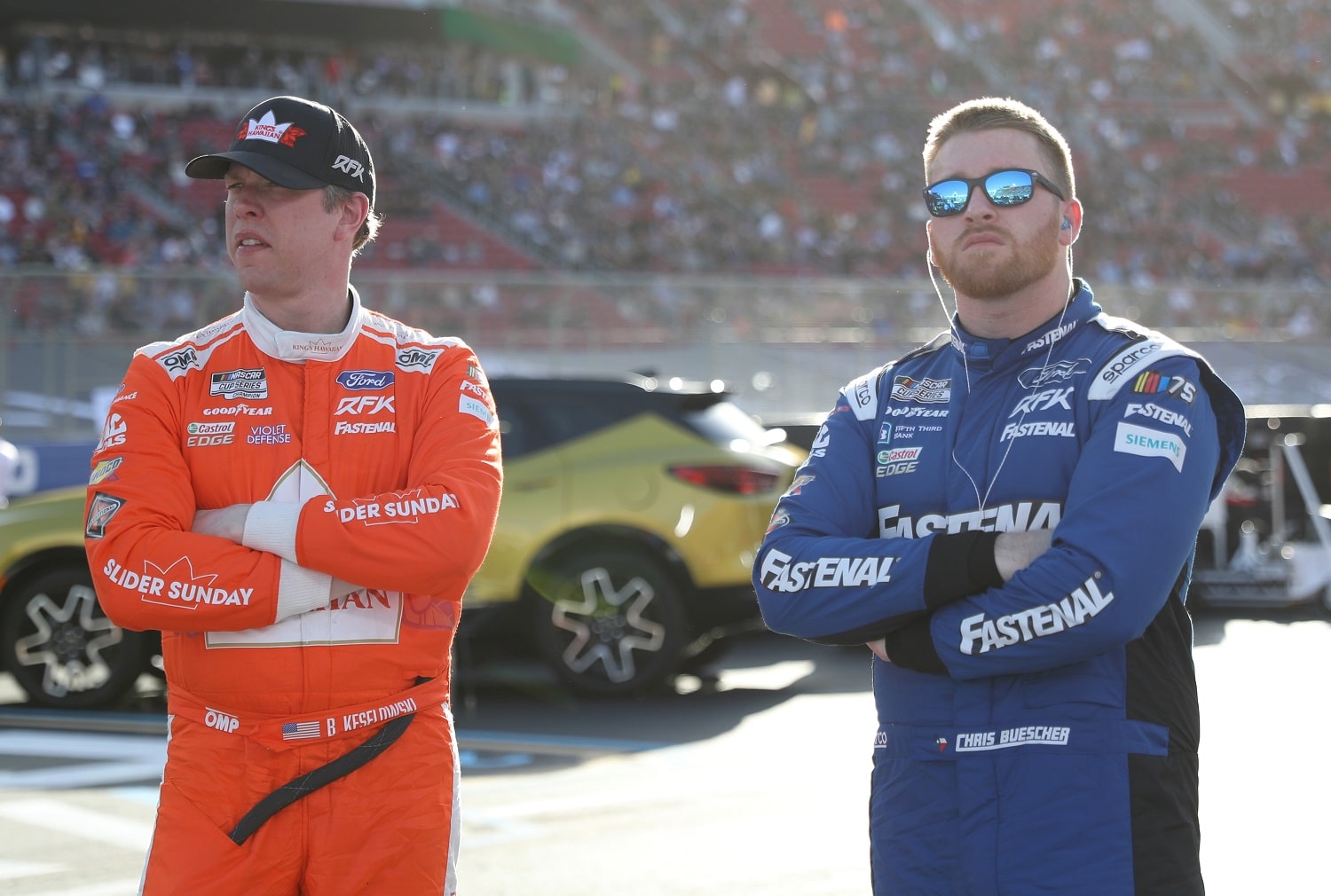 Redemption is too strong a word for Martin Truex Jr.'s day at the Busch Light Clash. While winning to cap a generally entertaining weekend in Los Angeles was nice, it's hard to say it made up in any way for the winless 2022 that kept Truex out of the NASCAR Cup Series playoffs despite finishing the regular season fourth in points – and just 12 points out of second.
Truex's consolation last year was that at least he knew he was in the hunt the whole way. Brad Keselowski and Chris Buescher couldn't say the same. They failed to qualify for the main event at the Clash, rallied two weeks later by each winning one of the duels at Daytona, and then plummeted into something south of mediocrity for the rest of the season.
Now, they've kicked off 2023 with another big miss. Buescher finished last in Heat 1 at the Clash, and Keselowski followed by placing eighth out of nine in Heat 3. Both landed in the first of the two last-chance qualifiers, and neither advanced.
Last year's Clash performance was easily forgiven. No one had meaningful experience in the Next Gen car, and the quarter-mile track carved out of the floor of the Los Angeles Coliseum also constituted new territory.
In 2023, however, this dud performance cannot be anything less than distressing for fans of RFK Racing and for ownership.
Brad Keselowski concedes there's work to be done
Chris Buescher was able to joke on Twitter that he likes the other Colosseum better, referencing Bristol Motor Speedway (a/k/a "The Last Great Colosseum"), where he won the playoff race last fall.
However, he knows he can't completely brush off what happened in Los Angeles even though short races on a quarter-mile track are an outlier on the schedule.
"We're racers though, so it hurts your feelings," he said through the Ford Performance PR team. "You want to be better than that and we just weren't. It's not much like other places we go and it's kind of like bumper cars out there in a lot of ways, but it's still a race and we need to be more competitive."
Added Brad Keselowski: "We are getting a better understanding of the car, but just not better enough of what it needs on the vehicle dynamics side. We're still working through that. We've got some new hires and new things going on that started last week, and we'll see if we can get better."
That sounds like the makings of another long season for RFK Racing.
Got a question or observation about racing? Sportscasting's John Moriello does a mailbag column each Friday. Write to him at [email protected]