South Korean Golfers Sungjae Im and Si Woo Kim Must Win a Medal at the Tokyo Olympics to Avoid 2 Years of Mandatory Military Service
Every athlete competing in this year's Tokyo Olympic Games is there for a different reason. For some, it's been their lifelong dream to become the best in the world at one particular sport. For others, they feel it's their duty to bring pride to their home country as one of the greatest athletes on earth.
But for South Korean golfers Sungjae Im and Si Woo Kim, they couldn't care less about all of that.
Im and Kim have a unique opportunity at the Olympics this week that they might never get again. A medal of any kind would grant them an exemption from South Korea's mandatory, two-year military service.
Talk about pressure.
Sungjae Im and Si Woo Kim still haven't completed their mandatory military service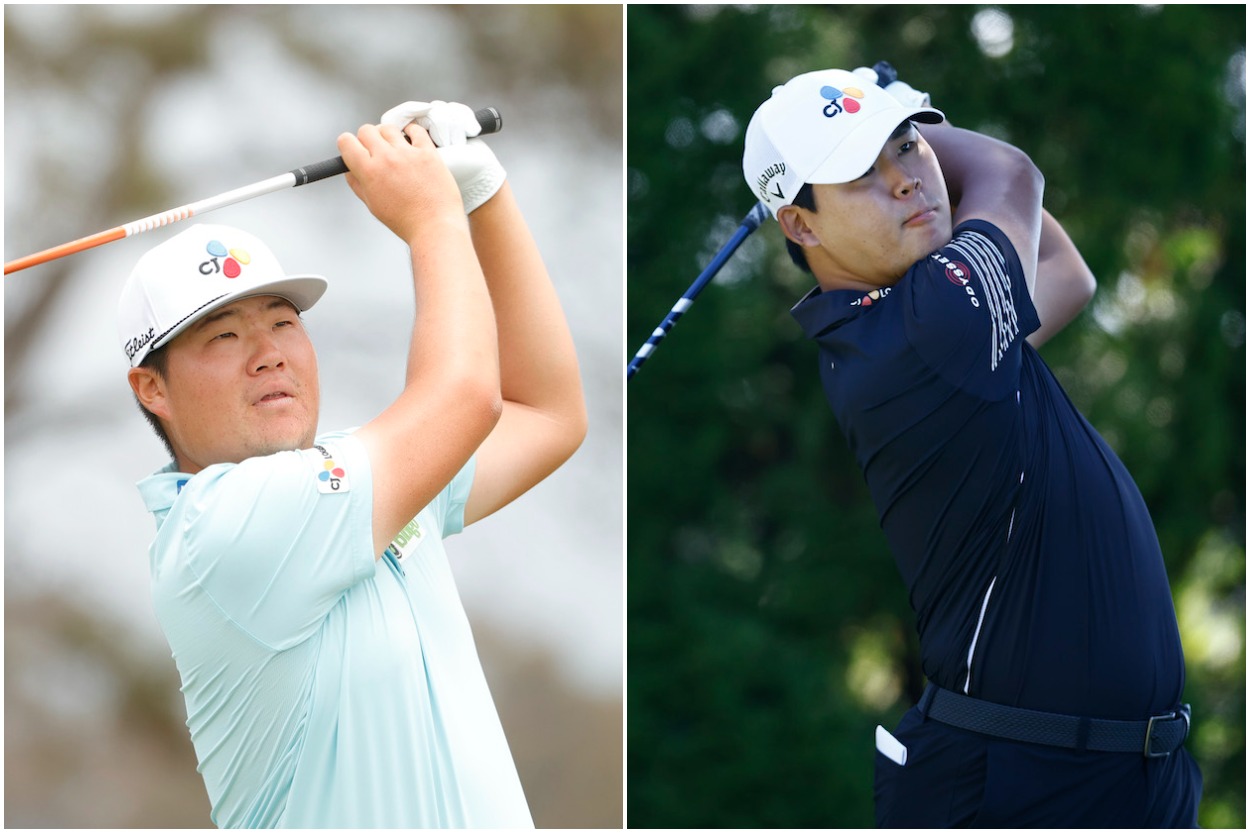 The South Korean military operates in a much different way than it does in the United States. Whereas Americans nowadays choose to join the military themselves, every male South Korean citizen is obligated to serve their country for 18-21 months after they turn 18. Most complete their mandatory service as soon as they can, but those who delay their service have until the age of 28 to enlist.
The practice has been in place since 1957, and those who have refused to comply over the years have been punished with jail time. Additionally, men who live abroad and don't return to complete their service can be punished with loss of citizenship and a ban from returning to South Korea.
Although every South Korean male is expected to complete their mandatory military service by the age of 30, there are a few unique exemptions in place to allow professional athletes to continue their careers uninterrupted.
That brings us to the Tokyo Olympics.
Im and Kim can earn a military exemption with a medal at the Tokyo Olympics
Back in 1973, Park Chung-hee, the South Korean president at the time, offered a military exemption to any athlete who brought home a medal from the Olympic Games every four years. The exemption was eventually extended to athletes who won a gold medal at the Asian Games.
Unfortunately for Im and Kim, the golf competition at the Asian Games is limited to amateurs only. Neither golfer had a chance to compete in the event before they turned pro.
That makes this weekend's competition at the Tokyo Olympics the most important tournament of their young lives. And they know it. Both Im and Kim took the drastic measure to withdraw from the Open Championship two weeks ago in order to prepare for the possibly life-changing Olympics.
Kim will be the one with more pressure on his shoulders in Tokyo this weekend. The three-time PGA Tour winner just turned 26 last month, which means this is his last chance to win an Olympic medal before he turns 28 and must enlist in the military. Im, on the other hand, is only 23 years old, so he'll have one more chance to medal in 2024 at the Olympic Games in Paris.
But there's no guarantee he'll even make it there. It must be a now-or-never mindset for both South Korean golfers this weekend.
We're all South Korea fans this week
If you're an American planning to watch the upcoming golf competition at the Olympics, you'll obviously be pulling for one of Collin Morikawa, Xander Schauffele, Justin Thomas, or Patrick Reed to bring home the gold. But how can you not root for Im and Kim to follow behind with silver and bronze?
This is about so much more than a medal for the South Koreans. If both Im and Kim finish outside of the top three this week, not only will they be in danger of being called to serve their home country in the military, but their entire PGA Tour futures will also be at stake.
Two years without touching a golf club can permanently damage your swing — and your career. Just ask Sangmoon Bae.
Bae was ranked as high as 26th in the Official World Golf Ranking back in 2011. By the time he was forced to enlist in 2015, Bae had won 12 professional events worldwide and even competed in the Presidents Cup for the International team. When he returned from service and regained full-time status on the PGA Tour, Bae struggled mightily to find his form again. In 2018, Bae competed in 22 events on Tour. He missed the cut in 14 of them and didn't finish better than 27th all season.
Bae lost his PGA Tour card after the 2018 season. He's now ranked No. 958 in the world.
If Im and Kim want to avoid the possible fall from grace their fellow countryman experienced just a few years ago, they must find a way to reach the podium in Tokyo.
We're all pulling for you, Sungjae and Si Woo.