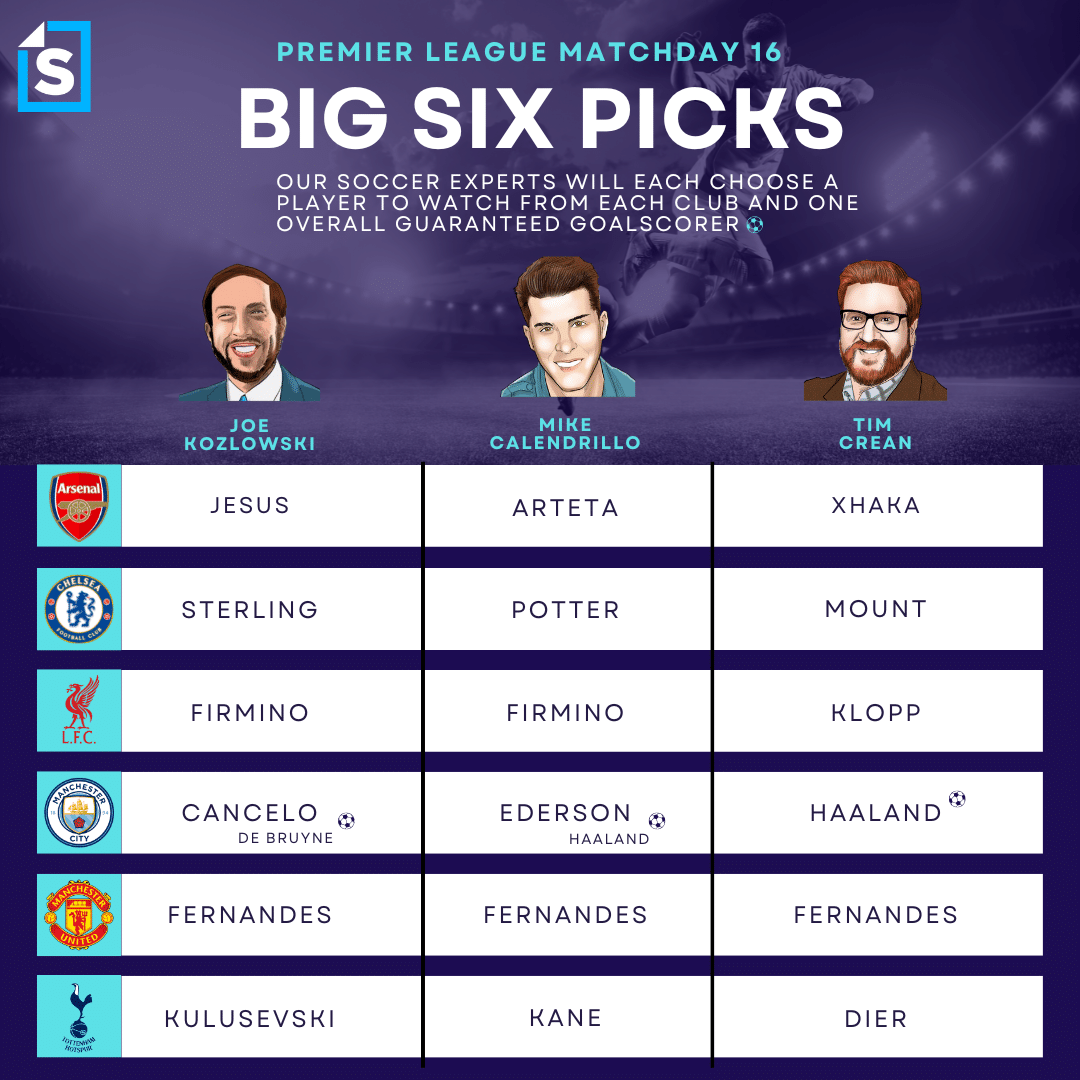 Sportscasting Big 6 Picks: Matchday 16
With one final Premier League matchday before the World Cup break, we highlighted some must-watch players on England's biggest teams.
For the entirety of the season, soccer fans have been waiting for the 2022 World Cup. While that brings plenty of excitement — who doesn't love a good international tournament? — there's also a downside. With the festivities in Qatar, domestic play has to come to a grinding halt.
Like it or not, the Premier League is finally at that point. After this weekend's matches, the competition will be suspended until Boxing Day.
So, with that in mind, let's make the most of this round of matches. You don't know what you have until it's (temporarily) gone.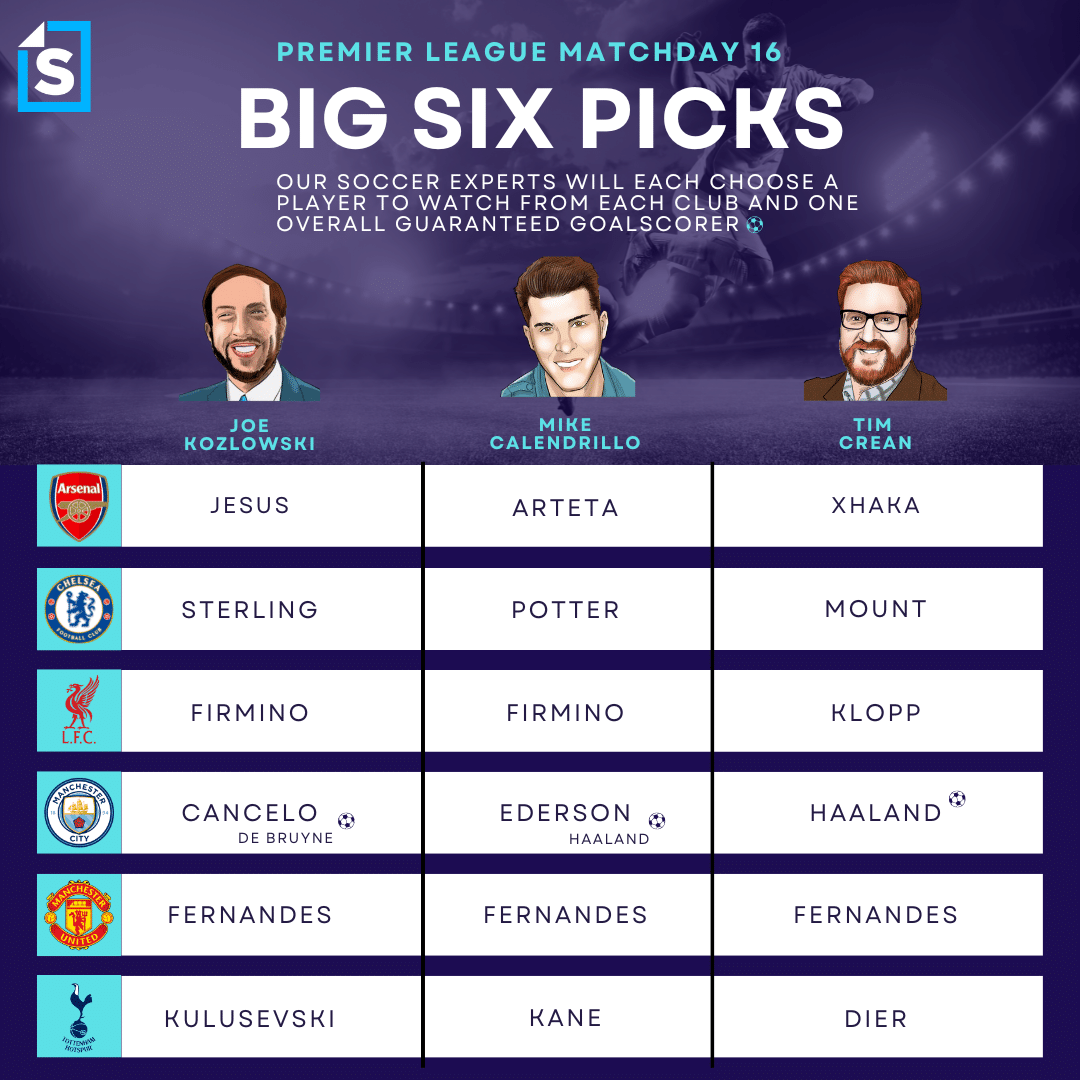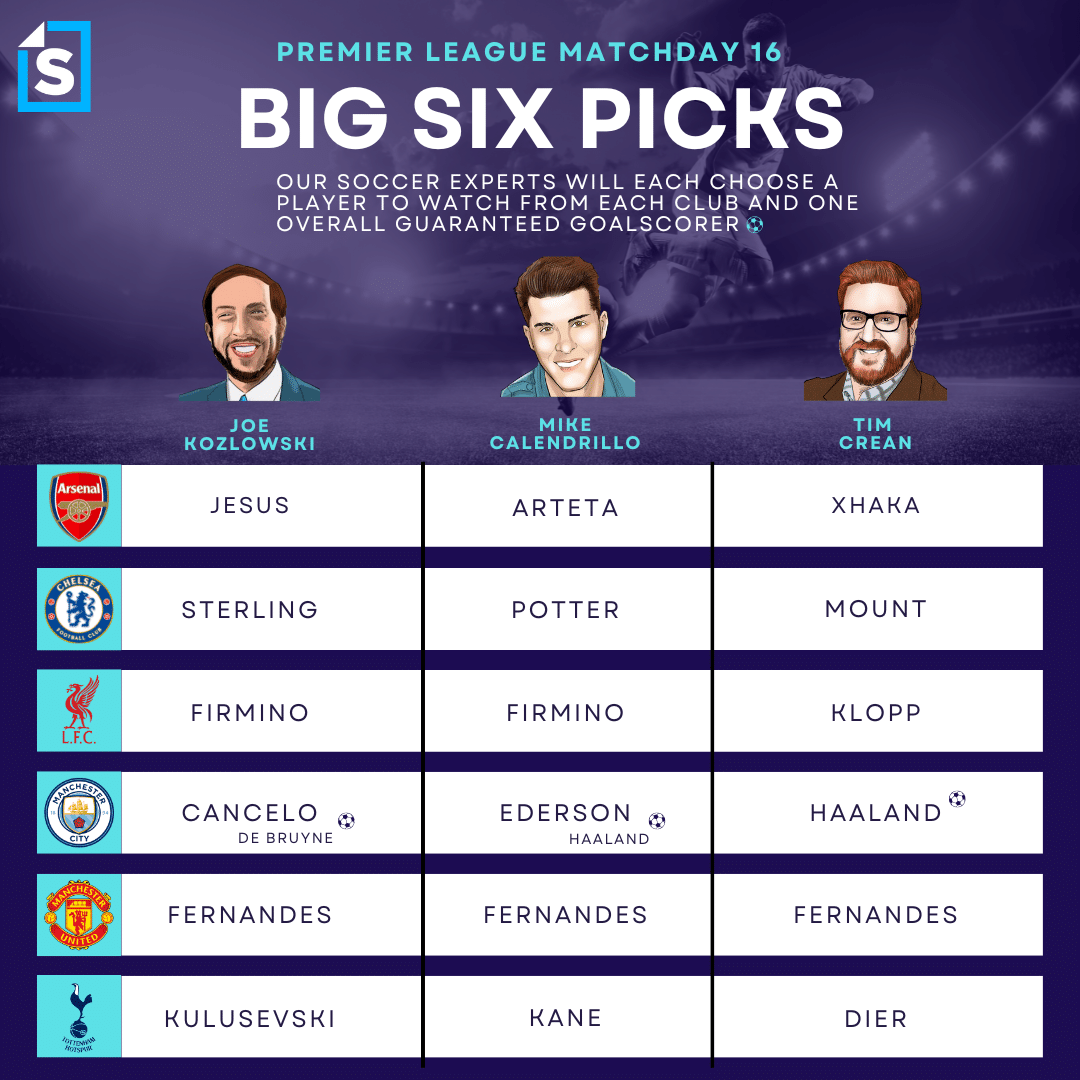 Manchester United vs. Fulham
Joe Kozlowski: Bruno Fernandes – To steal a phrase from Tifo, there was a Bruno Fernandes-shaped hole in the Manchester United squad last weekend, which contributed to a loss at Aston Villa. This week, though, the Portuguese midfielder is back in action. Fulham proved to be a tough nut to crack against City, so if the Red Devils want to end the first portion of the season on a high note, they'll need Fernandes to be at his best and pull the offensive strings.
Mike Calendrillo: Bruno Fernandes – United have lost 11 league games so far this season, their most ever in a single Premier League calendar year. That should come to a halt with Fernandes back from a red card suspension. The Portuguese international will likely make his 100th career league appearance, and only three Manchester United players have ever been involved in more goals (38) in their first 100 league matches (Cantona, van Nistelrooy, and Yorke). 
Tim Crean: To make it a sweep, I'll go with Bruno Fernandes here, too. The simple truth of the matter is that there are two wildly divergent Manchester United teams: the team with the Portuguese midfielder and the one without him. Against a tough and gritty Fulham squad, Fernandes needs to show up in all his glory.
Liverpool vs. Southampton:
Joe: Roberto Firmino –  This is more of an emotional/mental question than a physical one. Firmino missed out on the Brazilian World Cup squad, and I'd like to see how he responds against a Southampton team (theoretically) reaping the rewards of the new manager bounce. Will the attacker show up with a point to prove? Or will he drop off without an international tournament to spur him on?
Mike: Roberto Firmino – Liverpool have utterly dominated their Southampton, winning nine of their last 10 league games, scoring at least two goals each time out. Being left out of the Brazilian World Cup squad, I would be shocked to see Roberto Firmino fall flat – especially since he's tallied six assists versus the Saints – one shy of his Premier League record of seven against Bournemouth. 
Tim: Jurgen Klopp – Liverpool in 8th place is unacceptable for the Merseyside team. There are plenty of reasons for this that have to do with the players, but at the end of the day, this has to fall on Klopp at some point. If he can't change his style a bit to stop this tailspin, his seat might start getting hot after the World Cup break. 
Arsenal vs. Wolves:
Joe: Gabriel Jesus – On the subject of Brazilian attackers, Gabriel Jesus is in the opposite position from Firmino. Despite his struggles in front of goal – in fairness, the striker does plenty of good work elsewhere – the Arsenal man earned a place in the World Cup squad. This will be his last engagement before heading to Qatar. This could be the perfect opportunity to play with confidence and break his dry spell.
Mike: Mikel Arteta – Arsenal are the only Premier League side to score in every league match so far this season while also being tied for the fewest goals conceded (11) and the most clean sheets (6). A lot of the credit deservedly goes to Arteta, who suffered early growing pains but was trusted enough by ownership to get the players he wanted (Ben White) and allow them to grow on the job. Should the Gunners get another win, it would mean they would sit atop the league table come Christmas, something they haven't done since 2007-08. 
Tim: Granit Xhaka – The Swiss midfielder is the hard rock at the center of the Arsenal defense and the guy who sets the tone in the back. However, this season he's scoring goals, too, and is one of the biggest reasons Arsenal is still hanging on to first place long after most pundits thought they'd fall off. Against a tough Wolves midfield, he'll have to keep this play up.
Chelsea vs. Newcastle:
Joe: Raheem Sterling – The Blues have the toughest task of the Big 6, as they'll head north to Newcastle. In that context, it's safe to assume that Chelsea will need to score, and I'd look to Sterling as the man to make that happen. The biggest issue in Graham Potter's front line has been a lack of link-up play/creativity/dribbling in the attack. Sterling, when he's confident and playing in his natural position, can provide that.
Mike: Graham Potter – Chelsea have won seven of their last eight league games versus Newcastle, including the previous four without conceding. However, the Blues have dropped their last two league matches, and the Magpies sit in third place – six points clear of Potter and company. Winning the group in the Champions League is nice, but Chelsea supporters expect more from their new manager, so it'll be interesting to see who he deploys to mark man-of-the-moment Miguel Almiron (8 goals in 14 games). Potter will look to stifle the former Atlanta United man, in hopes of stopping him from scoring in five straight contests.
Tim: Mason Mount – Young Chelsea starlet Mason Mount is supposed to be this up-and-coming star. He is the future with Chelsea and the present with the England National Team in the 2022 World Cup. He's also the biggest reason Christian Pulisic isn't playing for the Blues. However, he has just two goals on the Premier League season, and they came in the same game. That's simply not good enough to justify all his playing time.
Manchester City vs. Brighton:
Joe: Joao Cancelo – Since City had a Carabao Cup game during the week, the Portuguese defender will be available to face Brentford. I'm always happy to watch City's fullback play, but the red card against Fulham provides a bit of an extra wrinkle. I'm curious to see if the Bees will intentionally try to exploit the spaces behind the inverted left-back.
Mike: Ederson – Brazil's likely No.1 keeper headed into the World Cup is one win shy from 150, which would make him the first player to reach the mark in fewer than 200 appearances. Brentford has won just one of their five away matches against Manchester City in the top flight, winning 2-0 way back in 1937! No pressure, Ederson. 
Tim: Erling Haaland – The Norwegian star has been the key player for City in every match he's been in this season, and this week is no different. However, as all his mates head for Qatar and Haaland heads for a (well-earned) vacation, he'll want to end the first half of his first Premier League season on a high note.
Tottenham vs. Leeds:
Joe: Dejan Kulusevski – After a spell on the sidelines, Kulusevski returned to the lineup last weekend and made an instant impact. His presence completely changes how Spurs play. The Swede is a more-than-capable ball carrier, which really shines through within Antonio Conte's counter-attacking system. Tottenham will want to get a result to go into the World Cup break on a high, but more than anything else, I just want to see how Kulusevski fits back into the team.
Mike: Harry Kane – Spurs have lost three of their last four league games, the same amount they dropped in the previous 24. A leaky defense and an inconsistent attack were yet again on display during the midweek EFL Cup affair versus Nottingham Forest. I hate to say it, but Harry Kane must do more. With Son Heung-min still mostly out of form (and now injured), Kane is the only reliable offensive threat. The heady English captain has a league-best five headed goals this season, one shy of his personal record set in 2017-18. 
Tim: Eric Dier – Leeds United has a scary attacking front, which is in improving form. Led by USMNT members Brenden Aaronson and Tyler Adams, CB Eric Dier will have his hands full directing traffic against a team that's scored eight goals in its last three matches. 
Guaranteed Goalscorer:
Joe (2-9 record): Kevin De Bruyne- I'm trying to head into the World Cup on a good note, so I really worked through this one. Brentford don't have a great defensive record, and they're also not the sort of team that parks the bus, even against superior opposition. The Bees also have a tendency to concede goals from outside the box, so I'm looking for a (literal) long shot from KDB. 
Mike (8-3): Erling Haaland – Not only is Haaland the Premier League's leading goal scorer, but his goals are worth a league-best 13 points to Man City – the most points won by a City player since Sergio Aguero (13) in 2016-17.
Tim (7-4): Erling Haaland – The simple fact is, Erling Haaland is going to score this weekend for sure, and you can't say that about almost any player in the Premier League, maybe outside of Harry Kane. I'll go a step further, though, and say Haaland notches at least a brace vs. Brentford.