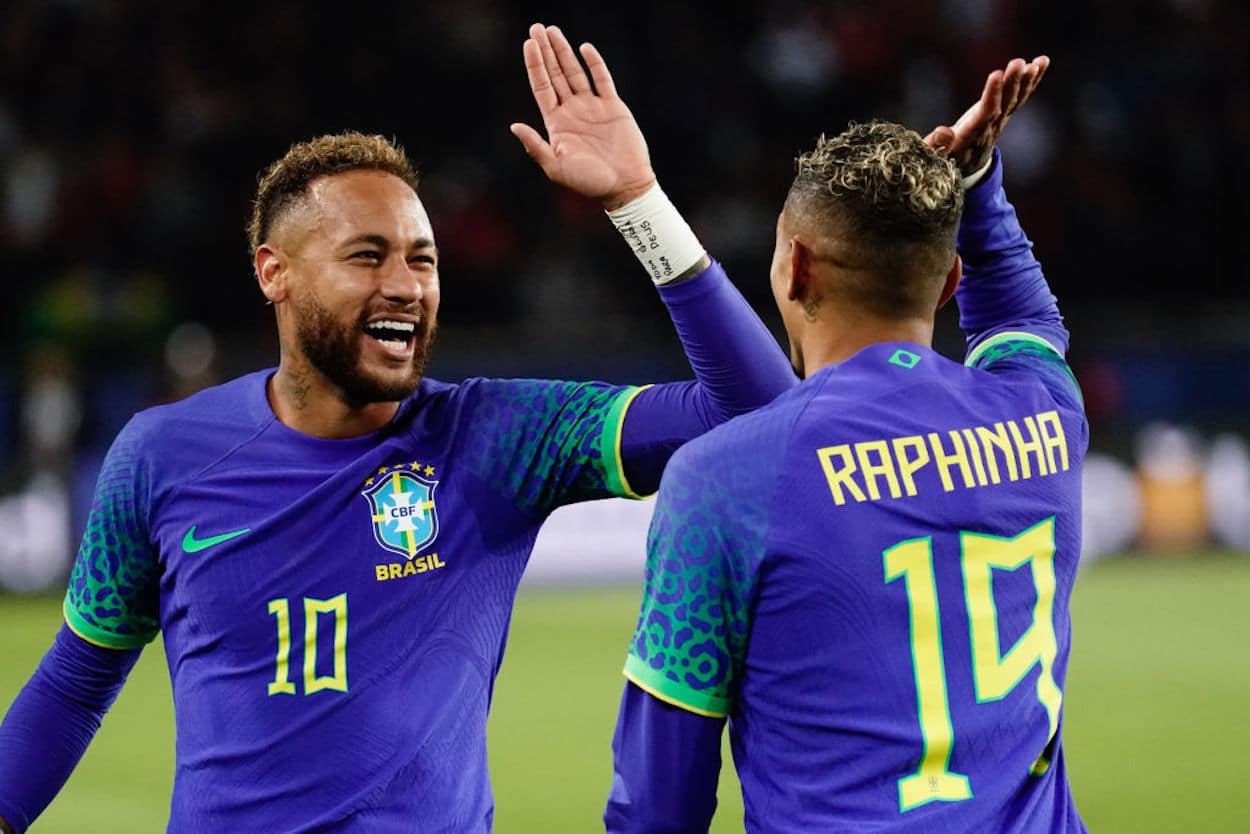 World Cup 2022: There's More to Brazil's Roster Than Neymar
Brazil heads to the 2022 FIFA World Cup as one of the favorites. A look at their roster confirms why that's the case.
When you think of global soccer superpowers, Brazil is probably one of the first nations that springs to mind. The South American giants are synonymous with skill, sheer talent, and attacking flair. Even if you're rooting for someone else, they're probably worth the watch.
Ahead of the 2022 World Cup, that status won't change. While even the most casual fan has probably heard of Neymar, the Seleção is stacked with talent and enters the tournament as a favorite to win it all.
So, with that in mind, let's break down the roster and highlight some players who deserve your attention.
Brazil's 2022 World Cup roster
While there was some debate over a few potential inclusions, manager Tite finally nailed down his 2022 World Cup roster.
Goalkeepers: Alisson (Liverpool), Ederson (Manchester City), Weverton (Palmeiras)
Defenders: Dani Alves (Pumas UNAM), Danilo (Juventus), Alex Sandro (Juventus), Alex Telles (Sevilla), Bremer (Juventus), Eder Militao (Real Madrid), Marquinhos (Paris Saint-Germain), Thiago Silva (Chelsea)
Midfielders: : Bruno Guimaraes (Newcastle), Casemiro (Manchester United), Everton Ribeiro (Flamengo), Fabinho (Liverpool), Fred (Manchester United), Lucas Paqueta (West Ham)
Forwards: Antony (Manchester United), Gabriel Jesus (Arsenal), Gabriel Martinelli (Arsenal), Neymar (Paris Saint-Germain), Pedro (Flamengo), Raphinha (Barcelona), Richarlison (Tottenham), Rodrygo (Real Madrid), Vinicius Jr. (Real Madrid)
Now, let's look at how that all fits together.
Brazil has two legitimate first-choice goaltenders, but Alisson probably gets the nod
While it's easy to overlook goaltenders, especially when you're talking about a nation known for its attacking flair, Brazil has two legitimate options in net. Alisson and Ederson play for Liverpool and Manchester City, respectively, which should tell you everything you need to know about their quality.
When things kick off in Qatar, however, expect the former option to be the starter. Alisson is a strong shot-stopper, and while he's probably not as good with the ball at his feet as Ederson, he's no slouch in that department. The Man City keeper, for all of his distribution strengths, doesn't always inspire confidence in defensive situations.
With all of that being said, though, Tite certainly has a champagne problem here.
Marquinhos and Thiago Silva should keep things steady at the back
On the whole, Brazil's defensive corps looks largely as expected. There were a few smaller surprises, like the inclusion of 39-year-old Dani Alves and the exclusion of Arsenal's Magalhães, but those shouldn't really affect the starting 11.
Marquinhos and Thiago Silva will marshal things from the center of defense, but things get a bit less certain as you look out wide. For all of the Seleção's strength, the full-backs aren't exactly world-beaters. You're between Alex Sandro and Alex Telles on the left and Dani Alves or Danilo on the right, although there is the option of slotting Eder Militao into the right full-back role.
Could those wide spaces be a place for opposing teams to exploit, especially given Brazil's attack-heavy lineup higher up the pitch? We'll just have to wait and see how things play out.
Brazil will have to strike the right balance between attack and defense in the midfield
Now here is where things get interesting. At the risk of stating the obvious, defenders defend, and attackers attack. The midfield, however, allows a team to set the tone. Does Tite want to keep things balanced? Or will he try to provide either some extra attacking punch or some added defensive stability?
One thing that we can feel pretty confident about, though, is that Neymar will nominally play in this part of the pitch. That brings plenty of perks — creativity, ball-carrying, and an unmissable presence that will suck opposition defenders out of shape — and some weaknesses. For all of the PSG star's talent, he's not going to put in a last-ditch tackle to stop a counter-attack.
That's where the tactical choices come in. Casemiro and Fred can play together as a holding two, but that could be a bit too static and defensive for matches when Brazil monopolizes the ball. Liverpool's Fabinho is in the squad, but he's even more defensive than Fred.
Enter Bruno Guimaraes, who could be the missing piece of the puzzle. The Newcastle midfielder has good passing range and the ability to contribute to the attack, but he isn't a complete slouch defensively. He's tenacious off the ball and profiles well in terms of tackles and blocks per 90 minutes. While you could have reservations about placing a relatively inexperienced player, at least from a senior international perspective, in the engine room of a World Cup contender, Guimaraes has looked like the real deal in the Premier League.
There are some big names battling for 3 spots in Brazil's attack
While Roberto Firmino didn't make the cut, Brazil still has a wealth of attacking talent. If anything, some players are going to be left disappointed by their lack of playing time.
At this point, it seems like Tite prefers a front three consisting of Vinicius Jr., Richarlison, and Raphinha. Some questions remain about the striker's fitness — Richarlison has just returned to training with Tottenham after an injury — but it appears that he should be OK to start, even if he doesn't play the full 90.
On the bench, two Arsenal players will be waiting for their chance to take the pitch. Gabriel Martinelli may be young, but he forced his way into the team with his relentless running and ability to run at defenders. Gabriel Jesus is versatile, capable of playing on the wing or through the middle, but he's been lacking a goal-scoring touch as of late.
Manchester United's Antony is also in the squad, although he's currently working through a hip problem, and Rodrygo has shown plenty of promise at Real Madrid. They'll also want a chance to prove what they're capable of on the world stage.
What will Brazil's lineup look like in Qatar?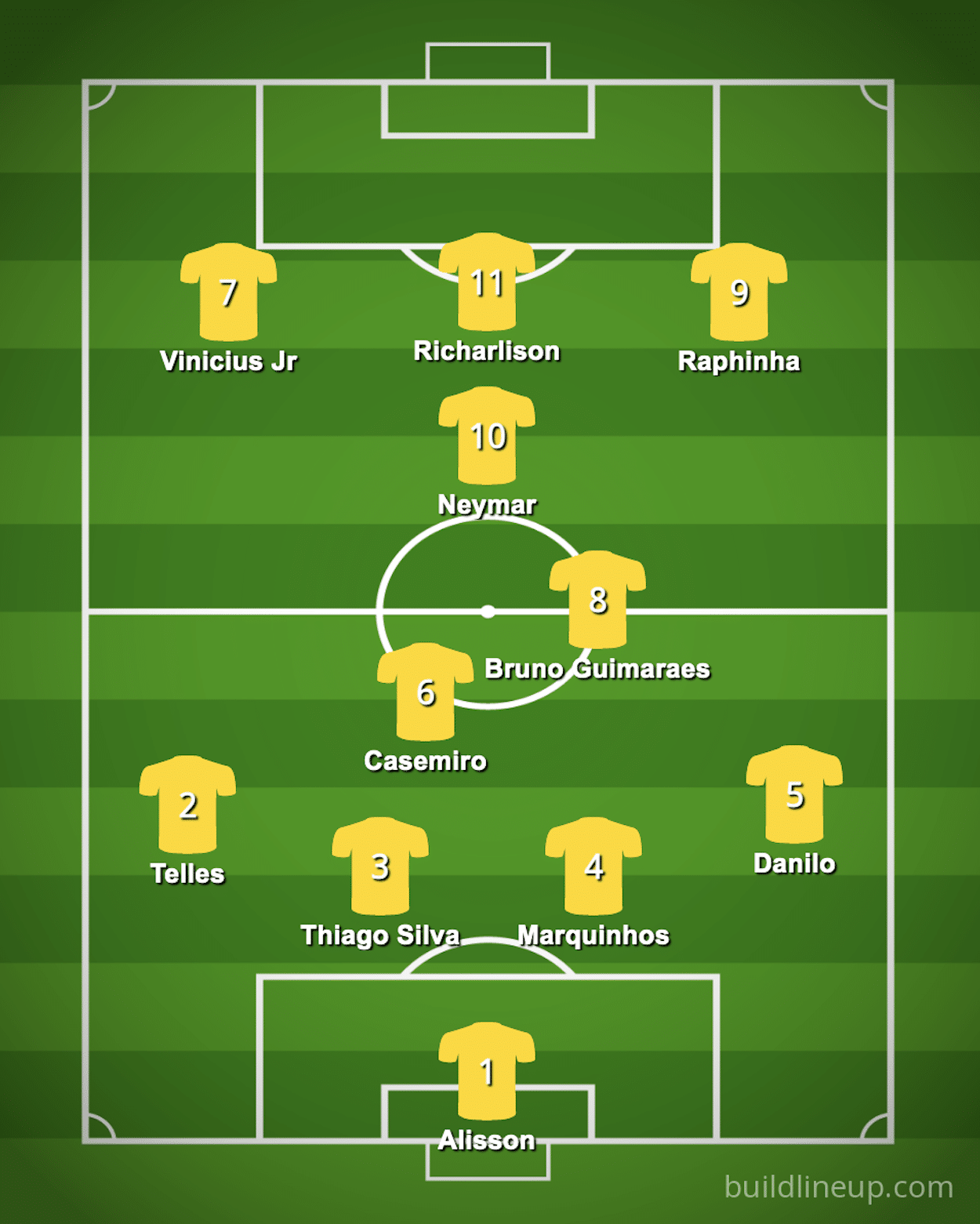 As we've laid out, Brazil has a pretty deep roster, but I think their most likely lineup will look like the graphic above. That does come with a few caveats, though:
I don't love Brazil's full-back options. I strongly considered putting Eder Miltao at right-back, but I deferred to Danilo's natural position. I do think the Real Madrid man, however, is a legitimate option for late-game situations or certain tactical matchups.
In the midfield, I have Casemiro sitting deep, with Bruno Guimaraes in front of him and Neymar essentially playing like a fourth forward. I do expect the Newcastle man to come back to provide more defensive support, though. Imagine something akin to a flatter 4-2-3-1 out of possession.
Up front, I gave what seems to be Tite's preferred trio the nod, but I am interested to see how Gabriel Martinelli fits into the equation. While you could argue that his youth and inexperience make him little more than a bench warmer, I'd argue his pace and tenacity give Brazil a valuable change-of-pace player. Put him on for the final 30 minutes, and let him go to work against a tired defense.
With all of that being said, though, we'll have to wait to see how things play out. Will this squad be enough to get the Canarinha back to the top of the metaphorical mountain? Or are there just enough weak points to crumble under the pressure?