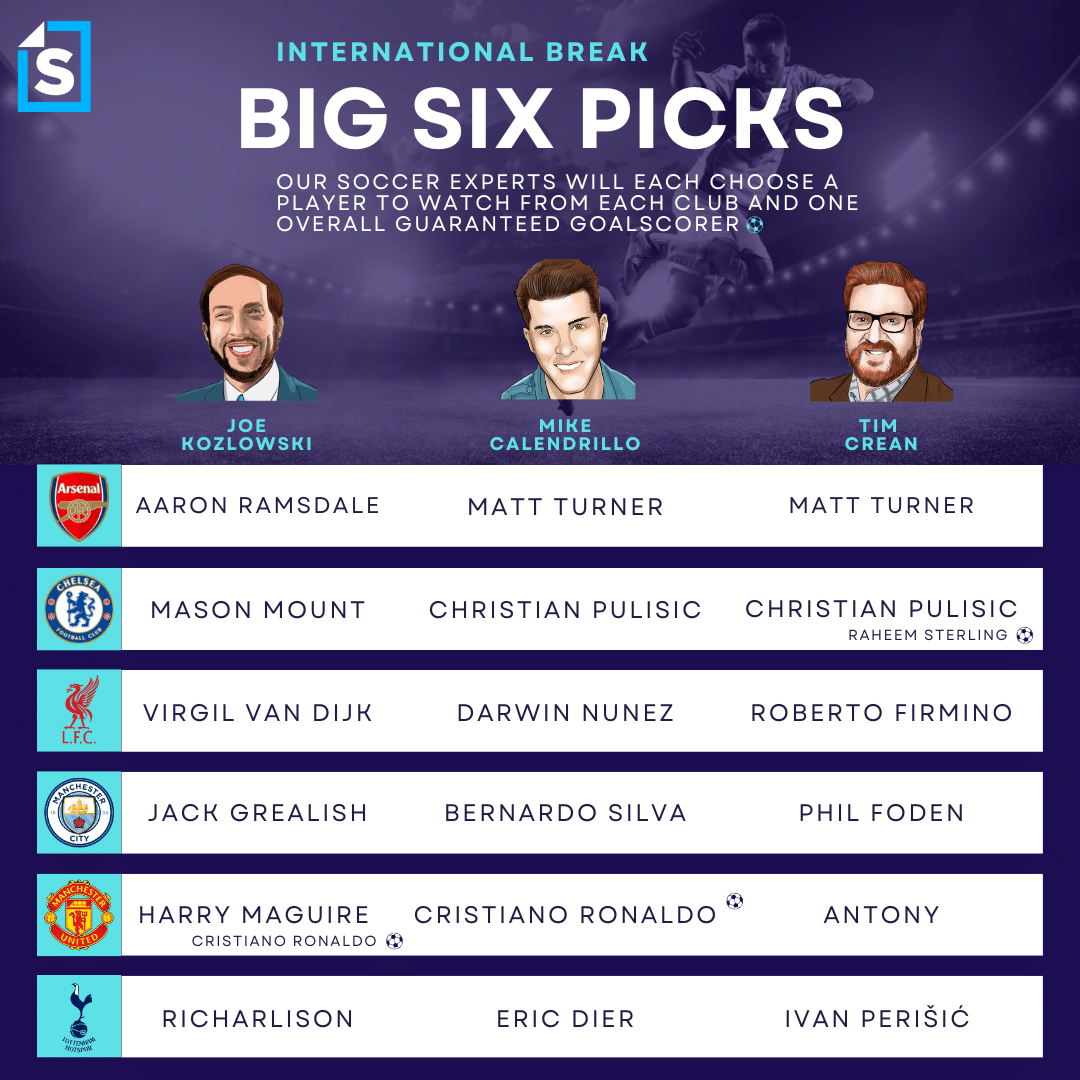 Sportscasting Big 6 Picks: Premier League International Break Edition
The Premier League is on international break but that doesn't stop Big 6 Picks from letting you know who to watch with their national team.
The Premier League international break is upon us. And although it feels like there haven't been EPL matches in weeks because of the Queen's memorial services, the Big 6 won't be back in action until Saturday, October 1. That doesn't mean there is no soccer to watch or Big 6 players to root for in the meantime, though. As the 2022 FIFA World Cup in Qatar approaches, the Premier League international break represents some of the final chances superstars and role players alike get to come together under their countries' flags before it's go-time on November 20.
Premier League International Break Big 6 Picks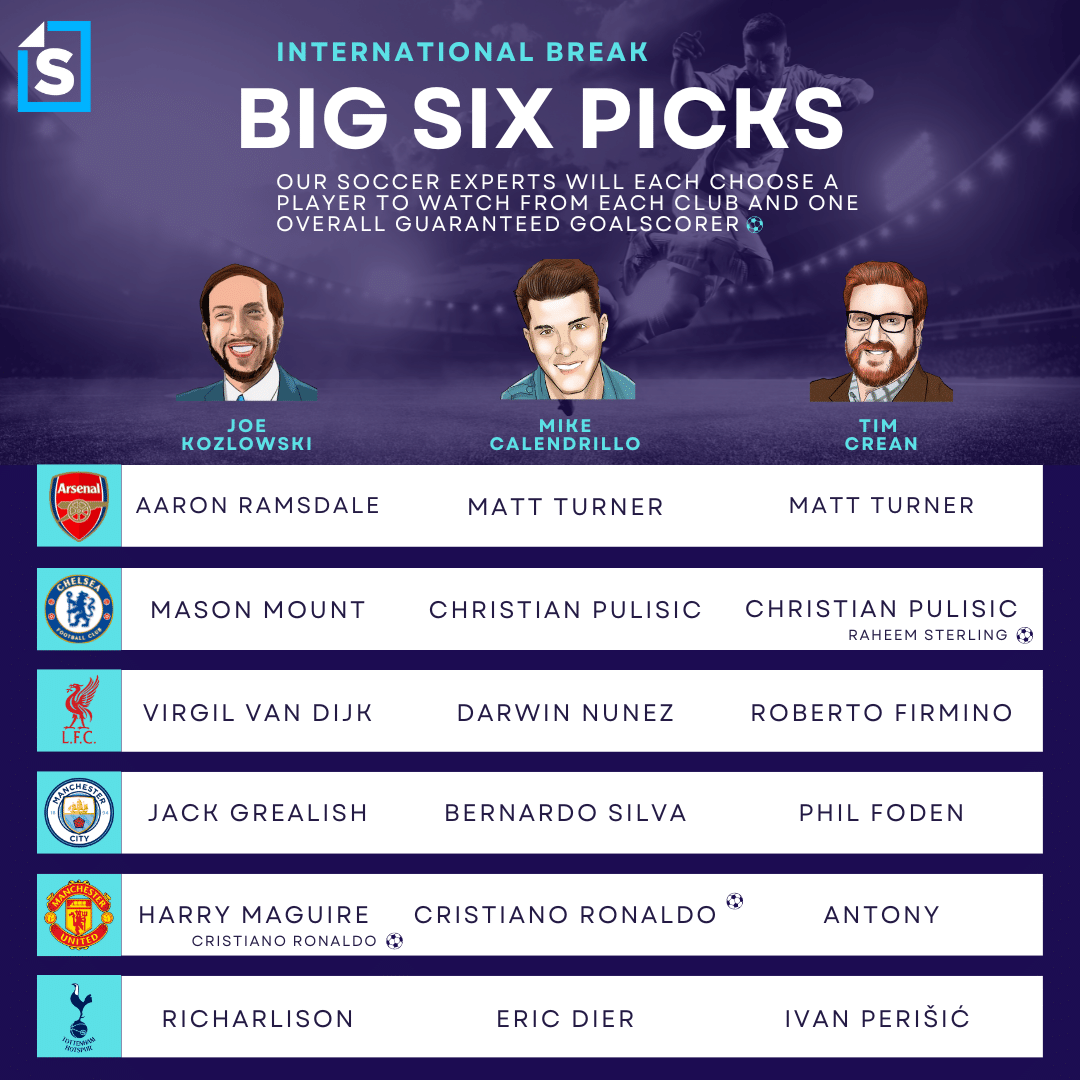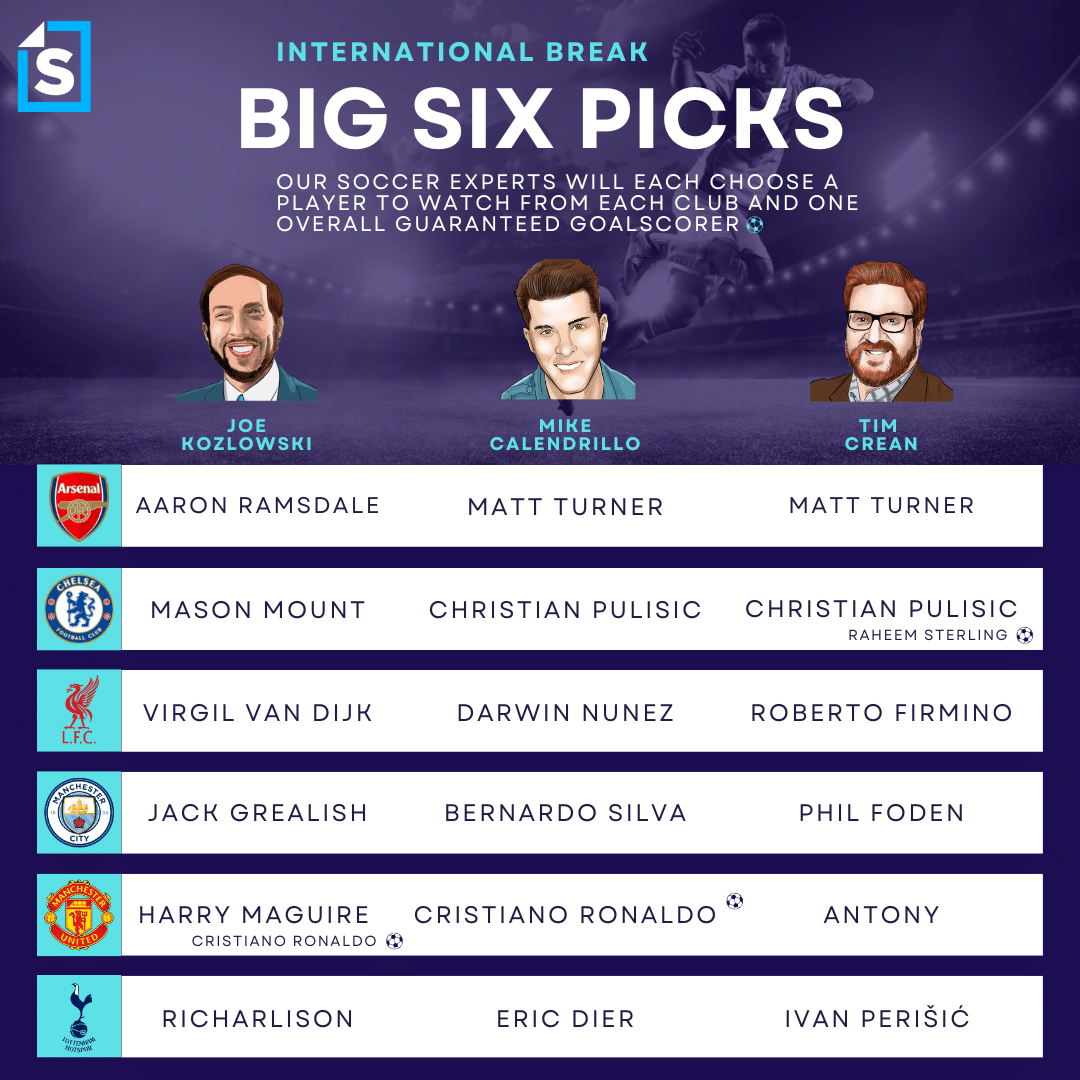 Manchester United
Joe Kozlowski: Harry Maguire – This isn't really a positive "one to watch," but I'm curious how Harry Maguire repays Garreth Southgate's show of faith. The Manchester United captain doesn't really deserve a call-up, but he has tended to play better with the national team than he does at club level. Will he be able to put all the drama and baggage behind him? Or will things continue to spiral?
Mike Calendrillo: Cristiano Ronaldo – Ronaldo has played just 207 minutes through six Premier League games (38% of Manchester United minutes), and only once versus Brentford, has he gone a full 90. Back in familiar territory with Portugal, CR7 will look to prove he's still got plenty left in his boots against the Czech Republic and Spain in Nations League. 
Tim Crean: Antony – There is so much attacking talent on the Brazilian squad (more on that below) that playing time is going to be hard to come by. The 22-year-old Antony just broke into the European professional scene in a big way, moving from Ajax to United and scoring a goal in his debut. Can he do the same on the international stage? 
Liverpool
Joe: Virgil van Dijk – While there are plenty of ways to look at Liverpool's struggles, VVD looking human again is certainly part of the equation. Will stepping away from the Merseyside spotlight give the defender a chance to recover some of his old, imperious form? Or will encounters with Robert Lewandowski and a talented Belgium squad only put him under further pressure?
Mike: Darwin Nunez – It's been a rough start to life at Liverpool for the $82.5M summer transfer. After netting a goal and an assist in the opening match of the Premier League campaign, Nunez picked up a foolish straight red card in the 57th minute versus Crystal Palace – forcing him to miss the next three contests. Though he returned for the Merseyside Derby, he was ineffective from the opening whistle, which carried over to two brief appearances versus Napoli and Ajax in the Champions League. Set to start for Uruguay against Iraq in Austria and Canada in Slovakia, the 23-year-old needs some solid shifts in order to rebuild his confidence, especially after the recent viral video that showed him shove a teammate in practice and then wildly send a ball some 30 feet wide of the net. 
Tim: Roberto Firmino – The Brazil attack rotation in the upcoming World Cup will be interesting. You have Neymar, of course, and Gabriel Jesus is playing well for Arsenal (although he didn't get the call-up for these friendlies), so he'll be in the mix for Qatar. In this break, it seems like Firmino will compete directly with Richarlison for playing time, which could bleed into November. 
Arsenal
Joe: Aaron Ramsdale – While it's possible that he might not play, Ramsdale has a legitimate chance to claim the starting spot thanks to Jordan Pickford's injury. Gareth Southgate likes to keep things consistent, but if Ramsdale puts in two solid performances, he could place some doubt in the manager's mind.
Mike: Matt Turner – When most players were looking to move clubs this summer in order to secure playing time, in this, a World Cup year, Matt Turner went to Arsenal knowing he would play second fiddle to Aaron Ramsey, following his breakout 2021/22 campaign. And so, Turner has appeared just once thus far, a 2-1 victory against Zurich in the glorious Europa League. Yet, USMNT coach Gregg Berhalter left incumbent starter Zack Steffen out of camp, having only recently returned from a month-long knee injury. This could be Turner's final measuring stick before Qatar – to prove his time on the bench in London hasn't dampened the skill set we've witnessed blossom over the past 18 months. 
Tim: Matt Turner – The USMNT keeper hasn't played much since moving to Arsenal so it's going to be interesting to see how he performs in net during the U.S.'s friendlies. If Turner struggles due to his lack of playing time, that could open the door for other keepers like Zack Steffen, Ethan Horvath, or Sean Johnson. 
Chelsea
Joe: Mason Mount – Things haven't exactly clicked at Chelsea, but Mount still earned a call-up to the England squad. This could be a chance to play himself back into form … or, alternatively, another place to struggle. Only time will tell which we'll get., 
Mike: Christian Pulisic – I want to see Pulisic play angry, the exact way he did during the U.S.'s final three matches that saw them qualify for the World Cup. His intensity and tenacity when used in a focused manner, bring out the very best in Captain America. Will playing under a new manager in Graham Potter at Chelsea result in more game time? An opening six-minute appearance against Salzburg in the Champions League wasn't a good sign and should leave Pulisic's attitude that much more brash.
Tim: Christian Pulisic – I'd like to talk about Raheem Sterling re-finding his form with the Three Lions, but let's be honest. Nobody needs to re-find their form with their national team than Christian Pulisic. Can he shake off the rust for the USMNT? Can his USMNT performance send a message to Graham Potter that he needs to get back in the Chelsea lineup when the Premier League returns? This is a big international break for "Boy Wonder."
Manchester City
Joe: Jack Grealish – The Manchester City man responded to questions about his call-up by scoring a goal against Wolves. Can he keep playing with that fire with the Three Lions? We know that Grealish can be a capable player on his day, but it's hard to simply flip a switch and start performing. Can he overcome his iffy form and be an asset for England?
Mike: Bernardo Silva – The Portuguese winger will be out to prove he deserves more than the 71% of starting XI participation he's totaled this season (even if that percentage isn't bad, considering Pep's usage of forwards). Silva is on the cusp of becoming world-class, and a standout showing for his country at the World Cup could be just what he needs to push through a highly lucrative transfer to Barcelona next summer (as rumored for months). Portugal is a dark horse contender in Qatar and should be a fun squad to watch. 
Tim: Phil Foden – There is a ton of attacking midfield and wing talent on the Three Lions but, for my money, Phil Foden is the best of the bunch. As the World Cup gets closer, hopefully, Gareth Southgate recognizes this and puts the Man City star in a position to shine. 
Tottenham
Joe: Richarlison – While there are plenty of stars joining up with Brazil for this batch of games, some absences (like Gabriel Jesus) suggest that Tite is using these final matches to nail down the final players within his squad. Through that lens, Richarlison has a golden opportunity. If he can prove to be a difference maker across the front line, like he's been during his brief time at Spurs, he can assure his place on the plane to Qatar.
Mike: Eric Dier – Dier has made his long-awaited return to the English national team (2019/20 EURO Qualifiers). Thanks in large part to his career renaissance under Tottenham manager Antonio Conte, Dier has played every minute of all seven Premier League games and two full 90 minutes in Champions League. Across all competitions, Dier has found the back of the net twice, but more importantly, is playing focused football in the middle of a back three, picking up just one yellow card, 12 interceptions, 16 clearances, 31 recoveries, and 13 aerial battles won. This is how Dier will need to continue to play if he wants a spot on England's extremely deep roster. 
Tim: Ivan Perišić – This is less about Ivan Perišić specifically and more about Croatia in general. After making the 2018 World Cup Final, Croatia's golden generation (including Perišić) is getting up there in age, and while there is some youth on the squad now, none has stepped up and become a driving force. It will be interesting to watch Croatia in the build-up to Qatar to see if they have any juice left to make a run in 2022. 
Guaranteed Premier League International Break Goalscorer
Joe (2-2 record): Cristiano Ronaldo – I know he hasn't been playing for United, but do you really want to be against Ronaldo scoring for Portugal? He has a good chance to play – Andre Silva is out of form and Joao Felix isn't the most natural striker – and CR7 will want to prove that he's still worthy of playing for his country. Is he the ideal player to be leading the line? Not really. Does he know how to put the ball in the back of the net? Yes.
Mike (4-0 record): Cristiano Ronaldo – Motivated. With game time at United becoming more and more scarce for the Dark Invader (aside from Europa League action), he'll look to these next two Nations League games to make a statement that he can still lead the line, at least for Portugal come November in Qatar. 
Tim: (4-0 record): Raheem Sterling – OK, I'm taking a week off from my Erling Haaland pick as Norway doesn't really matter on the international scene right now. Raheem Sterling is my pick here because, after years of being spoiled in Manchester City with Pep Guardiola, he's now learning how the other half lives. Sterling will be overjoyed to be back around some offensive firepower with the England squad and pop in a goal because of it.
Like Sportscasting on Facebook. Follow us on Twitter @sportscasting19 and subscribe to our YouTube channel.