Spurs Star DeMar DeRozan Wants Out of San Antonio According to Agent
In 11 NBA seasons, DeMar DeRozan has quietly been one of the game's most consistent players. During his nine seasons in Toronto and two with the San Antonio Spurs, the four-time All-Star has averaged 20 points per game. 
Since his arrival in the Alamo City, DeRozan has had to watch his former club win its first NBA title in 2019. Then, last season, he was the leader of a Spurs team that saw its incredible 22-season playoff streak come to an end. It would be understandable for him to be disappointed in what's transpired during the last two years. According to one current NBA agent, DeRozan isn't just frustrated; he wants out of San Antonio. 
DeMar DeRozan's career in San Antonio
After playing the first nine years of his career with the Toronto Raptors, DeMar DeRozan was part of a blockbuster trade that sent him, Jakob Poeltl, and a first-round pick to the San Antonio Spurs in exchange for Kawhi Leonard and Danny Green. Naturally, there were going to be comparisons between the two marquee names in the trade in Leonard and DeRozan.
The Spurs made the 2019 playoffs but lost in the first round. Meanwhile, across the border, Leonard helped lead the Raptors to their first NBA title. DeRozan admitted it was hard to watch Toronto win it all. 
"It definitely was tough. I wouldn't even lie," DeRozan told The Old Man and The Three podcast with J.J. Redick. "It was tough to see it. Especially once we lost in the playoffs. You sit back and you see them winning, then you kind of feel like, 'Damn. Was I the problem?' You know what I mean?"
In 2020, DeMar DeRozan didn't have to watch his former club repeat as champs, but he was part of a Spurs team that struggled to its worst season in years, which included snapping the team's 22-season playoff streak. 
DeMar DeRozan wants out of San Antonio according to agent
While DeMar DeRozan hasn't publicly voiced his distaste for the San Antonio Spurs, one agent said he's not happy with the club. The Athletic interviewed numerous NBA player agents and when asked to name the highest-profile player expected to change teams, one agent mentioned DeRozan. 
"DeMar doesn't like San Antonio and doesn't want to be there," the agent said. He then suggested the Spurs star could land in Detroit and reunite with his former teammate Fred VanVleet and Toronto coach Dwane Casey. 
"That relationship with the former coach is strong. Comes down to money (for VanVleet) and the situation in Toronto is rough with the taxes. VanVleet on the Pistons elevates his status as the number 1-2 guy on a team," the agent offered.
DeRozan refutes agent's claim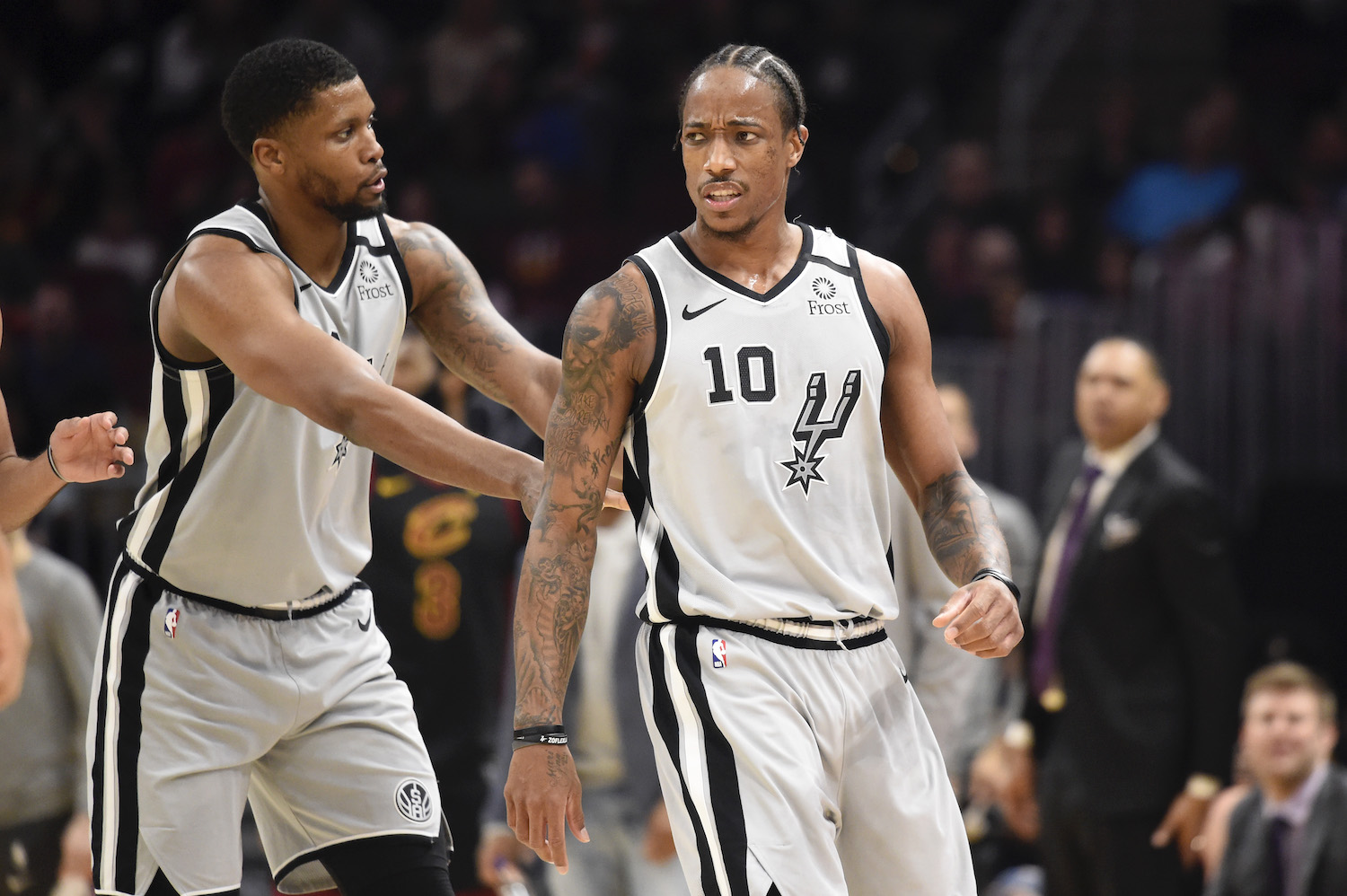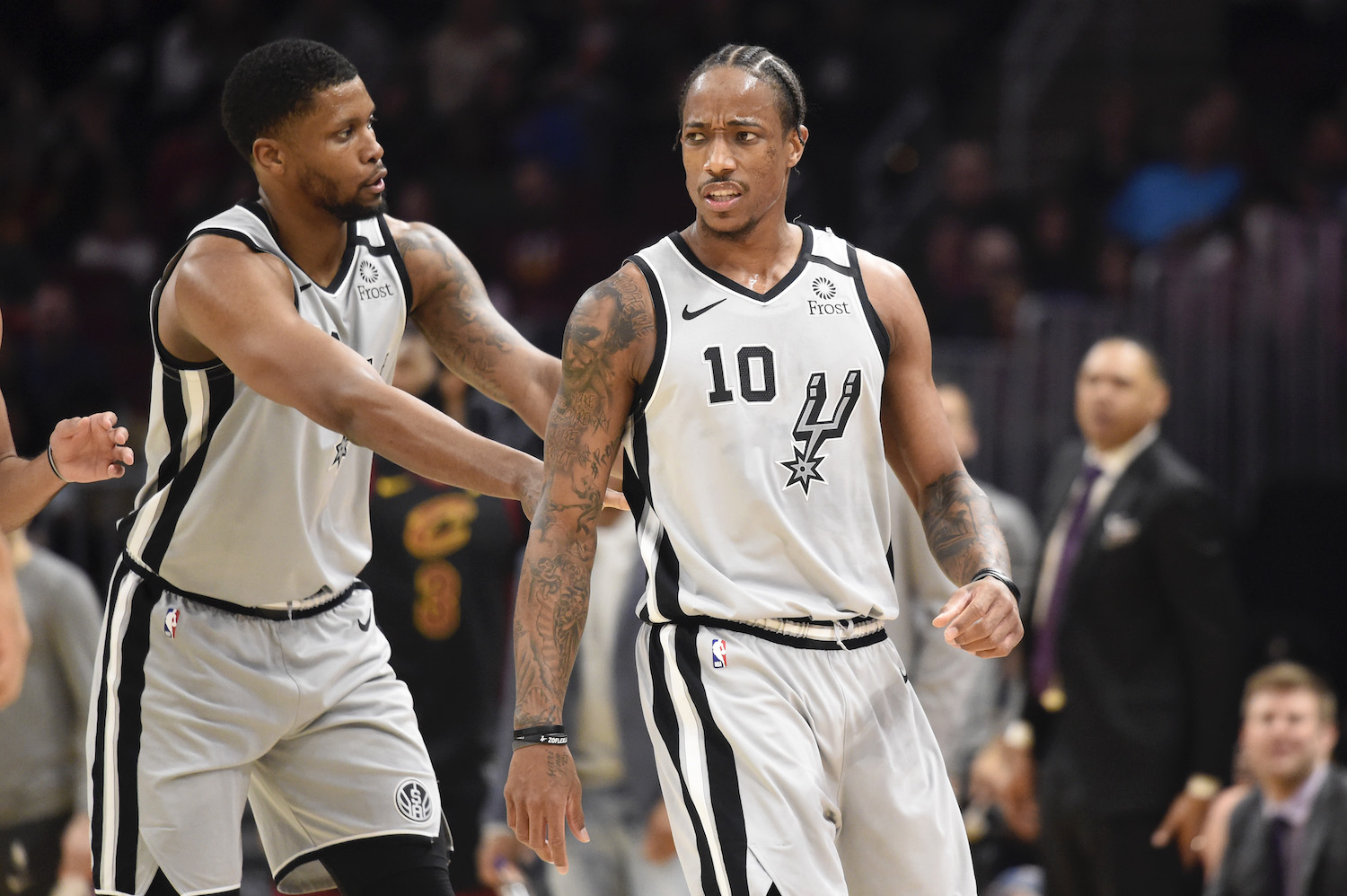 DeMar DeRozan has one year remaining on his contract before he becomes an unrestricted free agent. He will receive $27 million this season. And according to DeRozan, he has no intention of leaving San Antonio anytime soon. 
He responded to The Athletic story on Instagram that featured a clip of a confused Ice Cube and included a caption, "Me trying to figure out when I said that s**t."
For now, DeMar DeRozan is planning on playing with the San Antonio Spurs in 2021. But it's a business, and things can change rapidly. Time will tell.