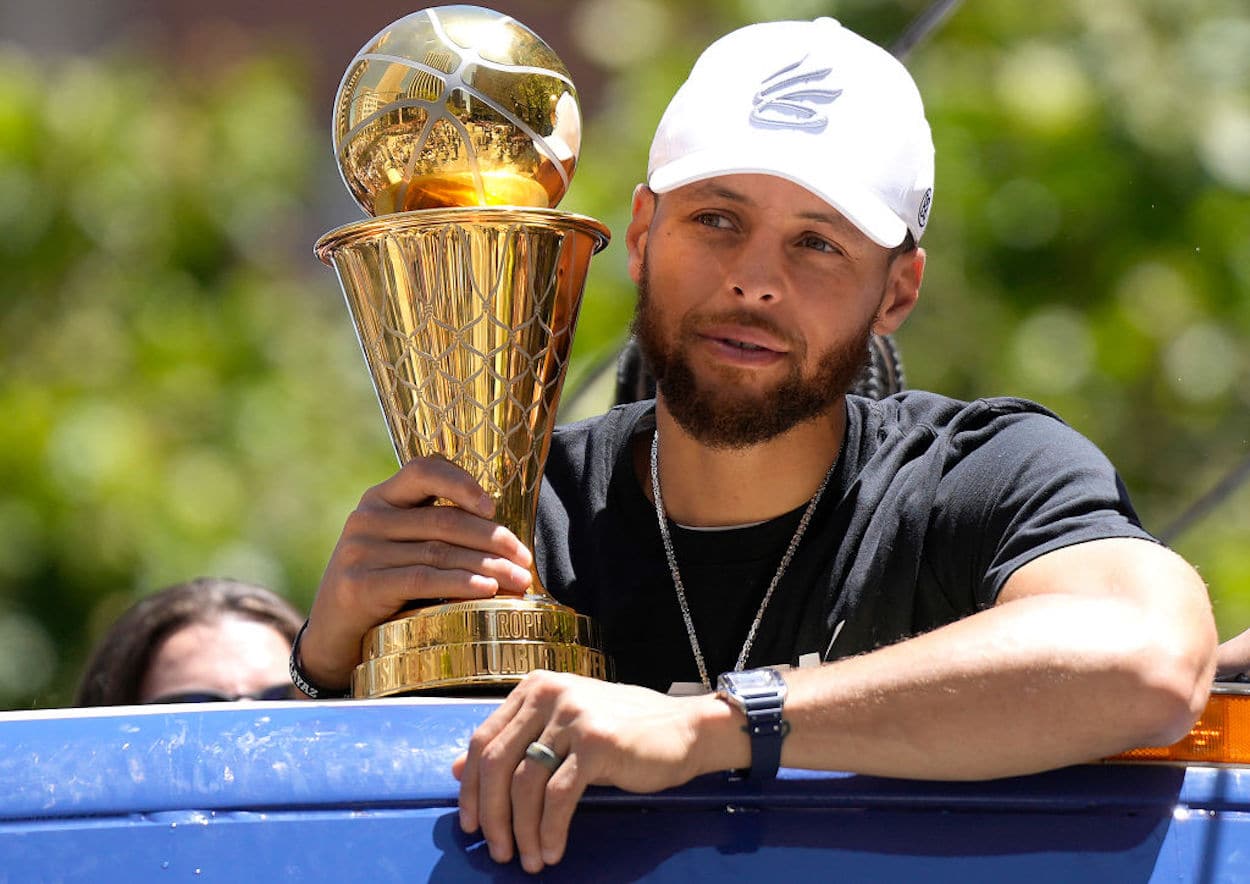 Steph Curry Just Keeps Being Disrespected, This Time by Mike James
Stephen Curry may be a four-time NBA champion, but he doesn't always receive the respect that he deserves.
While he might not have the physical stature of some other NBA stars, Stephen Curry's talent is undeniable. During his time in the Association, the Golden State Warriors guard has proved to be an elite marksman, powering his team to four championships. Despite that reality, Steph still doesn't receive the respect he deserves. Take Mike James' recent comments as an example of that.
During a recent appearance on the Players Choice podcast, Jones, who's played 36 NBA games during his career, took issue with Curry's game. In his mind, the Warriors guard does little more than shoot.
Mike James becomes the latest name to criticize Steph Curry's game
When you're a globally known athlete, there will always be critics waiting to pick apart your game. Steph Curry understands that reality more than most.
The Warriors guard, whether it's due to his size, pedigree, or the fact that he's primarily a shooter, has been on the receiving end of hot takes for years. Oscar Robertson, for example, once suggested that weak defense, rather than talent, accounted for Steph's success.
Even after the star won his fourth championship, he's still been underestimated. Metta World Peace, for example, said that, by the end of Curry's career, he could be considered a top-15 or top-20 player. The guard, if all things are equal, has probably already pushed into the top 10 at a minimum.
Now, Matt James has added his name to the list of those who have disrespected the sharpshooter's game.
"Steph, how he plays and how he gets stuff off, it's just kinda one-dimensional at times," James said on the Players Club podcast (h/t SFGate). "He's not the primary ball-handler a lot, and for a point guard that kinda bothers me."
James also said that the Warrior wouldn't make it into his current NBA top 5. Those honors went to Kevin Durant, LeBron James, Joel Embiid, Giannis Antetokounmpo, and Luka Doncic.
"I think those other five can do whatever they want to do on any team in the world right now," James explained. "I just don't know about that for Steph. It's a little murky for Steph… If you put him in Minnesota, he would still kill, but I don't know if it would be the same."
While it's tough to remove any of those six players from the list, it is a bit naive to suggest that Curry's success wouldn't translate to another team. At this point, his offensive game isn't going to surprise anyone; opposing defenses know exactly what he wants to do and can't stop it. Even if Steph found himself on the worst squad in the league, he'd still be able to shoot the lights out and, if triple-teamed, find an open teammate. He might not be a conventional ball-handler, but his movement and shooting touch certainly can manipulate the defense and create options for others.
With all of that being said, though, James did pay Curry something of a back-handed compliment. "As funny as it sounds," the current AS Monaco man said, "he probably is a top-10 player all time, or close to it."
If nothing else, that's the best crystallization of Curry's talent. Even someone who's criticizing his game can't help but admit he's an all-time great.
Like Sportscasting on Facebook. Follow us on Twitter @sportscasting19 and subscribe to our YouTube channel.