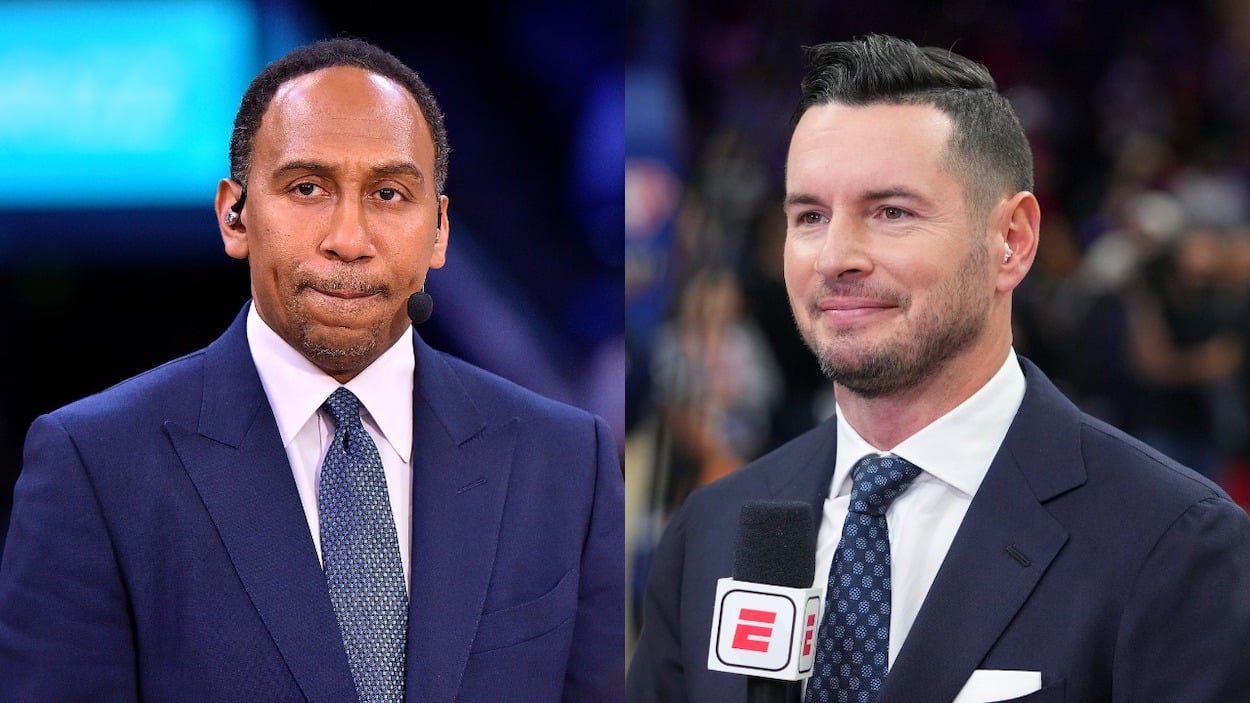 Stephen A. Smith Is Mad at JJ Redick for Attacking Fox News
Chris "Mad Dog" Russo and JJ Redick got into a heated debate about Draymond Green, and Stephen A. Smith had to jump in to defend his co-host.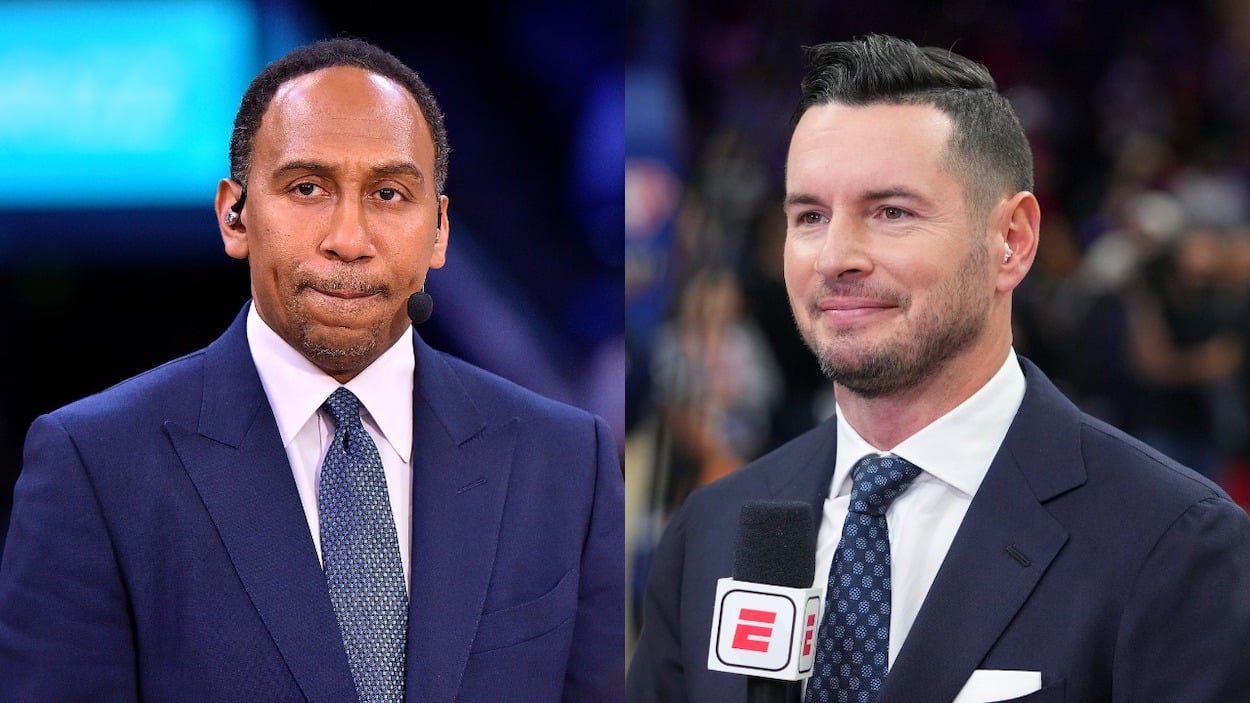 ESPN's First Take is always a lightning rod show where the hot takes and verbal barbs fly. However, the participants don't usually get as chippy with each other as former NBA player JJ Redick and longtime NYC sports radio host Chris "Mad Dog" Russo did this week while discussing Draymond Green. Stephen A. Smith, of all people, was the one who had to jump in as the voice of reason, and, after the dust-up, Smith only had one problem with the argument. He didn't like that Redick attacked Fox News. 
JJ Redick and Chris 'Mad Dog' Russo got into it on 'First Take' over Draymond Green
There is no question that Golden State Warriors forward Draymond Green is one of the most polarizing players in the NBA. 
As JJ Redick pointed out this week on First Take, many fans love him. They listen to everything he has to say on his (mostly) one-man podcast and can't wait until he eventually joins TNT's legendary Inside the NBA crew after signing a talent deal with Turner Sports. 
However, a whole other subset of fans do not like the outspoken three-time champ. Iconic sports radio host Chris "Mad Dog" Russo speaks for that group. 
The Green haters simply want the former Michigan State Spartan to "shut up and play."
At least, that's what Russo wants him to do. 
When Redick joined the show later in the episode, he didn't like Russo using that line to talk about an NBA player. 
Russo defended himself and older NBA fans, saying that his comments weren't racial or political. He named a host of Black players who older fans have loved over the years, but Redick wasn't buying it. 
"I'm not saying it's a race situation. I'm saying it's the fans you're talking about," Redick fired back. "They talk about athletes that way. Like you just talked about an athlete. The people on Fox News talk about athletes that way. That's my issue."
The former Duke star also told Russo that he doesn't "appreciate the undertones" of the "shut up and play" comments.
The confrontation between the two commentators became big news, and, later that day, Stephen A. Smith went on Russo's Sirius XM radio show to discuss the conflict further. 
Stephen A. Smith wasn't happy with Redick's attack on Fox News
The conversation surrounding Chris Russo and JJ Redick's on-air confrontation continued later in the day on Russo's Mad Dog Sports Radio show. 
Russo even took a call from Stephen A. Smith himself, who weighed in to defend his co-host and take Redick to task for what he said during the debate. "'Mad Dog' Russo is free to be who the hell he wants to be and who the hell he is on First Take," Smith said. 
The longtime ESPN mouthpiece said that the morning debate show isn't there for the participants "to hug and sing 'Kumbaya'" He wants disagreement and debate on the show. Smith also defended Russo's opinion, saying, "race had nothing to do with it."
In fact, the only problem Smith had at all was with Redick making generalizations about "the people on Fox News." Smith told Russo: 
My only issue was when [Redick] brought up Fox News, and here's why. 'First Take' is not going to be a show that is going to be about the business of attacking networks. You can like or dislike a particular individual. But there are an abundance of people that work at Fox News, MSNBC, CNN, and everywhere else, and so let's not generalize and talk about a particular network. So I didn't agree with that. 

Stephen A. Smith on JJ Redick
Unsurprisingly, like most topics related to race and politics in 2022, the reaction to the whole situation varied wildly. 
Draymond Green jumped in the fray, too
Viral moments aren't uncommon on First Take. It seems like every day, one of the hosts or guests says something that lights the internet on fire. This goes all the way back to when the show was Stephen A. Smith and Skip Bayless trading jabs. 
However, when an argument brings up race, politics, and Fox News, you know the reaction will be louder and more polarizing than most. 
What really poured gasoline on this particular fire was when the subject of the debate, Draymond Green, weighed in. Shortly after the program aired, Green cheered on his fellow hooper, saying that JJ Redick "sent the clown back to the circus," referring to "Mad Dog" Russo. 
Green didn't stop there, though. 
Two days later, the Warriors star tweeted a screenshot of a 2020 post from another sports talk host, Grant Napear. The Sacramento-based podcaster claimed Russo "used the N word in my house." According to Outkick, that interaction happened when Russo was nine-years-old in Syosset, Long Island, in 1968, where Napear and Mad Dog grew up together. 
After receiving backlash for what many perceived as hypocrisy from someone who has railed against "cancel culture" in the past, Green put out another tweet to clarify his previous one. 
"Also, I don't believe in cancel culture," Green wrote. "This is not a cancel attempt. Just stand on your words. ACCOUNTABILITY."
This ongoing feud doesn't seem like it will quietly go away anytime soon. 
Like Sportscasting on Facebook. Follow us on Twitter @sportscasting19 and subscribe to our YouTube channel.